Review: Arturia V Collection 6
Arturia's V Collection gets a hefty upgrade with a number of new instruments including the Buchla Music Easel, DX7 and Fairlight sampler. Rishabh Rajan put them through their paces.
The V collection from Arturia has always been my go-to bundle for software emulation of classic hardware synths that I don't have immediate access to. Now the 6th iteration of this dream collection of modeled software synths just got even better. Let's check out the new instruments included in this bundle.
Buchla Easel V
Without doubt the highlight of this update is the Buchla Easel V, a software emulation of the semi-modular synth from Buchla, the Music Easel. Although the Music Easel is not specifically a classic synth as it was re-issued by Buchla Electronic Musical Instruments (BEMI) recently, we can still consider it to be a classic. Originally released in 1973 the Music Easel was a true innovation in musical instrument design.
All this is now represented in the modeled software version from Arturia. The Buchla Easel V sounds fantastic and is a lot of fun to program. The color coding of the sliders and patch points are just like on the hardware so if you are already familiar with the synth, you will feel comfortable here. If you are new to the synth and west coast style synthesis in general, it will probably take you some time to get around the synth. Instead of filtering a complex tone like in east coast style synthesis, here we start with a simple tone like a sine wave and with wave folding we create more harmonically rich tones.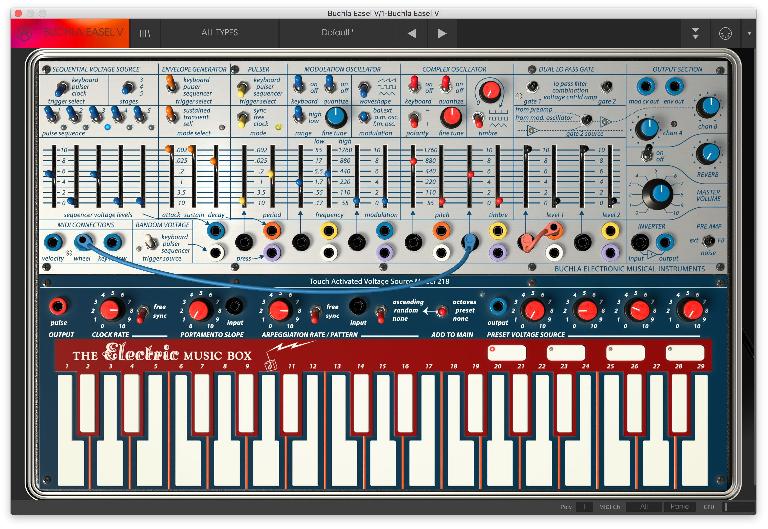 In the Buchla Easel V you get a Complex Oscillator as the main sound source and a Modulation Oscillator, for amplitude modulation or frequency modulation or even just as an audio source. There is a 5 step variable sequencer, a repetitive trigger output called the Pulser & an Envelope Generator. The envelopes are laid out upside down. Lower values are on the top end of the slider and vice versa (Buchla style). The keyboard section has a nifty arpeggiator, a pulse output and 4 preset keyboard voltage offset sources. There are a lot of modulation possibilities with the patch points. Lastly you also get a nifty spring reverb built-in!
The original hardware was a monophonic instrument, just like most of its kind but the Buchla Easel V can have up to 4 notes of polyphony. Keep in mind the CPU usage can go off the charts with this on older machines.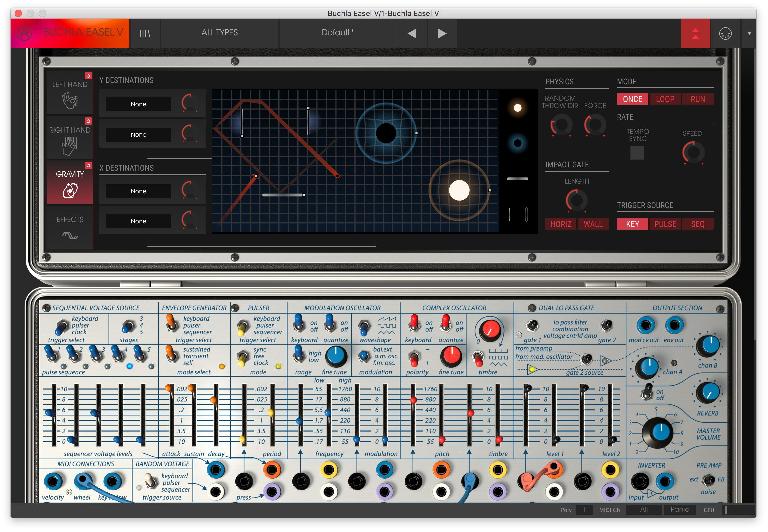 With almost all of the software emulations of classic hardware Arturia puts out, they have been known to take it a step further but add in some additional features that really embrace the software world and its advantages. The Buchla Easel V is no exception. You get a 'Left Hand' and a 'Right Hand' section. The Left hand section provides you with more modulation possibilities with a very flexible envelope. Whatever modulation is not possible with patching can be set up here. The 'Right Hand' provides a polyphonic step sequencer with looping and some random gating options. Then there's a 'Gravity' section that lets you create modulation by physics simulation of projectiles colliding with planets, repellers and walls. Lastly there's an effects section with 10 different effects modules that can be loaded into two effects slots that run simultaneously.
CMI V
Arturia added the Synclavier V in their previous version of the V collection so it was only a matter of time before we saw a modeled version of the Fairlight. The CMI V is a software recreation of the Firelight CMI IIx. The CMI V is a sampler, additive synthesizer and a sequencer workstation. The sound engine can have up to 10 samples or synth elements simultaneously. There are 3 main modes for the sound source. The first is Sampling for traditional one sample per slot sample playback. Next is Time Synth which on the original hardware used a pen input to draw in the envelopes for each harmonic. On the CMI V you use the mouse to draw instead of a pen. Lastly there's Spectral Synth mode for additive synthesis style waveform generation.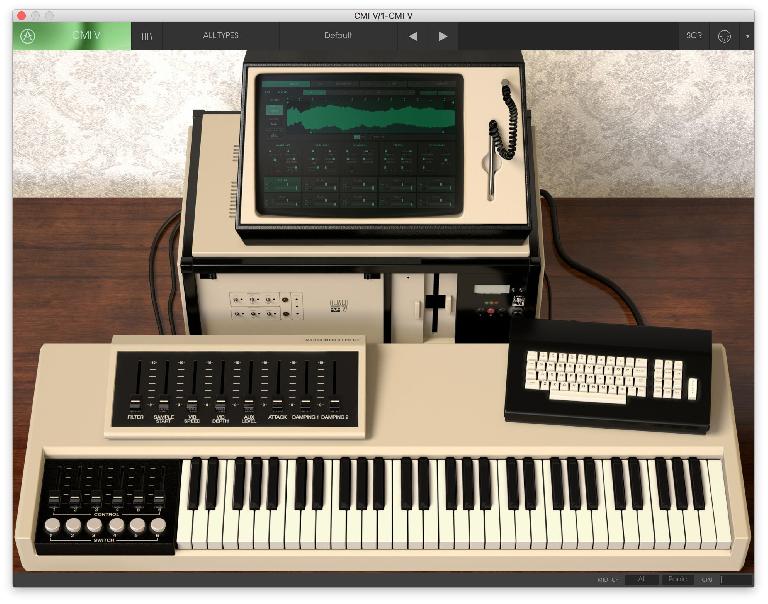 You get a 32 step sequencer for each of the 10 instrument parts. Up to 8 patterns can be combined for playback. There's also a mixer section which includes effects slots for all the 10 mixer channels. You get 13 different effects modules and any one can be loaded on each of the 10 channels. Lastly there's a tune/map section for creating custom keyboard maps for each of the 10 instruments.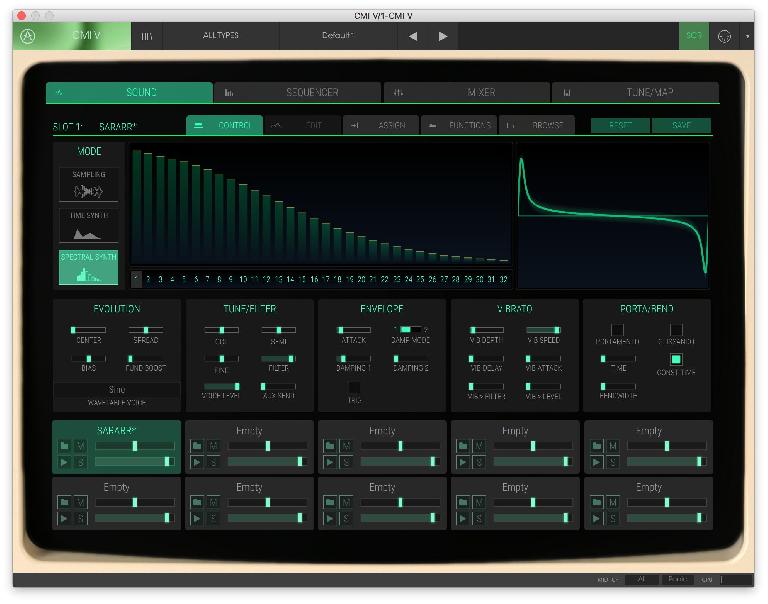 DX7 V
The Yamaha DX7 needs no introduction. Released in 1983, the first commercially available FM synth that changed the face of pop music for over a decade now has a software emulation in the Arturia DX7 V. Frequency Modulation software synths have been around for a while. FM7 and subsequently FM8 from Native Instruments being one of the more popular ones. The DX7 V from Arturia still keeps the aesthetics of the Yamaha DX7 while fully embracing the advantages of a computer GUI.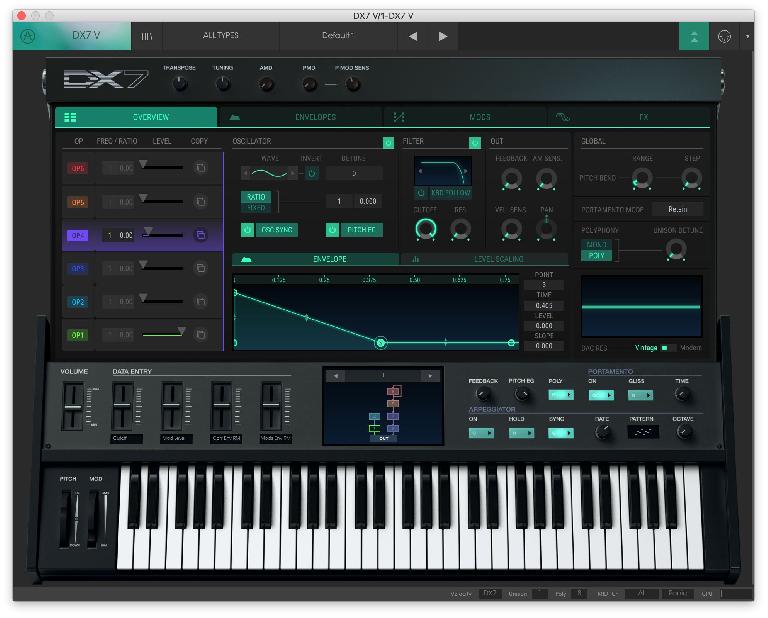 You get a 6-operator FM synth with 32 fixed algorithms just like the original hardware. On top of that, each operator has multiple waveforms, a filter section and feedback. There's a Modulation section where you can modify each operator's envelope. You also get 2 LFOs and a step sequencer that can be freely assigned to modulate multiple parameters in the matrix section. There is a global effects section with 11 effect modules for 4 effects slots which can be routed in series or parallel.
Some might say it's a bit too late to the FM synthesis game but I say, better late than never!
Clavinet V
The last new synth in the V Collection is a modeled clavinet. The clavinet is quite a popular keyboard instrument found in many DAWs and samplers as stock presets. The problem with those stock samples is that they are not detailed and most lack any character. The Clavinet V address that with a completely modeled version of the original D6 model from Hohner. You get two pickups and a 6 core pickup design, two dual-position pickup selector switches and a damping slider. You can virtually open up the Clavinet V and select from different profiles or even change up some of the physically modeled characteristics with 8 separate dials.
Aside from the actual instrument, the Clavinet V also has 7 different stomp box style effects of which 4 can be used simultaneously. You also get a modeled tube amplifier and all of its controls can be very intuitively be controlled directly on the GUI.
Conclusion
The V Collection has already established itself as the most comprehensive collection of virtual classic hardware synthesizers and real instruments (piano/EP/organ etc). With version 6, Arturia has taken this to the next level, especially considering their first west coast style software synthesizer model. This is good news for the future because there's so much more to explore in that west coast world and doing it with software is always a more affordable endeavor.
The sound of all these modeled instruments is on a par with their hardware counterparts. They will never sound exactly the same, but are the next best thing. This is in some cases achieved at a cost - more CPU usage. Even one instance of the Buchla Easel V can drain my 2015 MacBook Pro 13 inch, although newer machines and desktops will fare better. Since this is still the earliest version of the software I am expecting the CPU usage to drop in subsequent updates. I say this because all of the version 5 instruments take up a lot less CPU on the same machine. But of course a more powerful desktop computer should be able to handle these instruments as is.