The Oberheim SEM was a bit of a monster. I speak from experience as this was one of the synths I used when learning about subtractive synthesis. The original SEM was released in 1974 and was one of the first self-contained synth modules to be created.
Ever since then people have used the hardware units to produce beautiful warm, fat tones. Well now we can all have a go as Arturia have brought the SEM back to life. The question is, does it live up to it's physical counterpart? Let's take a look...
The SEM V Interface
When I first opened the SEM V my initial impression was that there were more controls than I remember being on the original unit. After a bit of digging, I discovered this is because Arturia have added a heavy dose of functionality in the form of extra features.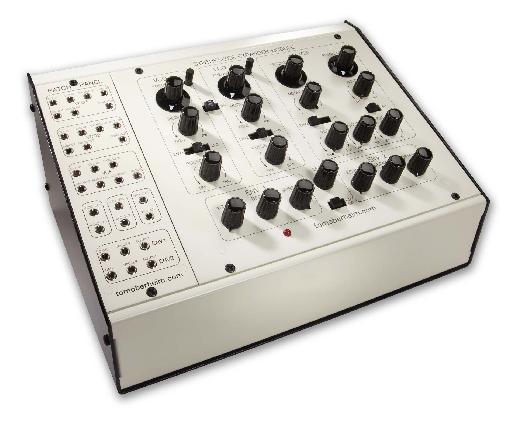 The original hardware SEM in all it's glory!
In fact, it's only the center section that mimics the original hardware, the rest has been added in a very tasteful way. The center section displays all the obvious controls such as oscillators, a great multimode filter and a few envelopes.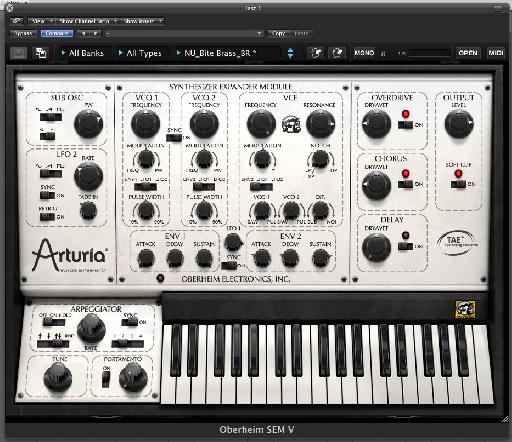 The centre section of the SEM V mimics the original interface.
The extra additions to the left and right of this are a sub oscillator, a second LFO, three effects, and a keyboard and voicing section at the bottom.
I immediately found that the whole thing was just a joy to use. I planned to approach the whole thing very scientifically but just couldn't help playing with it and before I knew it I had turned the default brass patch into my own bass sound (and pattern). You can hear the result below.
(Audio 1) The bass sound I made as soon as I opened the SEM V
That Oberheim sound
If it's not already apparent from the simple bass patch in the last step, this thing is fat. In fact I could go as far to say that this is probably the most analog sounding soft synth I've tested to date. It sounds very similar to my memories of the original and is incredibly juicy. You can almost hear those virtual circuits working!
A lot of this analog goodness comes from the meticulously modeled filter. This is a multimode filter but perhaps not like many you've seen before. You can actually morph between settings using a rotary knob, as oppose to the absolute hard switching you see on most other instruments.
One thing I loved about the filter was that even when it's resonance is pushed to it's maximum it doesn't adversely effect the level of your patch. This means you get total playability even with the resonance set to 11.
Deeper Tweaking And Final Thoughts
Obviously there is more to Arturia's recreation of the SEM than just the front panel. In the last few releases from the company, we've become accustomed to an extendable top '