Arturia has built their reputation on fantastic digital emulations of classic analog synthesizers. As their controller and other hardware output grew in recent times, it came as no surprise when they eventually stepped into the burgeoning analog synth market with the MiniBrute. Employing the talents of famed French analog circuit-maker Yves Usson, they designed an affordable yet high-quality analog synth with a wealth of hands-on controls. Building on the MiniBrute's resounding success, they opted to package a similarly-focused yet tactile monophonic analog synth in a smaller portable size for traveling live acts and producers'"while at the same time opening it up with CV inputs and outputs for seamless integration with modular analog systems. The result is the MicroBrute.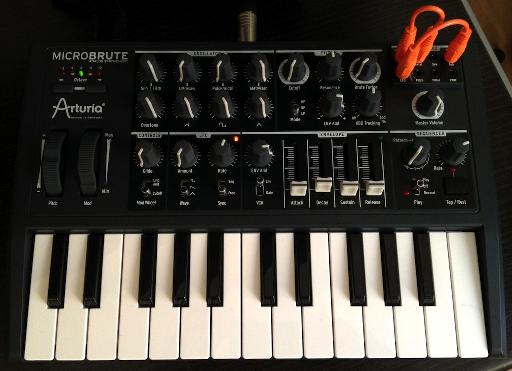 Under the Microscope
Officially, Arturia recommends a 5-10 minute warm-up period for the three analog oscillators to get in tune, but that didn't stop me from tweaking it right away. There's no preset banks in this bad boy, so dialing in your sounds is a physical process'"same as it would be on any classic synth from the era that inspired it. As such, it's a great synthesizer for someone learning basic synthesis, and while it'll be easy to use for any experienced synth practitioner, that isn't to say it isn't full of options to keep even the most savvy gearhead engaged.
"It's full of options to keep even the most savvy gearhead engaged."
Four Waves
At the MicroBrute's heart, we have four core oscillators to build our sounds. The first is a fat sawtooth oscillator, accompanied by an 'Ultrawave'