Review: Arturia Keylab MK II
The latest generation of Arturia's multi-talented MIDI controllers integrates with pretty much any MIDI software or hardware you can think of. Hollin Jones got plugged in.
Although it spent its earlier years as a software developer, Arturia now makes as much hardware - broadly speaking - as it does software. Some of this is sound-generating synths like the Brute series, and some are controllers. Since the French developer has such a rich library of soft synths in its lineup, it made sense for them to eventually start producing their own dedicated MIDI hardware to trigger it.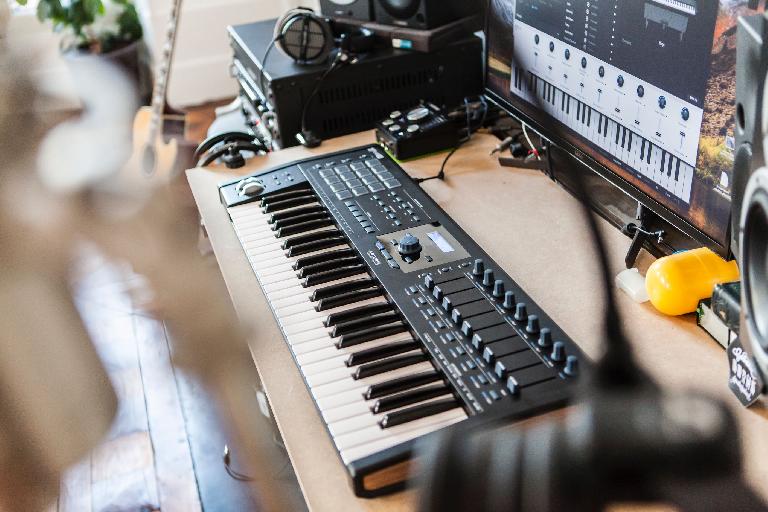 This it now does with a range of models catering to every user from someone throwing a laptop in a backpack all the way up to more heavyweight stage performers. The KeyLab MkII lives somewhere in the middle of those descriptions, a serious studio MIDI controller that's nonetheless portable enough (in its 49 key variant certainly) to carry around without too much effort. As we will see, it has some features in particular that elevate its capabilities beyond those of most MIDI keyboards.
Look And Feel
The KeyLab MKII is solidly built in pro-feeling aluminium and has Arturia's partly retro, partly futuristic aesthetic that I for one happen to quite like. They don't have a really striking look like a Nord keyboard, but at this point you can spot an Arturia design pretty quickly. It comes in 49 or 61-key versions and as is usually the case they are functionally identical except for the number of keys. Around the back is a versatile selection of ports for interfacing with all kinds of other gear. There's USB of course for MIDI and power, with a PSU option for using the controller independently of a computer. Sustain, expression and aux pedal inputs are available for proper performance control and there's a CV input as well as two regular MIDI DIN plugs.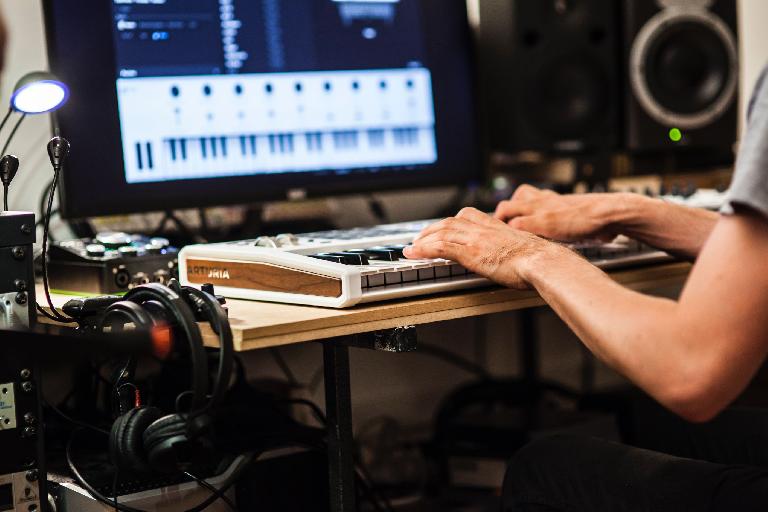 What's interesting is that you also get 4 CV outputs - pitch, gate and mod 1 and 2 which will of course let you connect to Eurorack and other modular synth gear. Arturia has form here - its Beatstep, MiniBrute and several other hardware units also feature CV capability, meaning there's no need to add yet more boxes to your studio to make your keyboards talk to modular gear. If you already have CV-controllable gear this is a great bonus and if you don't, it may encourage you to get into that world.
Take Control
The top surface is where you do much of your controlling and you'll probably start with the semi-weighted keyboard, which has what Arturia calls its "pro feel" action that they say captures both the nuances of softer playing and the force of more vigorous performances. It's a perfectly good keybed and will suit the wide range of players that will likely use it, for all kinds of playing tasks.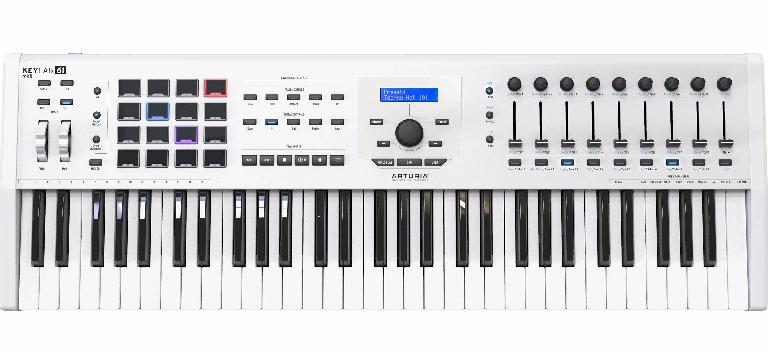 Then there's the wealth of hardware controls available. Starting on the right you'll find 8 rotary knobs and faders, "wiggle free" and pre-mapped to the main parameters in Analog Lab. Like all the controls here they are of course customisable. Personally I like to use them for pan and channel level. In the centre is a two-line LCD display with jog wheel that provides text-based feedback for whatever action you are performing, or the patch you are loading. Some might prefer a slightly larger display, but I found it to be adequate for most of my needs. When you are using Arturia's instruments you will find all pre-mapping has been done, and workflow is very smooth. Of course it works with with other software too.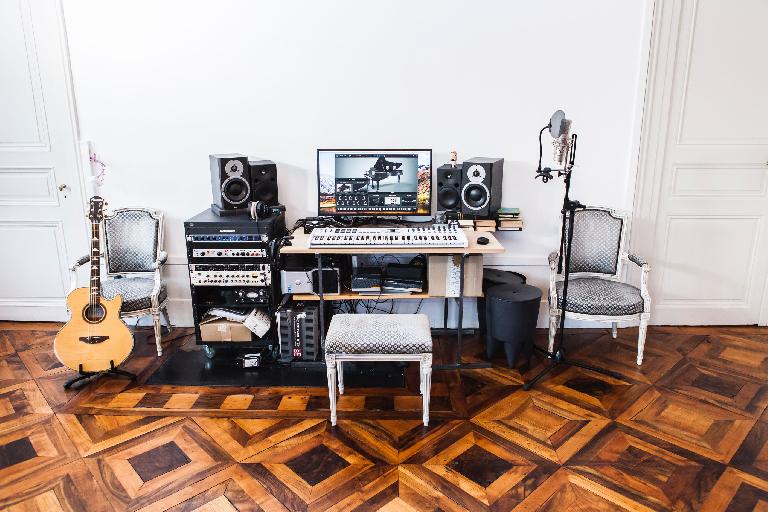 Play, Stop, Record
Next up is the DAW transport control section, which uses the MCU / HUI protocols to provide hands-on control of core tasks like playback and recording. All major DAWs are supported, and helpfully it also comes supplied with ten magnetic overlays that can be swapped out to suit your DAW of choice. The performance controls come next - a grid of 16 dynamic backlit buttons that can be used for everything from beat-making to switching mapping options or triggering chords.

There's also an Intelligent Chord feature to assist your compositions, pitch and mod wheels as well as a quick 4-way MIDI channel select for switching on the fly. This means no menu-diving to change MIDI channels, which is particularly useful in live performance situations. Although there's a lot to work with on the top surface, workflow and layout are well thought-out and it won't take you long to get used to where everything is.
Extra Goodies
We have mentioned that the Keylab MkII comes with Analog Lab, Arturia's huge collection of over 6500 presets from across its V-Collection, housed in a dedicated app that runs as a plugin or in standalone mode, and beautifully pre-mapped to the KeyLab's hardware. You also get Ableton Live Lite, so if you're new to computer production you don't have to buy anything extra, and Piano V, Arturia's gorgeous collection of 12 modelled pianos, which sounds amazing. MIDI customisation and saving of maps is managed via the MIDI Control Center software, which is a downloadable template editor for all of the company's products.
Conclusion
KeyLab MkII is an excellent, well-built and thoughtfully designed MIDI control solution that will suit a really wide range of producers and performers. Whether you want to just plug over USB and control your DAW and soft synths or hook up to external MIDI and Eurorack gear over CV, it's got you covered. It can power over USB but also via a PSU, so it can be used on stage without a computer - an increasingly popular approach.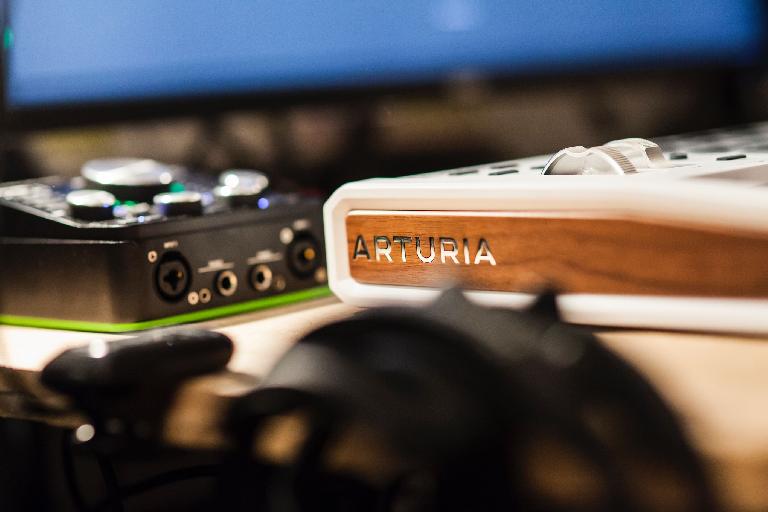 There's everything you need for ease of performance and programming, and it's all pre-mapped to Arturia's software and easy enough to customise for other products. The inclusion of Analog Lab and Piano V is great - even if some might suggest that for this price and given its stable of products, Arturia could have thrown in a couple more plugins. But Analog Lab has 6500 presets taken from across its range, so perhaps that would be their response. If you're in the market for a serious but accessible MIDI control solution that spans a wide range of connectivity, the KeyLab MkII should definitely be on your radar.
Price: 49 key 449 Eur. 61 key 499 Eur
Pros: Well built, great workflow. Use in many different kinds of setups and situations. CV in and out. Power over USB or PSU. DAW overlays for easier control. Good performance-oriented features. Works seamlessly with Arturia gear.
Cons: Some might prefer a slightly larger screen. They might have thrown in a couple more instruments - though this isn't really a deal breaker.
Web: https://www.arturia.com/products/hybrid-synths/keylab-mkii
Learn more about making music with Arturia hardware and software: https://ask.audio/academy?nleloc=category/audio/topic/arturia