Arturia's fleet of dedicated software controllers expands with their latest line of KeyLab offerings. Touted as the "Ultimate Hybrid Synthesizer," it's more of an entry-level plug-in suite with dedicated controls and a stylish look – if white chassis and throwback wood trim are your thing. Using their Analog Lab virtual interface to host sounds generated from Arturia's highly-respected library of Mini V, Modular V, CS-80V, ARP 2600 V, Prophet V, Prophet VS, SEM V, Jupiter-8V and Wurlitzer V synth engines, the KeyLab comes in 25-, 49- and 61-key versions; we had the chance to take the 49-key edition for a spin.

Smooth Unit
With its metal casing and old-fashioned sideboards, the KeyLab boasts a sturdy feel. The keyboard action itself is particularly sumptuous, while the ten dedicated knobs and nine sliders feel adequately solid without being stiff and satisfyingly fluid without seeming loose. The sixteen velocity-sensitive pads are programmed to trigger different chords depending on the preset, but with visual feedback – turning a hot blue when triggered – I found myself wanting to use them for drums; perhaps this will be possible once more DAWs such as Ableton Live integrate it as a MIDI control surface.
Setting Up
The multi-phase installation process was easy enough in the end, though not quite totally intuitive. Nevertheless, once the Analog Lab component was registered in our plug-in directory, dragging it into our host synchronized perfectly with the hardware – no further configuration required. Each instance of the Analog Lab VST/AU locked in perfectly with all the controls on the keyboard for quick and easy tweaking. Bombs away!
Play Modes
If you use most virtual synths the way I do, you'll want to start out in Sound mode – selectable via the button in the upper left of the Analog Lab GUI, or from a button just beneath the LCD screen on the KeyLab. This allows us to search and load a single-layer sound for easy composition.
On the right side of the interface, we have three categories of Data Filter we can use to narrow down our sought-after sounds: Instruments, from which we can choose any of Arturia's famous virtual synths that provide the engine for Analog Lab; Type, where we can select general instrument categories such as Bass, Organ or Strings; and Characteristics, which gives a selection of somewhat abstract adjectives that help to specify certain qualities of the sound – Aggressive, Bizarre, Complex and Quiet are a few examples.

To the left side of the interface, we now have a list of all the presets that meet the criteria we've chosen via the Data Filters, and each preset shows us the type of sound category it falls into, which synth it's based on, who designed it, a user designated ranking, and a "favorite" selection, so you can easily find sounds you like again in the future. Since the preset navigation can be organized by anyone of these fields simply by clicking its attendant header at the top.
Once a sound is selected, the bottom section of the Analog Interface displays a map of which parameters are assigned to the various controls on the hardware for easy reference. Clicking the Snapshots Tab on the left side of this area opens ten buttons – corresponding to the ten buttons beneath the knobs on the keyboard – where you can drag various presets for easy switching on the fly.
Clicking the Chords Tab on the right side opens an area that shows the chords assigned to each of the sixteen pads on the hardware unit. Chords can easily be edited by clicking the note value to select a different root note from the context menu that appears, and clicking the chord type to choose a different fingering from the resultant context menu there as well.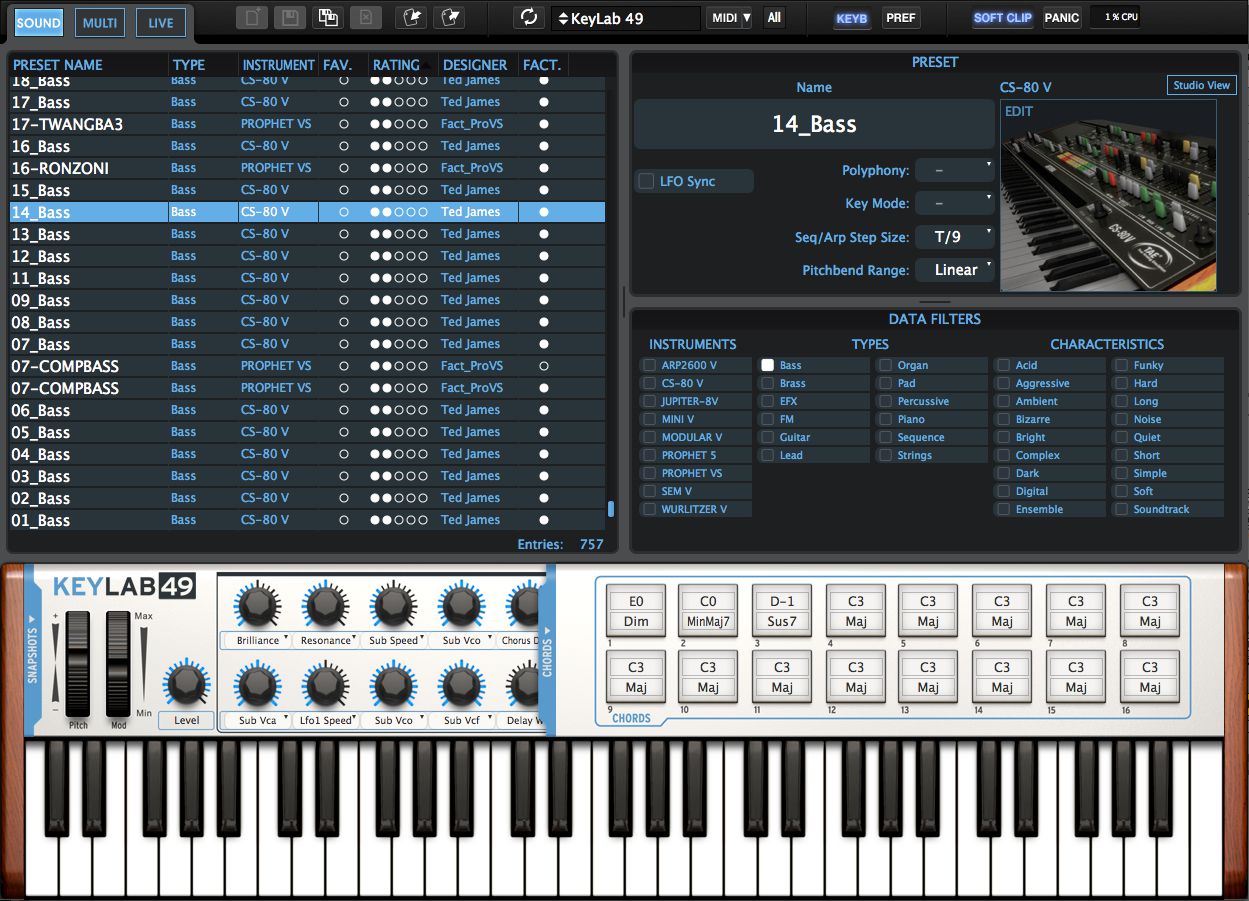 Above the Data Filters we can see basic patch settings like Polyphony and Pitch Bend, and we can click on the plug-in icon to open the hood and edit further – if the computer happens to have a registered license for the virtual synth that drives the patch. Clicking the Studio View button lets you ignore all that with a rather idyllic image of a studio containing all the gear Arturia's modelled their wares on.

Multi mode gives access to a range of 200 stacked sounds grouped by genre, built from two layers apiece, complete with added effects and MIDI split ranges. Finally, Live mode lets you assign different presets to up to 128 different slots, each assigned to Snapshot buttons on different banks, easily accessible via the hardware without resorting to the Analog Lab interface – which is sure to be handy on stage.
No Editing, No Problem
If you're looking for advanced synthesis and intricate sound design options, KeyLab may not be for you – but if you're looking for quick access to a large array of 5000+ classic analog tones, you'd be hard-pressed to find a better integrated hardware/software solution than Arturia's marriage of virtual synthesis with tactile control in the KeyLab series.

While not all the sounds were to my liking off the bat, most of them served as decent starting points that could be tweaked into usability and re-saved accordingly; the sheer tonal richness and girth of Arturia's sound engine makes a lot of them worth exploring.

Though you can't really get under the hood without buying into Arturia's other licenses – which could always be worth investing in as time goes on, and can even be viewed as a sort of expansion capacity – hands-on control of the most important parameters are already programmed in right from the start, making the unit highly playable and loads of fun for users with a wide range of experience.
(...) if you're looking for quick access to a large array of 5000+ classic analog tones, you'd be hard-pressed to find a better integrated hardware/software solution (...)
Conclusion
If you're in the market for a well-built controller and adding a whole lot of great sounds to your library while you're at it doesn't sound like a bad idea, the KeyLab is certainly worth a good hard look.


Price: $399 / €329
Pros: Huge high-quality sound library, great key action, solid MIDI via USB, and a wealth of controller options.
Cons: Not supported as a control surface yet in most DAWs, no access to serious synthesis components or full parameter modulation without upgrade.
Web: http://www.arturia.com/evolution/en/products/KeyLab49/intro.html