Review: Arturia DrumBrute
Arturia has turned its engineering firepower towards beats and created a fully analog monster with bags of connectivity. Enter DrumBrute!
Arturia is now known just as widely for its hardware as for the software it has been developing for many years. The French company has managed to create its own distinctive take on synths and controllers, correctly predicting that analog would make a big comeback and producers would demand connectivity that integrated not just their computers but their CV or MIDI-triggered hardware as well.
In this era of multi-functional devices, it's bordering on unusual to find an instrument that is "just" one thing. But synths and drum machines used to be just that: no digital effects suites built in, no audio interface bolted on. For the most part, DrumBrute eschews gizmos and leans heavily towards the hardware world, though, of course, it can transmit MIDI over USB. Only the most esoteric synth builder would omit this kind of functionality nowadays.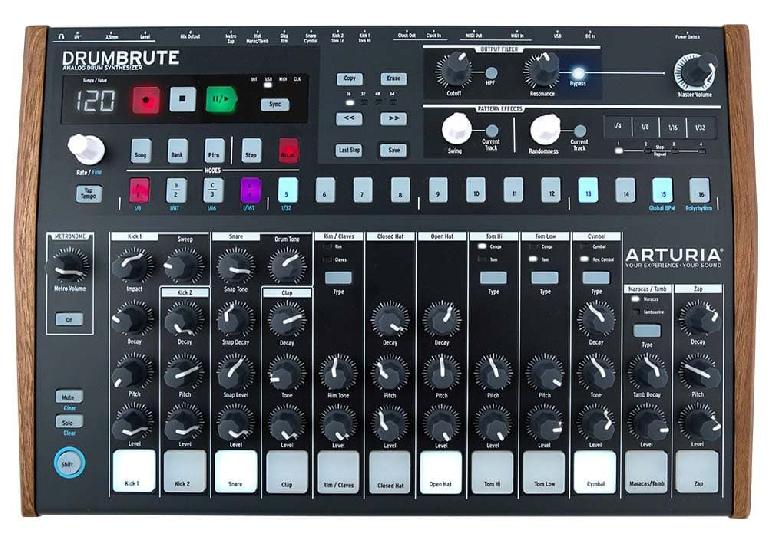 Look and Feel
DrumBrute is solidly built and powers from the bundled PSU. There's USB but this is for MIDI communication with your computer and preset management using the librarian app. The rear panel has a bunch of ports for getting data in and out including 1x1 MIDI DIN ports, MIDI Clock in and out and 12 individual audio outs. These use 3.5mm mini jacks due to space constraints but the main mix output jack is a 1/4 inch socket. Both sizes of headphone output are provided which is a nice touch, and there's a retractable level control for these.
The reason DrumBrute can send each of its channels out individually for recording or mixing is that each one is powered by a separate engine. This also makes it fully polyphonic, with every engine able to be triggered at the same time. The top surface is laid out in a way that focuses on performance and real-time sound tweaking and although it might look busy, when you actually use the instrument it's very easy to get to grips with, even for newcomers.

Refreshingly, what you see is pretty much what you get with DrumBrute. There are 64 patterns with up to 64 steps each and the ability to chain patterns together into songs. You can use the Tempo knob or tap tempo button to set the speed, or sync tempo over MIDI, and there's a physical control for the metronome. Internally, there are 17 pure analog drum sounds spread across the 12 channels, with five channels having a choice of two different sounds, accessible via a button.
Making Beats
You can step sequence or perform and record in real time, and record with or without quantization, even if most people will choose to leave this switched on. Lights denote pattern playback and patch selection, and since there's relatively little shift and pressing to access alternate functions, it's fairly obvious what each control does. The pads are very responsive, fun and accurate to play, and there's a cool Pattern Effects section that can be used to add variable swing and also randomization. These work either on the whole pattern or on the currently selected track as you wish.
Another great performance feature is a Step Repeat section, with 1/4 to 1/32 beat divisions. Simply tap on any of these during playback to repeat, loop and stutter your beats. Polyrhythmic sequencing is also available and this lets you assign different pattern lengths to each instrument, for a more unusual looping effect.
Twisting Sound Engines
Sequencing works brilliantly, but it's only half the story. DrumBrute really wants you to tweak the sounds, and it provides a variety of knobs on each channel to help. These vary depending on the channel, but each one has level and then various knobs like pitch, decay, impact and tone. Simple though these are, they are perfectly suited to designing analog drum kits and they're very intuitive and creative to play with. The sounds include "re-imagined" 808s and 909s as well as some more modern ones and they are really authentic. Using the knobs, you can very quickly tighten up electronic snares, take kick drums from punchy to booming, make hats longer or shorter and perform all kinds of other sonic wizardry.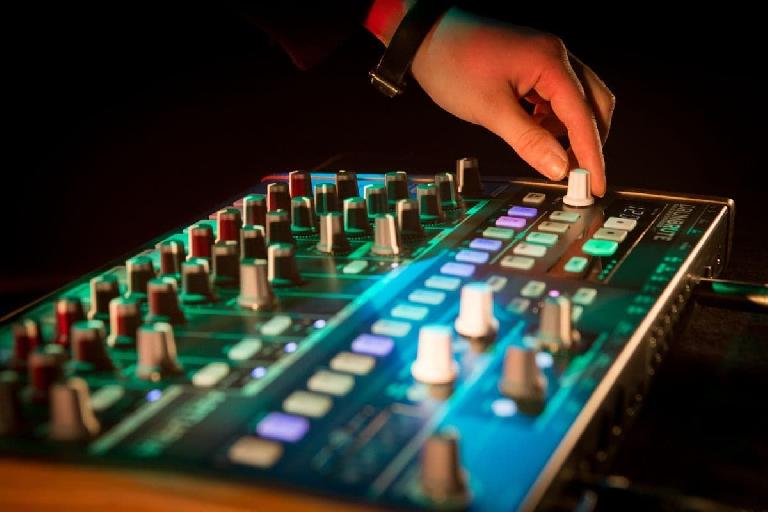 There isn't an effects section built in, but you do get a Steiner-Parker filter section which can use HP and LP modes or be bypassed entirely. This is suitably fat and sounds great, processing the main output of the instrument. The decision to leave out digital effects might irk a few people but it does fit with Arturia's goal here of maintaining a fully analog system. The availability of individual track outputs means you can use any external hardware or software effects you like on any of the channels, or indeed on the master output. Plus there are plenty of groove boxes out there with onboard effects if that's something you really want.
The Verdict
I was pleasantly surprised by DrumBrute's laser focus on just being a great drum machine. As odd as that might sound, a lot of devices try to fulfill several different roles, with varying degrees of success. This is a superb analog instrument, approachable, well designed and with a sound and character all of its own. There's MIDI computer integration but the idea really is that you play DrumBrute, sequencing and tweaking the sounds in real time. You can hook it up to all manner of other MIDI gear thanks to its various ins and outs, and the option to route any of the channels out individually makes recording and mixing much more flexible than it might otherwise have been.
This instrument brings back the joy of creating beats in a way that more generic devices can struggle to do. Sonically it's a beast, and it's also easier to work with than you may have thought, even if you're new to hardware sequencing. Most of all, DrumBrute knows exactly what it is: a no-nonsense analog drum machine that's equally at home in the studio or on stage thanks to its innovative performance features.
Price: $449 USD / 449 Euro
Pros: Tremendous fun to use. Sounds amazing. Laser focused on sequencing and drum design. Fully analog. Separate channel outputs available. Lots of MIDI hardware sync options. Fat filter section. Great performance effect controls. Gentle learning curve. Companion application for preset management and device setup. Polyrhythmic capability.
Cons: No onboard digital effects section, if that bothers you.