Following its ultra-compact AudioFuse and the larger, studio-oriented AudioFuse 8Pre, Arturia has released AudioFuse Studio which in size terms sits somewhere between the two, while adding some unique features of its own. It's remarkable how much they have squeezed into this still-portable box - it covers all sorts of use cases. To start with it can be used with or without a computer and powers over the mains, its power requirements being too high for USB which is common in more capable interfaces such as this. A bunch of cables are provided and you get two independent headphone outs with both large and small jacks, so no adaptors required.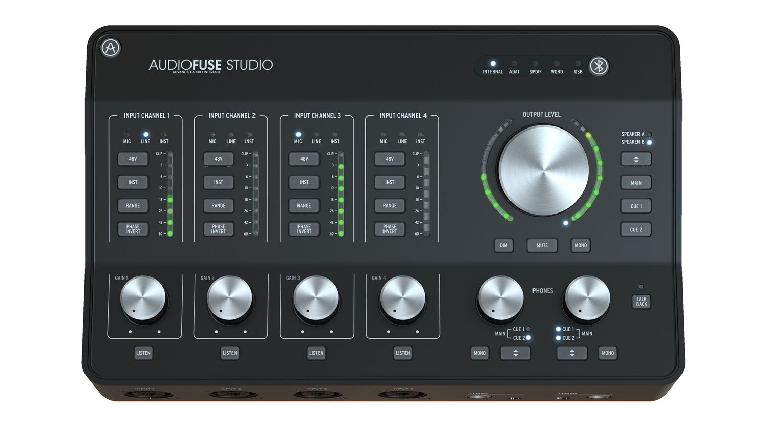 I/O For Days
There's a total of 18 ins and 20 outs split across 4 mic inputs, 8 line ins, 2 line outs and 2 pairs of monitor outs, ADAT, S/PDIF, a reamping output, talkback with a built-in mic and a phono facility with preamp. You also get a zero latency mixer, MIDI I/O and a three-port USB2 hub on the back panel. The MIDI ports for connecting external gear are mini versions, but adapters are provided.
There are four Discrete Pro preamps that offer an equivalent input noise of -129dBu and a dynamic range of 119dB which is very impressive and pre-fader listen available on each one. Underneath the large Level dial with LED meters are Dim, Mute and Mono buttons for instant access to different monitoring modes, and to the right. buttons to let you switch between speaker outputs and also 3 different audio sources. Recording latency was extremely low in my tests.
Streaming Sound
This brings us to the Bluetooth feature - activating this lets you stream audio directly from another device, typically a phone or tablet, for playback or recording. It uses the aptX codec which is very high quality, and it's a nice addition. The smaller AudioFuse also has Bluetooth though I haven't tested that model, but here it works brilliantly and it's nice not to have to fiddle with cables to get signal from the phone into the device. In standalone mode with no computer it's especially helpful.

Pressing the Arturia button calls up the software control centre when connected to a computer, from where you can manage routing and setup via a well-designed software interface. The hardware layout is easier to navigate than many other interfaces with this much functionality but it's still nice to get a visual overview of what's going on as well. Registering the hardware also gets you the AudioFuse Creative Suite of plug-ins, comprising seven excellent mixing plugs - preamps, compressor, tape delay, reverb - and the Analog Lab Lite instrument.
Conclusion
AudioFuse Studio is a joy to use, and its results are top notch. There's just so much power and flexibility on offer that it's hard to think of anything that many producers would realistically need to do that it couldn't handle. Recording multiple sources at once is a breeze and you can hook up a turntable, your MIDI gear, dual headphones, two sets of monitors and even USB devices. In standalone mode it works as a hardware mixer and router so it's great for smaller live sound setups as well. The price may seem high for what is physically a small-ish unit, but you're paying for very high quality, an incredibly flexible and powerful feature set, and top grade results.
Price: 899 Eur
Pros: Incredible selection of I/O. Stream audio over Bluetooth. Connect, mix and record pretty much any kind of device. Generous choice of ports. USB2 hub. Standalone mode. Excellent workflow and design. Solid build. Good software selection is bundled.
Cons: Some will find the price high, but you are getting a lot for your money.
Web: https://www.arturia.com/products/audio/audiofuse-studio/overview