Review: Arturia AudioFuse 8 Pre
Arturia's flagship audio interface is designed to work in a number of different modes to fit the way you make music. Plus it comes with some cool software, as Hollin Jones discovered.
Arturia's AudioFuse family, which until now consisted of the compact AudioFuse and larger AudioFuse Studio models, has gained a new member - the 8Pre, an 8-channel, USB-C audio interface with ADAT output. It can be rack mounted but also, unusually, has optional feet that can be used to desk mount it, causing it to sit a little way proud of the table top. Cables are provided to connect to either a USB-C or B computer (it is USB2 compatible), so users of slightly older hardware aren't left out in the cold. There's a bundled PSU of course, since units of this size require more power than USB can provide.
Get Your Fuse On
The rear panel hosts eight combo XLR input ports and channels 1 and 2 also have front facing inputs for easier connection of instruments like guitars or mics without having to go around the back. Inputs 1 and 2 also have effects returns loops and you'll find double ADAT I/O, with 8 further digital ins and outs available optically at up to 96 kHz so you could stack two units together, or use it as part of a system with another interface. There are 8 individual line outputs, and external word clock I/O rounds out the rear panel.

On the front are eight control sections, one for each of the inputs. Each one has a level control, level meter and pad, phase, instrument and phantom power buttons. To the right hand side are a main speaker level control, 1/8 and 1/4 inch headphone sockets with a level control and a monitor select section. Clock and sync can be controlled from dedicated sections, and the unit switched between USB and ADAT modes. You can use the unit either as a 16-input / 20-output USB audio interface or as a bidirectional ADAT expander with 8 preamps and 10 analog outputs.

Sonic Depth
Internally the 8Pre uses Arturia's discrete pro preamps with 129dBu of S/N and 119dB of dynamic range - more than enough to cope with everything from soft music all the way up to heavy rock. You can read detailed technical information about them here https://www.arturia.com/products/audio/audiofuse-8pre/discretepro for much more on the technicalities of how these operate.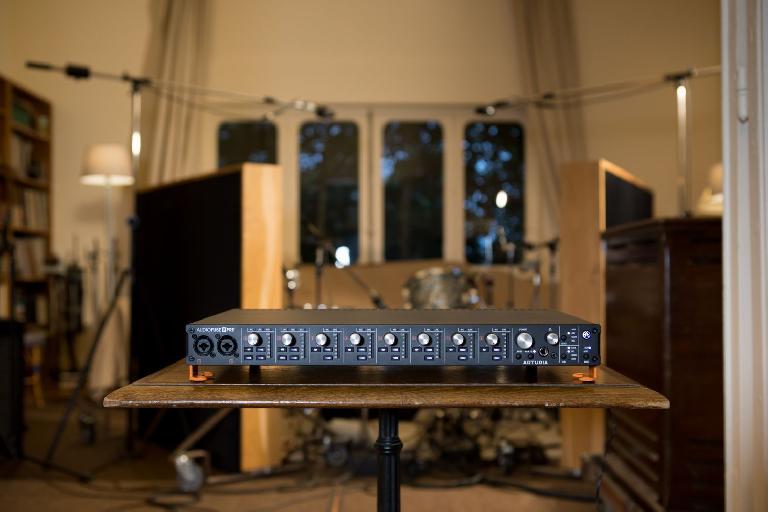 In my tests the 8Pre performed flawlessly, capturing pristine signal at high sample rates, with no noticeable latency even on my older MacBook Pro. Arturia's AudioFuse Control Centre software is your hub for setup, firmware updates and more, and as you'd expect from a company so experienced with software, it's slick, well designed and easy to use.

Speaking of software, Arturia is in the enviable position of having a large stable of software effects and instruments at its disposal. And with the 8Pre they bundle the AudioFuse Creative Suite, which is an ever-growing collection of software effects focused on recording and mixing. There's TridA Pre, 1973 Pre, V76 Pre, Mini Filter, Comp-FET 76 and Delay TAPE-201 as well as Analog Lab Lite just for fun - a collection of hundreds of patches taken from the V-Collection of instruments. These are absolutely a bonus, and you can read our review of the compressors here https://ask.audio/articles/review-arturia-3-compressors-youll-actually-use-
Conclusion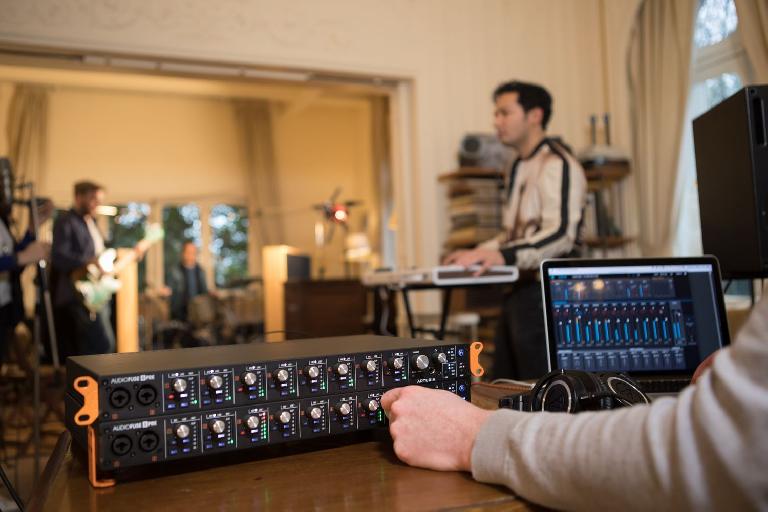 The AudioFuse 8Pre is a serious and top-quality recording interface with the flexibility to form the basis of your recording setup or be incorporated into a larger one as an expander. Build quality is excellent, workflow and results are exemplary. And you get a great collection of DAW plug-ins thrown in as well. For anyone needing multiple I/O at the same time it's an excellent recording solution.