Review: Arturia AudioFuse
They say good things come to those who wait. We find out if that's the case with the Arturia AudioFuse audio interface which packs an incredible amount of connectivity into a small package.
After waiting a long time for the 24-bit, 192kHz AudioFuse to come to market it's finally here. You may have watched our first look overview video back when we first got hands-on with this USB interface… and now after some weeks of using it we're ready to reveal what we really think about the AudioFuse.
First Impressions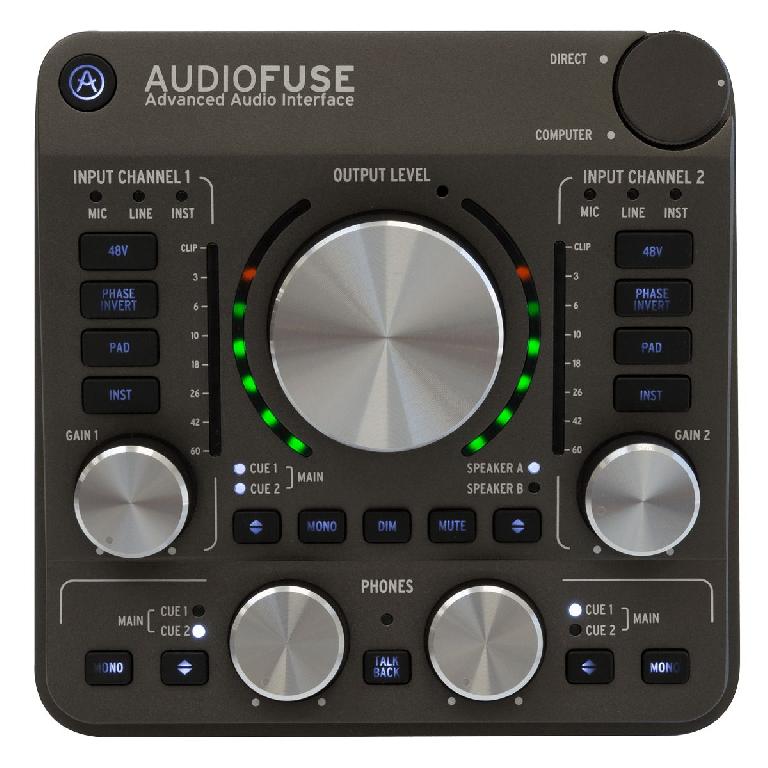 The AudioFuse doesn't take the route of having as few controls available on the device as possible. Quite the opposite in fact. When you first glance at it you're met with a plethora of buttons, knobs and ports. This is actually a very, very good thing in my book. There is literally a physical control for almost every function of the AudioFuse. There's simply no need for menu diving or opening the equally powerful AudioFuse control centre software for most needs when recording. You just plug in the AudioFuse (to Mac, PC, Linux, Android or iOS), plug in your XLR or line in cable (the AudioFuse automatically detects and displays the type of input, sets the gain, monitoring, etc) and away you go to start recording. It really is that simple for most tasks. But AudioFuse goes so much deeper if you need it to.
Good Looks, Great Workflow
Considering the amount of I/O available AudioFuse is a small interface and crams a lot into a beautiful aluminium box you can hold in one hand. It comes with a nifty accessory that covers the top of the box and protects from dust in the studio or knocks while on the road and doubles up as a stand to elevate the AudioFuse if desired. The top panel is fairly logical and once you identify the various controls from the main two inputs to the main output, cue, phones, phase invert, mono, mute, input gain, speaker switcher, talkback with built-in microphone and phones gain, it becomes very intuitive and quick to work with. Indeed, quicker and more enjoyable than having to root around in software or in your DAW to control these settings (as other audio interfaces are requiring more and more).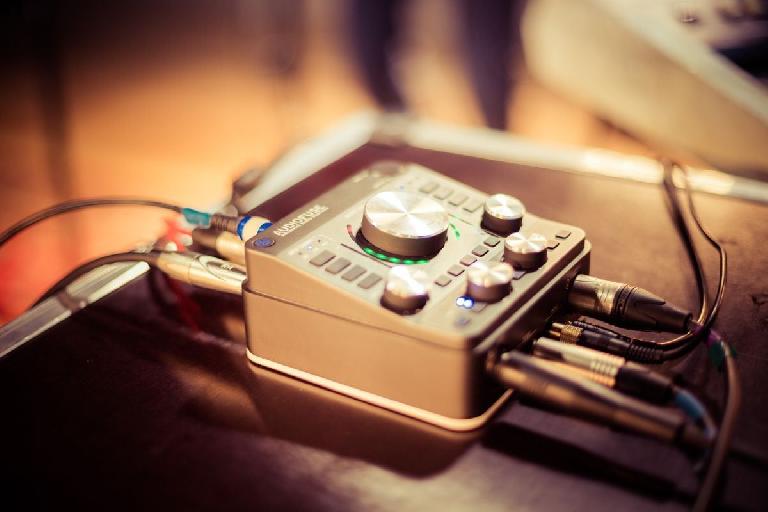 The controls themselves feel sturdy and high quality, especially the pots. Most of the I/O ports are flush with the device and the back panel, where the majority of ports are located also contains a three-port USB hub, ideal for connecting any USB dongles, iLok, keyboards and the like. It's a really useful touch, especially considering the current Apple MacBook Pro has ditched USB for USB-C.
Get Connected
I'll just come out and say it. The AudioFuse connectivity options are simply ridiculously good. For an interface at this size, price, and with the sound quality of the DiscretePRO preamps (more on that later), Arturia have included way more than anyone should expect. Whether you need to connect XLR microphones, guitars, basses, turntables via RCA inputs or other devices via TRS jacks, you're covered. Then there's the optical or coaxial S/PDIF I/O, ADAT so you can increase the number of mic preamps if you need to record a large band.
AudioFuse also has four along outputs so you can easily connect up to two sets of monitors or route the output to an amp and bring that back in to one of the TRS inputs. There's even 5-pin MIDI (with two included MIDI jack converters).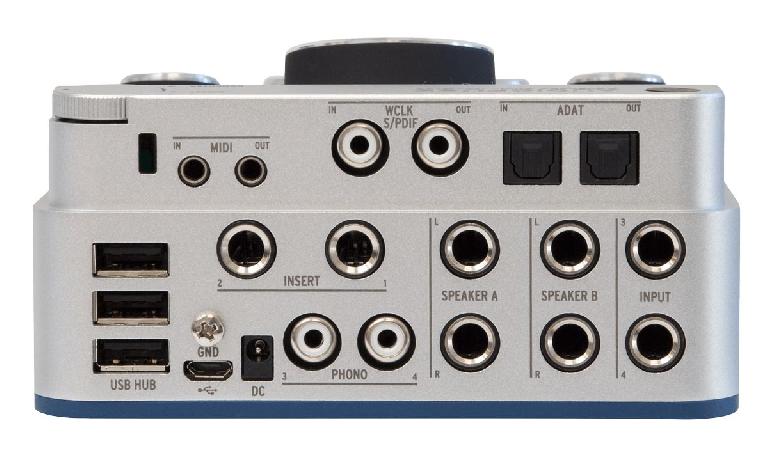 The two independent headphone outputs are a great idea. Again you have full control over each on the top panel. And I love the fact both headphone outs have a 1/4" and 1/8", so there's no need to search around for that headphone adaptor - which has to be one of the most annoying creativity killers known to studio producers ever! Just plug in whatever headphones you have to hand!
Performance
Almost every audio interface brand makes big claims about the quality of their preamps, the low noise and low latency, etc. So we were curious to find out in a practical setting just how good the AudioFuse DiscretePRO preamps really are. In a word, I can say we were not left wanting. Arturia's custom designed microphone preamps are very, very good and better than expected for an interface in this price bracket. We didn't find they colored the sound or added any discernible noise. The quality of these preamps is certainly something Arturia should shout about more.
We spoke with Arturia about their preamps and found out there have been third party independent tests comparing the AudioFuse to the RME BabyFace Pro and Apogee Twin DUO. We've published some of these below.
In terms of flatness the AudioFuse input gain was marginally more stable than both the BabyFace and Apollo Twin: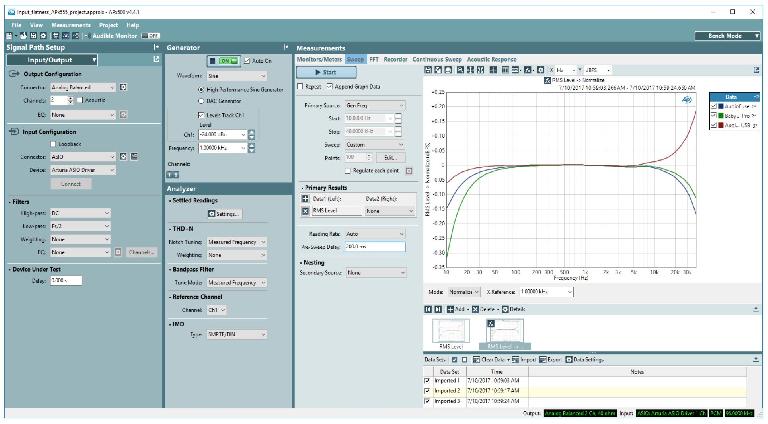 AudioFuse also outperformed the other interfaces in terms of mic input noise (when a microphone is plugged in) with just -131.5dB(A) compared to BabyFace Pro's -128.4dB(A) and Apollo Twin USB at -129.8dB(A).
With all three interfaces set to 96kHz sample rate the dynamic and maximum output voltage were measured. In this test AudioFuse was roughly equivalent to the others: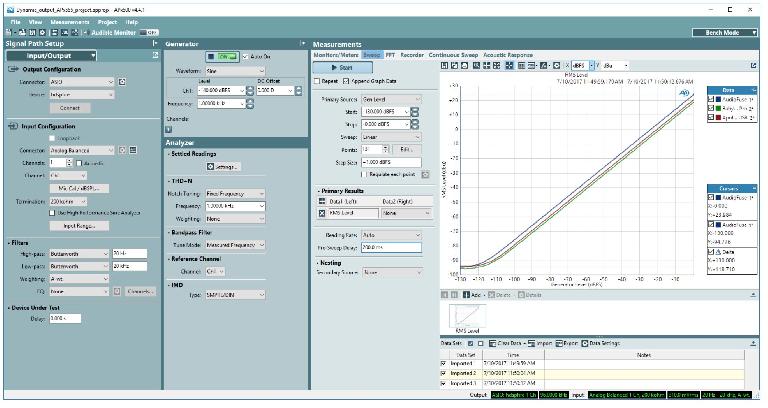 When it comes down to latency at 96kHz the AudioFuse (0.256ms) is very close to the BabyFace Pro (0.234ms) and Apollo Twin (2.390ms).
And then when you compare price, connectivity, and features like dedicated talkback and speaker output you get a sense of how good the AudioFuse really is across the board.
You may be wondering why Arturia have chosen to pack all this goodness in a USB 2.0 audio interface. Why not USB 3 or Thunderbolt? They informed us they have done rigorous testing with the AudioFuse to make it very efficient. Indeed, we found that USB 2.0 provided excellent results when we were recording and mixing with the AudioFuse. Performance didn't suffer at any stage. In tests on a 2014 MacBook Pro and a late 2016 MacBook Pro latency averaged between 3-5ms depending on the buffer rate in the DAWs.
What Else?
The button on the top left of the AudioFuse toggle opens the AudioFuse Control Center on your computer. A simple touch that won't interrupt your workflow but you give you quick access to adjusting levels for inputs 3-4 and other functions. While I haven't needed to resort to using the software side of the AudioFuse much, it's a no fuss and easy to use every time it's been called into action. Amongst a variety of functions it allows you to control all ADATs and basically adjust everything you can do on the device itself plus more.
One minor criticism with the AudioFuse is that with the cover on the MIDI, Word Clock, S/PDIF, and ADAT ports are not accessible. Not hugely inconvenient, but I'm really scratching around to find some cons!
Verdict
Arturia have truly hit the ball out of the park with the AudioFuse. You can connect virtually anything to it, and connect it to virtually anything. It's USB bus powered (and comes with an adaptor if you prefer) which means you can use it anywhere. The on-device controls make for a convenient and fast workflow when recording. AudioFuse is the no-compromise audio interface with excellent sound quality my studio has been waiting for. I'm definitely going to ignore the Arturia courier that comes to pick up my review unit!
Price: $599 / €599
Pros: Well built, sturdy, incredible range of I/O ports, excellent sounding preamps, easy to use and setup, an interface that'll grow with your studio needs.
Cons: While not within every budget, the features and quality are indeed reflected by the price.
Web: https://www.arturia.com/products/audio/audiofuse/overview