Review: Arturia 3 Filters You'll Actually Use
Taken from three of Arturia's flagship virtual synth recreations, these standalone filter plugins go beyond what the original hardware units could do. Hollin Jones puts them to the test.
The concept of gear "that you'll actually use" is an interesting one. However many plugins and instruments we accumulate, it's true that most people do return frequently to just a few - a core of processors and sounds that you just like to work with and that feel right. Arturia's new "3 Filters…" collection consists of filter sections derived from some of the company's bigger virtual instruments, split off and extended into their own standalone effects units. So what do you get?
And We're Off!
First up is Mini-Filter, a recreation of the 24dB per octave low pass ladder filter from the Moog Mini V. With a fat, creamy sound, it's now possessed of a powerful modulation section which consists of an envelope follower, an LFO and a step sequencer. There's a patch manager built in too, along with a bunch of presets. Using the LFO and sequencer you can create some really cool tempo-based filter effects and also with the envelope follower, modify parameters internally based on the envelope of the sound source.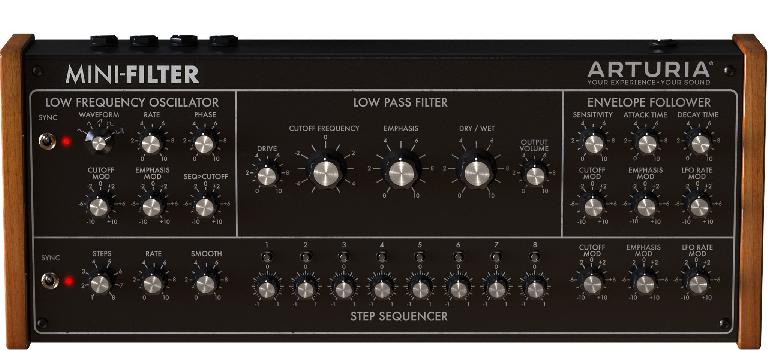 Next is SEM-Filter, taken from Arturia's virtual SEM synth. Key features here include a Noise Oscillator for adding noise, soft clipping option for adding analog saturation by overdriving the signal by variable amounts, and a gate sequencer and mod source section that lets you trigger or retrigger the envelope and LFO mod sources to create animated filter sequences or smoother, more subtle shifts. There's also a basic modulation matrix, allowing you to get creative with the mod routing inside the effect - something that was not available on the original.
The third filter is M12, a recreation of the multimode filter used in the Oberheim Matrix-12. This is possibly the most powerful of the three, with Arturia describing it as "almost an instrument in its own right". There are two analog filters, each modelled on the original hardware and featuring cutoff and resonance control as well as the 15 modes available on the original. Filter effect panning and level control per-filter have been added over and above what the hardware could do.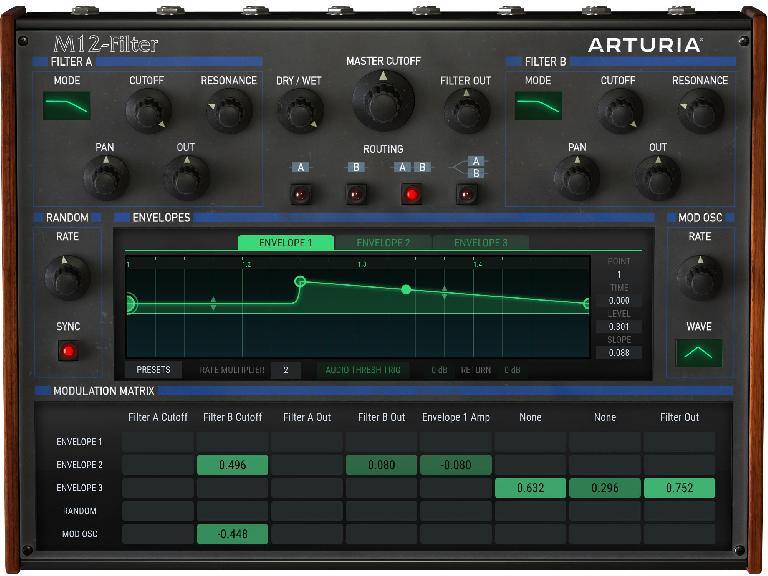 The filters can be processed in four ways: A, B, series and parallel and there's a master cutoff control that works on both filters at once. Again, there's a modulation matrix with sources assignable to over 20 destinations, and 3 modulation envelopes which can be synced to your host tempo or left free to create more random sequences and patterns. A random values generator rounds out the feature set.
Conclusion
These three filters are all different in the way they work and sound, and so will find varied uses in your productions. They are available individually or as a bundle of three at a discount. Anyone working with electronic music will appreciate their ability to create filter patterns - pulsing and rhythmic sweeps and even ducking effects - and left static they are a great way to shape any sound, even in more conventional styles of production. There are plenty of audio examples on Arturia's site, so check them out and see if, like me, you agree these really are filters that you will actually use.
Price: Bundle of 3 - 99 Euro until April 5, then 199 Euro
Individual filters - 49 Euro until April 5, then 99 Euro each
(All prices are the same in USD).
Pros: Gorgeous sounding filters recreating classic synth gear. Great for sound shaping. Create dynamic and rhythmic filter patterns. Expanded capabilities compared to the originals.
Cons: If you're not a filter nut, one or two may be enough.