I don't know what it is about Art Vista that makes their sample libraries so special to me. Their motto is "Samples With Soul" and I guess that sums it up. They just have a unique vibe to them that just makes me feel inspired and want to write with them. I am a long time user of their Malmsjö and Virtual Grand 2 pianos, as well as their Cool Vibes library.
So when I went to the NAMM show in January, I made my customary stop at the Art Vista booth and Hans Adamson, the founder and creative force behind Art Vista, demonstrated his new Back Beat Bass library for Kontakt and the Kontakt player, which is an upright bass (as well as his upcoming Tony Newton electric basses). Of course I had to try it out!
As usual, it did not disappoint. I have been using Spectrasonic's Trillian, which is a terrific library, so the last thing I thought I needed was another upright bass library, but this library just sounds and feels very different from Trillian. It is also only $99!
The library is specifically geared for jazz and rockabilly arrangements. It was performed by L.A. session player Gordon Bash, a founding member of the group Magnolia Memoir. In Pic 1, check out the GUI.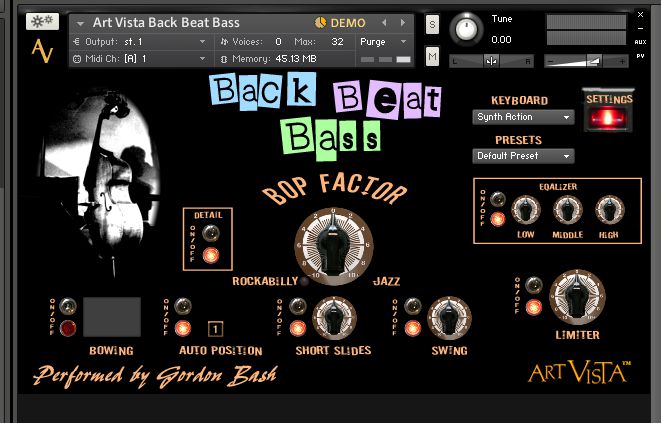 Pic 1
The heart of Back Beat Bass's uniqueness is the "Bop Factor" knob in the center of it. Turning it to Rockabilly, as I have in Pic 2, adds snap samples that are typical of what you hear in the records of early Elvis Presley, Carl Perkins, etc., and later on Brian Setzer and Stray Cats. It responds to how hard you hit it and with the Swing button enabled, automatic slapping plays back. If you hold a D#0 key, using the Yamaha convention of C3= middle C, the tempo of the first slap is adjusted by how soon you play another note after depressing it and thereafter, the auto slaps are adjusted to the playing tempo. Getting a feel for it is very quick and for me, intuitive.
Turning it to jazz makes it sound, well, jazzier. The mod wheel behavior defaults to toggling between Rockabilly and Jazz, although that can be changed.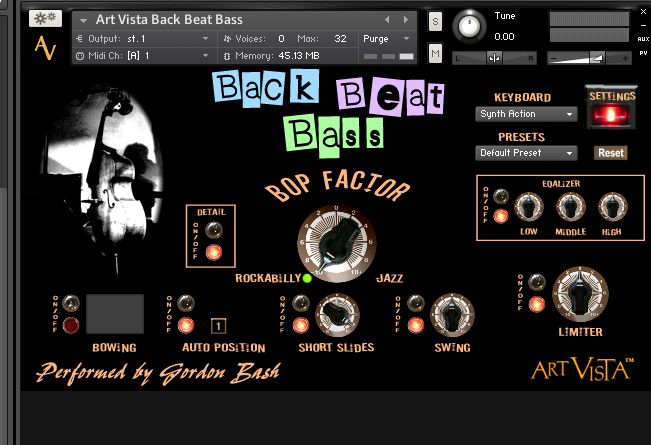 Pic 2
That is only the beginning of the control this gives you. Enabling the Short Slides knob set to its default position (as you see in Pic 3) triggers them at two different speeds by higher velocities, deselecting it (as I have done in Pic 4) allows you to trigger them by key switching. You can even set it in the Settings view so that the short slides play only when the sustain pedal is depressed. More on the Settings view a little later...

Pic 3

Pic 4
There are also Long Slides that can be triggered by MIDI CC chosen by the user or by specific user-assigned keys. There are also "Ghost Notes mapped to D#0 that relate to whether the neck position is set to automatic or manual, as well as Body Taps mapped to D4-G4.
You want bowing? You've got bowing. It automatically chooses between up bows and down bows, but of course, you can override it by key switching. See Pic 5.

Pic 5
The amount of control Back Beat Bass gives the user is just sick! If I click on the red Settings button, in Pic 6 you can see all the choices of user configuration that appear.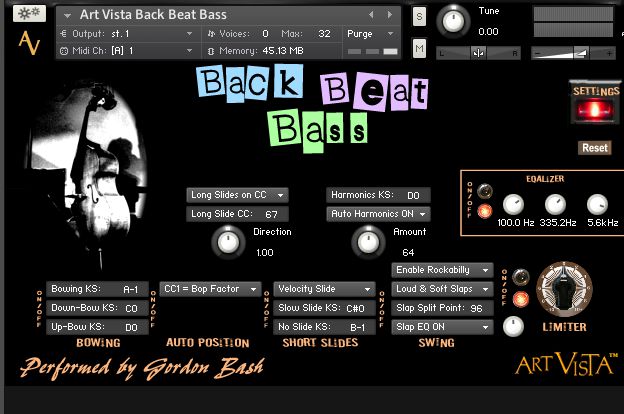 Pic 6
As the late night commercials say, "But wait, there is more!"
There is an included 3-band parametric EQ and Limiter FX that you can toggle on or off, as you see in Pic 7. I usually prefer to use my beloved UAD plug-ins, but these sound quite nice and will have instrument presets for pre-configured EQ settings.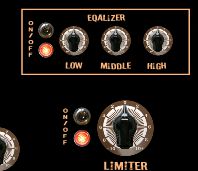 Pic 7
As with the Virtual Grand Piano 2, they have even included velocity response presets for different keyboard controllers. See Pic. 8.

Pic 8
As I say, there are other fine upright bass libraries in the marketplace, including offering from Spectrasonics, Manytone, and Bardstown just to name a few, but there is not one that gives you this level of control and has this special kind of rockabilly/jazz vibe that Back Beat Bass does. Prepare to fall in love.
Did I mention, it is also only $99!
Let me say a few words about Art Vista's upcoming Tony Newton Groovemaster Bass Bundle series of electric basses. Marketing hype aside, Tony is a famous Detroit R&B/ Blues bass player. If James Jamerson of the Funk Brothers did not play on the specific Motown record, there is a darned good chance Tony did and frequently, they played together on records. Leave it to Motown, right? He also played with the great blues legends Little Walter, John Lee Hooker, and so many others.
Well, Hans has teamed up with him to create a signature electric bass library that will include an "Old School" bass; "Bright Funky" bass; and "Double Neck" bass. It will also include MIDI loops for each to get you the kind of grooves that Tony was famous for, and although I have not yet spent enough time with them yet to officially review them, just the short amount of time I have spent assures me that I am on solid ground when I say to you that they will have the same unique vibe and incredible amount of control and user configurability that is evident in the Back Beat Bass library.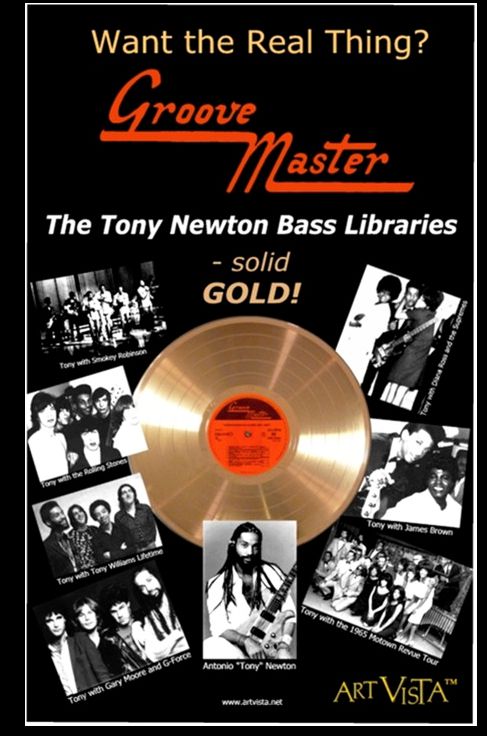 Pic 9
Prices have not yet been announced for these libraries, but traditionally Art Vista prices have not only been competitive, but for the quality and playability they provide, they have been a bargain in my estimation.
If I sound like an unabashed fan boy, well, I am, and I think you will be too. If you are unfamiliar with Art Vista's great libraries and want an upright bass library that will inspire you to play and program, Back Beat Bass is a great place to begin.
Check out Back Beat Bass at artvista.net!