Review: Apple iPad Pro - The Ultimate Tablet for Music Makers?
With the Microsoft Surface Book taking aim at musicians and producers, we were curious to see how the new bigger, better, faster iPad Pro fares in the battle for the hearts and minds of music makers.
I'm on the East Coast, so I had to set my alarm for 3:00 a.m. as usual in order to ensure that I could get my new iThing on launch day. As I awoke groggily and placed my order, I started to have second thoughts. Do I really need another iPad, only bigger? What was the latest iteration of the iPad going to bring to the table for me as a musician that wasn't already there? In the end, I was already awake, so I committed and pressed 'buy'. In the end, I'm terribly glad I did.
What's New?
I already own an iPad mini which I use for recreational purposes such as reading books, browsing the web, watching movies on the plane, etc. In terms of productivity and musical use, I am moving from an iPad Air (first generation) to the iPad Pro. In addition to being unashamedly larger, the iPad Pro boasts Touch ID with a sensor that is quite a bit quicker than the first generation Touch ID. The sound is now in stereo, with 4 high fidelity speakers. There is an interface for a touch keyboard that can be used both with Apple's first-party offering as well as third-party keyboards such as the Logitech Create.
Apple's A9X chip claims to offer 64-bit desktop performance. With a display that is nearly twice the resolution of the previous iPad, the GPU has double the performance and the CPU runs at up to 1.8 times faster than the iPad Air 2. As always, I took these specs with a grain of salt. I'm more interested in how the apps actually look and feel in practice as opposed to benchmarks. Let's get down to it.
Look and Feel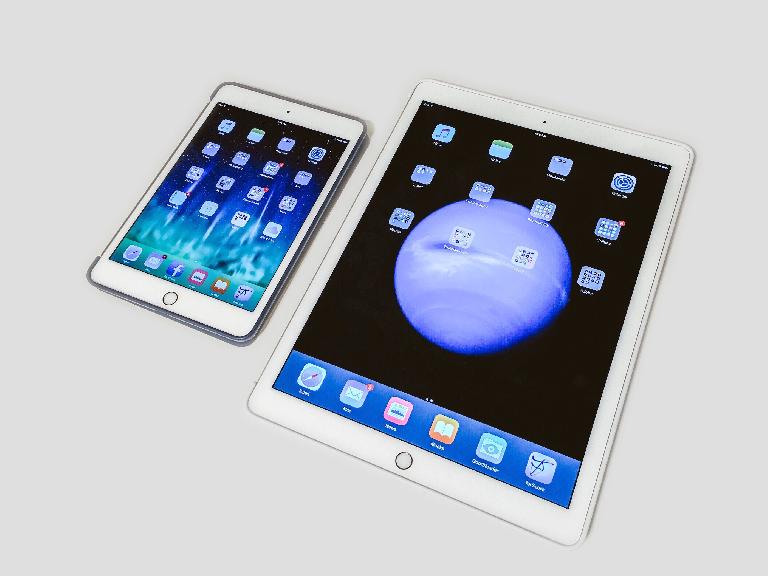 This thing is big. Enormous, really. Somehow, though, Apple managed to keep it incredibly thin and it truly does feel effortless to hold. When you first look at the screen (you sort of… behold the screen) it can feel a little intimidating as there is so much space. When you fire up a few apps that are optimized for iPad Pro, it's truly a breathtaking experience. Not many of my favorite music apps are iPad Pro optimized yet, but even upscaled there is already a significant increase in usability.
The sound from the 4-speaker system certainly seems quite a bit louder than the previous single one. I'm not terribly certain that I'll be utilizing them for any serious musical work, but they are definitely a step up from the previous iPad and make consumption of media a bit more pleasurable.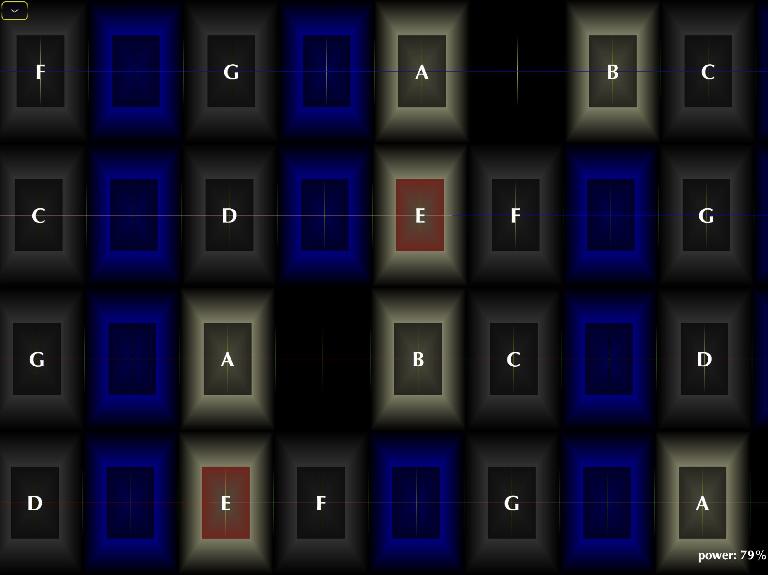 Apple's claims of performance are not exaggerated. This device is snappy as heck. Apps launch immediately, the graphics transition from one screen to the next with an incredibly fluidity, and audio/music apps that pushed my iPad Air to the limit don't stutter a bit. This is one fast machine, and when more apps come out that take advantage of it, the iPad Pro is going to really soar. Latency with amp simulation apps is nonexistent, and I could push every app in my guitar arsenal (such as Bias FX and Pedal) to the absolute limit and there were no sonic artifacts.
Musical Future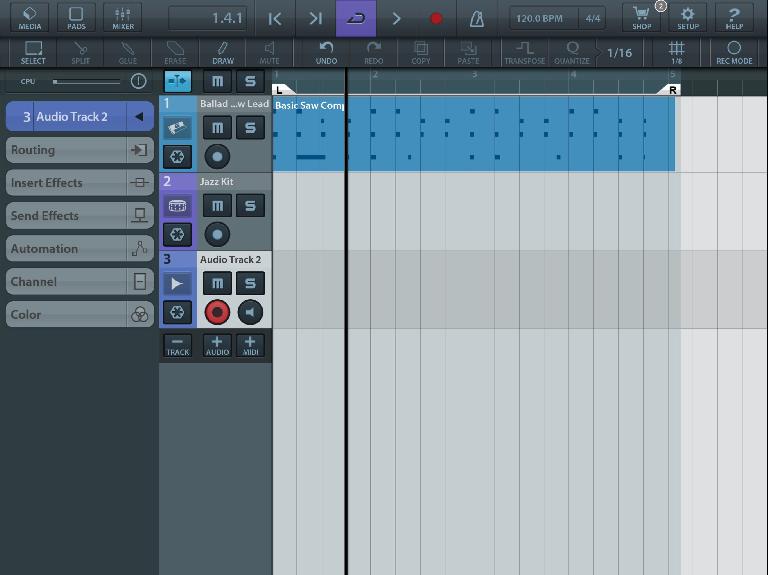 After spending some time with some of my favorite music apps, I can tell you I'm incredibly excited to see what developers do with the iPad Pro. Firing up GeoSynth with so much screen real estate to work with absolutely helped my pitch accuracy with the instrument. Sheet music in forScore is now full sized and even slightly larger in some cases than the original piece of paper it came from. I could view quite a few tracks on the screen at once in Cubasis and could grab the screen controls with considerably more accuracy than before. Using most music apps on the iPad Air was sometimes a bit of a struggle in grabbing the right user interface control, and that simply is no longer the case. You can confidently grab just about any screen control, see it in an extremely high resolution, and there is just plain room to spare. Using the iPad Pro just feels so much less frustrating in terms of accuracy of touch.
Conclusion
The iPad Pro is a great accomplishment by Apple to improve upon a device that was already industry leading. It's boldly large, beautiful to look at, pleasing to hold, and exciting to use. When developers start making the most of it, I think this is going to be a 'must-have' for any musician who relies on iOS in their workflow.
Price: $799 (32 GB), $949 (128 GB) and $1,079 (128 GB with Cellular).
Pros: Beautiful hi-res screen, uncompromisingly large, increased wifi speed and range, louder sound output.

Cons: Few apps currently take advantage of A9X and increased resolution