It is very unusual for me to review a product that I don't personally think I need. In this case though because I use an Apogee audio interface that I love and since this product is so versatile I am pretty sure that there are lots of potential users who will be interested in it, I agreed to review it, and to my surprise I may just have to buy one!

The ad for the Apogee MIC Plus says that it is a USB microphone for iPad, iPhone, iPod, Mac and PC and that it is "professional studio quality." Now I always take general marketing claims like that with a large grain of salt, but darned if it isn't.
What You Get
Like all the products I have seen that are described as USB microphones, this one is more than that. For all practical purposes it is an audio interface with A/D conversion, 24-bit up to 96 Hz operation and a mic preamp with 46dB of gain, digitally controlled. It is a cardio condenser mic with a micro USB input and cables for Lightning for iPad, iPhone, and iPod Touch; USB-type C and A for Macs and PCs. It has a headphone input with a "blend" feature that allows for zero latency monitoring. It also has a nice little desktop tripod stand that you see in the title picture and a mic clip. It comes with a Quickstart guide that is really all you need because getting it up and running is so simple.
Getting Started
Holding it in my hand, the build quality feels really solid and attaching it to the tripod or clip and cables is easy. The guide gives directions for using with GarageBand and my guess is that is where it will find its greatest use but I don't have GarageBand installed on my Mac so I decided to try it first with Logic Pro X, since it is what I know best.
The first order of business to use it on a Mac is to go to your System Preferences and assign input and output. I decided to use the MIC Plus for input and my Apogee Element 24 for output.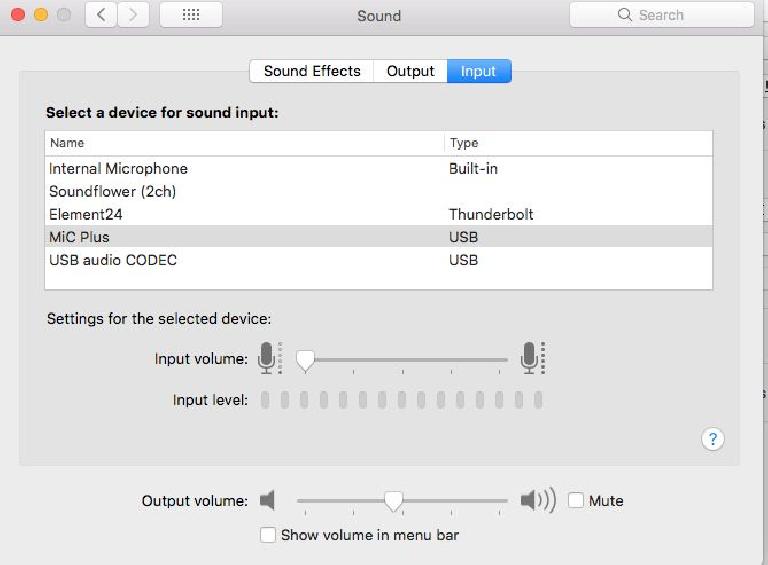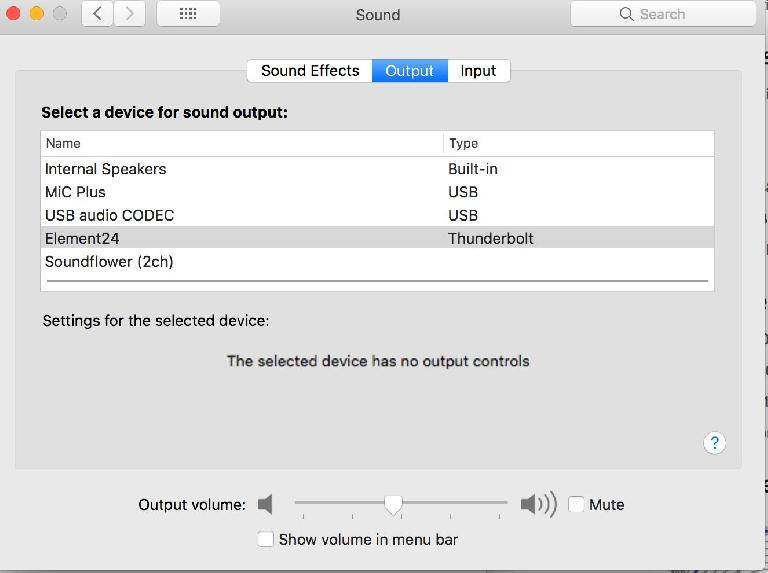 I then opened a project that I use to teach Logic Pro X with a piano track featuring a section of The Beatles' "Hello Goodbye" and an unused audio track. The only additional step is to set the Logic audio preferences to System Setting.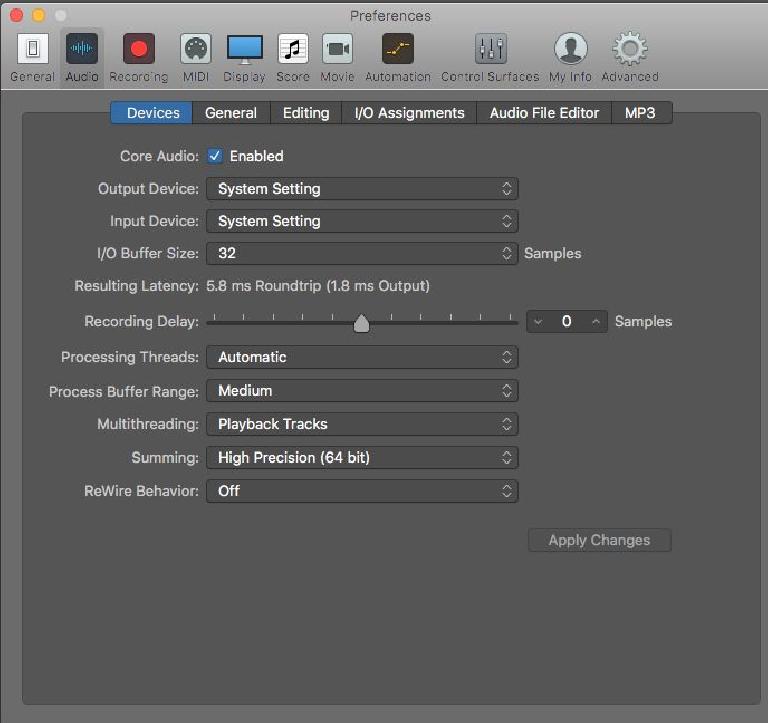 I can set the level either from a knob on the MIC Plus or by Direct Monitoring in Logic.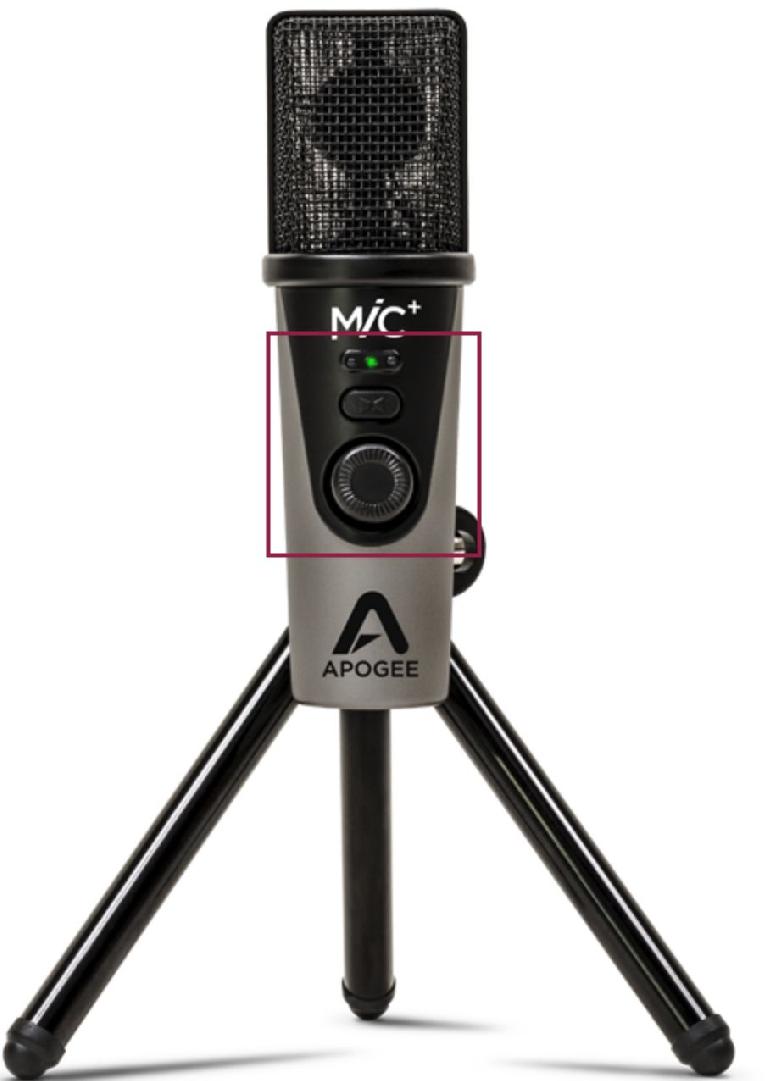 I press the green "blend" button to adjust the blend setting indicated by the white LED until that I don't hear latency and at a low buffer it is really good. Time to record. I do one quick pass, add a few FX, pardon my pitch please, it is early in the AM :)

Very nice! it sounds really clear and expensive to me."Professional quality"?Absolutely.
On the Apogee website you can hear recordings of male singers, guitars, piano and upright bass and I think they sound quite good.
Using The MIC Plus With GarageBand On The iPad
This is even easier. I connect the MIC Plus and open GarageBand and it recognizes the device and asks me if I want to use it. I record a quick vocal and again, it sounds really good. I add some FX and unfortunately, I have now exhausted my knowledge of GarageBand on the iPad.
Conclusions
Full disclosure, I have not compared this product to comparable products from competitors so I have no idea how it stacks up, other than to say that Apogee's reputation for high quality audio products speaks for itself. I would be very surprised if there is something at this price point, with all that it brings to the table, that surpasses it.
Price: $249.00 US
Pros: Inexpensive but does not sound inexpensive as it has a good mic, good converters and a good mic preamp with decent gain. Easy learning curve, highly portable and versatile. Solid feeling build quality.
Cons: None that I can think of, honestly.