There are a growing variety of microphones on the market that cater to the iOS musician, journalist, podcaster, and those looking for something better than the built-in mic on their iDevice. As musicians are beginning to consider their iPad as a potential portable recording rig, (or dare I say, even as a complete replacement for their studio computer), the need for studio quality audio devices is increasing. To satisfy this demand, Apogee have come out with a compact 24-bit, 44.1/48 kHz microphone called MiC.
For those unfamiliar with Apogee, it's worth pointing out their Mac-only audio interfaces are admired for their audio quality and attractive design. And, while the $199 price tag may appear steep compared to other iOS mics on the market, be aware that MiC (which is essentially an audio interface and microphone in one) is compatible with your iDevices and your Mac!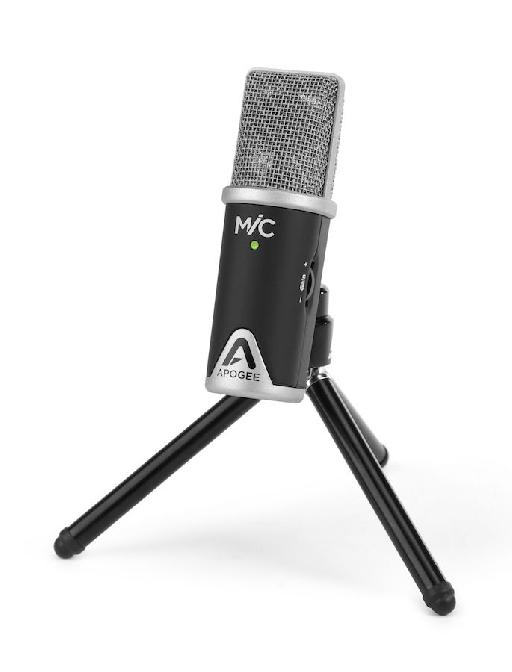 Apogee MiC on the included tripod.
Build and Setup
The metal enclosure which MiC is housed in looks and feels solid in the hand and is light enough to easily pop into a bag with your tablet or phone. In terms of size, we're talking roughly the height of an iPhone, and about half the size of most studio condenser microphones. In terms of style, Apogee haven't skimped on applying their renowned sleek and smooth finish to MiC.
In the box you'll find a useful desktop tripod and two cables (one to connect to your iOS device and one to your Mac's USB port). There is a single multicolor LED on the front of MiC and on the right-side you'll find the input gain control dial. When the LED is red the recording level is too hot and when green it's ready and/or the signal isn't clipping. Connecting MiC is a breeze - plug it in, launch an audio app and you're ready to go.
One tiny shortcoming I found, and I am nit-picking at this point, is the short length of the included cables. If you need to record a vocalist or instrument source (other than yourself) away from your iPad, you'll want to purchase the separately available 3 meter cables for iPad/iPhone and Mac respectively from Apogee. It would've been a nice touch if these were included in the box.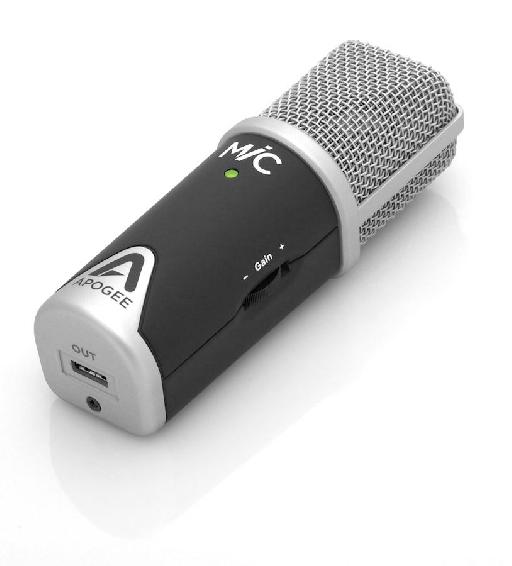 MiC is a beautiful microphone: compact, solid, sleek and yet very practical!
How it Sounds
The first app I launched upon connecting MiC to my iPad was GarageBand, though I put this diminutive microphone to the test in Logic Pro 9 for Mac. Now, I'm used to setting recording levels using a digital meter, and was tentative about not having this feature. However, the single multicolor LED worked better than expected for giving instant level feedback. As with any recording device, and MiC is no exception here, don't venture into the red zone - you will capture unintended distortion which will be hard/impossible to remove later on.
There's simply no comparison between MiC and the built-in mic of an iPhone, iPad or Mac, as you'd expect MiC's recordings are substantially better. In fact, this is the best of any iOS microphones I've personally tested to date. I was particularly impressed with the clarity when recording acoustic instruments. I found MiC captured high detail in the mid and high-end frequency ranges, but lacked a little in the low-end. However, tweaking the EQ when mixing can still give you an excellent overall sound.
When recording vocals, as with all microphones, placement is key. I'd also suggest vocalists and podcasters use a pop-shield (not included) to help reduce plosives. These are fairly easy to get hold of, and while I've always needed a pop-shield for my studio mics, this will add to the bulk of this ultra portable setup.

A pop-shield would be a good idea when recording vocals with 95% of all mics, including MiC.
Conclusion
If you're in the market for a studio-quality microphone for your iDevice, then Apogee's MiC is well worth your consideration. Together with an Apogee JAM and an iPad you'll have a high-quality, portable iOS recording setup that'll fit into any small bag. While the $199 price tag may stretch some budgets, MiC is a multi-device and compact microphone, that provides high-quality recordings on the go or in the studio. MiC is an excellent entry point for podcasters, or those starting out in music production, on the Mac or iOS platform.
Discover more about MiC on the Apogee website here.