It's often smaller products that make a bigger difference in the world at large. Apple's first iPod proved that, as did the iPhone and now the iPad. And while consumer products are expected to shrink in size over time, this hasn't always been the case with pro audio gear. After all it's not possible to fit a studio-quality pro guitar interface (with built-in preamp) in your pocket, right?
Apogee's latest interface for the mobile guitarist, JAM, seeks to explode that myth. Aimed at the guitarist-on-the-go, JAM is a pocket-sized interface with a focus on their famous high quality sound quality, for use with the iPhone, iPad and Mac. This makes it useable as an interface across a wide range of iOS apps, like GarageBand for iOS and Sonoma FourTrack, as well as more traditional DAWs on the Mac platform, like Logic Pro, Ableton Live and GarageBand.
But the big question is how it actually performs in a real-world test.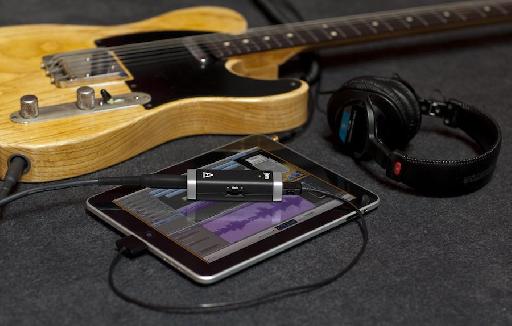 JAM connected to an iPad and a guitar.
Set Up
As expected, the JAM is small enough to fit in most pockets and is comparable in length to an iPhone. Inside the box you'll find the device itself, (which is surprisingly light), two cables, one for connecting to your iOS device and another for connecting to a Mac, a Quickstart guide, and a velcro strip which can be used to secure the JAM to a desk, mic stand or other suitable surface.
A quick visit to the Apogee site revealed the latest firmware update which allows the JAM to support sample rates of 48kHz (44.1 being standard) on both Mac and iOS. It was painless to download and install. As you would expect with a plug and play device, there's nothing left to do except connect your guitar, plug it in and... play!
Look and Feel
Connection is straightforward: Guitar to JAM and JAM to iPad / iPhone via the included 30-pin dock connector. Upon launching GarageBand for iPad the device was detected immediately and with an audio track selected we were ready to shred!
The exterior of JAM is simple and without distraction except for two areas. The rotary style input gain wheel enables you to control the level of your guitar signal before reaching the software app. It's easy and intuitive to use and more so thanks to the status and level LED. A red light indicates you need to pull that gain wheel down, while a green light shows that you're recording at a safe, distortion free, level. It really couldn't be simpler.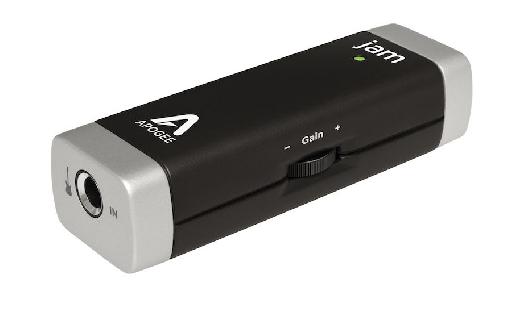 JAM: Incredibly small and easy to use.
Ready to Go
Apogee have used their PureDIGITAL technology in the JAM which is designed to deliver superior sound quality over rival iOS interfaces. From my tests on iPhone, iPad and using Logic Pro on the Mac recording at 44.1kHz, 24-bit depth, the JAM provided clean and pleasing tones. While sound quality was something to marvel at, performance should also be applauded. I didn't experience noticeable latency even when recording on an original iPad.
As a, rather unfair, sound test comparison, I tested the $99 JAM against the $595 Duet 2. And although the Duet 2, naturally, provided clearer, more detailed recordings, the JAM held its own, and very respectably too.
Whether you're jamming along for fun on an iPad or recording serious guitar parts on a Mac, JAM delivers impressively studio quality results comparable to audio interfaces more than double its cost. And furthermore being iOS and Mac OS X compatible, JAM is an extremely economical portable guitar interface for both the amateur and studio musician.