The Look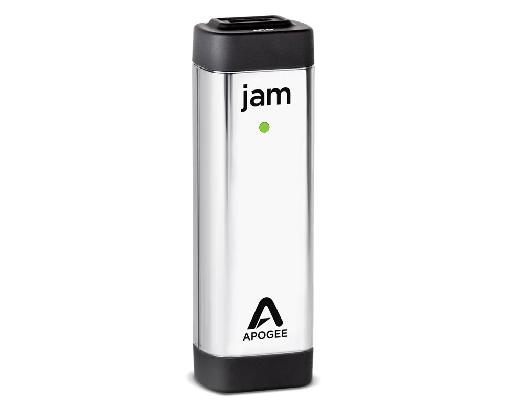 The front of the Apogee JAM.
There's no doubt that Apogee did a lot more here than just upgrade the cable. When you first open the box you'll be treated to the bright glare of a pretty sweet chrome look. The body is now nickel plated with a durable UV finish. It doesn't feel like an iOS device. It truly feels like a professional compact audio interface. This is no surprise, because that's exactly what the Apogee Jam is.
The Feel
"Apogee paid attention to detail when designing the Jam 96k. It feels considerably more sturdy in the hand thanks to the nickel finish."
Holding the Jam 96k and the original Jam in your hands really makes you appreciate how much attention Apogee paid to detail when designing the Jam 96k. It feels considerably more sturdy in the hand thanks to the nickel finish. The single gain knob is constructed well, and it stays in place with no wobble or '