Apogee users have eagerly been awaiting the new Thunderbolt 2 Ensemble. With 64 ways of getting audio in and out of your computer in the pristine Apogee fashion, the new Ensemble is positioned to be the current 'must have' interface for professional and project studios alike. Let's take a look at what it offers.
`
Inputs and Outputs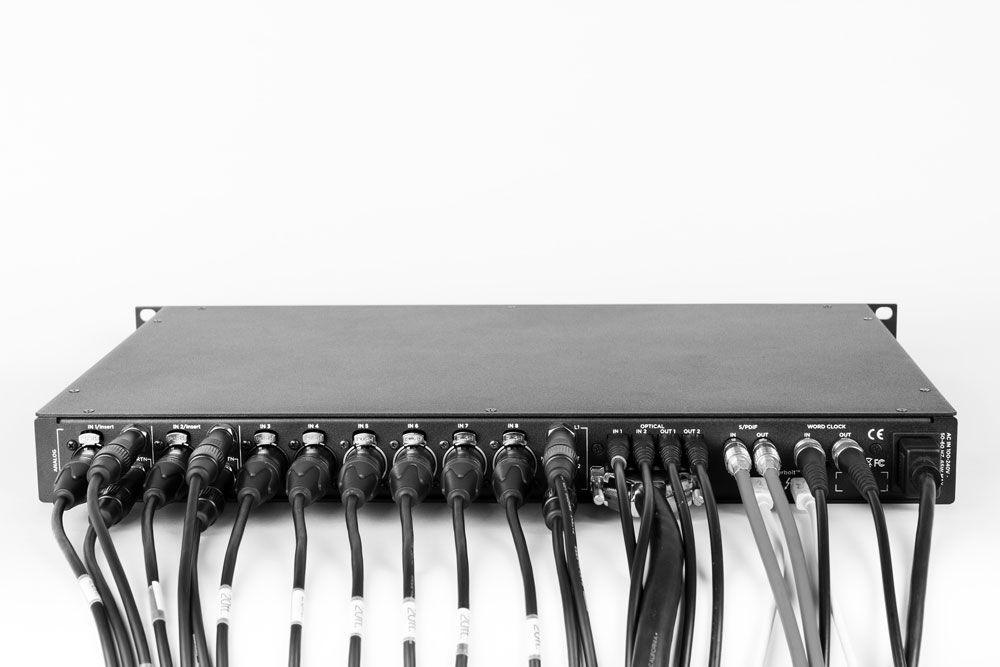 The Apogee's analog inputs are utilized in a way that made me smile. There are 4 XLR Mic/Line 1/4" combo inputs, as well as another 4 XLR-only inputs on the rear. The first 2 analog inputs have send/return inserts for connecting to boutique outboard gear, (I say boutique because after spending considerable time with the interface, it would make me feel dirty to plug anything shoddy into the Ensemble—it's one sleek piece of kit).
The front panel inputs are what had me grinning from ear to ear. There are 2 guitar inputs, which is not particularly earth-shaking (although Apogee's idea of what a guitar input should sound like definitely raises the bar) until you see underneath… there are 2 guitar OUTPUTS as well. That's right, Apogee has baked re-amping capability directly into the interface. You can use the input/output scheme provided to play back your direct signals into an amp and really take your time getting the perfect mic placement. You can also route your direct guitar tracks through your vintage pedal setup and back into your DAW. It's an awesome feature that I hope becomes standard across the industry.
Going Digital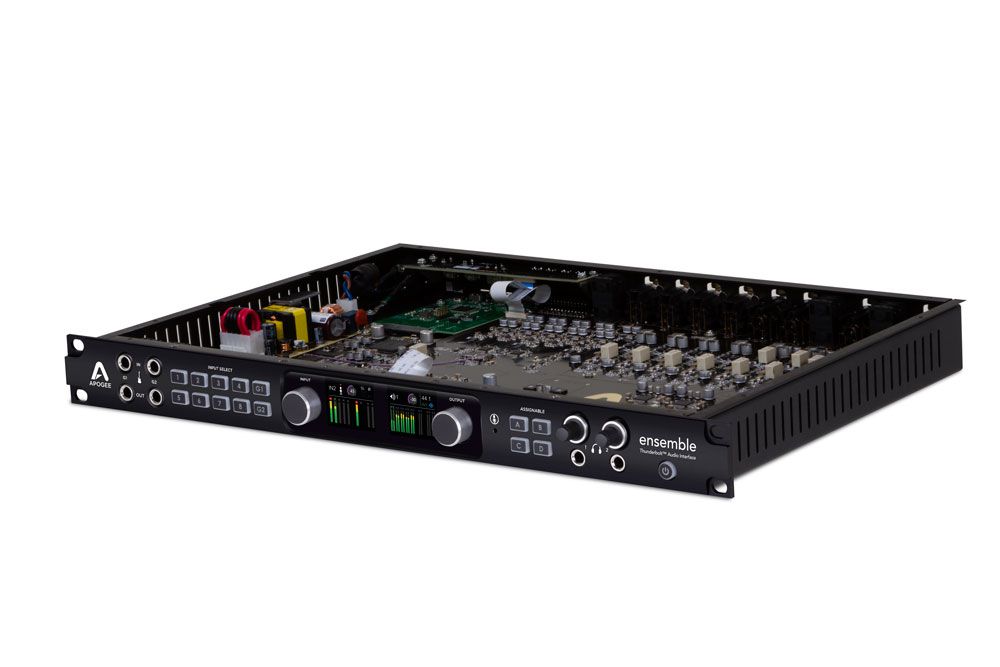 There are 2 ADAT optical input ports that can get you 16 channels of digital audio in and out, or can be combined with SMUX for 8 channels of 96 kHz audio when you need it. You can also use the S/PDIF coaxial inputs for stereo 192 kHz input and output when necessary.
It's important to note that you're getting Apogee quality digital conversion here. Not all ADAT inputs are created equal, and Apogee's legendary A/D converters are known for giving you superior dynamic range, lower distortion and a noise level which is pretty much nil. I found that even in areas of my house that weren't my 'perfectly-electrically-designed' studio the Ensemble was effectively noiseless.
It's a testament to Apogee's attention to circuit design that I could plug in my most gain-hungry microphones (I'm looking at YOU, Mr. RE-20) as well as my lowest-output guitars and get more noise-free gain than I can with any other interface or preamp. If you're looking for clean gain, look no further. The Ensemble has it in spades.
Other Cool Stuff
It's a less than sexy title for a section, but there really is just a bunch of other cool little things that make the Ensemble great. Physical buttons for control of each individual analog input on the front of the device are terrifically convenient. Four assignable macro buttons for things like muting channels, engaging the talkback, summing to mono, and other functions. A built-in microphone that shares the same capsule as the Apogee One—you can use it for talkback to the 2 headphone outputs, for recording quick ideas, or even as a room mic! Finally, the Thunderbolt 2 interface offers a great way of getting audio in and out of your computer with very low CPU overhead.
Conclusion
There's not just a lot to like about the new Ensemble—there's a lot to LOVE about it! This is a spectacular interface from Apogee that truly makes you feel like you've invested your money wisely. It's convenient, it's quiet, it offers you a ton of features and plenty of gain. This baby is a HUGE win for Apogee.
Price: $2495
Pros: Noise free, a TON of usable gain, built-in guitar re-amping features, optimized drivers and software
Cons: None, really… I want one and it's not free?