When Apogee released the original Duet, a 2-in, 2-out audio interface, it created ripples in the pro audio world. Along with excellent construction, great sound quality and a reasonable price, its portability made it a popular choice for Mac-based musicians and audiophiles alike. So the big question, when the Duet 2 was announced, was how Apogee would improve upon the quality of the original and maintain a compact and appealing form factor.

First Impressions
The Duet 2 looks gorgeous. Mac users will appreciate the consideration put into the clean lines, rounded corners and single multi-function rotary knob. It's hard not to love the sleek and sexy aluminum body and darker faceplate of the Duet 2 which will blends in nicely with the current MacBook Pro and iMac line. As well as adding style to your desk it is also a highly portable device. Light enough to carry, but sturdy enough to take the demands and rigors of life on the road.
Get Connected
There are no drivers in the box, so a visit to the Apogee website revealed an OS X 10.7 Lion-ready installer which includes the new Maestro 2 control software. The installation process was quick and painless and gave me time to examine the newly designed breakout cable. Apogee has taken the Duet user feedback onboard in many areas and this cable reflects that philosophy. It features 2 combo XLR & 1/4" connectors and 2 outputs for speakers as opposed to 6 separate connectors on the previous model's cable. A vast improvement that'll help keep your desk space tidier.
Also in response to feedback, there are 4 analog outputs which are balanced. The extra outputs will enable the Duet 2 to be especially useful when playing live, for example, when sending a click track to a drummer or a mix to front-of-house or headphones.
Duet 1 owners may be surprised to learn that this second generation device is a USB 2.0 device, not Firewire. Everything I had believed about Firewire being the preferred choice for streaming data, and therefore resulting in lower latency than USB 2, seems to have been turned on its head. According to Apogee, at a Buffer size of 64 and sample rate of 44.1kHz, the Duet 2 induces latency of just 5.8 ms compared to the Duet's 7.23 ms. And in my real-world (though non-scientific) tests, I noticed a distinct improvement in this area when recording in Logic Pro and GarageBand.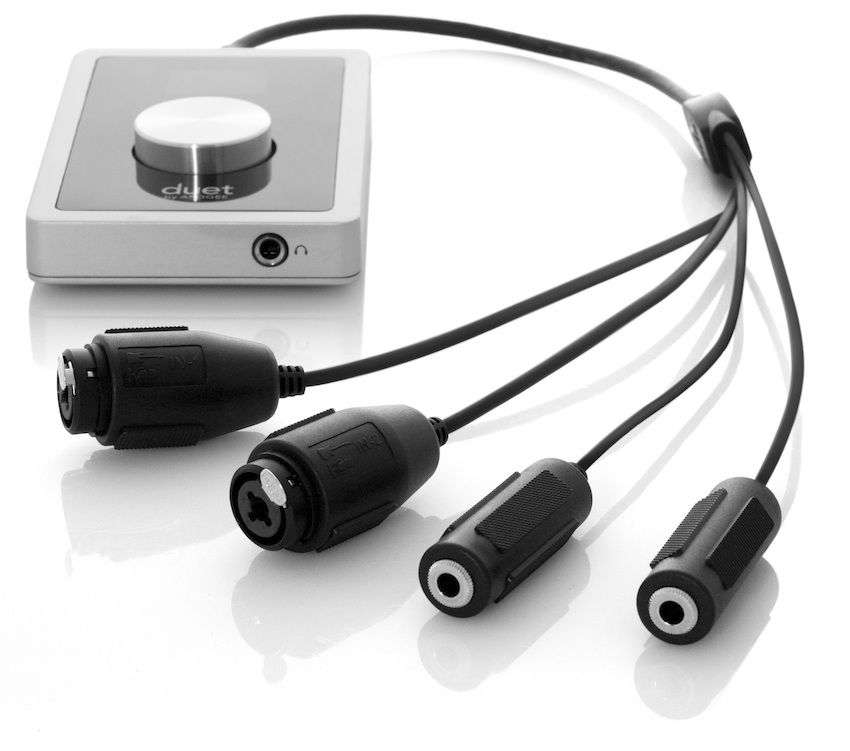 It's All In The Sound
I have been using the original Duet for years and have been more than satisfied with the mic preamps and AD/DA converters. So, I wasn't expecting to notice much of an improvement in the Duet 2's sound quality... I was, however, left hugely impressed. The mic-preamps are cleaner, smoother and have much more gain to play with. I tried out a number of condenser microphones and each time was stunned by the low noise and detail in the recording. For spoken word recordings I needed to apply very little, if any, corrective EQ to bring out the voice.
The overall sound quality of the Duet 2 easily beats similar devices within its price bracket, and even those costing two to three times more. It provides the kind of sonic results you'd expect from the Apogee Symphony.
More Control
Aside from the beautiful OLED display (which makes monitoring and recording away from your screen easier), there are now two touchpads above the multi-function controller knob. Both can be user-assigned within Maestro 2. I personally found it excellent to have 'Sum to Mono' and 'Toggle Headphone Source' assigned one day, and then 'Dim Outputs' and 'Clear Meters' for another project. All the main functions you need access to can be controlled directly from the touchpads or the hardware controller knob, with the exception of toggling phantom power or choosing the input type which must be setup in Maestro 2.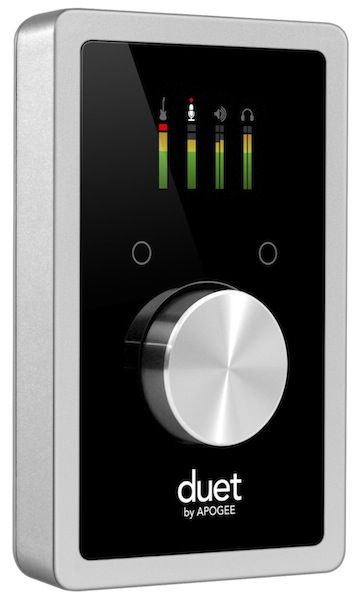 Conclusion
Apogee is well known for creating products which are both beautifully designed and feature pristine sound quality for the professional audio crowd. The Duet 2 continues this tradition with its excellent mic preamps, low latency, extra outputs, color display, and assignable touch interface. Any Mac musician considering a new 2-in and 4-out interface (24-bit and up to 192kHz) will find the Duet 2 an excellent choice. And existing Duet owners will also find these extra features very compelling reasons to upgrade.