When notification of the availability of Apogee's new Clearmountain's Domain multi-FX plug-in arrived in my email box, my first thought was, OK Apogee, what do I need this for? I have great plug-ins up the wazoo, and I am not impressed when celebrity engineers are attached to products (OK, maybe I am a little.)
So why did I decide to proceed and check it out? In a word, curiosity. I love the compressors and EQs in Apogee's FX Rack and they have replaced some of my UAD plugins in my regular workflow and as an Apogee Element audio interface user, it's kind of an obvious fit. Finally, when I see that it recreates plugin tandems that Bob Clearmountain used on Springsteen recordings, among others, and well, I am all in with The Boss.
What Is It?
Clearmountain's Domain is a Mac compatible (a Windows version will be available sometime mid-November) multi-FX plugin, with a signal chain that includes convolution reverbs; a stereo delay with "Spin Time Compression"; EQs/De-esser, Pitch Shifter; a Mixer; a Ranzomizer, and a Real Time Visualizer. Presets contain various settings of them that you can edit and create your own to save, with no fear of overwriting the originals. It requires an iLok account, but not a physical iLok. So if you are unalterably anti-PACE copy protection, you can stop reading here.
FX Visualizer
When you first open the plugin, you see the attractive FX Visualizer with a wheel in the center.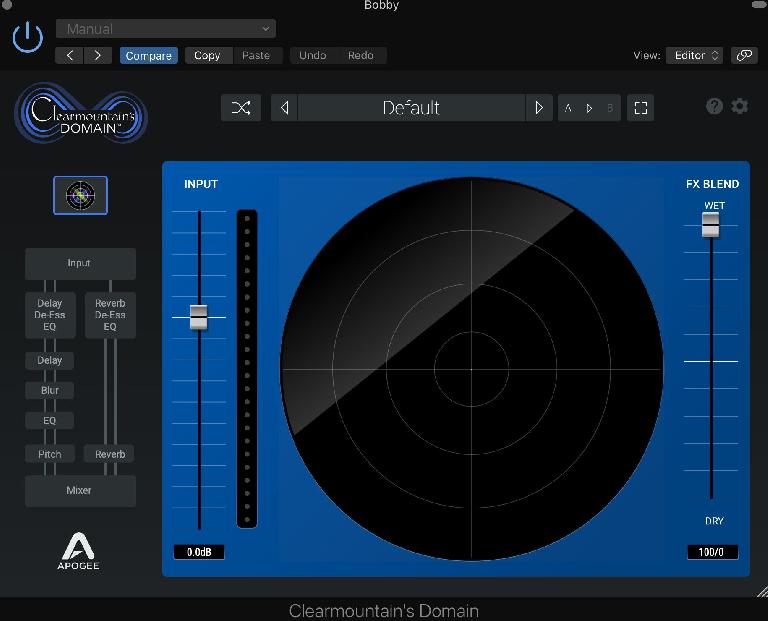 Play an audio file through it, and it lights up with a visual feedback display.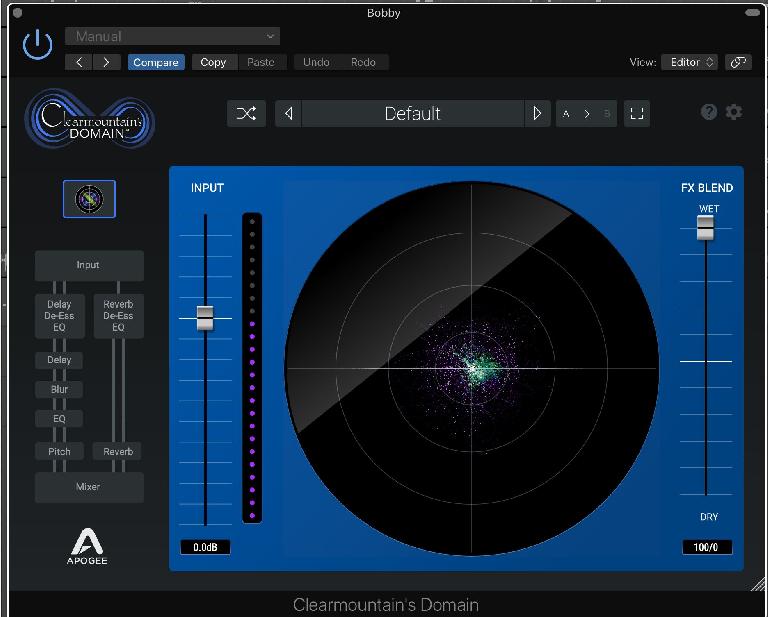 Now I am not the most visual learner or processor. I generally am more of a text and numbers guy, but most users will probably find the FX Visualizer appealing and useful. But what I do like is that right away I see sliders for input and FX blend wetness, because that I relate to. You can use it either directly on the channel strip or as a send effect. I prefer the control that sending to a bus gives me, but YMMV. Apogee recommends starting with the FX Blend set to between 40-60% on the channel strip and 100% when used as a send effect on a bus.
The following presets are available and I decide to begin with Generic Wide Vocals.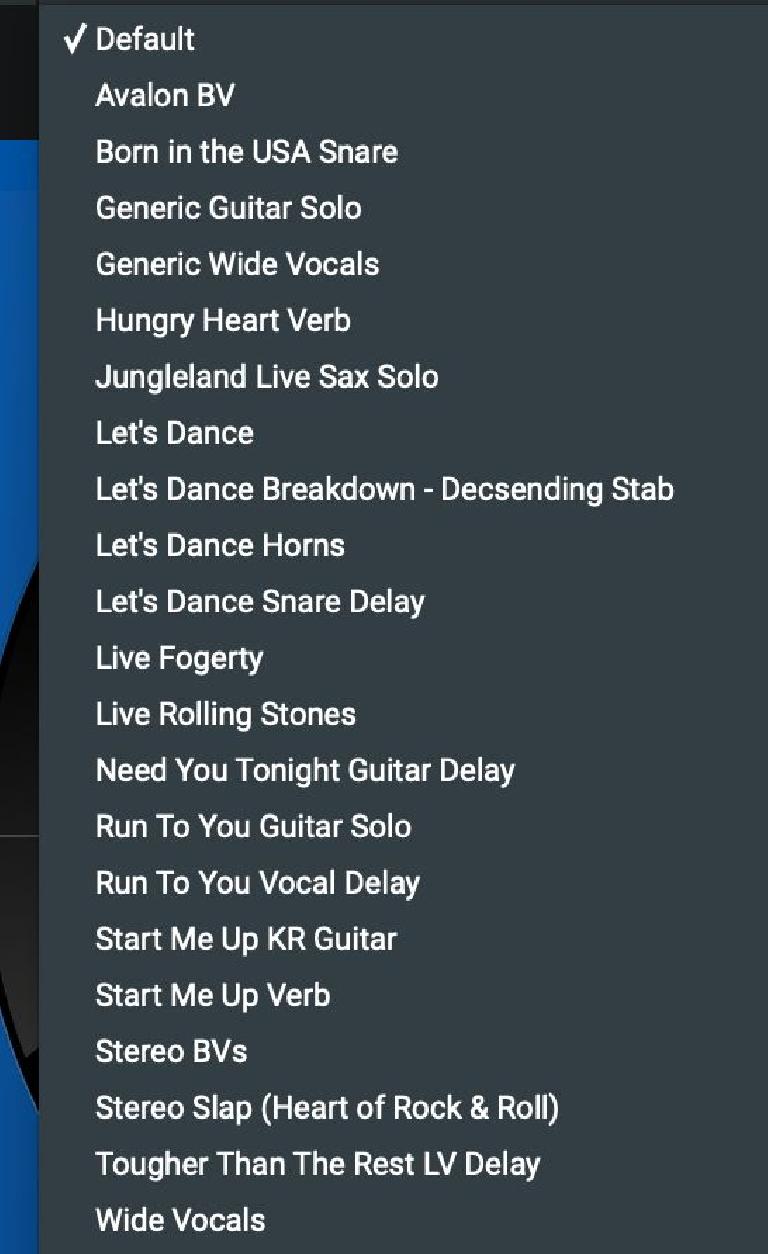 Clicking on the wheel brings up a a couple of icons in the upper right hand corner of the GUI for a link to the built in help pdf and a configuration gear.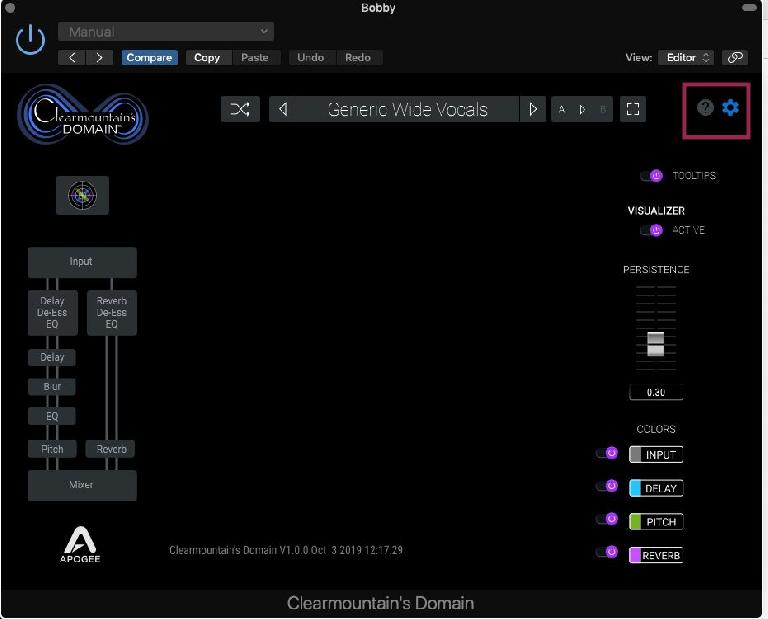 With the gear you have the ability to toggle on /off the Visualizer, set Persistence for the decay time of any of the controls and power off any of the "Colors." As soon as you change any of them, the preset name becomes italicized, to show that you are changing the preset. As stated earlier, you needn't worry however about ever losing any of the presets if you save an edited one, as the plugin will not allow you to overwrite them.

The signal flow is very well explained and illustrated on page 11 of the built-in Help PDF that you open by clicking on the icon, so I won't go through it here.
Advanced View
You can open Advanced View by clicking on any one of the choices you see in this picture.

This is a classic case where I picture is worth a thousand words, so I will just show you a series of screenshots.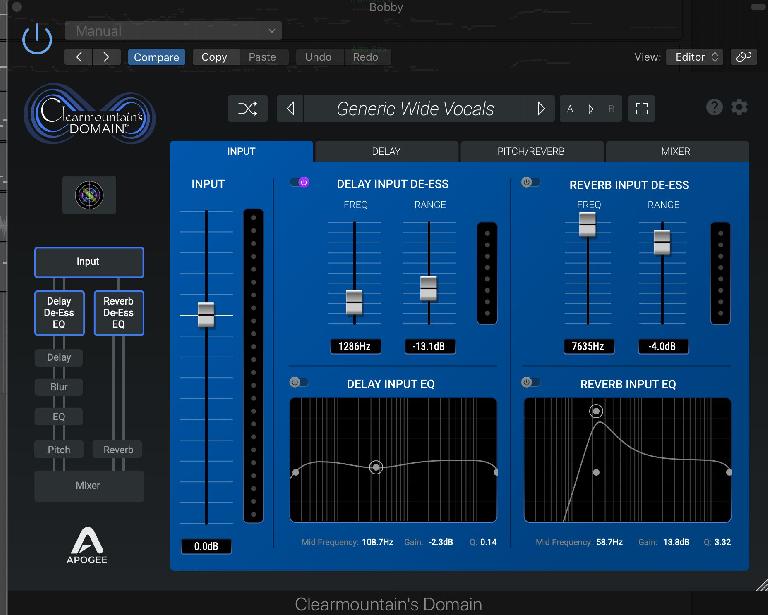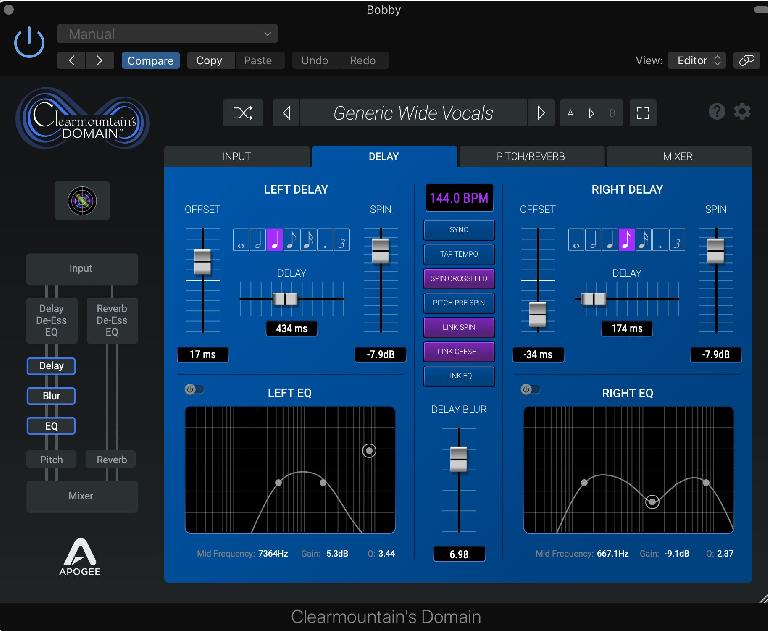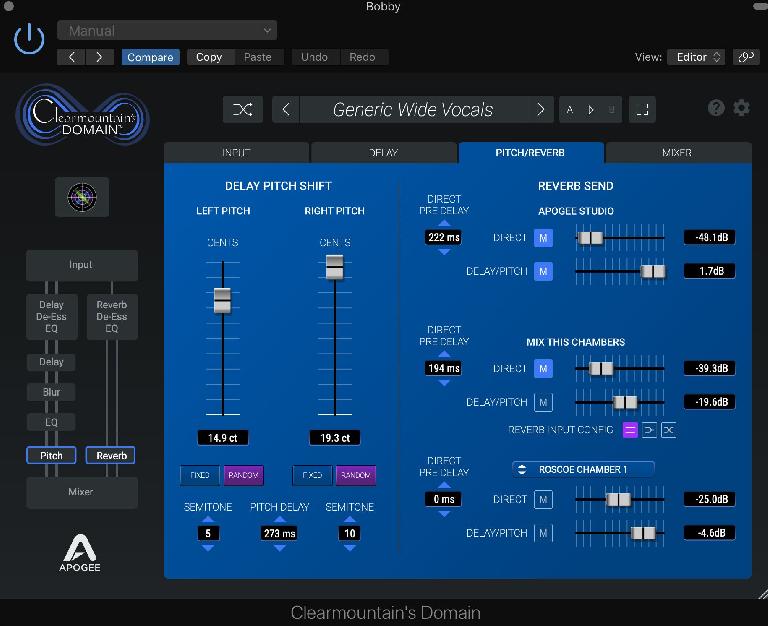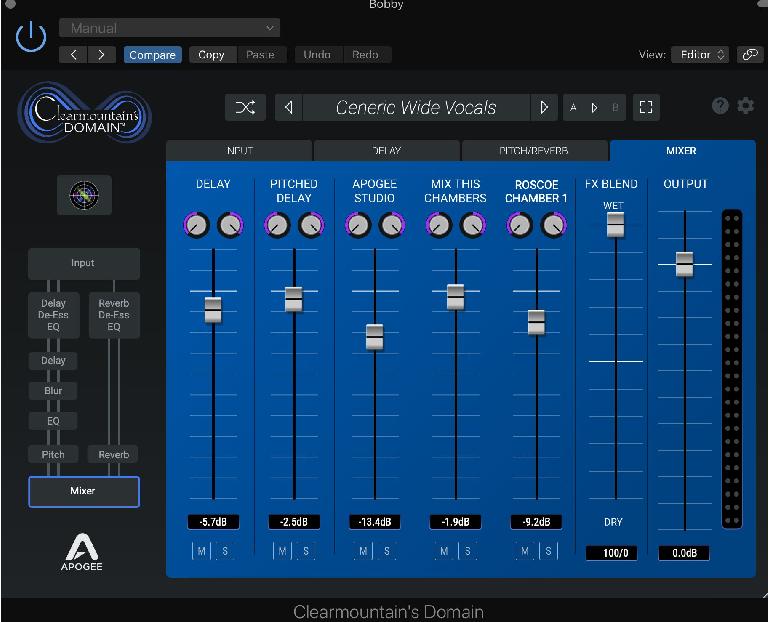 The Mixer's solo and mute buttons are invaluable for customization. There is Tap Tempo for the Delay if you turn off sync. There are EQs for Reverb and Delay input. You can press the A to B arrows to compare two settings you are considering, very handy.
Could it be any simpler to understand and use? I don't think so, and I just love that, because it is not the steep learning curve that many multi-FX plugins require. And in the Help PDF, Bob Clearmountain gives you a bunch of tips for each effect that gives you insight into his thought process that is very interesting and educational.
My initial tests indicate that it is pretty CPU efficient. I opened several instances with little impact on my CPU power. One thing that surprises me a little is that you cannot open it in the Apogee Control FX Rack to track with and print, only in your DAW. Maybe that will come in the future.
The Sound
OK, got it Jay, very easy to use and understand, but how does it sound? Very good. Better than the UAD multi-FX plugins I have or offerings from other developers like Soundtoys, Softube, Waves and others? I will have to live with it for a while in the heat of real world usage and see how often I start with it but end up swapping it out for another, and of course, it is subjective. Certainly, if you don't already have a multi-FX plugin that you love, it is worth your consideration.
Fortunately, you can decide for yourself. Here you can hear some examples of the plugin on and bypassed. Also, you can try it for free for 15 days, as long as you have an iLok account. If you don't already own multi-FX plugins that you love, this is certainly a fine choice. Even if you do, you may well want it.
The price btw is $349, a bit on the pricey side, but for example, Soundtoys 5 would set you back $499.