After spending a full month with the Goliath, I didn't think I'd have anything new from Antelope Audio to set up in the studio for a bit. Little did I know that the Orion32 HD was lurking around the corner, just waiting to be patched into my collection of mics and preamps. I tore open the box the day this audio behemoth arrived on my doorstep and couldn't wait to check it out.
Studio, Stage, Pro, and More

One of the major things to consider with the Orion 32 HD is how you plan on connecting your studio. The Orion 32 HD really does a fantastic job of bridging the world of pro studio to home studio. If you've been in a working studio that is Pro Tools based, you've likely seen the typical front end and how they work. The Pro Tools interfaces typically eschew built in preamps for DB25 connections because they know that as a pro studio, you've likely got a stable of expensive preamps that each cost as much as the entire interface!
The Orion 32 HD works in this manner, it connects to Pro Tools HD via the HDX port (of which there are 2 for a total of 64 channels of audio), but the Orion has a trick up its sleeve - it also works with MADI and USB3. This means you can use the Orion 32 HD as part of your Pro Tools HD setup or any native app setup that you'd like. You can start out native, and the Orion 32 HD will grow with you as your studio grows. It's a welcome addition and definitely an argument for using the Orion 32 HD over a standard PTHD interface. I wish more audio interfaces were this future-proof!
Power to the People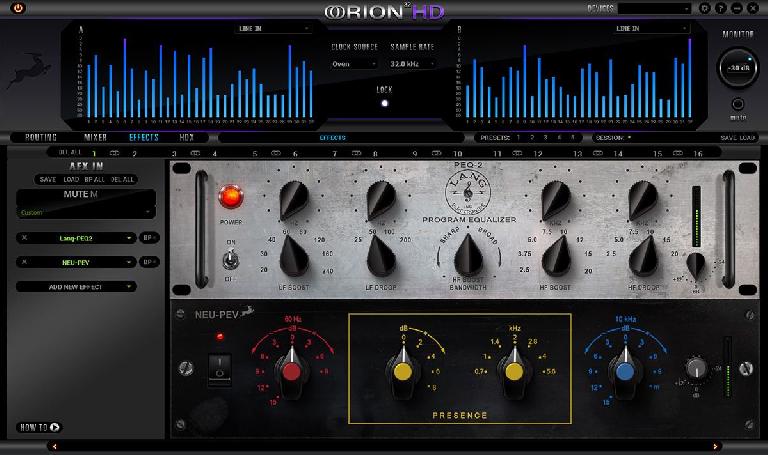 The Orion 32 HD is compatible with quite a few of Antelope's powered plug-ins. You can load up vintage BAE EQs, compressors and more and they run right on the interface. This allows for an astonishing 2 samples of latency (which is, of course, inaudible) when using the plug-ins and interface. The guitar sim plug-ins are absent, but given that there are no preamps for that sort of thing on the Orion 32 HD that makes sense.
The other 'banner feature' of just about any Antelope Audio interface is, of course, the AD/DA and clocking. The Orion 32 HD is no exception to the high standard that Antelope has set. You've got the Atomic Clock with plenty of inputs and outputs as well as mastering grade monitor outputs. The audio going into and coming out of this thing is simply astonishing.
Finally, the build of the Orion 32 HD is wonderfully rugged and sleek. The front panel is minimalist, with a very usable display, minimal lights and distractions, and 5 programmable preset buttons. S/PDIF digital I/O is also available via coaxial connector.
Conclusion
The Orion 32 HD is an extremely powerful interface with world-class AD/DA and clocking. It also happens to be an interface that can follow you from native to Pro Tools HD without missing a beat. The software controller is responsive and snappy, and the build is rock solid. The price point may scare some, but when you compare it to the functionality (and native compatibility) of a standard Pro Tools HD interface of equal channels, it's actually quite good value.
Price: $3,495
Pros: Superior sound and AD/DA conversion, solid build, sleek interface, a plethora of channels
Cons: With the amount of included ways to interface with your computer, I'd have loved to have a DANTE option to 'complete the cycle'. Antelope's website for downloading of drivers/control software could use some simplifying (and a driver/software combo would be nice)
Web: http://en.antelopeaudio.com/products/orion32-hd/#overview