Hot on the heels of testing out the Orion, my 'testing area' didn't even have time to cool down before I had a chance to fire up the Zen Tour and put it through its paces. After recording a few days of a guitar-based rock band, I'm ready to report on Antelope Audio's compact powerhouse.
The Lowdown
The Zen Tour tries very hard to be a 'scalable' piece of gear. In that, I feel it succeeds. For your average home studio user, on most days, having 4 solid preamps on your interface is more than enough. Most composer/producers will only use 1-2 preamps at a time as they track vocals, guitars, keyboards, and the like in their daily routines. The Zen Tour provides 4 solid mic preamps with plenty of headroom and a nice and low noise floor.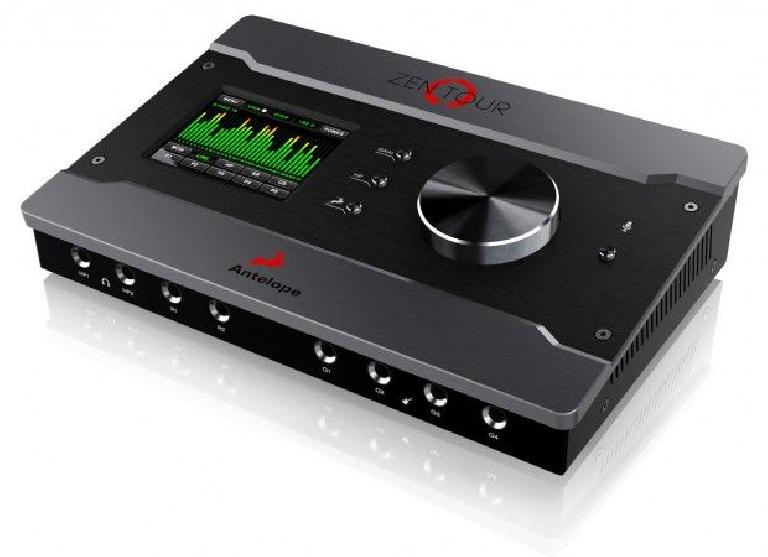 In addition to the pres, you've also got access to 4 switchable 1/4" inputs. These inputs can take a HiZ guitar signal OR a line level signal. To show guitarists yet a bit more love, Antelope has also included 2 reamp outputs on the front of the Zen Tour. This allows you to provide end to end coverage for guitarists. You can record them directly with the HiZ inputs, try out some sweet amp modeling, and have the ability to send the original unaltered guitar signal back out to an amp at the proper impedance if you change your mind.
Zen Tour sounds really huge for a device that is so compact.
For the days when you need 'more than four', the Zen Tour includes two ADAT optical inputs, giving you another 16 channels of I/O. This should make recording a full band with multi-mic'd drum set no problem at all. You can push the Zen Tour up to 24bit/192kHz and capture everything in extremely hi-res glory.
There's quite a bit more to the Zen Tour, and I suggest you take a glance at our accompanying video feature to learn more about the headphone mixes, outputs, touchscreen, and the like. I'd like to jump on over to my 'boots on the ground' impressions of the Zen Tour.
Tracking
The first thing I noticed about the Zen Tour after hooking it up was how much I could actually do right on the front panel without even opening up the software. The touchscreen is highly responsive with no lag, and it's a pretty decent size. Although the software is pretty slick, I actually found myself reaching for the touchscreen more often than not - the workflow is just so quick.
At the time of the video feature, I could not get the iOS app to communicate with the Zen Tour, and after a few hours of pulling my hair out it turned out to be an issue with the multiple router setup I was running in my studio (we have a pretty big space!). So in the end, the app worked perfectly, it's just worth a glance at your firewall and network setup before you start to rely upon it.
The Zen Tour software that runs on your desktop/laptop is highly optimized. In my review of the Orion Studio, I found that the software had a bit of a learning curve. This was exacerbated a bit by a touch of lag between the device's functionality and when you actually clicked on things in the virtual interface. I'm happy to report that with the latest Antelope Audio drivers and software, this is a thing of the past.
Whoever is cooking up the software at Antelope Headquarters scored a big win here.
That's right, this software is slick, slick, slick! Controls are highly responsive, routing is instantaneous, and the various views and menus slide into place beautifully. You never feel that you're looking at 'more than you need to', and yet you can truly route anything to just about anywhere. Headphone mixes, monitor mixes, alternate outputs, and built in effects can all be configured with ease and confidence. Whoever is cooking up the software at Antelope Headquarters scored a big win here. The Zen Tour feels more like a physical extension of its software companion than a separate piece of gear.
The Sound
You'll hear me say it in the video above, but it's worth mentioning again. The Zen Tour sounds really huge for a device that is so compact. There's a lot of headroom on both the built-in preamps and the guitar inputs. This allows you to make recordings with a satisfying amount of dynamic range. With the hardware controls, responsive touch screen, and clean I/O, the Zen Tour feels like the perfect marriage of warm analog and precise digital.
This is an interface that will elevate your recordings, and then grow with you as your needs expand.
The packaged plugins (that utilize the Zen Tour's hardware and NOT your computer's CPU, by the way) are highly functional and sound fantastic. You can save your favorite channel strips with Pultec-style EQs and BAE/Neve emulations all queued up and ready. The Zen Tour utilizes FPGA (field programmable gate array) technology to allow for imperceptible latency when tracking even with the plugins enabled.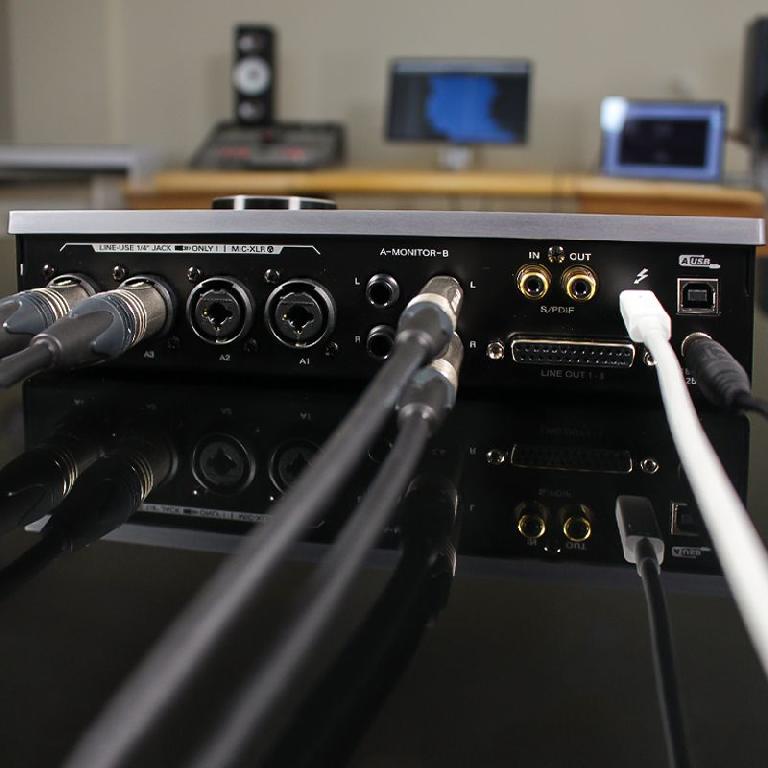 Conclusion
I really liked the Orion Studio… but I absolutely LOVE the Zen Tour. This is an interface that will elevate your recordings, and then grow with you as your needs expand. From the build quality to the sound quality, the Zen Tour has it all.
Price: $1495
Pros: Legendary accurate audio clocking, pristine converters, plenty of headroom, zero latency, sleek software, beautiful fit and finish, compact size.
Cons: I'd love to see more modeled effects included… and I hear they are on the way!