*** WIN a FREE COPY of AEON***
Ver final desta revisão para mais detalhes ...
Quando Heavyocity lançar uma nova biblioteca, você sabe que vai ser um pouco especial. Eles praticamente redefiniu o ponto de referência para a criatividade em bibliotecas de samples Kontakt todo o caminho de volta de sua série de evoluir para a sua base de percussão potência Danos de volta em 2011.
Agora em 2013 Heavyocity estão de volta com a coleção AEON. Este é composto por dois novos produtos chamados AEON melódica e rítmica AEON tanto alimentado por Kontakt 5 Player. Estes podem ser comprados separadamente ou em conjunto, por um preço com desconto.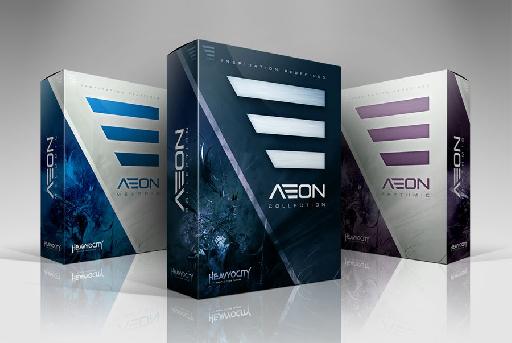 A coleção AEON em toda a sua glória.
Desta vez, AEON coloca a ênfase no conteúdo puramente melódico fornecendo mais de 300 instrumentos de amostragem (AEON Melodic) e 300 melódicas loops (AEON rítmica). Há também algumas novas funcionalidades criativas bacana em cada um dos produtos que irá levá-lo muito além dos presets fornecidos, e quero dizer muito além!
Então, antes de ir embora eu vou dizer uma coisa. Se você gosta de você vai encontrar Damage AEON um companheiro próximo. Embora o conteúdo seja melódico, a vibração sonora é, definitivamente, vindo do mesmo lugar que danos que torna as duas bibliotecas muito compatível.
Primeiros passos
A coleção AEON é muito grande. Ele vem em um download 14 GB através da aplicação continuata Connect. Basta colar no seu código de download e escolher um destino. Uma vez que o download for concluído (o meu demorou cerca de 40 minutos em uma conexão de 40-50 Mbps), basta lançar Kontakt 5 e adicione as bibliotecas. A ativação é cuidado diretamente dentro Kontakt, sem a necessidade de abrir a Central de Atendimento.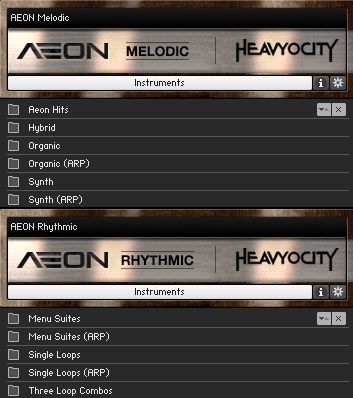 A biblioteca contém 28 GB de conteúdo (os leões partes tomadas por AEON Melodic), que é comprimido a 14 GB (via compressão lossless) no disco e contém cerca de 10 mil amostras gravadas em 24 bit/48 kHz.
AEON Melodic
AEON Melodic é dividido em seis pastas:
Aeon Visitas: impactos de tiro a tiro e caudas.

Instrumentos Híbridos: Fontes orgânicas e synth combinados para criar texturas e instrumentos únicos e evolução.
Instrumentos orgânicos: Deep amostrados, multi-velocidade, instrumentos de round-robin. Aqui você vai encontrar instrumentos individuais, instrumentos multi-camadas, e conjuntos únicos.
Instruments synth: amostrados sintetizadores modulares analógicos e digitais.

Orgânica (ARP) e Synth (ARP): Estes presets todos utilizam o novo arpejador em AEON.
Todas as categorias bar the Hits AEON apresentam até três camadas distintas, que podem ser ajustados usando seu próprio Envelope Amp, EQ, filtro, Nível, Pan e controles que lhe dá muito espaço para criar novas variações Tune. Há também um LFO global para controlar os filtros.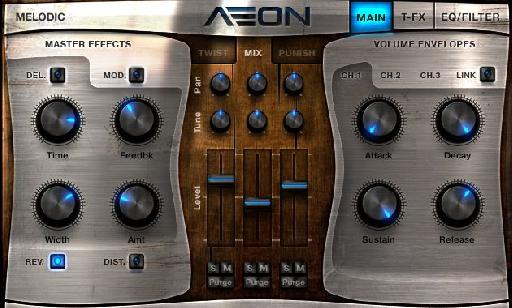 Cada instrumento possui um conjunto de efeitos master composta de Delay, Mod (Phaser e Chorus), Reverb, EQ,
Há também o familiar Trigger-FX (que se encontra em todos os produtos Heavyocity) que compreende de Distortion, Lo-Fi, Filter, Panner e Mod passo que pode ser acionado através de notas do teclado F6 - A6 para efeitos baseados no desempenho.
Cada efeito gatilho agora possui o seu próprio sequenciador que pode ser acessado através do botão Avançado e permite modular a cada um dos principais parâmetros FX.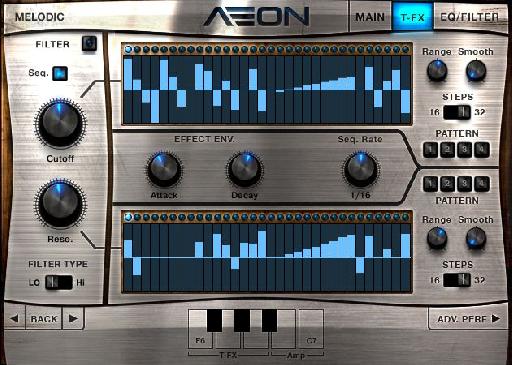 Há também dois FX extra, ou seja, Twist and Punir que são encontrados na guia Principal. Twist é um efeito de base de frequência que adiciona algum movimento ao som modulando as faixas de um equalizador de 3 bandas e podem produzir quase vocal como efeito enquanto Punir (que ficou famosa por Dano) adiciona uma combinação de saturação e compressão para sujar o sons.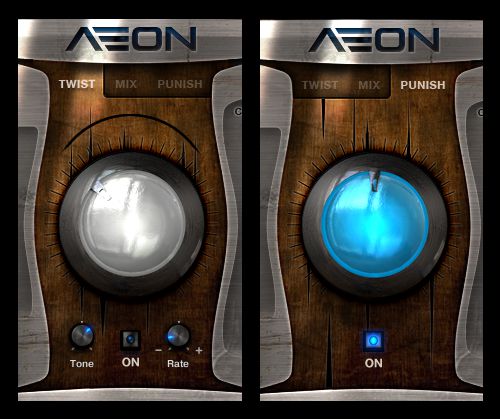 Tudo isto acrescenta-se a alguns ajustes de som grave e potencial de moldar! E enquanto você está limitado ao exemplo define em cada instrumento a capacidade de combinar até três canais em cada camada e estes com outros patches de instrumentos dentro Kontakt lhe dá uma riqueza de possibilidades tonais e criativo.
A paleta de sons é bastante diversificada em AEON Melodic e eu não estou certo que você pode colocá-lo em qualquer tipo de pombo buraco. Possui um grande conjunto de patches synth que cobrem um lote de terreno, enquanto os orgânicos apresentam manchas coisas como fretless basses / ereto, Cowbells Tuned, curvou-se Glocks e crotales, dulcimers, dobros, banjos, harpas, pianos, órgãos, Wurlis, violoncelos e Tankdrum. Há também muitas combinações de instrumentos de camadas muito.
Os patches híbridos são uma combinação de sintetizador e instrumentos orgânicos, enquanto os hits AEON são fantásticas um tiro Tonal FX.
Mas não termina aí! Cada aparelho vem com um arpegiador sofisticado que pode ser encontrada na página Advanced Performance.
Arpejador
O arpejador pode ser usado para criar padrões regulares arpeggiated que você encontrará na maioria dos sintetizadores. Também pode, contudo, ser usadas para criar padrões melódicos complexos usando a pista Afastamento muito parecido com um sequenciador de fase. Além do tom que você também pode criar seqüências de velocidade e comprimento nota, que acrescenta muita energia criativa.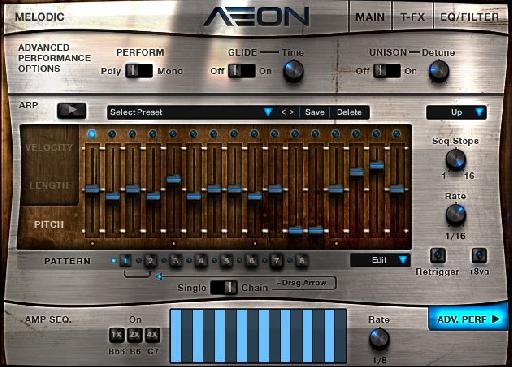 Você também tem a capacidade de corrente de até oito 16 padrões seqüenciador passo a passo para criar frases rítmicas e musical bastante longos (128 passos) e complexo. Há uma série de predefinições disponíveis com a opção de salvar até 25 predefinições do usuário. Heavyocity ter incluído algumas características editar agradáveis ​​para copy / paste e redefinindo pistas que é útil! Há também um sequenciador de amplitude simples que pode ser accionado através notas BB6 - C7.
A Organic (ARP) e Synth (ARP) manchas Instrumento usá-los com grande efeito e realmente tem que ser jogado para obter toda a gama de recursos arpeggiators. Coisas realmente poderoso!
AEON Rítmica
Enquanto AEON Rítmica é apenas cerca de um gigabyte de tamanho, um soco grande! A biblioteca é dividida em cinco pastas:
Menu de Suites: provê um menu de presets estilo de loops tempo-synced/beat-sliced.
Loops simples: Contém mais de 330 correções de loop individuais. Rapidamente modificar e remixar um loop usando arrastar
Três Combos Loop: Estes são feitos de três voltas individuais, cuidadosamente escolhidos e combinados em presets individuais.

Suíte Menu (ARP) e Loop Individual (ARP): Utilize o novo modificador de Loop.

AEON rítmica é tudo sobre loops melódicos. O layout é muito semelhante ao dos instrumentos melódicos AEON com todo o Mestre FX e Touch-FX e assim por diante.
Suites são coleções de sincronizados melódicas laços Andamento mapeados através do teclado. É fácil de misturar e combinar e há um conjunto de-chave Switches (C-1 - C # 1) para ajustar os loops para qualquer tecla na parte inferior do teclado.
Loops simples permitem que você jogue o ciclo completo em qualquer tecla usando C-1 - C1 e, em seguida, há um conjunto de chaves Slices mapeada a partir de C # 1-E6. Você pode usar a página de Loop avançada para manipular o Sintonia, Nível e Pan de cada fatia, bem como Arraste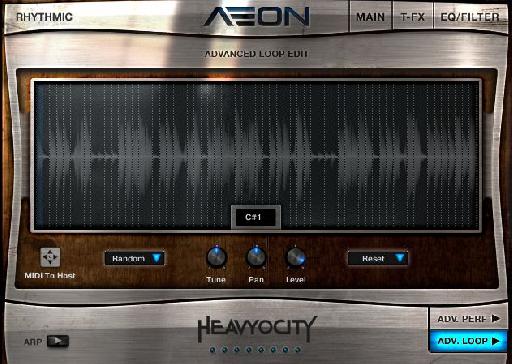 Os Três Combos de Loop tem três (obviamente) laços mapeados pelas teclas em dois blocos de oitava. Há também um 3-way misturador na página principal.
Há muitas maneiras de ajustar os loops, mas você vai ter o mais divertido com o novo modificador de Loop!
Circuito Mutator
O modificador de Loop funciona um pouco como o arpejador (que tem as mesmas características), mas em vez de lidar com o passo a vez usado para acionar Loops (em Suites) ou re-seqüência Fatias de Loop (em Loops simples). É um monte de diversão também! A Suite Menu (ARP) e Loop (ARP) correções simples são todas as predefinições com base no Mutator loop.
No modo Suíte The Loop pista efetivamente compensa o loop para ser acionado com base na nota que você está jogando. Você vai notar os menus Suite (ARP) manchas dar-lhe a nota de base para a seqüência (por exemplo C2). Dizendo que se você jogar uma outra nota você começa uma outra sequência completamente diferente que é legal.
Em manchas circuito único, as seqüências Mutator Circuito compensar fatias com base na nota que você toca. Como você também tem velocidade e comprimento para brincar, é bem uma ferramenta poderosa para remixar os loops. Você pode sintonizar a sua sequência usando as chaves chave de afinação também.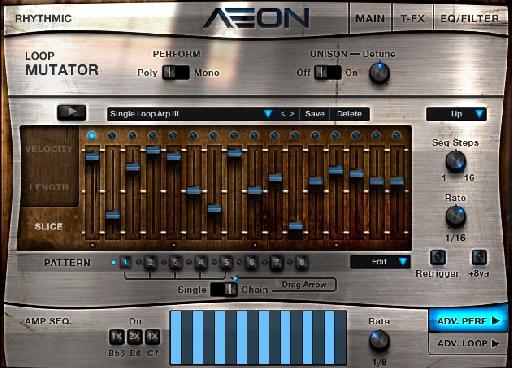 O modificador de Loop realmente acrescenta uma nova dimensão ao voltas individuais e combinadas com todas as outras som moldar características devem mantê-lo por meses, possivelmente em um único laço!
Conclusão
A coleção AEON tem muito a oferecer a qualquer pessoa em filme, TV e jogo de composição, bem como estilos de produção de música mais contemporâneos. Os instrumentos, enquanto eclético na escolha, são realmente jogável e som impressionante. O lado ciclo das coisas é mais um jogo de bola completamente com uma quantidade insana de ajustar-capacidade e variação tinha de ser.
Aqui está uma demonstração rápida de AEON em ação que eu rapidamente coloquei (bateria por danos, obviamente!), Assim você pode obter uma sensação para ela.
[Audio id = "20793"]
Eu não posso cobrir cada característica aqui, mas a minha palavra para ela AEON é um monstro e eu posso me ver usando muito. Muito criativo e altamente recomendado!
AEON pesa apenas US $ 399 (ou 349 dólares se você possui outro produto Heavyocity).
Descubra mais sobre AEON aqui .
*** Ganhar uma cópia de Coleta AEON ***
Os caras generosos em Heavyocity estão oferecendo um leitor MPVHub sortudo a chance de ganhar um exemplar da coleção AEON toda a pena $ 399!
Para entrar:
Log-in (sem, é claro).

Adicionar um comentário abaixo explicando o que o excita mais sobre AEON.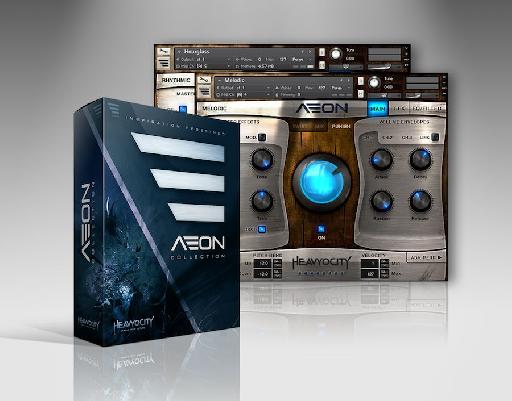 Adicionar um comentário abaixo para ter uma chance de ganhar o $ 399 Coleção AEON inspiradora.
Concurso fecha final de 22 de abril de 2013.