*** WIN a FREE COPY of AEON***
Vedi fine di questa recensione per i dettagli ...
Quando Heavyocity rilasciare una nuova libreria, sai la sua intenzione di essere un po 'speciale. Hanno praticamente ridefinito il punto di riferimento per la creatività in librerie di campioni Kontakt tutta la strada da loro EVOLVE serie al loro percussioni Danni centrale elettrica basata indietro nel 2011.
Ora, nel 2013 Heavyocity sono tornati con la Collezione AEON. Questo comprende due nuovi prodotti denominati AEON melodica e ritmica AEON sia alimentato da Kontakt Player 5. Questi possono essere acquistati separatamente o insieme per un prezzo scontato.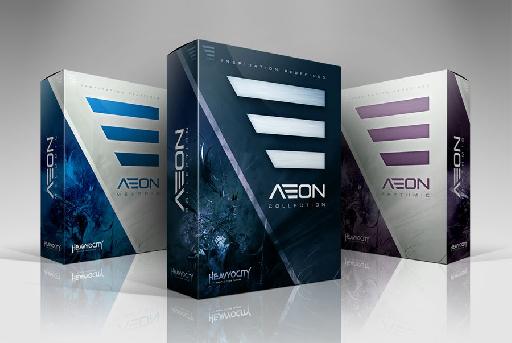 La collezione AEON in tutto il suo splendore.
Questa volta AEON pone l'accento sul contenuto puramente melodico fornendo oltre 300 strumenti campionati (AEON Melodic) e 300 loop melodici (AEON Ritmica). Ci sono anche alcune nuove funzioni creative nifty in ciascuno dei prodotti che vi porteranno ben oltre i preset forniti, e voglio dire ben oltre!
Quindi, prima che ci andare Ill dire una cosa. Se ti piace Danni youll trovare AEON un compagno vicino. Mentre il contenuto è melodico, l'atmosfera sonora è sicuramente provenienti dallo stesso luogo come danno che rende le due librerie molto compatibili.
Guida introduttiva
La Collezione AEON è abbastanza grande. Si presenta in un 14 GB download tramite la applicazione Continuata Connect. Basta incollare nel vostro codice per il download e scegliere una destinazione. Una volta completato il download (il mio ha preso circa 40 minuti su una connessione di 40-50 Mbps) basta lanciare Kontakt 5 e aggiungere le librerie. L'attivazione è curato direttamente all'interno Kontakt, senza la necessità di aprire il centro di assistenza.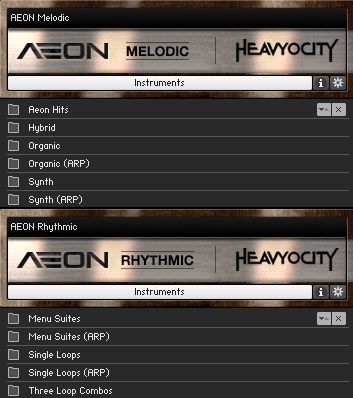 La biblioteca contiene 28 GB di contenuti (i leoni parti occupata da AEON Melodic) che è compresso a 14 GB (attraverso la compressione senza perdita di dati) su disco e contiene circa 10.000 campioni registrati a 24 bit/48 kHz.
AEON Melodic
AEON Melodic è suddiviso in 6 cartelle:
Aeon Hits: impatti a colpo singolo e code.

Strumenti ibridi: fonti biologiche e synth combinati per creare texture e strumenti unici e in continua evoluzione.
Strumenti organici: Profondo campionato, multi-velocità, strumenti di round-robin. Qui youll trovare singoli strumenti, gli strumenti a più livelli, ed ensemble unici.
Strumenti Synth: Campionato sintetizzatori modulari e digitali analogici.

Organic (Arp) e Synth (Arp): Questi preset utilizzano tutti la nuova arpeggiatore in AEON.
Tutte le categorie barra l'Eone Hits caratteristica fino a tre strati distinti che possono essere modificati utilizzando la propria busta Amp, EQ, filtri, controlli dando un sacco di spazio per creare nuove variazioni di livello, pan e Tune. Vi è anche un LFO Globale per controllare i filtri.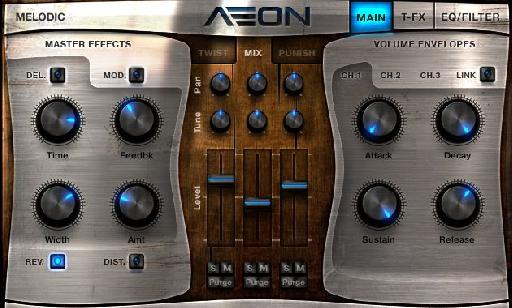 Ogni strumento è dotato di un set di effetti master sono di Delay, Mod (Phaser e Chorus), Reverb, EQ,
Ci sono anche il familiare trigger-FX (che si trova in tutti i prodotti Heavyocity) comprendente di distorsione, Lo-Fi, Filter, Panning e Pitch Mod che può essere attivato tramite le note della tastiera F6 - A6 per gli effetti basati sulle prestazioni.
Ogni effetto trigger ora dispone di un sequencer che si può accedere tramite il selettore avanzato e permette di modulare ciascuno dei principali parametri FX.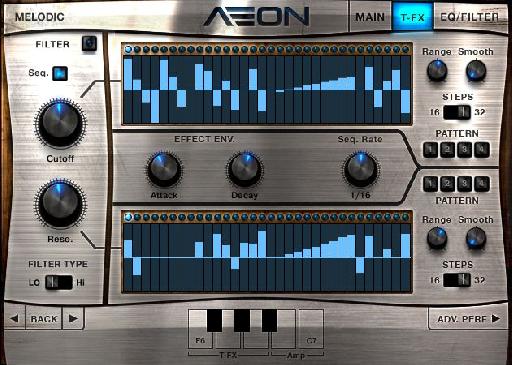 Ci sono anche due FX in più, vale a dire Twist e la punizione che si trovano nella scheda Principale. Twist è un effetto basato frequenza che aggiunge un po 'di movimento al suono modulando le bande di un equalizzatore a 3 bande e in grado di produrre un simile effetto quasi vocale mentre punire (reso famoso da Damage) aggiunge una combinazione di saturazione e compressione a sporcare la suoni.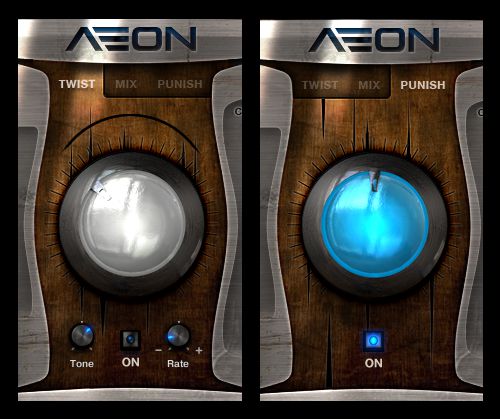 Tutto questo si aggiunge ad alcuni gravi tweaking e suono potenziale plasmare! E mentre siete limitati al campione mette in ogni strumento la capacità di fondere fino a tre canali in ogni strato e di questi con altre patch di strumento all'interno di Kontakt ti dà una ricchezza di possibilità sonore e creative.
La palette di suoni è abbastanza diversificata in AEON melodica e Im non sicuro che si può mettere in qualsiasi tipo di buco piccione. È dotato di una grande serie di patch synth che coprono molto terreno, mentre le patch organici presentano le cose come Bassi Fretless / verticale, Campanacci Tuned, si inchinò Glock e Crotales, Dulcimers, Dobros, banjo, arpe, pianoforti, organi, Wurlis, violoncelli e Tankdrum. Ci sono anche molte combinazioni di strumenti sovrapposti troppo.
Le patch ibride sono una combinazione di synth e strumenti organici, mentre l'Eone Hits sono fantastici solo colpo tonale FX.
Ma non finisce qui! Ogni strumento viene fornito con un arpeggiatore sofisticato che può essere trovato nella pagina di prestazioni avanzate.
Arpeggiatore
L'arpeggiatore può essere utilizzato per creare pattern arpeggiati regolari che youll trovare sulla maggior parte dei synth. Può tuttavia essere utilizzato per creare complessi modelli melodici utilizzando la corsia Passo molto simile ad uno step sequencer. Oltre intonazione è anche possibile creare sequenze per la velocità e la lunghezza nota che aggiunge un sacco di potere creativo.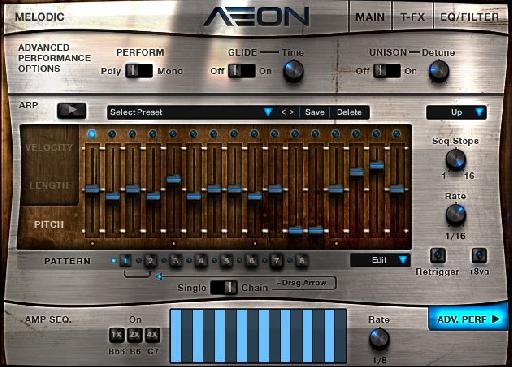 Hai anche la possibilità di catena fino a otto 16 modelli sequencer step per creare abbastanza lunghi (128 punti) e complesso frasi ritmiche e musicali. Ci sono una serie di preset disponibili, con la possibilità di salvare fino a 25 preset utente. Heavyocity hanno incluso alcune caratteristiche piacevoli modifica di copia / incolla e la reimpostazione delle corsie che è a portata di mano! C'è anche un semplice sequencer ampiezza che può essere attivato tramite note BB6 - C7.
L'organico (Arp) e Synth (Arp) patch di strumento utilizzare questi di grande effetto e davvero di essere giocato per ottenere l'intera gamma di funzionalità arpeggiatori. Roba veramente potente!
AEON Ritmica
Mentre AEON Ritmica è solo circa un gigabyte di dimensione, si imballa un punzone grande! La biblioteca è divisa in 5 cartelle:
Menu Suite: Fornisce stile del menu preset di loop tempo-synced/beat-sliced.
Loop singolo: Contiene oltre 330 patch single loop. Modificare rapidamente e remix un loop tramite Drag
Tre Combo Loop: Questi sono fatti di 3 anelli singoli, raccolti con cura e combinati in singoli preset.

Menu Suite (Arp) e Loop singolo (Arp): utilizzare il nuovissimo Mutator Loop.

AEON Ritmica è tutto loop melodici. Il layout è molto simile agli strumenti di AEON melodica con tutti i Master FX e Touch-FX e così via.
Suites sono raccolte di Tempo sincronizzate melodiche loop mappati sulla tastiera. La sua facile da abbinare e vi è una serie di Key-switch (C-1 - C # 1) per sintonizzare i loop di un tasto nella parte bassa della tastiera.
Loop singolo consentono di riprodurre l'intero ciclo in qualsiasi chiave usando C-1 - C1 e poi c'è un insieme di chiave Fette mappato da C # 1-E6. È possibile utilizzare la pagina Avanzate Loop di manipolare la sintonia, Livello e Pan di ogni fetta e trascinare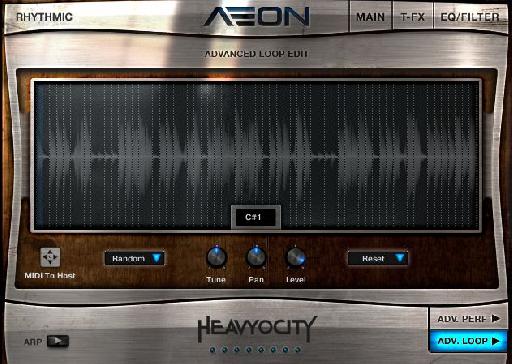 I tre Combo Loop hanno tre (ovviamente) Loop mappato tutti i tasti in due blocchi di ottava. Vi è anche un mixer a 3 vie sulla pagina principale.
C'è un sacco di modi per modificare i loop ma youll hanno il più divertente con il nuovo Mutator Loop!
Loop Mutator
Il Mutator Loop funziona un po 'come l'arpeggiatore (che ha tutte le stesse caratteristiche), ma invece di trattare con il suo passo invece utilizzato per innescare Loops (in Suite) o fette Loop re-sequenza (in loop singolo). E 'un sacco di divertimento anche! Il menu Suite (Arp) e Loop (Arp) patch singole sono tutti i preset in base al Mutator Loop.
In modalità Suite The Loop corsia efficace compensa il ciclo per essere attivato sulla base della nota si sta giocando. Youll notare i menu Suite (Arp) patch ti danno la nota base per la sequenza (diciamo C2). Dire che se si gioca un'altra nota si ottiene un'altra sequenza completamente diversa che è cool.
Nella patch single loop, le sequenze Mutator Loop compensati fette in base alla nota suonata. Come hai anche la velocità e la lunghezza con cui giocare, la sua piuttosto un potente strumento per remixare i loop. Si possono risintonizzare il vostro sequenza usando gli interruttori chiave di accordatura pure.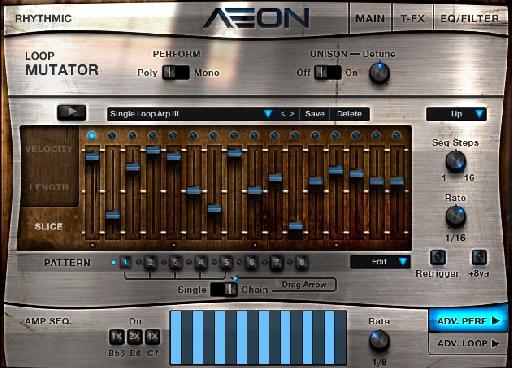 Il Mutator Loop aggiunge davvero una nuova dimensione al loop singolo e combinato con tutti gli altri sound shaping caratteristiche dovrebbero tenere andate per mesi, possibilmente su un unico anello!
Conclusione
La Collezione AEON ha molto da offrire a chiunque in film, TV e gioco di composizione e di stili di produzione musicale più contemporanei. Gli strumenti, mentre eclettico a scelta, sono veramente giocabile e suono mozzafiato. Il lato ciclo delle cose è un altro gioco di palla del tutto con una quantità folle di Tweak-capacità e di variazione per essere avuto.
Heres una rapida demo di AEON in azione che ho subito messo insieme (batteria da danni, ovviamente!) In modo da poter avere un'idea di esso.
[Audio id = "20793"]
Non posso coprire ogni singolo aspetto qui, ma la mia parola per esso AEON è un mostro e posso vedere me stesso con un sacco. Molto creativo e altamente raccomandato!
AEON pesa solo 399 dollari (o 349 dollari se si possiede un altro prodotto Heavyocity).
Scopri di più su AEON qui .
*** Vincere una copia di AEON Collection ***
I ragazzi generosi a Heavyocity stanno offrendo un lettore MPVHub fortunato la possibilità di vincere una copia di tutta la collezione AEON pena di 399 dollari!
Per inserire:
Log-in (gratuito, ovviamente).

Aggiungi un commento qui sotto che spiega che cosa ti eccita di più di AEON.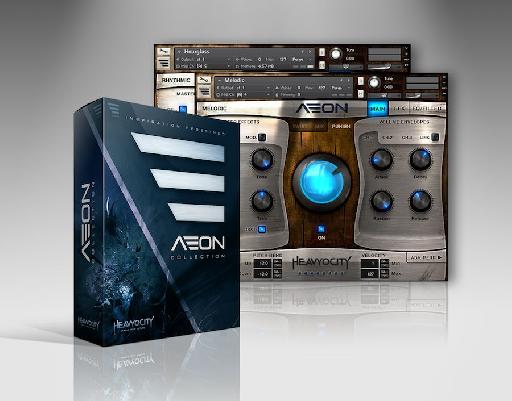 Aggiungi un commento qui sotto per avere la possibilità di vincere l'ispiratore $ 399 AEON Collection.
Contest chiude end del 22 aprile 2013.