*** WIN a FREE COPY of AEON***
Voir la fin de cette revue pour plus de détails ...
Quand Heavyocity libérer une nouvelle bibliothèque, vous savez que sa va être un peu spécial. Ils ont pas mal redéfinir la référence pour la créativité dans les bibliothèques d'échantillons Kontakt tout le chemin du retour de leur série évoluent pour leur percussion centrale basée Dommages de retour en 2011.
Maintenant en 2013 Heavyocity sont de retour avec la collection de AEON. Celui-ci comprend deux nouveaux produits appelés AEON mélodique et rythmique AEON tous deux alimentés par Kontakt 5 Player. Ceux-ci peuvent être achetés séparément ou ensemble pour un prix réduit.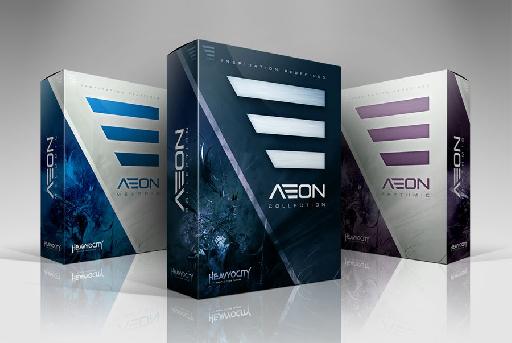 La collection AEON dans toute sa splendeur.
Cette fois AEON met l'accent sur le contenu purement mélodique fournissant plus de 300 instruments échantillonnés (AEON mélodique) et 300 boucles mélodiques (AEON rythmique). Il ya aussi quelques nouvelles fonctions créatives astucieux dans chacun des produits qui vous emmènera bien au-delà des presets fournis, et je veux dire bien au-delà!
Donc, avant de nous y aller Ill dire une chose. Si vous aimez vous aurez des dommages trouver AEON un proche compagnon. Bien que le contenu est mélodique, le Sonic ambiance est définitivement vient du même endroit que les dommages qui en fait les deux bibliothèques très compatible.
Mise en route
La collection AEON est assez grand. Il est disponible en téléchargement 14 Go via l'application continuata Connect. Il suffit de coller dans votre code de téléchargement et choisir une destination. Une fois le téléchargement terminé (le mien a pris environ 40 minutes sur une connexion 40-50 mbps) il suffit de lancer Kontakt 5 et ajouter les bibliothèques. L'activation est pris en charge directement dans Kontakt sans la nécessité d'ouvrir le centre de service.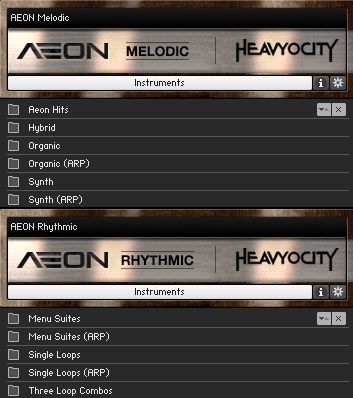 La bibliothèque contient 28 Go de contenu (les lions part prise par AEON mélodique) qui est comprimé à 14 Go (par l'intermédiaire de compression sans perte) sur le disque et contient près de 10.000 échantillons enregistrés à 24 bits/48 kHz.
AEON Mélodique
AEON mélodique est divisé en 6 dossiers:
Aeon Clics: impacts et les queues à un coup.

Instruments hybrides: Les sources organiques et synthé combinées pour créer des textures et des instruments uniques et en constante évolution.
Instruments organiques: Deep échantillonné, multi-vitesse, instruments round-robin. Ici, vous aurez trouver différents instruments, des instruments multi-couches, et des ensembles uniques.
Instruments de synthé: échantillonnées synthés modulaires et numériques analogiques.

Organique (Arp) et Synth (Arp): Ces presets utilisent tous la nouvelle arpégiateur dans AEON.
Toutes les catégories barre l'Eon Visites disposent d'un maximum de trois couches distinctes qui peut être modifié en utilisant leur propre enveloppe de volume, EQ, filtre, niveau, Pan et Tune contrôles qui vous donne beaucoup de possibilités pour créer de nouvelles variations. Il ya aussi un LFO mondial pour contrôler les filtres.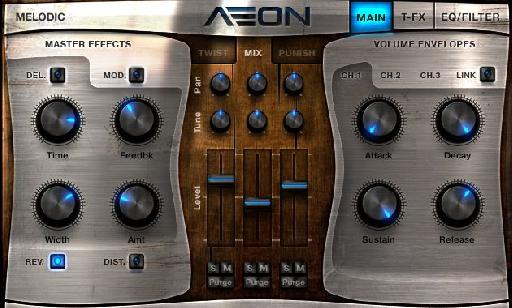 Chaque instrument dispose d'un ensemble d'effets Master comprenant Delay, Mod (Phaser et Chorus), Reverb, EQ,
Il ya aussi le familier Trigger-FX (qui se trouve dans tous les produits Heavyocity) comprenant de distorsion, Lo-Fi, Filter, Panner et Pitch Mod qui peut être déclenché via notes du clavier F6 - A6 pour les effets basés sur la performance.
Chaque effet Trigger dispose maintenant de son propre séquenceur qui peut être consulté via l'interrupteur avancée et vous permet de moduler chacun des principaux paramètres d'effets.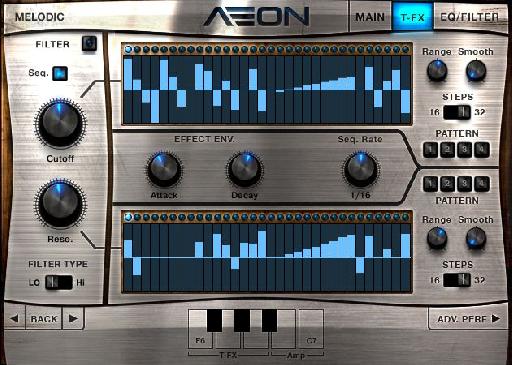 Il ya aussi deux FX supplémentaire, à savoir Twist et punir qui se trouvent dans l'onglet Principal. Twist est un effet basé sur des fréquences qui ajoute un peu de mouvement au son en modulant les bandes d'un égaliseur 3 bandes et peut produire une presque vocal comme effet alors que la répression (rendu célèbre par Dommages) ajoute une combinaison de saturation et de la compression de salir l' sons.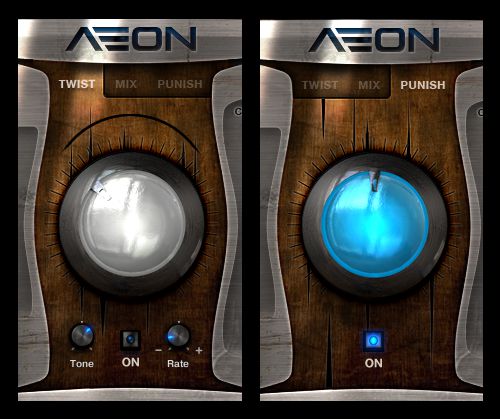 Tout cela s'ajoute à quelques ajustements sérieux et son potentiel de mise en forme! Et pendant que vous êtes limité à l'échantillon fixe dans chaque instrument dont la capacité à se fondre jusqu'à trois canaux dans chaque couche et ceux-ci avec d'autres correctifs de bord à l'intérieur Kontakt vous donne une multitude de possibilités tonales et créative.
La palette de sons est assez diversifiée dans AEON mélodique et je ne suis pas sûr que vous pouvez le mettre dans une sorte de trou pigeon. Il dispose d'un grand ensemble de patchs de synthé qui couvrent beaucoup de terrain tandis que les taches organiques disposent choses comme Basses fretless / vertical, sonnailles Tuned, salua Glocks et Crotales, DULCIMERS, Dobros, banjos, harpes, pianos, orgues, Wurlis, violoncelles et Tankdrum. Il ya aussi de nombreuses combinaisons d'instruments en couches trop.
Les patchs hybrides sont une combinaison de synthé et instruments organiques tandis que l'Eon Clics sont fantastiques one shot Tonal FX.
Mais il ne s'arrête pas là! Chaque instrument est livré avec un arpégiateur sophistiqué qui peut être trouvée dans la page Advanced Performance.
Arpégiateur
L'arpégiateur peut être utilisé pour créer des motifs d'arpèges réguliers que vous pourrez admirer sur la plupart des synthés. Il peut toutefois également être utilisé pour créer des motifs mélodiques complexes en utilisant la voie de ton ressemble beaucoup à un séquenceur pas à pas. Outre terrain vous pouvez également créer des séquences pour la vitesse et la durée de note qui ajoute beaucoup de puissance créatrice.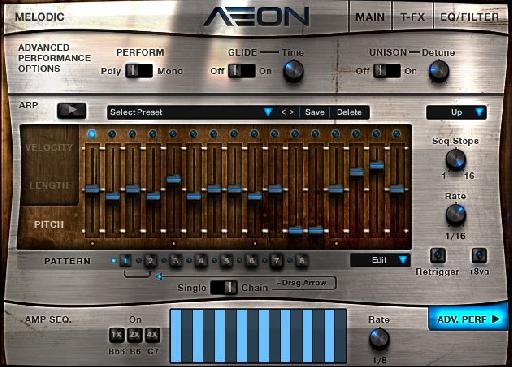 Vous avez également la possibilité de chaîner jusqu'à huit 16 modèles étape du séquenceur pour créer des phrases assez longues (128 étapes) et complexe rythmique et musicale. Il ya un certain nombre de préréglages disponibles avec la possibilité d'enregistrer jusqu'à 25 préréglages utilisateur. Heavyocity ont inclus quelques fonctionnalités d'édition pour copier / coller et de remise à zéro des voies qui est à portée de main! Il est aussi simple séquenceur d'amplitude qui peut être déclenché via notes BB6 - C7.
The Organic (Arp) et Synth (Arp) des patches d'instruments utiliser pour un grand effet et ont vraiment à jouer pour obtenir toute l'étendue des fonctionnalités de Arpeggiators. Trucs vraiment puissant!
AEON rythmique
Alors que AEON rythmique est seulement d'environ un gigaoctet, il emballe un gros coup de poing! La bibliothèque est divisée en 5 dossiers:
Menu Suites: fournit des préréglages de style de menu de boucles tempo-synced/beat-sliced.
Loops simples: Contient plus de 330 patches de boucle simples. Modifier et remix Mets rapidement à une boucle en utilisant Drag
Trois Combos de En Boucle: Ceux-ci sont faites de 3 boucles individuels, soigneusement cueillies et combiné dans les préréglages de simples.

Menu Suite (Arp) and Loop Simple (Arp): uTiliseRa les all-nouveau Mutator de Boucle.

AEON rythmique est tout au sujet des boucles mélodiques. La mise en page est très similaire aux instruments mélodiques AEON avec tout le Master FX et Touch-FX et ainsi de suite.
Suites sont des collections de Tempo synchronisées boucles mélodiques mappés sur le clavier. Son interface est facile de mélanger et assortir et il n'y est un ensemble de-clés Commutateurs et accessoires (C-1 - C # 1) pour syntoniser les boucles à n'importe quelle touche à la faible fin de la clavier.
Boucles simples vous permettent de jouer la boucle complète dans n'importe quelle touche en C-1 - C1 et puis il ya un ensemble de tranches mappés clés de C # 1-E6. Vous pouvez utiliser la page Loop Avancé pour manipuler le Tuning, Niveau et Pan de chaque tranche en tant que bien en tant que Faites glisser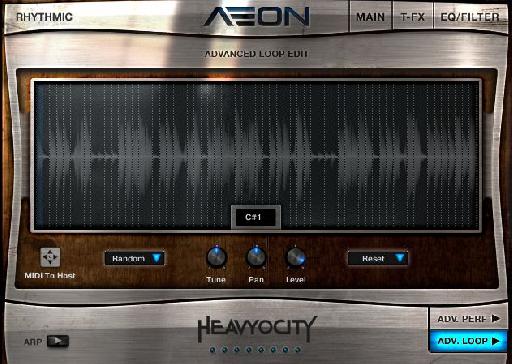 Les trois amplis de boucle en ont trois (évidemment) boucles cartographié sur les touches en deux blocs octave. Il ya aussi une table de mixage 3 voies sur la page principale.
Theres beaucoup de façons de modifier les boucles mais youll ont le plus de plaisir avec la nouvelle Mutator Loop!
Boucle Mutator
Le Mutator Loop fonctionne un peu comme le Arpeggiator (il possède toutes les mêmes caractéristiques) mais au lieu de traiter avec de la poix sa à la place utilisé pour déclencher Loops (dans Suites) ou tranches en Boucle re-séquence (dans Loops Simples). Son un beaucoup de plaisir trop! Le Suite Menu (Arp) et LOOP patches simples (Arp) sont des tous les préréglages basé sur le Mutator Loop.
En mode Suite la boucle voies efficacement les offsets la boucle afin de être déclenchées basée sur la note vous vous jouez. Youll remarqué les Menu Suite (Arp) les patches que vous donnent la note de base pour la séquence (dire C2). Dire que si vous jouez une autre note que vous obtenez une autre séquence totalement différente qui est cool.
Dans les correctifs de boucle simple, les séquences de Mutator de boucle compensés tranches en fonction de la note que vous jouez. Comme vous avez également la vitesse et la longueur de jouer avec, c'est un outil très puissant pour remixer des boucles. Vous pouvez régler votre séquence à l'aide des commutateurs de touches de réglage ainsi.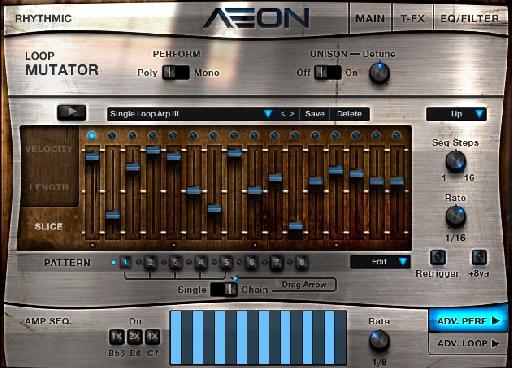 Le Mutator Loop ajoute vraiment une nouvelle dimension à boucles simples et combinés avec tous les autres sons façonner caractéristiques devraient vous tenir en haleine pendant des mois, peut-être sur une seule boucle!
Conclusion
La collection AEON a beaucoup à offrir à tout le monde dans la composition cinéma, la télévision et de jeux ainsi que des styles de production de musique plus contemporaine. Les instruments, tandis que éclectique dans choix, sont vraiment jouable et sonore étonnante et. Le côté de la boucle des choses est un autre jeu de balle tout à fait avec une quantité folle de tweak-capacité et la variation pour être eu.
Heres un demo rapide de AEON dans l'action que je mets rapidement ensemble (drums par des dommages évidemment!) De sorte que vous peux obtenir un sensation pour elle.
[Audio id = "20793"]
Je biseaute couvre chaque caractéristique unique ici, mais prendre mon mot pour lui AEON est un monstre et je peux voir moi-même en utilisant il un lot. Très créatif et hautement recommandé!
AEON pèse seulement $ 399 (ou 349 $ si vous possédez un autre produit de Heavyocity).
Découvrez plus de à propos de AEON ici .
*** Gagner un exemplaire de AEON Collection ***
Les gars généreux Heavyocity offrent un lecteur MPVHub chance la chance de gagner une copie de l'ensemble de la Collection AEON valeur de 399 $!
Pour entrer:
Log-in (gratuit, bien sûr).

Ajouter un commentaire ci-dessous expliquant ce qui vous excite le plus dans AEON.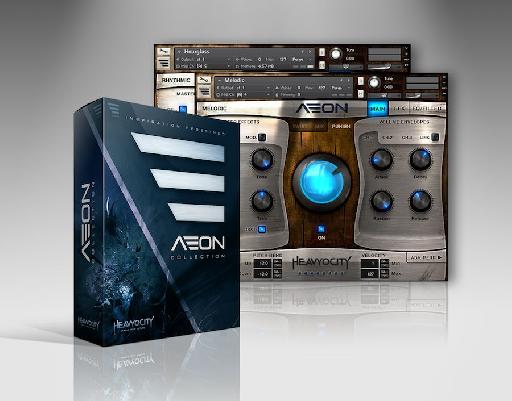 Ajouter un commentaire ci-dessous pour avoir une chance de gagner le inspirant 399 $ AEON Collection.
Le concours prend fin en date du 22 Avril 2013.