*** WIN a FREE COPY of AEON***
Ver al final de esta revisión para más detalles ...
Cuando Heavyocity liberar una nueva biblioteca, ya sabes que va a ser un poco especial. Ellos prácticamente redefinen el punto de referencia para la creatividad en las bibliotecas de muestras Kontakt todo el camino de vuelta de su serie EVOLVE a su percusión central eléctrica basada en daños en 2011.
Ahora en 2013 Heavyocity están de vuelta en la Colección AEON. Este consta de dos nuevos productos llamados AEON melódico y rítmico AEON tanto impulsado por Kontakt 5 jugador. Éstos se pueden comprar juntos o por separado a un precio reducido.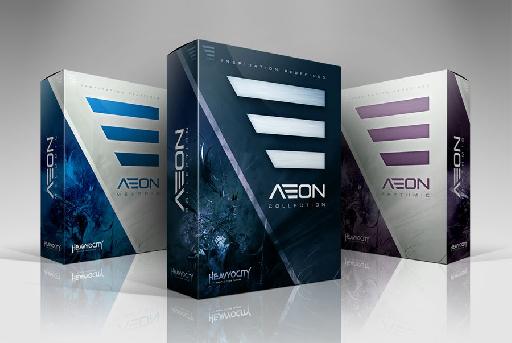 La colección AEON en todo su esplendor.
Esta vez AEON coloca el énfasis en el contenido puramente melódica proporcionando más de 300 instrumentos muestreados (AEON melódico) y 300 loops melódicos (AEON rítmica). También hay algunas ingeniosas nuevas características creativas en cada uno de los productos que le llevará más allá de los ajustes preestablecidos proporcionados, y me refiero a mucho más allá!
Así que antes de irnos decir Ill una cosa. Si te gusta interminables daños AEON encontrar un compañero cercano. Aunque el contenido es melódico, el ambiente sonoro es, sin duda viene del mismo lugar que daño que hace las dos bibliotecas muy compatible.
Introducción
La colección de AEON es bastante grande. Se presenta en una descarga de 14 GB a través de la aplicación continuata Connect. Sólo tienes que pegar en el código de descarga y elegir un destino. Una vez finalizada la descarga (el mío tomó cerca de 40 minutos en una conexión de 40 a 50 mbps) simplemente lanzará Kontakt 5 y añada las bibliotecas. La activación es atendido directamente dentro Kontakt sin necesidad de abrir el Centro de Servicio.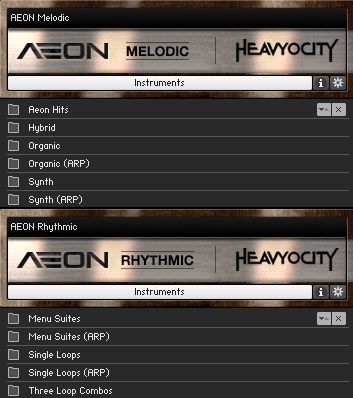 La biblioteca cuenta con 28 GB de contenido (la parte del león tomada por AEON Melodic) que se comprime a 14 GB (por la compresión sin pérdida) en el disco y contiene alrededor de 10 000 muestras grabadas a 24 bits/48 kHz.
AEON Melodic
AEON Melodic se divide en 6 carpetas:
Aeon Hits: impacto de un solo tiro y las colas.

Instrumentos híbridos: las fuentes orgánicas y sintetizador se combinaron para crear texturas e instrumentos únicos y cambiantes.
Instrumentos orgánicos: Deep muestreado, multi-velocidad, instrumentos todos contra todos. Aquí el youll encontrar instrumentos individuales, instrumentos de varias capas, y conjuntos únicos.
Instrumentos Synth: Probamos sintetizadores modulares analógicos y digitales.

Orgánica (Arp) y Synth (Arp): Estos presets todos utilizan el nuevo arpegiador en AEON.
Todo el bar los Impactos AEON cuentan hasta tres capas distintas que pueden ser ajustadas utilizando su propia envolvente Amp, EQ, Filter, Nivel, controles que le da muchas posibilidades para crear nuevas variaciones Pan y Tune. También hay un LFO Global para controlar los filtros.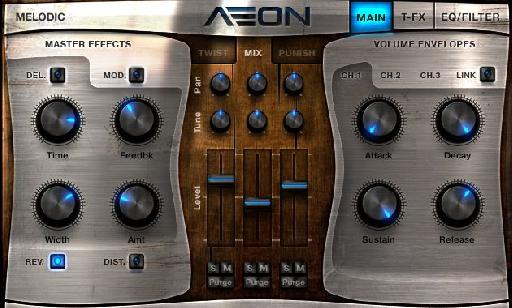 Cada instrumento dispone de un conjunto de efectos master consta de Delay, Mod (Phaser y Coro), reverb, EQ,
Hay también el conocido Mod Pitch que puede ser activado a través de las notas del teclado F6 Gatillo-FX (que se encuentra en todos los productos Heavyocity) que comprende de distorsión, Lo-Fi, filtro, y Panner - A6 de efectos basados ​​en el desempeño.
Cada efecto gatillo ahora cuenta con su propio secuenciador que se puede acceder a través del interruptor avanzada y le permite modular cada uno de los principales parámetros de efectos.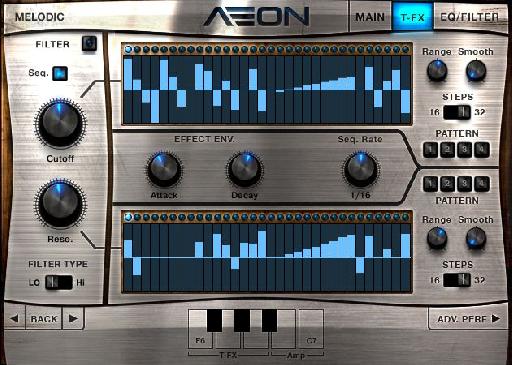 También hay dos FX extra, a saber, la torcedura y sancionar que se encuentran en la pestaña Principal. Twist es un efecto basado en la frecuencia que añade algo de movimiento al sonido mediante la modulación de las bandas de un ecualizador de 3 bandas y puede producir una casi vocal como efecto mientras Castigar (hecho famoso por daños) añade una combinación de saturación y compresión a ensuciar la sonidos.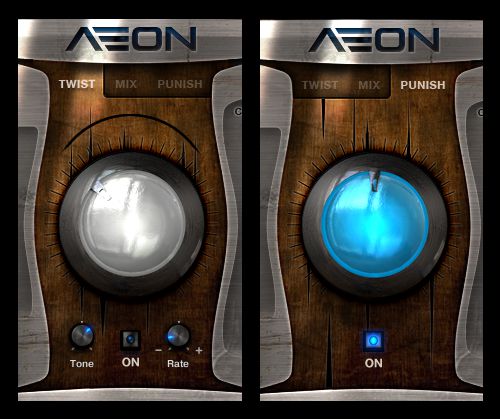 Todo esto se suma a algunos ajustes de sonido grave y potencial de la formación! Y ya que está limitado a la muestra establece en cada acto de la capacidad de combinar hasta tres canales en cada capa y estos con otros parches de instrumentos en el interior Kontakt ofrece una gran cantidad de posibilidades tonales y creativo.
La paleta de sonidos es bastante diversa en AEON Melodic y no estoy seguro de que usted puede ponerlo en cualquier tipo de casillero. Cuenta con un gran conjunto de parches de sintetizador que cubren mucho terreno, mientras que los parches orgánicos cuentan cosas como bajos fretless / vertical, cencerros afinados, se inclinó Glock y Crotales, DULCIMERS, DOBROS, banjos, arpas, pianos, órganos, Wurlis, violoncelos y Tankdrum. También hay muchas combinaciones de instrumentos capas demasiado.
Los parches híbridos son una combinación de sintetizadores e instrumentos orgánicos, mientras que los Impactos AEON son fantásticos un tiro Tonal FX.
Pero no termina ahí! Cada instrumento viene con un arpegiador sofisticados que se pueden encontrar en la página de Advanced Performance.
Arpegiador
El arpegiador se puede utilizar para crear modelos arpegiadas regulares que usted encontrará en la mayoría de los sintetizadores. Se puede sin embargo también ser usado para crear patrones melódicos complejos utilizando el carril Paso muy parecido a un secuenciador de paso. Además pitch también puede crear secuencias para la velocidad y la longitud de la nota, que añade un montón de energía creativa.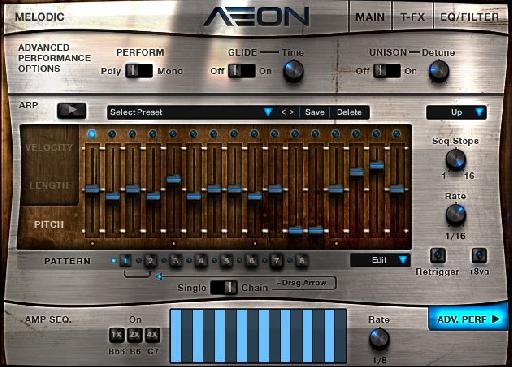 Usted también tiene la capacidad de la cadena hasta ocho 16 patrones de secuenciador por pasos para crear frases rítmicas y musicales muy largas (128 pasos) y complejo. Hay una serie de preajustes disponibles con la opción de guardar hasta 25 presets de usuario. Heavyocity han incluido algunas buenas características de edición para copiar / pegar y restablecer carriles que es práctico! También hay una simple secuenciador de amplitud que puede ser activado a través de notas bb6 - C7.
The Organic (Arp) y Synth (Arp) parches utilizar estos instrumentos con gran efecto y realmente tiene que ser jugado para conseguir el pleno alcance de las funciones Arpeggiators. Cosas muy poderoso!
AEON Rítmica
Mientras AEON rítmica es sólo alrededor de un gigabyte de tamaño, se produce un gran impacto! La biblioteca se divide en 5 carpetas:
Menú Suites: Proporciona estilo de menú de presets bucles tempo-synced/beat-sliced.
Loops individuales: Contiene más de 330 parches de sujeción individuales. Modificar rápidamente y remezcla de un bucle usando Drag
Tres Combos Loop: Estos están hechos de 3 bucles individuales, cuidadosamente escogidos y combinados en presets individuales.

Menu Suite (Arp) y bucle único (Arp): Utilizar el nuevo Mutador Loop.

AEON rítmica tiene que ver con bucles melódicos. El diseño es muy similar a los instrumentos melódicos AEON con todo el Maestro FX y FX-Touch y así sucesivamente.
Suites son colecciones de tempo sincronizados loops melódicos asignados a través del teclado. Es fácil de mezclar y combinar y hay una serie de Key-Switches (C-1 - C # 1) para ajustar los bucles a cualquier tecla en el extremo inferior del teclado.
Loops individuales le permiten jugar el circuito completo en cualquier tecla en C-1 - C1 y entonces hay un conjunto de rebanadas asignadas clave de C # 1-E6. Puede utilizar la página Advanced Loop para manipular el Tuning, nivel y Pan de cada sector, así como arrastrar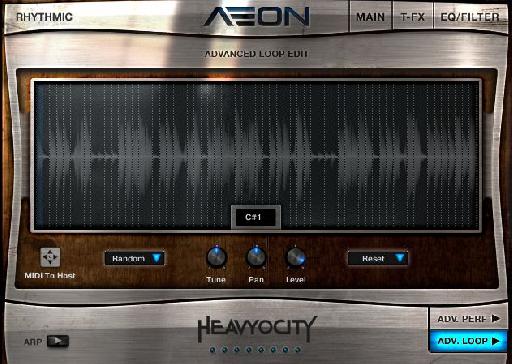 Los tres Combos Loop tienen tres (obviamente) bucles mapeado a través de las teclas en dos bloques de octava. También hay una mezcladora de 3 vías en la página principal.
Theres un montón de maneras de ajustar los bucles, pero usted tendrá más diversión con el nuevo Mutador Loop!
Loop Mutador
El Mutador Loop funciona un poco como el arpegiador (tiene todas las mismas características), pero en lugar de hacer frente a su terreno de juego en lugar utilizado para activar Loops (en Suites) o rodajas de bucle re-secuencia (en bucles individuales). Es un montón de diversión! La suite Menu (Arp) y Loop parches individuales (Arp) son todos los presets basados ​​en el Mutador Loop.
En el modo de suite del bucle carril efectivamente compensa el bucle para ser activado en base a la nota que estás jugando. Youll cuenta de la suite de parches de menú (Arp) le dan la nota base de la secuencia (por ejemplo C2). Decir que si juegas otra nota se obtiene otra secuencia completamente diferente, que es genial.
En los parches solo lazo, las secuencias mutadoras Loop compensados ​​rodajas sobre la base de la nota que toque. Como usted también tiene la velocidad y la longitud para jugar, es bastante una poderosa herramienta para remezclar los bucles. Puede volver a sintonizar su secuencia usando los interruptores de llave de afinación también.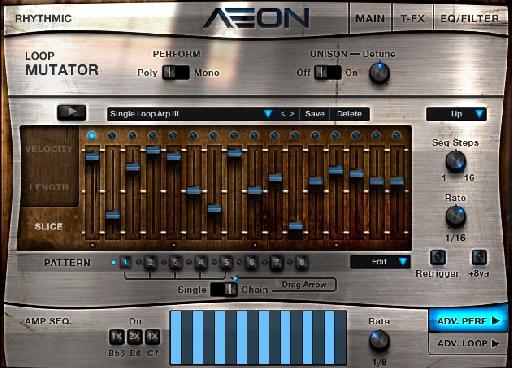 El Mutador Loop añade realmente una nueva dimensión a los bucles individuales y se combinan con el resto de modelado del sonido características deben seguir jugando durante meses, posiblemente en un solo lazo!
Conclusión
La Colección AEON tiene mucho que ofrecer a cualquier persona en cine, televisión y juegos composición, así como estilos de producción musical más contemporáneos. Los instrumentos, mientras ecléctico en la elección, son muy jugable y sonido impresionante. El lado del bucle de las cosas es otro juego de pelota completamente con una cantidad increíble de ajustar-la capacidad y la variación que se tenía.
Heres una rápida demostración de AEON en acción tan rápidamente armé (batería por daños obviamente!) Para que pueda obtener una idea de ella.
[Audio id = "20793"]
No puedo cubrir cada función aquí, pero toma mi palabra para ella AEON es un monstruo y me veo con mucho. Muy creativo y muy recomendable!
AEON pesa tan sólo $ 399 (o $ 349 si usted posee otro producto Heavyocity).
Descubra más sobre AEON aquí .
*** Ganar una copia de AEON Collection ***
Los chicos generosas a Heavyocity están ofreciendo un lector MPVHub suerte la oportunidad de ganar una copia de toda la colección AEON vale $ 399!
Para participar:
Log-in (gratis, por supuesto).

Añadir un comentario más abajo explicando lo que excita a la mayoría sobre AEON.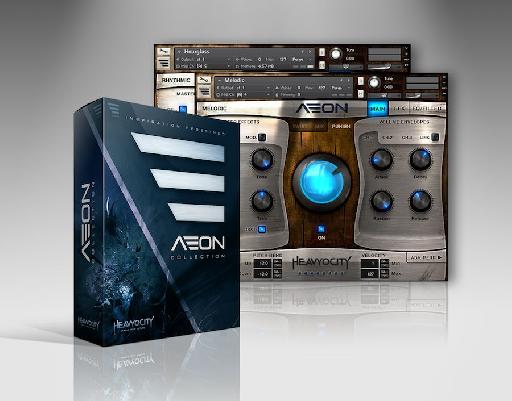 Añadir un comentario más abajo para tener una oportunidad de ganar el inspirador $ 399 Colección AEON.
Concurso de cierre final del 22 de abril de 2013.