*** WIN a FREE COPY of AEON***
Siehe Ende dieser Überprüfung für Details ...
Wenn Heavyocity eine neue Bibliothek freizugeben, wissen Sie, sein Gehen, ein bisschen speziell. Sie ziemlich viel neu definiert den Maßstab für Kreativität in Kontakt Sample-Bibliotheken den ganzen Weg zurück von ihren EVOLVE Serie ihre Percussion basierte Kraftpaket Schaden zurück im Jahr 2011.
Jetzt im Jahr 2013 Heavyocity sind zurück mit dem AEON Collection. Dieses umfasst zwei neue Produkte genannt AEON Melodic und AEON Rhythmische beide angetrieben durch Kontakt 5 Player. Diese können separat oder zusammen für einen ermäßigten Preis erworben werden.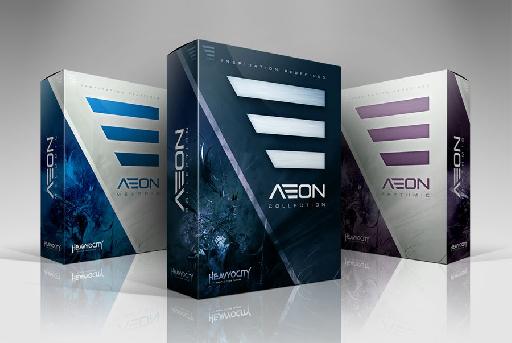 Das AEON Sammlung in seiner ganzen Pracht.
Diesmal AEON legt den Schwerpunkt auf rein melodischen Content Providing über 300 gesampelte Instrumente (AEON Melodic) und 300 melodische Schleifen (AEON Rhythmic). Es gibt auch einige nette neue kreative Features in jedem der Produkte, nehmen Sie weit über den mitgelieferten Presets werden, und ich meine weit über!
Also, bevor wir loslegen Ill sagen, eine Sache. Wenn Sie Schaden youll gefällt AEON eine enge Begleiter. Während der Inhalt ist melodisch, wird die klangliche Atmosphäre definitiv kommen aus dem gleichen Ort wie Schäden, die die beiden Bibliotheken sehr kompatibel macht.
Erste Schritte
Das AEON Collection ist ziemlich groß. Es kommt in einer 14 GB Download über den Continuata Connect-Anwendung. Just in Ihrem Download-Code einfügen und wählen Sie ein Ziel. Sobald der Download abgeschlossen ist (meine dauerte etwa 40 Minuten auf einem 40-50 Mbps-Verbindung) starten Sie einfach Kontakt 5 und fügen Sie die Bibliotheken. Die Aktivierung ist Pflege direkt in Kontakt, ohne die Notwendigkeit, das Service Center öffnen gemacht.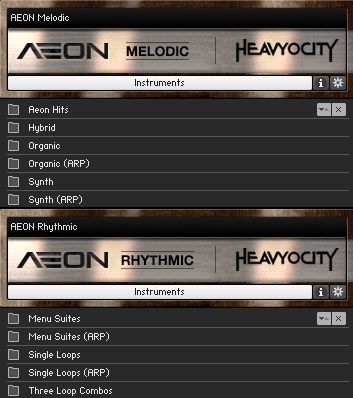 Die Bibliothek enthält 28 GB von Inhalten (die Löwen Aktie um AEON Melodic gemacht), die zu 14 GB (via verlustfreie Komprimierung) auf der Festplatte komprimiert und enthält rund 10.000 Proben bei 24 Bit/48 kHz aufgezeichnet.
AEON Melodic
AEON Melodic ist in 6 Ordnern zusammen:
Aeon Hits: Single-shot Auswirkungen und Schwänze.

Hybrid Instruments: Organische und Synth Quellen kombiniert, um einzigartige und sich entwickelnde Texturen und Instrumente zu schaffen.
Organic Instruments: Tief abgetastet, multi-Geschwindigkeit, Round-Robin-Instrumente. Hier enhalten sind einzelne Instrumente, vielschichtige Instrumente und einzigartige Ensembles.
Synth Instrumente: abgetasteten analogen modularen und digitalen Synthesizern.

Organic (Arp) und Synth (Arp): Diese Presets alle nutzen den neuen Arpeggiator in AEON.
Alle Kategorien Bar die AEON Hits verfügen über bis zu drei verschiedene Schichten, die mit ihren eigenen gezwickt Amp Envelope, EQ, Filter, Level, Pan und Tune Kontrollen geben Ihnen viel Spielraum, um neue Varianten erstellt werden können. Es gibt auch eine globale LFO, um die Filter zu steuern.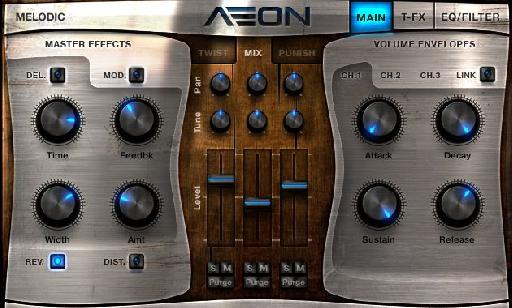 Jedes Instrument verfügt über eine Reihe von Master-Effekte, bestehend aus Delay, Mod (Phaser und Chorus), Reverb, EQ,
Es gibt auch die bekannte Auslöser-FX (gefunden in allen Heavyocity Produkte), bestehend aus Distortion, Lo-Fi, Filter, Panner und Pitch Mod, die über die Tastatur Notizen F6 ausgelöst werden kann - A6 für Performance basierte Effekte.
Jeder Trigger-Effekt wird nun über einen eigenen Sequenzer, die über die Advanced-Schalter zugegriffen werden kann und ermöglicht es Ihnen zu modulieren jede der wichtigsten FX-Parameter.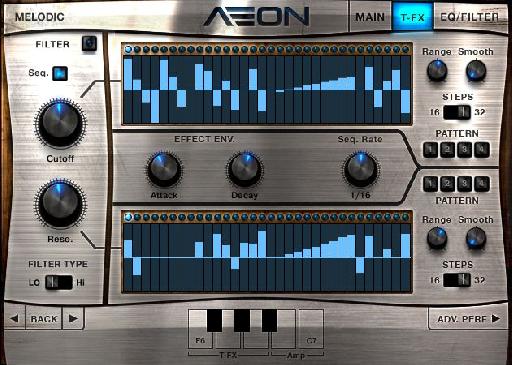 Es gibt auch zwei zusätzliche FX, nämlich Twist und Bestrafung, die in der Registerkarte gefunden werden. Twist ist eine Frequenz basierten Effekt, etwas Bewegung fügt dem Klang durch Modulation der Banden von einem 3-Band-EQ und produzieren eine fast vocal ähnlichen Effekt, während Bestrafung (bekannt geworden durch Schaden) fügt eine Kombination aus Sättigung und Kompression zu schmutzig bis die Sounds.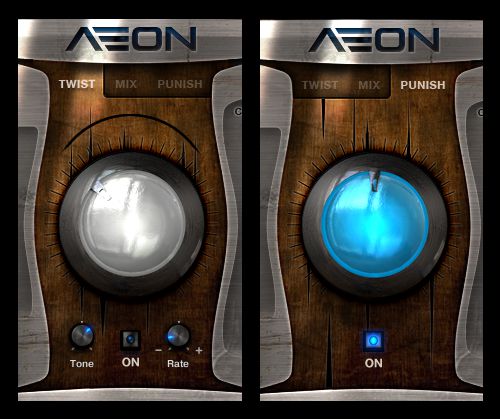 All dies summiert sich zu einigen schweren Tweaking und Klanggestaltung Potenzial! Und während Sie beschränkt sich auf die Probe stellt sind in jedem Instrument die Fähigkeit zu mischen bis zu drei Kanäle in jeder Schicht und diese mit anderen Instrumenten-Patches in Kontakt gibt Ihnen eine Fülle von klanglichen und kreativen Möglichkeiten.
Die Palette der Sounds ist ziemlich vielfältig in AEON Melodic und bin nicht sicher, können Sie es in jeder Art von Taube Loch gesteckt. Es verfügt über eine große Menge von Synth-Patches, die eine Menge Boden zu bedecken, während die organische Patches Dinge wie Fretless / Upright Bässe, Tuned Kuhglocken, Streich Glocks und Crotales, Dulcimers, Dobros, Banjos, Harfen, Klaviere, Orgeln, Wurlis, Cellos und verfügen Tankdrum. Es gibt auch viele Kombinationen von geschichteten Instrumenten zu.
Die Hybrid-Patches sind eine Kombination von Synth-und Bio-Instrumente, während die AEON Hits fantastische one shot Tonal FX sind.
Aber es ist noch nicht alles! Jedes Instrument kommt mit einem ausgeklügelten Arpeggiator, die in der Advanced Performance Seite gefunden werden kann.
Arpeggiator
Der Arpeggiator kann verwendet werden, um regelmäßige Arpeggio Muster, die auf den meisten Synthesizern finden youll schaffen. Es kann aber auch verwendet werden, um komplexe melodische Muster mit dem Pitch Spur sehr ähnlich wie ein Step-Sequenzer zu schaffen. Neben Tonhöhe Sie können auch Sequenzen für Geschwindigkeit und Notenlänge, die viele kreative Kraft hinzufügt.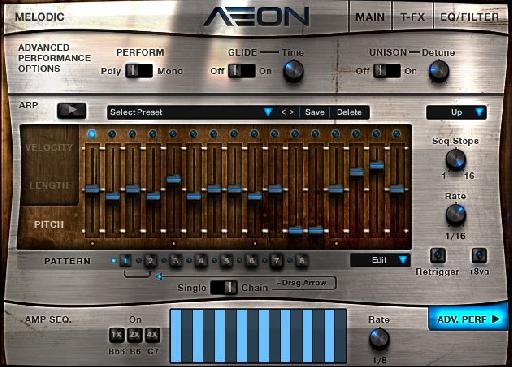 Sie haben auch die Fähigkeit, Kette bis zu acht 16 Step-Sequenzer Muster ziemlich lange (128 Schritte) und komplexen rhythmischen und musikalischen Phrasen erstellen. Es gibt eine Reihe von Presets zur Verfügung, mit der Möglichkeit, bis zu 25 Benutzer-Presets. Heavyocity haben einige nette Features für edit copy / paste und Zurücksetzen Gassen, die praktisch ist im Lieferumfang enthalten! Es gibt auch eine einfache Amplitude Sequenzer, über Notizen Bb6 ausgelöst werden kann - C7.
Die Organic (Arp) und Synth (Arp) Instrument Patches verwenden diese, um große Wirkung und haben wirklich gespielt, um den vollen Umfang der Arpeggiatoren Features zu erhalten. Wirklich starke Sache!
AEON Rhythmic
Während AEON Rhythmische ist nur etwa ein Gigabyte groß, packt es einen großen Schlag! Die Bibliothek ist in 5 Ordner aufgeteilt:
Menü Suites: Bietet Menüstil Presets tempo-synced/beat-sliced ​​Schleifen.
Einzel-Loops: Enthält über 330 einzelne Schleife Patches. Schnell ändern und remix eine Schleife mit Drag
Drei Loop-Combos: Diese sind aus 3 einzelnen Schleifen, sorgfältig ausgewählt und in einzelne Presets kombiniert werden.

Menu Suite (Arp) und Single Loop (Arp): Nutzen Sie das komplett neue Loop-Mutator.

AEON Rhythmische dreht sich alles um melodische Loops. Das Layout ist sehr ähnlich zu den AEON Melodic Instrumente mit all den Master FX und Touchscreen-FX und so weiter.
Suites sind Sammlungen von Tempo Synced melodische Schleifen auf der Tastatur abgebildet. Es ist einfach zu mischen und anzupassen, und es gibt eine Reihe von Key-Switches (C-1 - C # 1), um die Schleifen an eine beliebige Taste stimmen am unteren Ende der Tastatur.
Einzel-Loops können Sie die volle Schleife in jeder Tonart mit C-1 spielen - C1 und dann gibt es eine Reihe von Key Mapped Scheiben von C # 1-E6. Sie können die erweiterte Loop-Seite, um das Tuning, Lautstärke und Panorama für jede Scheibe sowie Ziehen manipulieren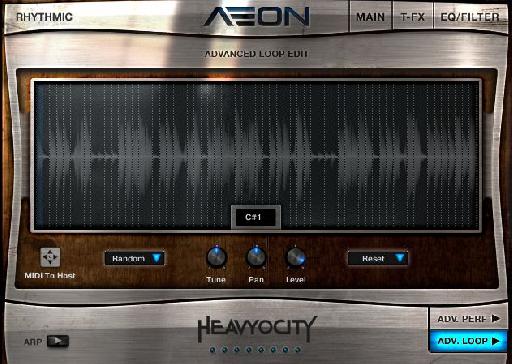 Die drei Loop-Combos haben drei (offensichtlich) schleift über die Tasten in zwei Oktaven Blöcke abgebildet. Es gibt auch eine 3-Wege-Mischer auf der Hauptseite.
Theres viele Möglichkeiten, um die Schlingen zu zwicken, aber youll haben den meisten Spaß mit dem neuen Loop-Mutator!
Loop-Mutator
The Loop Mutator arbeitet ein bisschen wie der Arpeggiator (es hat die gleichen Funktionen), aber anstatt sich mit Pech seinen stattdessen verwendet, um Loops (in Suites) oder re-sequence-Loop Slices (in Loops Einzel) auslösen. Es ist eine Menge Spaß! Die Menü-Suite (Arp) und Single Loop (Arp) Patches sind alle Presets auf dem Loop Mutator basiert.
In Suite-Modus werden die Loop-Spur effektiv Offsets die Schleife auf der Grundlage der Notiz, die Sie gerade spielen ausgelöst werden. Youll bemerken die Menu Suite (Arp) Patches geben Sie den Grundton für die Folge (sagen C2). Zu sagen, dass wenn Sie eine andere Note spielen Sie noch ganz andere Sequenz, die cool ist zu bekommen.
Im Single-Loop-Patches, Offset der Schleife Mutator Sequenzen Scheiben auf dem gespielten Note basiert. Wie haben Sie auch Geschwindigkeit und Länge, mit, seine ganz ein leistungsfähiges Werkzeug für die Schlaufen Remixen spielen. Sie können Ihre umzustimmen Reihenfolge mit den Tuning-Schlüsselschalter sowie.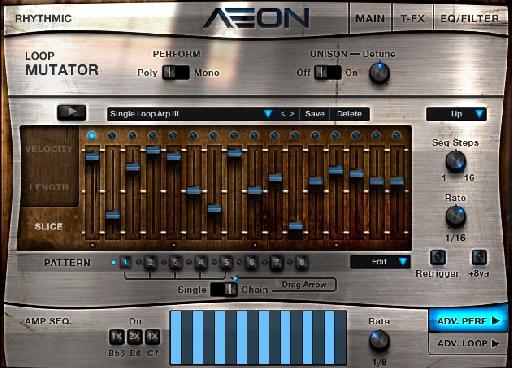 The Loop Mutator wirklich eine neue Dimension zu einzelnen Schleifen und mit all den anderen Klangformungs-Funktionen sollte halten Sie sich für Monate, möglicherweise auf einer einzigen Schleife!
Abschluss
Das AEON-Kollektion verfügt über eine Menge zu jedermann in Film, Fernsehen und Spiel Zusammensetzung ebenso wie die meisten zeitgenössischen Musikproduktion Arten bieten. Die Instrumente, während in eklektische Auswahl, sind wirklich spielbar und klingen atemberaubend. Die Schleife Seite der Dinge ist eine andere Ballspiel insgesamt mit einem wahnsinnig viel zwicken-Fähigkeit und Variation zu haben.
Heres eine kurze Demo von AEON in Aktion, dass ich schnell zusammen (Schlagzeug durch Schaden offensichtlich!), Damit Sie ein Gefühl dafür zu bekommen.
[Audio id = "20793"]
Ich kippe decken jede einzelne Funktion hier, aber mein Wort für es AEON ist ein Monster und ich sehe mich mit ihm eine Menge. Sehr kreativ und sehr zu empfehlen!
AEON wiegt nur 399 $ (oder $ 349, wenn Sie einen anderen Heavyocity Produkt besitzen).
Erfahren Sie mehr über AEON hier .
WIN *** Eine Kopie des AEON Sammlung ***
Die großzügigen Jungs bei Heavyocity bieten einen glücklichen MPVHub Leser die Möglichkeit, eine Kopie des gesamten AEON Sammlung wert $ 399 zu gewinnen!
So geben:
Log-in (natürlich kostenlos).

Fügen Sie einen Kommentar unten zu erklären, was reizt Sie am meisten an AEON.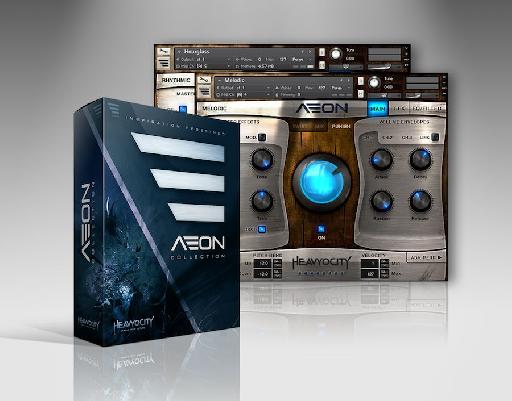 Fügen Sie einen Kommentar unten, um eine Chance, die inspirierende $ 399 AEON Sammlung zu gewinnen.
Contest schließt Ende des 22. April 2013.