When Heavyocity release a new library, you know it's going to be a bit special. They pretty much redefined the benchmark for creativity in Kontakt sample libraries all the way back from their EVOLVE series to their percussion-based powerhouse Damage back in 2011.

Now in 2013, Heavyocity are back with the AEON Collection. This comprises two new products called AEON Melodic and AEON Rhythmic both powered by Kontakt 5 Player. These can be purchased separately or together for a discounted price.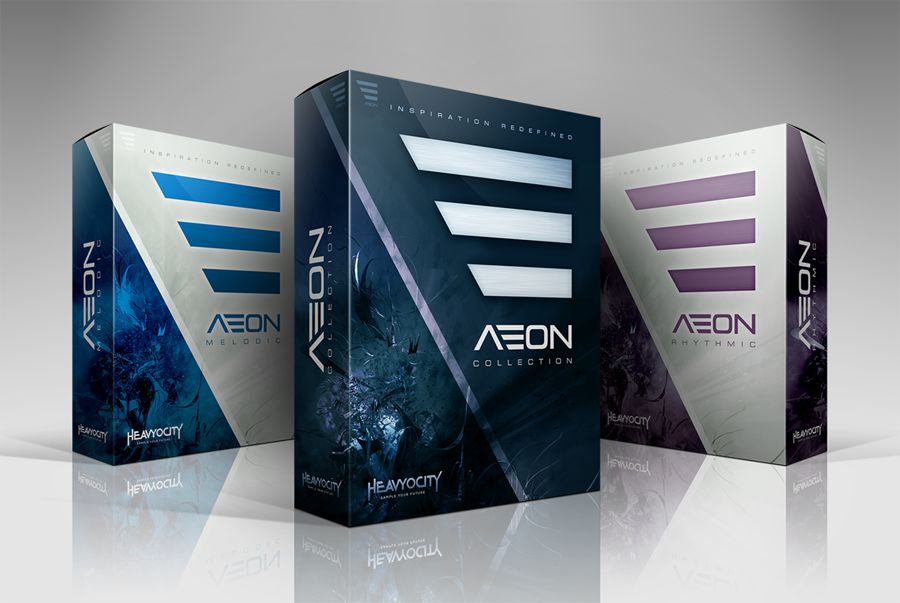 The AEON collection in all its glory.
This time AEON places the emphasis on purely melodic content providing over 300+ sampled instruments (AEON Melodic) and 300+ melodic loops (AEON Rhythmic). There are also some nifty new creative features in each of the products that will take you way beyond the supplied presets, and I mean way beyond!!
So before we get going I'll say one thing... If you like Damage you'll find AEON a close companion. While the content is melodic, the sonic vibe is definitely coming from the same place as Damage, which makes the two libraries very compatible.
Getting Started
The AEON Collection is pretty big. It comes in a 14 GB download via the Continuata Connect application. Just paste in your download code and choose a destination. Once the download is complete (mine took about 40 mins on a 40-50 Mbps connection) just launch Kontakt 5 and add the libraries. Activation is taken care of directly inside Kontakt without the need to open the Service Center.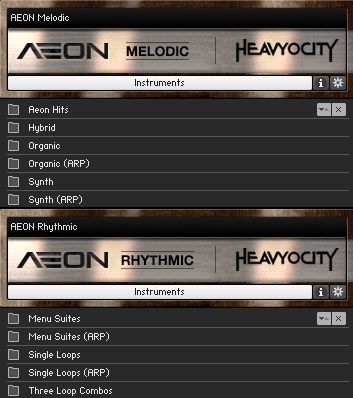 The library contains 28 GB of content (the lion's share taken up by AEON Melodic) which is compressed to 14 GB (via lossless compression) on disk and contains around 10,000+ samples recorded at 24 bit/48 kHz.
AEON Melodic
AEON Melodic is broken into 6 folders:
Aeon Hits: Single-shot impacts and tails.

Hybrid Instruments: Organic and synth sources combined to create unique and evolving textures and instruments.

Organic Instruments: Deep sampled, multi-velocity, round-robin instruments. Here you'll find individual instruments, multi-layered instruments, and unique ensembles.

Synth Instruments: Sampled analog modular and digital synths.

Organic (Arp) and Synth (Arp): These presets all utilize the new Arpeggiator in AEON.
All categories bar the AEON Hits feature up to three distinct layers that can be tweaked using their own Amp Envelope, EQ, Filter, Level, Pan and Tune controls giving you plenty of scope to create new variations. There is also a Global LFO to control the filters.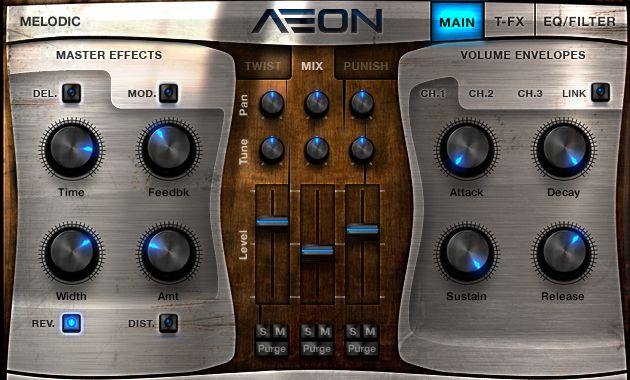 Each Instrument features a set of Master effects comprising of Delay, Mod (Phaser and Chorus), Reverb, EQ, and Distortion.
There are also the familiar Trigger-FX (found in all Heavyocity products) comprising of Distortion, Lo-Fi, Filter, Panner and Pitch Mod which can be triggered via keyboard notes F6 - A6 for performance based effects.
Each Trigger effect now features its own sequencer which can be accessed via the Advanced switch and allows you to modulate each of the main FX parameters.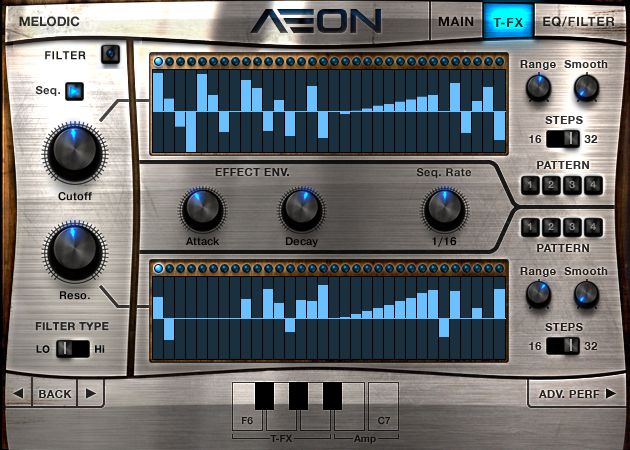 There are also two extra FX, namely Twist and Punish that are found in the Main tab. Twist is a frequency-based effect that adds some movement to the sound by modulating the bands of a 3-band EQ and can produce an almost vocal like effect, while Punish (made famous by Damage) adds a combination of Saturation and Compression to dirty up the sounds.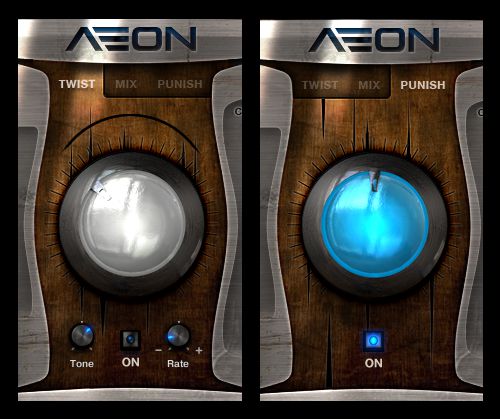 All this adds up to some serious tweaking and sound shaping potential! And while you're limited to the sample sets in each instrument the ability to blend up to three channels in each and layer these with other instrument patches inside Kontakt gives you a wealth of tonal and creative possibilities.
The palette of sounds is fairly diverse in AEON Melodic and I'm not sure you can put it into any sort of pigeon hole. It features a great set of Synth patches that cover a lot of ground while the Organic patches feature things like Fretless/Upright Basses, Tuned Cowbells, Bowed Glocks and Crotales, Dulcimers, Dobros, Banjos, Harps, Pianos, Organs, Wurlis, Cellos and Tankdrum. There are also many combinations of layered instruments too.
The Hybrid patches are a combination of Synth and Organic instruments while the AEON Hits are fantastic one-shot Tonal FX.
But it doesn't end there!! Each Instrument comes with a sophisticated Arpeggiator that can be found in the Advanced Performance page.
Arpeggiator
The Arpeggiator can be used to create regular arpeggiated patterns that you'll find on most synths. It can also however be used to create complex melodic patterns using the Pitch lane very much like a step sequencer. Besides pitch, you can also create sequences for velocity and note length which adds lots of creative power.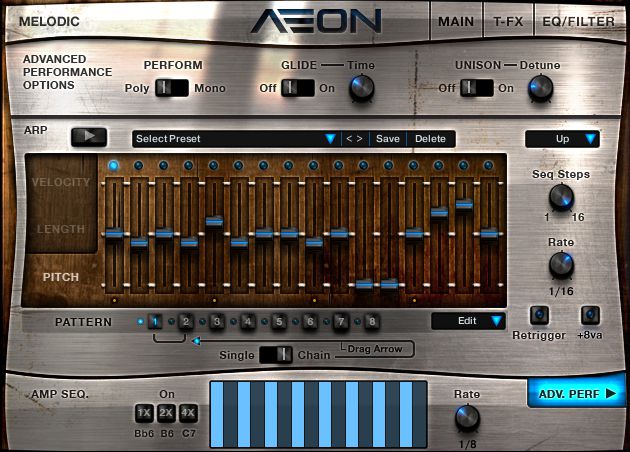 You also have the ability to 'Chain' up to eight 16 step sequencer patterns to create fairly long (128 step) and complex rhythmic and musical phrases. There are a number of presets available with the option to save up to 25 user presets. Heavyocity have included some nice edit features for copy/paste and resetting lanes which is handy! There is also a simple Amplitude sequencer that can be triggered via notes Bb6 - C7.
The Organic (Arp) and Synth (Arp) Instrument patches use these to great effect and really have to be played to get the full scope of the Arpeggiator's features. Really powerful stuff!
AEON Rhythmic
While AEON Rhythmic is only about a gigabyte in size, it packs a big punch! The library is split into 5 folders:
Menu Suites: Provides menu style presets of tempo-synced/beat-sliced loops.

Single Loops: Contains over 330 single loop patches. Quickly modify and remix a loop using Drag & Drop MIDI or Loop Mutator.

Three Loop Combos: These are made of 3 individual loops, carefully picked and combined into single presets.

Menu Suite (Arp) and Single Loop (Arp): Utilize the all-new Loop Mutator.

AEON Rhythmic is all about melodic loops. The layout is very similar to the AEON Melodic instruments with all the Master FX and Touch-FX and so forth. The loop content ranges from gentle organic phrases to bone splintering synth madness! There are three main types of instruments: Suites, Single Loops and Three Loop Combos all of which have different sample mappings.
Suites are collections of Tempo Synced melodic loops mapped across the keyboard. It's easy to mix and match and there is a set of Key-Switches (C-1 - C#1) to tune the loops to any key at the low end of the keyboard.
Single Loops allow you to play the full loop in any key using C-1 - C1 and then there is a set of Key Mapped Slices from C#1-E6. You can use the Advanced Loop page to manipulate the Tuning, Level and Pan of each slice as well as Drag & Drop a MIDI file of the loop to your host.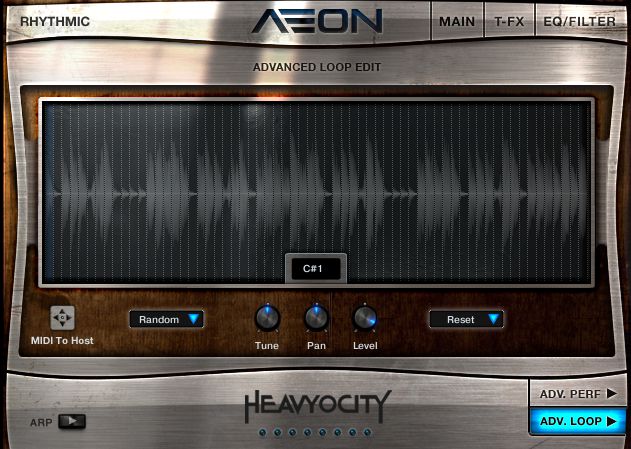 The Three Loop Combos have three (obviously) loops mapped across the keys in two octave blocks. There is also a 3-way mixer on the main page.
There's plenty of ways to tweak the loops but you'll have the most fun using the new Loop Mutator!
Loop Mutator
The Loop Mutator works a bit like the Arpeggiator (it has all the same features) but instead of dealing with pitch it's used to trigger Loops (in Suites) or re-sequence Loop Slices (in Single Loops). It's a lot of fun too! The Menu Suite (Arp) and Single Loop (Arp) patches are all presets based on the Loop Mutator.
In Suite mode the 'Loop' lane effectively offsets the loop to be triggered based on the note you're playing. You'll notice the Menu Suite (Arp) patches give you the base note for the sequence (say C2). Saying that if you play another note you get another completely different sequence which is cool.
In Single Loop patches, the Loop Mutator sequences offset 'slices' based on the note you play. As you also have velocity and length to play with, it's quite a powerful tool for remixing the loops. You can retune your sequence using the tuning key switches as well.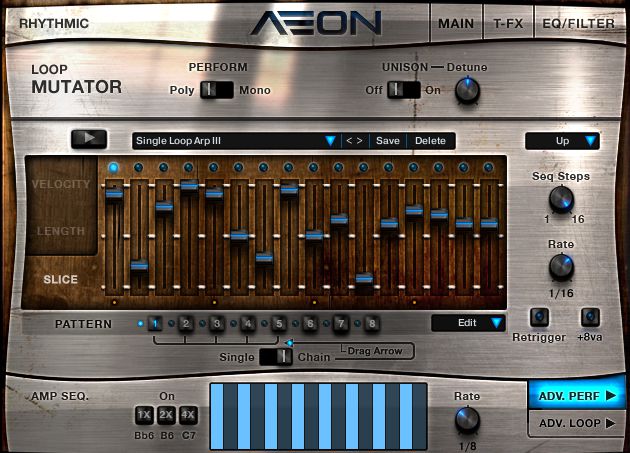 The Loop Mutator really adds a new dimension to single loops, and combined with all the other sound shaping features, should keep you going for months, possibly on a single loop!!!
Conclusion
The AEON Collection has a lot to offer to anyone in film, TV and game composition as well as most contemporary music production styles. The instruments, while eclectic in choice, are really playable and sound stunning. The loop side of things is another ball game altogether with an insane amount of tweak-ability and variation to be had.
Here's a quick demo of AEON in action that I quickly put together (drums by Damage obviously!) so you can get a feel for it.
I can't cover every single feature here but take my word for it AEON is a monster and I can see myself using it a lot. Very creative and highly recommended!!
AEON weighs in at just $399. AEON Melodic is available separately for $299. AEON Rhythmic is available separately for $199.
Discover more about AEON here.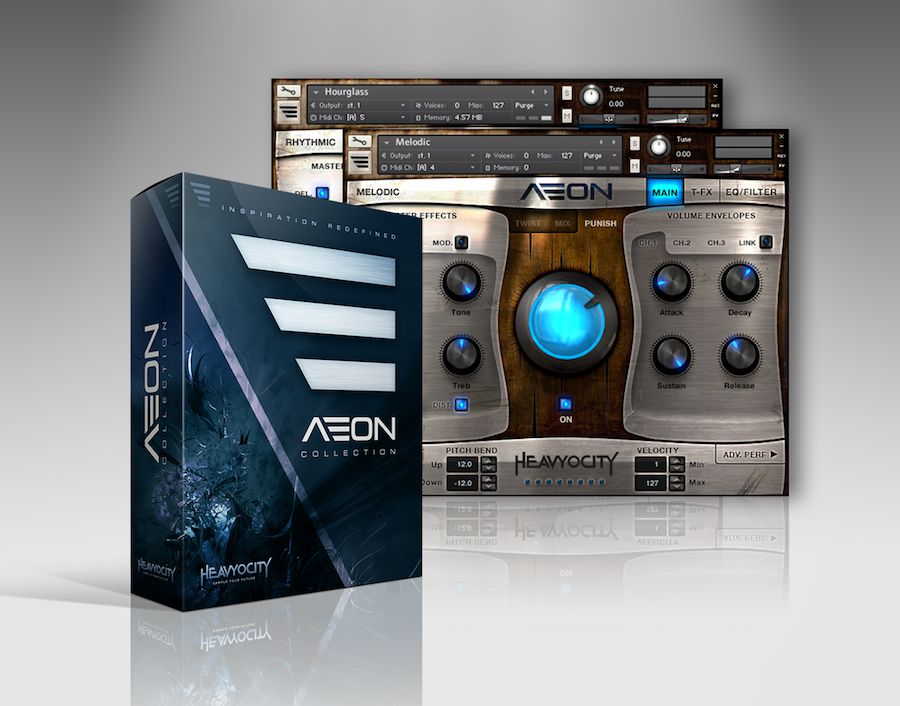 The Heavyocity AEON Collection in all its glory!