We were excited to get our hands on Groovebox, the new music-making app from the team behind Launchpad for iOS. Happily, there's even more to it than meets the eye...
Ampify is the new name for Blocs, the team that brought the world Blocs Wave and the phenomenally successful Launchpad for iOS. All that's changed is the name, they are still formed from – and working with – Novation. At Superbooth earlier this year we were able to get a sneak preview of their latest app, Groovebox, and now it's hit the virtual shelves. As we have come to expect from this team, it has its own look and feel, and balances immediacy with the option to go into a lot more detail should you choose.
Free Your Mind
Ampify is free to download, with a solid core feature set. There are three instruments: Drumbox, Retrobass and Poly-8 which is a synth. Each of these has a basic set of controls that change fundamental things like filter, pitch, waveshape or distortion. If you want to step up to a much more comprehensive set of controls for the instruments you can add an expansion pack for each of the three via in-app purchases priced at $4.99 / £4.99 / €5.49 for each one. This seems like a fair approach, since people who only want the basics will get the app for free, and even those who want more controls can pick and choose which of the expansions they go for. These unlock things like sample editing, effects and more, so they are definitely worth considering.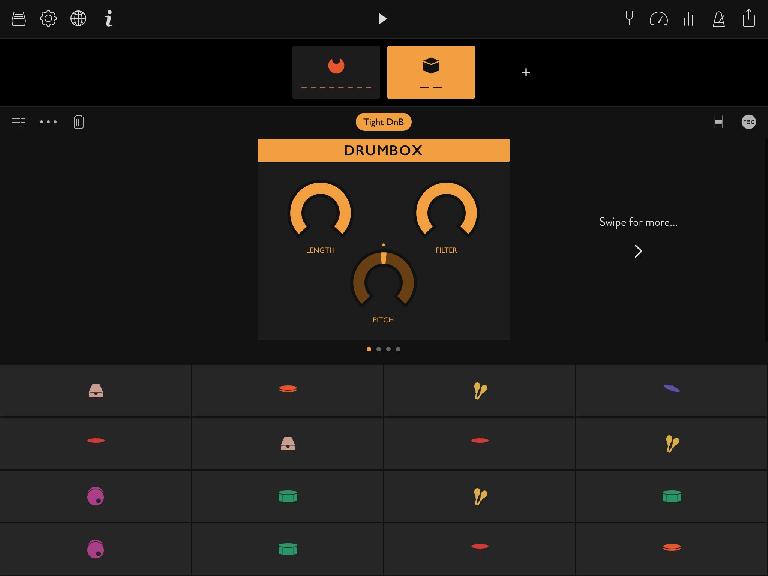 The interface initially requires a little exploration, since it's entirely proprietary so you have to work out what lives where and which buttons get you to where you need to be. This stage passes quickly though, and you'll be swiping around in no time. Along the top is your list of instruments and tapping one opens its interface (in basic view if you're on the free version) and a keyboard with scalable keys or for the drum machine, a drum grid. Each instrument can be record enabled and of course there's a metronome, tap tempo and a quantize option for each part. Further small buttons let you delete a part or change its length.
MIDI Tools
Recording using this simple method is very easy and the quantizing (which you can disable per-part of you like) keeps everything in time. If you tap on the grid button for any part you are taken into a piano roll editor, where you can get much more hands-on with your MIDI clips. Here you'll find all your MIDI notes and you are able to tap to enter new ones or remove notes, alter note length and also change the grid resolution and velocity level.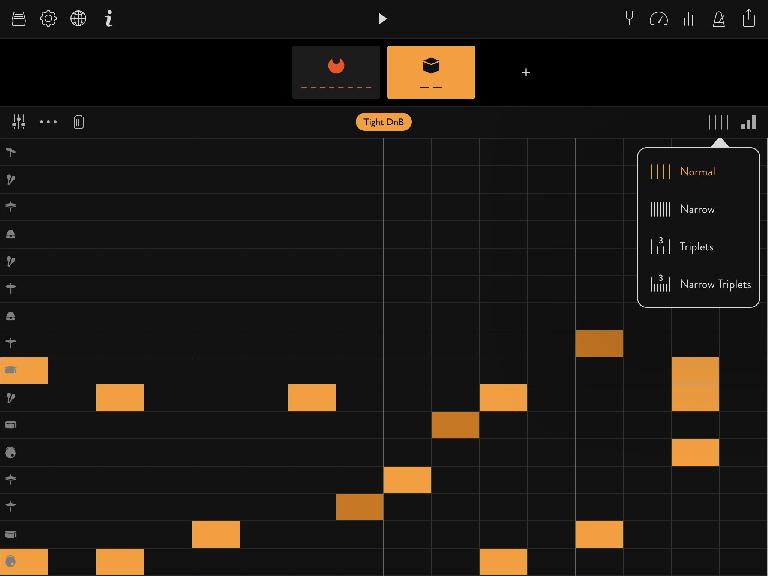 The tools provided here are a balance of usability and depth – they aren't as comprehensive as you'd get in, say, Cubasis, but then they are easier to understand for people who might not be so experienced. So for example the grid snapping options are Normal, Narrow, Triplets or Narrow Triplets. The velocity options go Soft, Normal and Loud. Honestly though these will be fine for most users and anyone needing advanced MIDI tools will likely be spending rather more on an app to do that.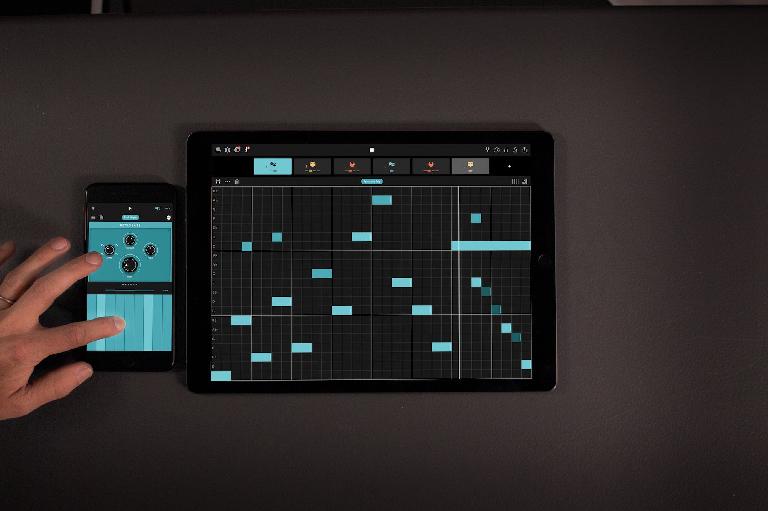 The MIDI editing has been designed with beginners and intermediate users in mind and works very well. It doesn't seem to be possible to zoom in and out on the piano roll at present and while this may be an issue of note slots becoming too small, I'd still like to be able to get an overview of a whole part. There's a mixer section which is incredibly straightforward, consisting of just a fader for each instrument. On iPad you can view up to 8 tracks in the mixer and on the phone, one at once.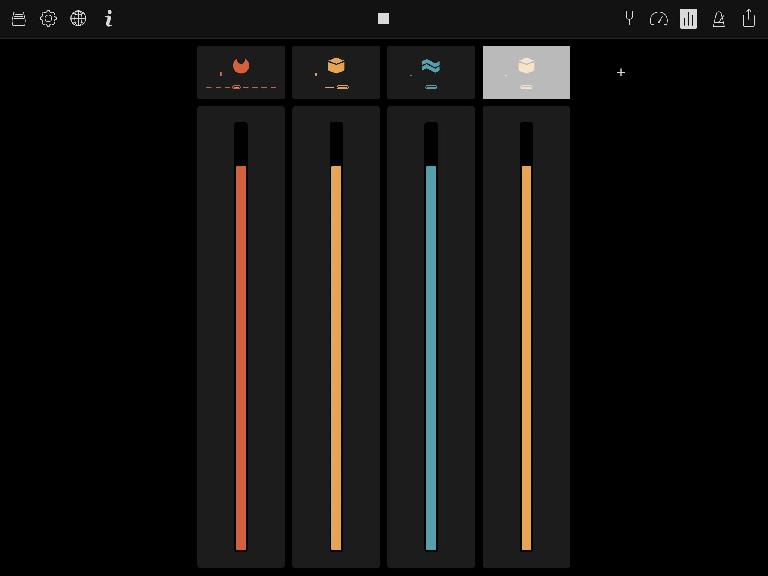 Adding On
One thing we haven't touched on yet is the patterns that come pre-loaded. While you can make your own patterns and edit existing ones, loading a new instrument into a project or tapping its patch name opens a preset browser. There are some great ones provided as well as a randomize option. It's also possible to expand the presets with Soundpacks - either Drumpacks (with samples & patterns), or Presetpacks (with presets & patterns) costing $1.99, £1.99, €2.29 each.
More free soundpacks will also be available in future. Stylistically there's some cool stuff across the instruments, with massive-sounding, fat basses, bleepy leads and stabs, as well as some excellent beats and kits. This shouldn't be a surprise since the sounds were developed in partnership with Novation. Of course everything is designed to work together so you don't have to worry about sync, and there's a Scale option to transpose all chromatic parts by the same amount which is pretty helpful.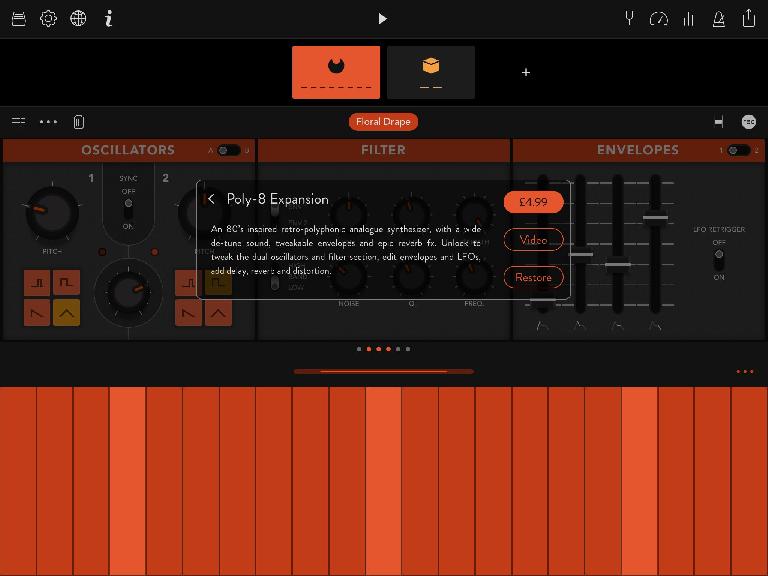 Behind the scenes there's some other clever stuff going on. Audiobus and Inter-App Audio are supported so you can easily combine it with other apps on your device. Ableton Link is here too for joining other sessions wirelessly, and there's even Ableton export which lets you output a Live-compatible project file to carry on working on a project. You can also output a stereo mixdown or a bunch of stems as a zip file, which is handy. Bluetooth speakers are supported as well which is a nice touch.
Conclusion
The free version of the app will be enough for some people: it's fun, accessible and sounds and looks cool. In terms of programming MIDI there's nothing you can't do in the free version when compared to the "expanded" version. Adding the expansions (basically $15 / £15 to unlock the three instruments) brings a greater degree of control as well as access to some effects inside the instruments' full interfaces, which aren't accessible otherwise.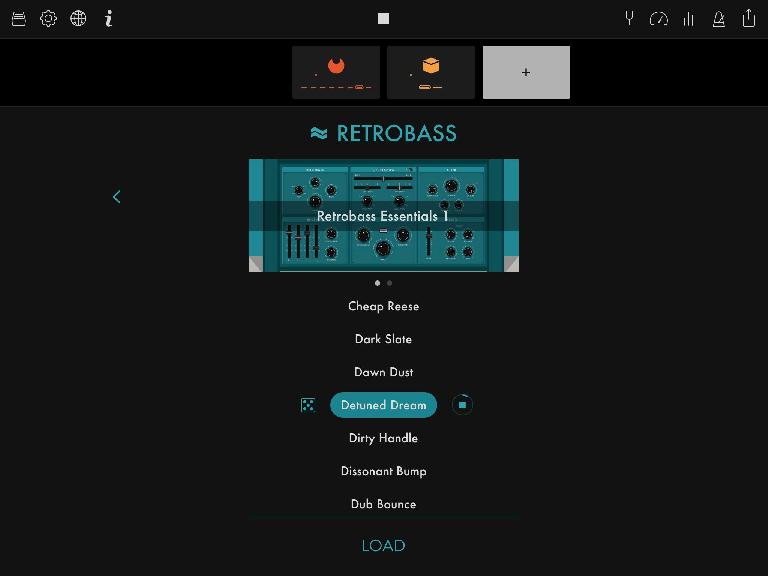 In the grand scheme of things that seems like a very sensible price. Given Ampify's commitment to add more features and sounds going forward, there will be more to come. Indeed they have already told us that imminent features include swing, Chromatic support, MIDI in, and Sections as well as more instruments, so the system can only grow. As it is, the initial download is free so there's no reason not to give it a spin for yourselves!
Price: Free, with in-app purchase options
Pros: Free version has a lot of functionality. Sounds cool, great presets. MIDI editing won't scare off beginners. Very slick once you find your way around. System will expand and grow with new content over time. Plays nicely with other apps including Ableton Live. Very usable, authentic sound set.
Cons: Tools may not suit those after very in-depth tweaking and editing. Some features are coming in updates.
Web: https://itunes.apple.com/app/groovebox-beats-synths-music-studio/id1242847278?ls=1&mt=8
Web: http://blocs.cc