The new Reaktor Blocks format has been really getting off to a great start since it was released back in September. The Reaktor User library is already starting to fill up with some really interesting Blocks which are free to download for registered users.
Amazing Machines has been developing some cool Reaktor products for a while and is one of the first companies to develop commercial Blocks at very reasonable prices, as well as some freebies too. Their next release which follows the AM101 Colorful Noise Block is the AM102 Programmable Wavetable Oscillator.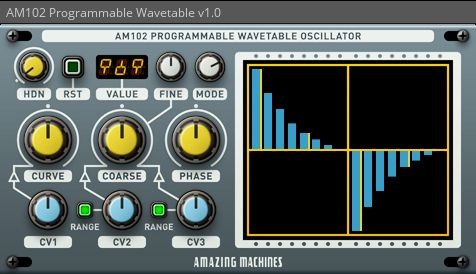 So what's it all about? At the heart of the AM102 is a 16-stage programmable wavetable which allows you to create your own oscillator waveforms which can produce a wide array of timbres from mellow sine type waves to cutting digital sounds. One of the special features is the ability to modulate four of the stages via individual CV inputs to create evolving tones making the AM102 quite a complex and useful oscillator. It also has some cool hidden features up its sleeve too!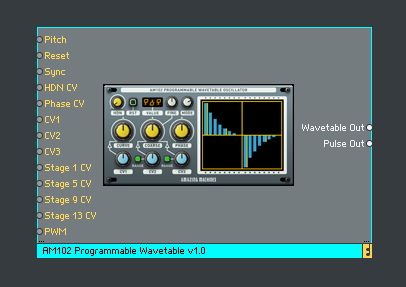 Basic Parameters
There are three main controls besides the wavetable area on the right. The first is the Curve parameter. This smooths the wavetable. At -100 the wavetable is stepped (quantized) which produces some really nice crunchy lo-fi digital timbres. At zero the wavetable is smoothed with a linear curve which is more useful for saw and triangle type waveforms. Finally, at 100 the curve becomes exponential producing more rounded results.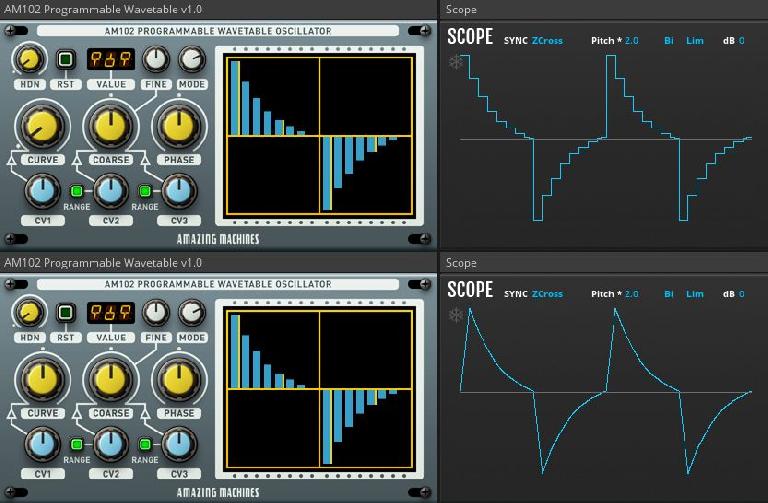 In conjunction with the wavetable stages just using this parameter makes for a very flexible sound source. A complex wavetable layout can become even more flexible using these smoothing options.
The next is a basic Coarse tune parameter. One of the additional bonuses of the AM102 is that it has an extended frequency range allowing it to work very comfortably as an LFO as well. The applications of this alone are boundless. You could for instance use the wavetable as a programmable step sequencer for pitch or filter modulations. The outputs of the AM102 are also hardware CV compatible meaning you can output it to a DC Coupled Audio Interface to drive hardware CV inputs!
Lastly, we have the Phase control. This is linked to the Reset Input allowing you to change the start point of the table. There is also a CV input to modulate the Phase. This Phase feature takes a bit of tweaking to find a sweet spot but produces some pretty lush effects when you get it right.
Other Features
The Curve, Coarse and Fine tune have CV amount controls for fine tuning your modulations. CV1 controls Curve. CV 2 (Coarse) and 3 (Fine) can switch between Wide and Narrow ranges (Semitones and Cents).
The wavetable also has three playback modes FWD, BKW and Alternating. There is also a hidden Pulse wave oscillator with a PWM CV input. In FWD and BKW modes this defaults to an octave below the wavetable pitch.
Lastly, we have a HDN control for controlling the amount of Sync which is driven by the Sync input (Goes from Soft to Hard Sync). There is also a dedicated CV mod input for this too. It can get a bit noisy at times when sweeping, but it works as expected and can produce some great sounds.
In Use
After many hours of playing about with the AM102, I wasn't getting bored with it at all. Really versatile and so many options to play with that you just keep discovering new things to do with it.
Here's a quick simple patch using dual AM102's slightly detuned with some fast wavetable stage modulation, and a bit of LFO to the Curve and ADSR Decay to produce a nice crunchy arpeggiator sound.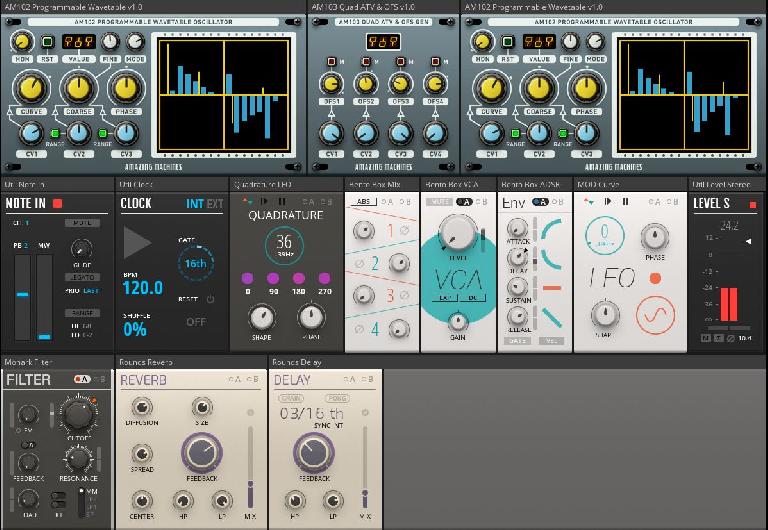 I can see this becoming a go-to oscillator!
Price: $12 USD
Pros: Flexible and fun oscillator Block. Plenty of applications, and at $12 it won't exactly break the bank. The free AM103 CV Attenuator is also a great tool for modulating it too.
Cons: FM input would be a nice addition.