Allen and Heath has been a staple of console users everywhere for some time. Here at Ask.Audio HQ, we got our hands on their latest entry into the small-format market, the Zed-6FX, and put it through its paces. Here's what we found out.
Solid Design
The first thing that grabbed me about the Zed was its rugged design. Right out of the box, before I even plugged it in, I was impressed by how solid the Zed feels. Each rotary encoder feels securely fastened (which I learned is actually the case, a steel nut connects each one to the front panel) and the channels themselves are separated into individual vertical circuit boards. Despite its small size, the Zed feels like a boutique big console.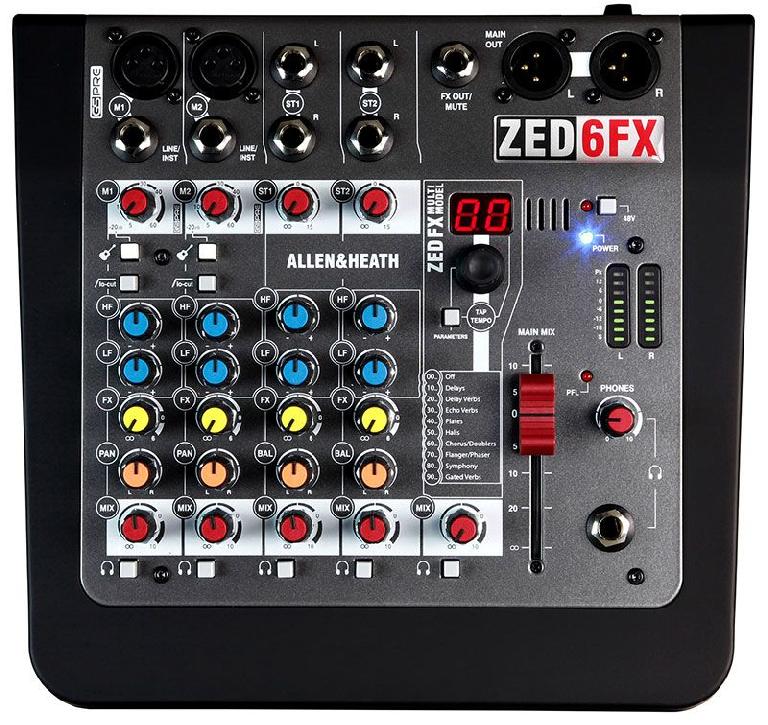 Quality Pres
It's good to know that although this line of mixers is geared towards the small format market, Allen and Heath didn't skimp on the cornerstone of why they are found in live venues everywhere—the sound. The preamps are newly designed and derived from highly popular GS-R24 console. I found them to be quite transparent, and with plenty of headroom. For a mixer under $200, I was also very surprised at the lack of noise. You can push these pres nice and high and not have to worry about the noise floor.
Each channel has a simple 2-band EQ, FX send, and pan knob. The pan knob is even properly labeled 'balance' on stereo tracks (see our great article on panning for why this little detail is a welcome one). There are 2 XLR inputs for the 2 preamps, and selectable phantom power for both is available.
Fun Features
The effect unit included on the Zed is quite usable, and is what you typically can expect from a mixer with built-in effects. Allen and Heath implemented the FX engine in a very ergonomic way, and you can adjust the parameters, tap the tempo, and select an engine all with a single knob/button combination. One of the best features, however, is the inclusion of selectable impedance modes for the instrument inputs. Guitarists and Bassists can plug directly into the Zed without having to utilize a direct box and achieve proper gain staging. Finally, a headphone button at the very bottom of each individual channel allows you to monitor only the channels you wish to, or the entire mix!
Conclusion
There's a lot to like about the Zed-6FX. Allen and Heath managed to pack a lot of smart features into a small package. A small-format mixer is a handy thing to have around, even for a larger studio in a pinch! I've had to submix a few channels both live and in the studio on more than one occasion and would have loved to have the Zed-6FX at my disposal. It's solidly built, does what it's supposed to do, and has a few convenient features that are occasionally absent from its large format big brothers!


Price:
$179
Pros:
Great build quality, simple design, transparent pres, selectable ¼" impedance on inputs, selectable headphone monitoring
Cons:
At first glance, this price point gets you more features in budget mixer offerings. You're paying for build quality and preamp headroom here. Fortunately, the Zed delivers on both points.
Web:
http://www.allen-heath.com/ahproducts/zed-6fx/