Ho una confessione: io amo keytars! Non ho nemmeno i capelli lunghi, ma li amo lo stesso. C'è qualcosa sul concetto di spostare fuori dalla mia zona di comfort e venire con linee che si può giocare con una sola mano che jump-inizia la mia creatività. La Alesis Vortex Wireless prende la categoria keytar fino a pochi passi dando molto più controllo così come built-in, accesso wireless affidabile per i suoni di scelta. Diamo un'occhiata fuori!

A portata di mano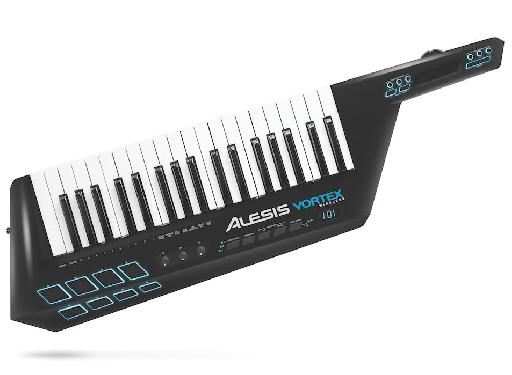 FrontThis Vortex keytar ti dà il controllo sul suono che non hai mai avuto in 80
The Vortex Wireless ha sia tradizionale MIDI e uscita USB, che consente di collegare al vostro ingranaggio in una varietà di modi. C'è anche un dongle USB wireless che vi darà la connettività wireless per circa 200 metri.
Sul Vortex stesso, ci sono una miriade di opzioni di controllo. I 37 tasti sono sensibili alla velocity e aftertouch capace, e gli 8 trigger pad / campione sono sensibili alla velocità pure. La mano sinistra ha accesso ad un tocco striscia MIDI programmabile, oltre allo spostamento di ottava standard di tasti e sustain. Ci sono anche abbastanza grandi controlli di trasporto oltre a rattoppare controlli di selezione. Si può dire che questo controller è stato progettato per offrire la possibilità di allineare la pagina con la tua libreria di suoni dalla parte anteriore del palco.
I Got My Rock Moves
C'è un embedded, accelerometro MIDI programmabile incorporata nel vortice. Ciò consente di attivare specifici parametri MIDI tali quando si alza il Vortex in posizione verticale. Si può aumentare la spinta di una patch synth in territorio risposte quando si solleva il collo, o innescare un ritardo enorme quando fate la vostra roccia possibilità di potere slidethe sono infinite! Per quelli di voi che trovano questo un po 'ingannevole, non worrythe funzione è facilmente disattivato per qualsiasi patch giusta dalla Vortex.
Un buon investimento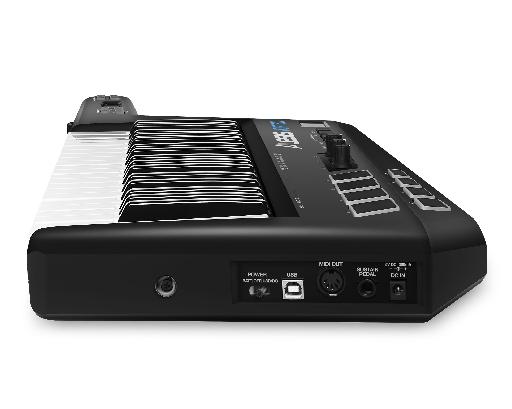 Vortex IOThe Vortex Wireless ha una pletora di I / O disponibili.
Mentre io avevo previsto fin dall'inizio di utilizzare il Vortex con la mia enorme libreria di campioni Kontakt, mi ha fatto piacere scoprire una serie di suoni di alta qualità confezionato con il Vortex. Fasci SONiVOX in una copia gratuita del Vortex-I DVI , un synth su misura progettato specificamente con le capacità del Vortice in mente. Strumenti campionati realistici sono forniti da AIR Musica in forma di Ignite , e c'è anche una copia inclusa di Ableton Live Lite.
Programmazione The Vortex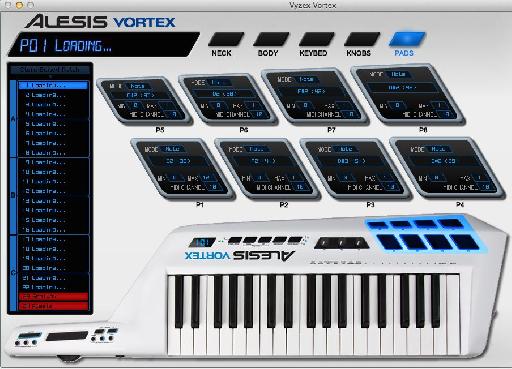 Software editor Editor softwareIl Vyzex è facile da usare e oserei dire divertente?
L'editor di patch incluso con il Vortex è chiamato Vyzex Vortex ed è tanto ampia e facile da usare. Naturalmente, utilizzando il Vortex sia con Mainstage o Kontakt può negare la necessità di un editor di patch come la maggior parte dei padroni moderni incorporano un 'MIDI Learn' caratteristica, ma è bene sapere che se si desidera utilizzare il Vortex con una DAW specifico o un synth hardware, Alesis ha coperto.
Ho trovato Vyzex per essere abbastanza semplice, con indicazioni chiare e concise per l'impostazione della Vortex per lavorare come volevo. Io ero particolarmente entusiasta di provare il Vortex con la mia Korg Kronos, e il mio entusiasmo era giustificato. The Vortex Wireless è stato immediatamente riconosciuto, e sono stato in grado di mappare rapidamente al canale MIDI 2, e avere accesso a tutte le mie patch 2-tastiera creati in precedenza. The Vortex è ormai diventato il mio go-to 'tastiera top', e reallywhy no? Anche il supporto della tastiera nel setup standard ha tutte le opzioni di controllo di cui ho bisogno!
Conclusione
Il wireless Vortex fa esattamente quello che dovrebbe fare. Offre una vasta gamma di opzioni di controllo per la vostra VI o altre tastiere MIDI ad un prezzo incredibilmente ragionevole. Può essere alimentato a batteria, USB o AC ed è un pezzo veramente flessibile di attrezzi. Mi fa sentire un po 'sciocco per l'acquisto di una Yamaha KX5 su ebay qualche anno fa per più del doppio del prezzo. Se volete un keytar che è possibile integrare rapidamente con il computer o workstation synth configurazione non cercate oltre.
Prezzo:
Pro:
Contro:
Web: