I have a confession: I love keytars! I don't even have long hair, and yet I love them just the same. There's something about the concept of shifting out of my comfort zone and coming up with lines that you can play with a single hand that jump-starts my creativity. The Alesis Vortex Wireless takes the keytar category up a few steps by giving you a lot more control as well as built-in, reliable wireless access to your sounds of choice. Let's check it out!

At Your Fingertips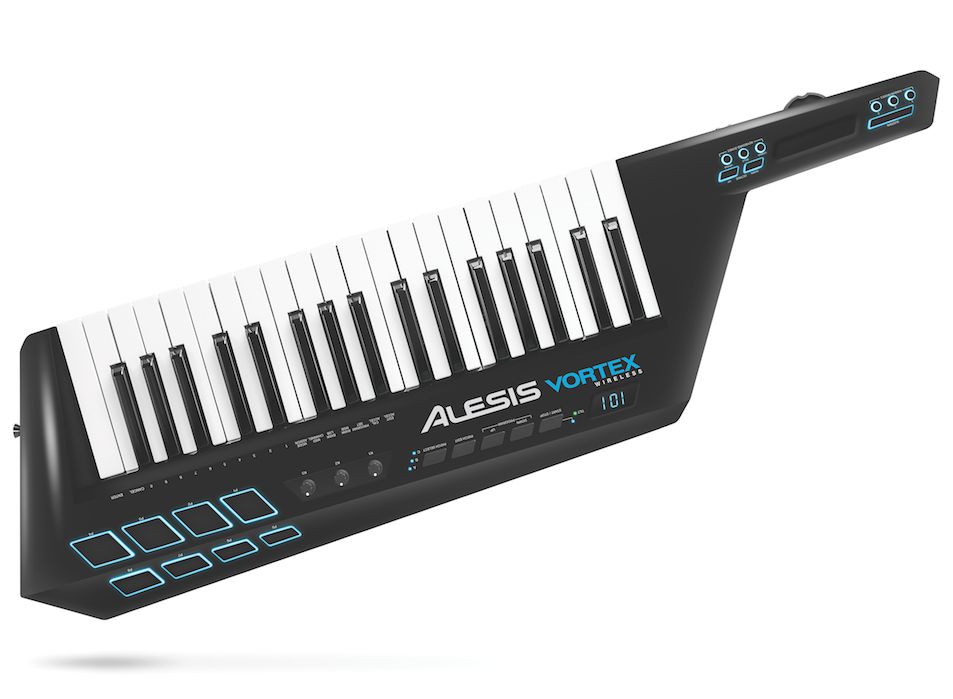 Vortex Front—This keytar gives you the control over your sound that you never had in the 80'…
The Vortex Wireless has both traditional MIDI and USB outs, allowing you to connect to your gear in a variety of ways. There is also a wireless USB dongle that will give you wireless connectivity to about 200 feet.
On the Vortex itself, there are a myriad of control options. The 37 keys are velocity sensitive and aftertouch capable, and the 8 drum pads/sample triggers are velocity sensitive as well. Your left hand has access to a MIDI-programmable touch strip in addition to the standard octave shift and sustain buttons. There are also fairly large transport controls in addition to patch select controls. You can tell that this controller was designed to offer you the ability to truly page through your sound library from the front of the stage.
I Got My Rock Moves
There is an embedded, MIDI-programmable accelerometer built into the Vortex. This allows you to trigger specific MIDI parameters such when you raise the Vortex into a vertical position. You can boost the drive of a synth patch into feedback territory when you raise up the neck, or trigger a massive delay when you do your rock power slide…the possibilities are endless! For those of you who find this a bit gimmicky, don't worry—the feature is easily disabled for any patch right from the Vortex.
A Sound Investment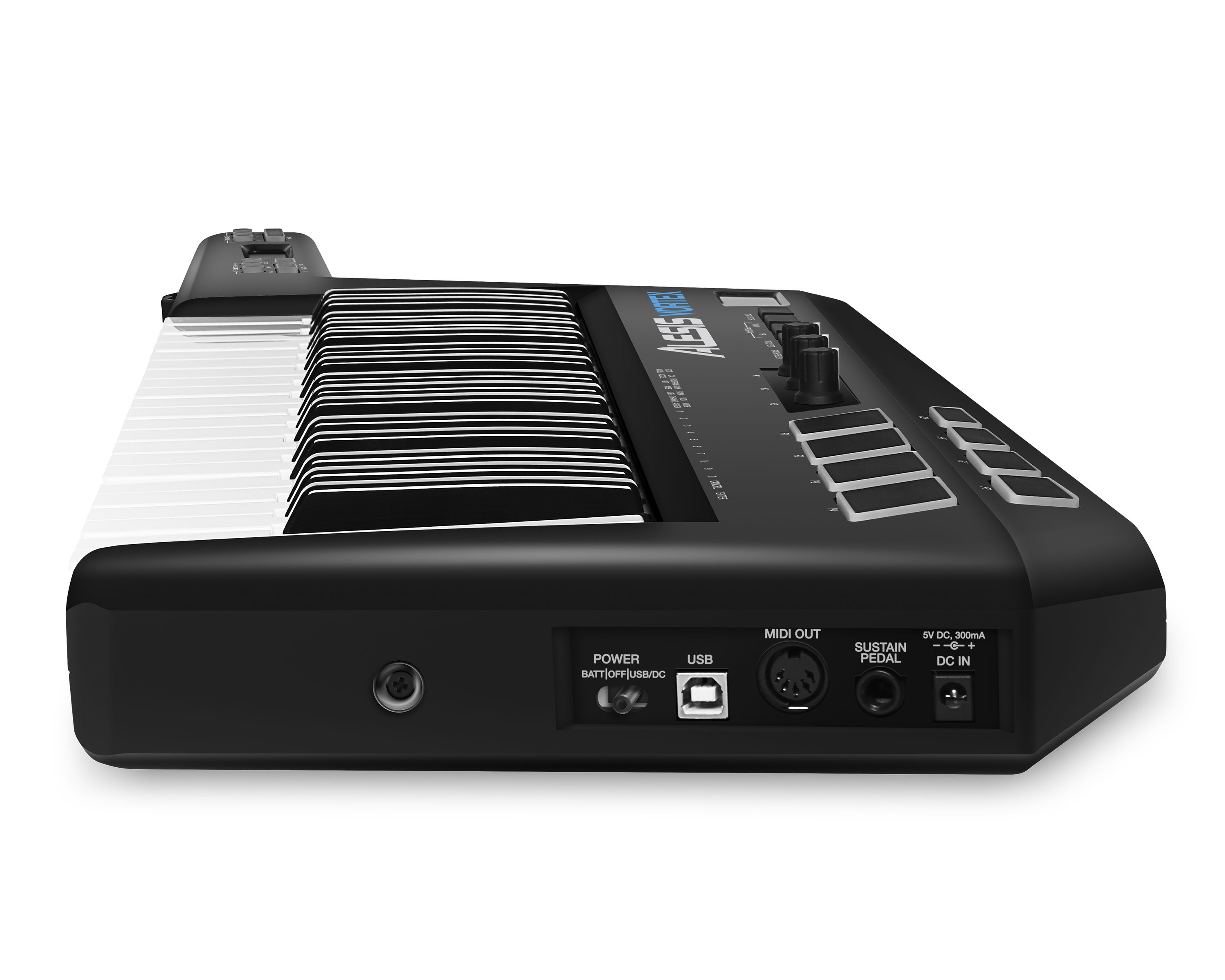 Vortex IO–The Vortex Wireless has a plethora of I/O available.
While I had planned from the start to use the Vortex with my massive Kontakt sample library, I was pleased to discover a set of high-quality sounds packaged with the Vortex. SONiVOX bundles in a free copy of Vortex-I DVI, a custom made synth designed specifically with the Vortex's capabilities in mind. Realistic sampled instruments are provided by AIR Music in the form of Ignite, and there is even an included copy of Ableton Live Lite.
Programming The Vortex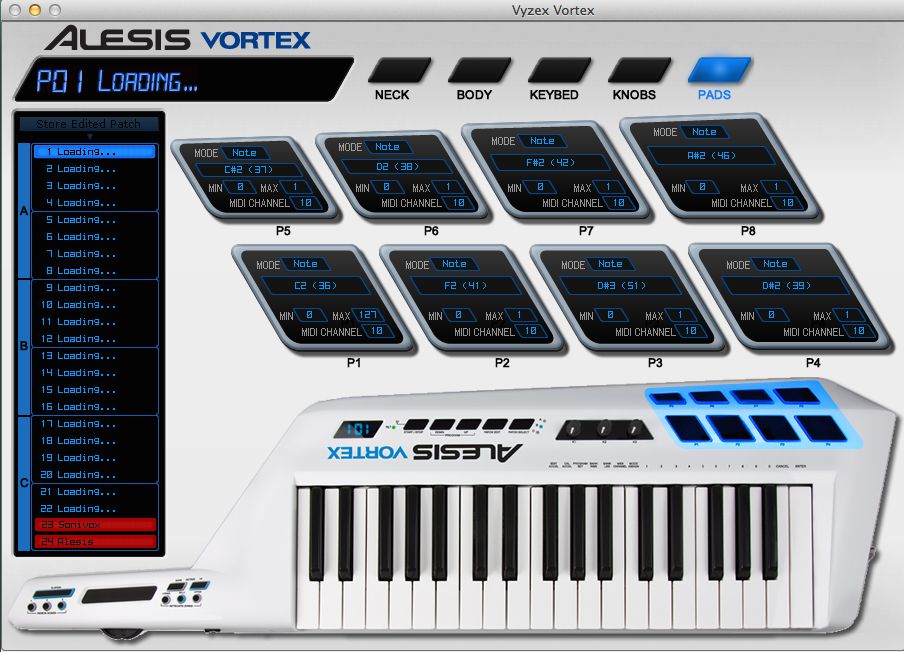 Editor Software—The Vyzex editor software is easy to use and dare I say… fun?
The patch editor included with the Vortex is called Vyzex Vortex and it is both extensive and easy to use. Of course, using the Vortex with either Mainstage or Kontakt can negate the need for a patch editor as most modern hosts incorporate a 'MIDI Learn' feature, but it's good to know that if you want to use the Vortex with a specific DAW or a hardware synth, Alesis has you covered.
I found Vyzex to be fairly straightforward, with clear and concise directions for setting up the Vortex to work the way I wanted. I was particularly excited to try out the Vortex with my Korg Kronos, and my excitement was warranted. The Vortex Wireless was instantly recognized, and I was able to quickly map it to MIDI channel 2 and have access to all of my previously created 2-keyboard patches. The Vortex has now become my go-to 'top keyboard', and really—why not? Even on the keyboard stand in the standard setup it has all the control options I need!
Conclusion
The Vortex wireless does exactly what it's supposed to do. It offers an array of control options for your VIs or other MIDI keyboards at an incredibly reasonable price. It can be powered by battery, USB or AC and is a truly flexible piece of gear. It makes me feel a little silly for purchasing a Yamaha KX5 on ebay a few years back for more than double the price. If you want a keytar that you can quickly integrate with your computer or synth workstation setup look no further.
Price: $199
Pros: Low price point. Built-in wireless functionality. Lots of control options and ways to trigger your setup without leaving the front of the stage. Included custom synth from SONiVOX is quite nice
Cons: None