AKAI's MPC X promises to let you make music entirely without a computer - but can it really replace your DAW? Rishabh Rajan put it to the test to find out.
A standalone sampler/workstation powerhouse is here in the form of the Akai MPC X. Gone are those days when producing with an MPC meant trying to be creative while limiting yourself to specific tools and techniques. The new MPC X is everything the MPC universe is known for, and so much more. Yes, the MPC X does not need to be tethered to a computer, because it is a computer. Probably the only difference being that you can't check your emails on this device… at least not yet.
The Hardware
We reviewed the MPC Live not too long ago and the MPC X takes everything Live is, and adds tons more to it. The MPC X has the same great multitouch, multicolor 10.1" screen. You get 8 analog outs and 4 ins. The inputs are combo XLR/1/4" jacks. So you can plug in a microphone, turn ON 48V phantom power and record directly to audio tracks. Don't forget hardware direct monitoring for low latency recording!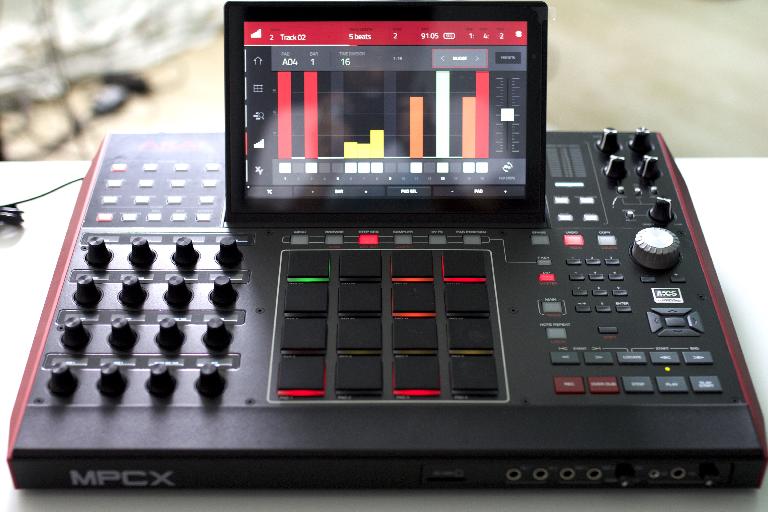 Just like the MPC 5000, there are 4 MIDI ports on the X, with 2 MIDI INs and 4 MIDI OUTs. Sequencing hardware synthesizers with software (the MPC X software in this scenario) has never been easier. You also get 8 CV/Gate outputs on 1/8 inch connectors. With the resurgence of analog synthesizers and proliferation of the Eurorack format, this makes the MPC X very attractive to people who work with voltage controlled hardware.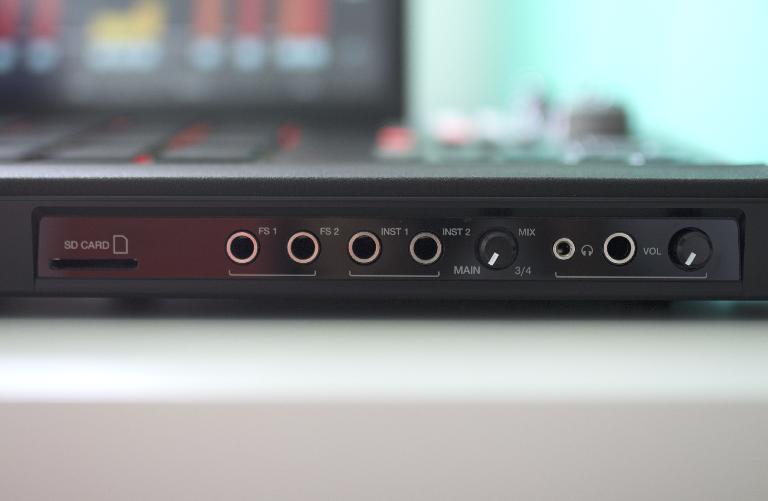 There are two 3.0 type A and one 3.0 type B USB inputs. These can be used to connect hard drives, typing keyboards and even MIDI Controllers. You get two foot controller inputs and one headphone out with both 1/8 inch and 1/4 inch jacks. In terms of storage you get a 16GB SSD with 10GB of preloaded content. There is also a SSD card slot for further storage expansion and lastly, hardware metering! What did they not include on this beast? Maybe a CD recorder?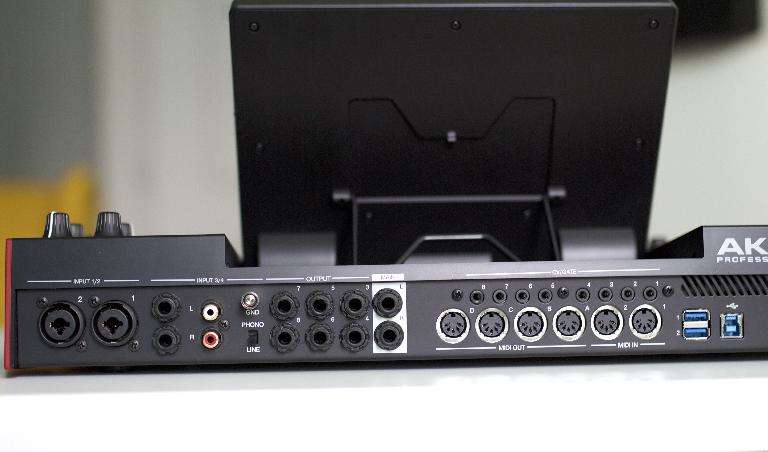 Let's not forget about the 16 velocity/pressure sensitive pads and 16 capacitive, touch sensitive Q-link knobs with the OLED scribble strips. When the MPC X is in controller mode (yes, it can work as a controller for the MPC 2.0 software) tethered to a computer, the scribble strips will easily show third party plug-in parameters and let you control them with the Q-link controls. No manual mapping and naming required. If there was one area the hardware was lacking, it would be with the number of audio inputs. It's great to have all the CV control but eventually you will want to record the audio from your CV controlled hardware and two inputs may not suffice.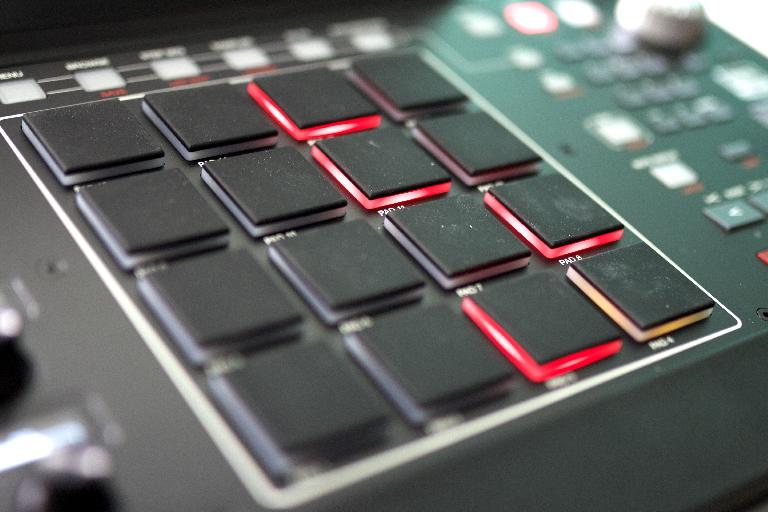 I didn't get to try out the wi-fi and Bluetooth connectivity but Akai are really thinking ahead by including such features. The MPC 2.0 software was recently updated to include support for Ableton Link. Having this feature in standalone mode will be quite fantastic and we can all look forward to running the MPC X in standalone mode but synced via wi-fi to Ableton and other apps that support Link.
The Software
There isn't much different here in comparison to the MPC Live. You do get one additional track type, specifically the CV control track. Having 12 more Q-link dials also makes using the MPC software a lot easier when compared to using it with the MPC Live. Automation is a lot easier and just being able to visualize all the parameters on the OLED strips helps tremendously. You still get the same great audio tracks feature with the updated time-stretching algorithm that easily matches the computer DAW world.
What's amazing now is that you can record entire tracks with a condenser microphone, directly into the MPC, making it a much broader music production device when compared to some of its earlier iterations. Gone are the days when the MPC was considered the Hip-Hop beat machine. A singer-songwriter will find himself/herself just as comfortable using the MPC as a veteran Hip-Hop producer. The effects section is quite comprehensive, I particularly liked the guitar amp simulation effects. Also, the great thing is that all the effects parameters can be automated. Keep in mind the software is going to be improved on in the coming months/years. So look out for even more features that will match existing DAWs.
The User Experience
I was a bit overwhelmed by the MPC X. Its hard to classify it as a standalone device because when I think of standalone, I'm always thinking: limited feature set. With the MPC X, one would be hard pressed to find limitations. If this is the standard for standalone hardware sequencers, then other manufacturers have a lot of catching up to do. At the same time, the charm of using a dedicated device with limitations and flaws is no longer there with the MPC X. As I've said before, this is essentially a computer based DAW disguised as a standalone sequencer.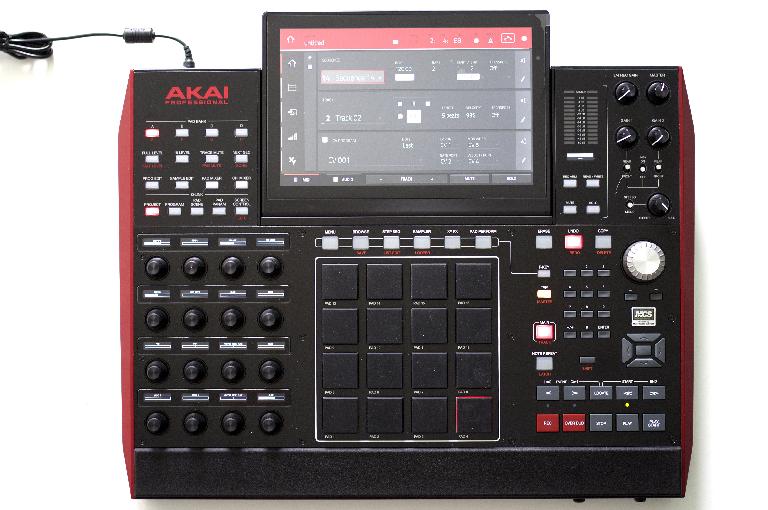 Maybe the one drawback when compared to an actual computer is that its 10.1" screen is much smaller. Now I would usually never compare a hardware sequencer with a DAW running on a computer because that would just be unfair, but with the MPC X, it's actually possible to do that. Take any major DAW and compare it with the MPC software and you will find that most of the features you want and use are all included in the MPC X. Look at the feature set you want in an audio/MIDI interface and you will be covered with the MPC X. Most audio interfaces don't even have CV outs, so even better!
Conclusion
If you are new to the MPC world there definitely is a bit of a learning curve with the MPC X, as it is a very powerful and deep hardware sampler/sequencer workstation. Veteran MPC users will be and already are ecstatic that they can finally have that standalone experience that was what the MPC was always about back when Roger Linn designed it and producers like DJ Premier, Q-Tip, DJ Shadow, J Dilla and many others used it to create their art. If you want to expand on your standalone experience, you can switch to controller mode and integrate third-party plugins and a more conventional desktop software experience with the MPC X. Overall, we have come full circle with the MPC experience, the real question is, what is next?
Price: $2199
Pros: A true standalone device with barely any limitations.
Cons: Pads attract dust easily. Could have more inputs.
Learn more MPC skills in the AskAudio Academy
here.