The standalone sampler/sequencer workstation world is slowly evolving with some big players throwing their hat into the ring. Does the OG Akai still rule this world with their introduction of the MPC LIVE II? Let's find out.

When I reviewed the first MPC Live about three years ago, I was quite excited on the prospect of what is possible with the device. That was the first time Akai had released a standalone portable MPC with some really great hardware specifications. Now with the MPC Live II we still have the same great hardware but there are also some improvements. I would like to emphasize the some here. I won't focus on what is already present from the previous version. Here are some of the new features:
Built-in Monitors
Yes, that is right. An MPC with built-in monitors. This really came as a surprise. Not a bad one. It's like if you buy a new phone and it comes with a tub of ice-cream. You don't hate ice cream, so you're not mad, but at the same time you're wondering…why? Now these built-in monitors are quite good. Though this statement can be very subjective. It's quite good for it's size. It's not going to be loud enough to play at a show, but it is loud enough to annoy the folks sitting next to you in the park, train, bus or wherever else these companies imagine you to be making music. Personally I would prefer to use headphones in all of those locations.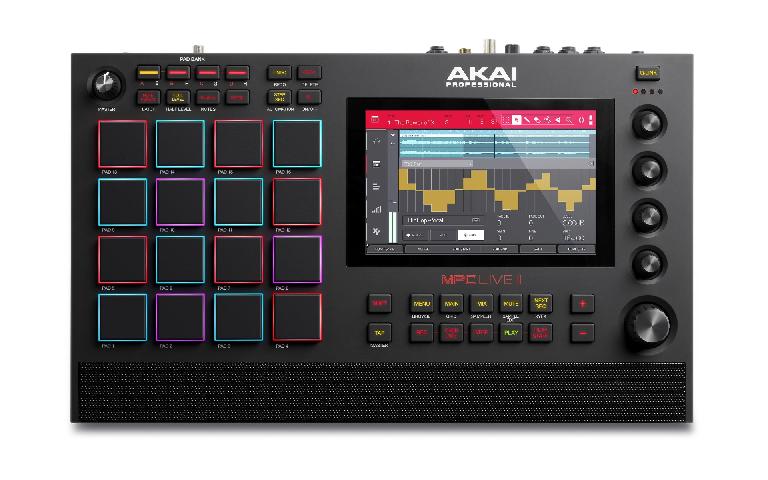 There are some folks who do welcome built-in monitors. Maybe you're in your living room sitting on the couch and are too comfortable to plug-in headphones/monitors and just want to hear what you are making. It would also be really good if you have kids in the house and want to get them into beat making, and avoid the ipad for it's numerous distractions. A friend recently reached out and asked for a hardware recommendation for his 8 year old daughter who wants to get into beat making. I recommended the MPC ONE as it's cheaper and smaller, but the MPC Live II with it's built-in monitors and battery make it a lot more portable. Now keep in mind the MPC is a little bit heavier 7.45 lbs vs 5.9 lbs. So it's that much less portable than the previous version.
CV Connectivity
Yes! This is big. The original MPC Live was missing CV connectivity and Akai have listened. You get 8 CV/Gate outputs but they are on four 3.5mm TRS jacks. So bring out those splitter cables or whatever you use to split the two signals. If you don't have any, well then go buy them because you won't be able to use these jacks otherwise. Now irrespective of the jacks, this is really helpful as a lot of producers are getting into the modular world and it would be great to be able to connect analog gear and sequence with the MPC Live II. Earlier this was only possible on the larger and more expensive MPC X. Now having said that, the MPC One also has the exact same CV connectivity and is a lot more affordable! Are you seeing a pattern here with the MPC One?
Ethernet
Finally, we can abandon the convenience of wireless and bring out the good old ethernet cables! Ironically even Akai mentions using a USB-Ethernet adapter when connecting to a computer, since most modern laptop computers don't have Ethernet ports. Sarcasm and irony aside, the ethernet connectivity can be a bit more stable when using Ableton Link. I wasn't sure what else the ethernet connectivity was going to be useful for anyhting other than Ableton Link, but Akai confirmed that the network port is to make it possible to connect to other gear in environments where you don't have access to WiFi (say a Force, Denon player, etc).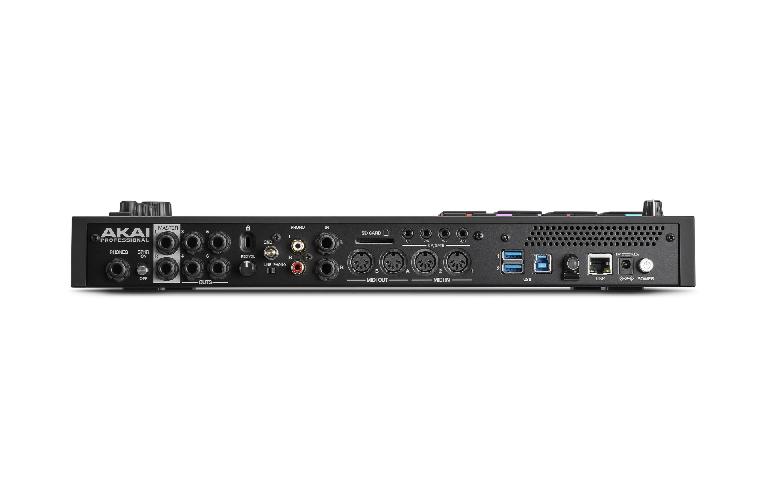 MPC 2.8 Software
A piece of hardware can only be as good as it's internal software. The MPC software has matured a lot in the past years and this is one of the highlights to getting into the standalone MPC sequencing world. I don't want to go into the details on the software here but there is a lot new here. MIDI Multi being one of the big new features that allows the independent control of up to 32 devices via USB. The time stretch algorithm is improved on, though you still have the option to select the previous algorithm if you want to purposely introduce artifacts in your audio. I suppose Akai have left the old algorithm in because the new on does take up a bit more CPU. Now lets step back and appreciate that this MPC Software update is not exclusive to the MPC Live II. It also works on the old MPC Live!
Splice
A lot of folks are using Splice these days so integrating that with the hardware is welcomed. What's really great is that you can browse Splice samples using the Wifi network connection and ethernet also and download it to the hardware directly without having to download it to your computer and then transfer it to the MPC.
Storage
The original MPC Live was never short on storage options. The exact can be said of the Live II. 16GB internal storage, SD card slot, SDD drive bay & USB drive connectivity. Some may feel that the internal storage could have been expanded on. After all it is a newer machine and should have better specifications that the older version, though it seems like Akai is liking the computing specs in general here because the 2 GB RAM has also not been changed since the last version. If it ain't broke don't fix it? Not sure if that adage really applies here. If the new time stretch algorithm is taking up a bit more CPU doesn't it make sense to increase the specs?
Alternatives
AKAI MPC Live (original): In my opinion, the introduction of the MPC Live II has made the original MPC Live an even better prospect. On reverb.com the original MPC Live is going for about $700 which is a great buy.
You are literally getting the same hardware, minus the CV connectivity and the heavy built-in monitorsand the ethernet connection. At the same time you get the new MPC 2.8 software. A very good deal overall.
Akai MPC One: A more affordable MPC with a lot of similarity to the Live and Live II. Though it is limited in many ways. For example, no internal battery, only 4GB internal storage & no ethernet or CV connectivity, but at the same time, I personally like the form factor. It looks and feels more like a portable device. If the MPC One had an internal battery, it would definitely be one of the best portable sampler/sequencers.
Aside from Akai, there are other options too. Elektron has some really amazing hardware sequencers and samplers like the Digitakt and Octatrack. Possibly anything from Elektron these days is top notch stuff. The Pioneer Toriaz which I reviewed recently is also an option though it's more of a dedicated sequencer and you will need external devices to play with it. The Polyend Tracker is also a great alternative. Not a traditional sequencer/sampler but it does have capabilities to do both. If you want to get something more compact, there's the Roland SP404, though the device is quite limiting and works better as a performance machine. Lastly there's the newcomer in the standalone sequencer world, Native Instruments with their Machine+. Still very new with a release date of 1st October 2020, but it would be interesting to see how it competes with the Akai hardware. Nonetheless, it is great to have options. I look forward to the coming years with Akai and Native Instruments fighting to edge each other out with a better standalone hardware solution for making music. And who knows, maybe one day Ableton will get involved and completely change the game. In the end it's the consumer that wins, which is great!
Conclusion
The MPC Live II is a great standalone hardware sequencer/sampler. But then so is the MPC Live. For some there may not be enough benefits to encourage you to update to the newer version if you already have the original... unless you really need that CV connectivity or really need the master volume to be on the top of the device rather than the rear. If you are new to the MPC world, then the MPC Live II is a great option. If a second-hand MPC Live can be acquired for $700, it might make sense to get that instead if budget is the main consideration. Akai Pro have given a number of interesting options to musicians wishing you enjoy the MPC workflow and experience.
Price: 1200 USD
Pros: CV Connectivity, Built-in monitors, ethernet is more usable that first realised.
Cons: Not enough significant new features when compared to the MPC Live.