Regardless of what platform you work on, a great set of drum pads always come in handy. Especially if it's percussion, drums, or just straight looping that forms the core of your musical performance. I recently got my hands on Akai's LPD8 wireless/bluetooth /USB MIDI controller to see if the company that came up with the MPC series could help me out. How did they do? Read on!
Charm...
I don't think I've ever called a controller charming before. However I really do think the LPD8 might justify the description. There are several very thoughtful little features that, from the moment I pulled it out of the box, wowed me, like note repeat, multiple banks of assignable pad assignments for note trigger and program changes. There's even a really handy Full Level button that sets each pad to max velocity. There are also 8 knobs that can be assigned and it's USB, if you want to wire it directly, as opposed to going Bluetooth.
Bluetooth connection was a snap. Simply hold the Select button and press the Pair button. Connecting through iTunes worked flawlessly and the drums were even mapped properly from the get-go.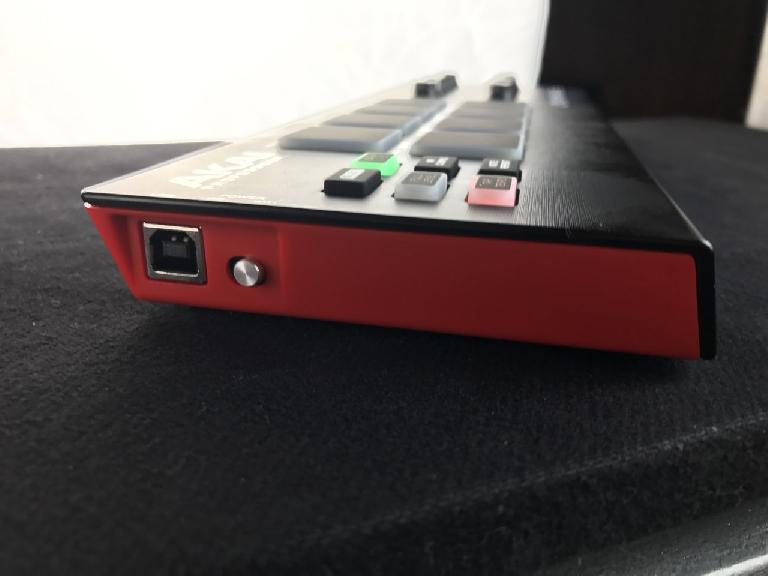 Construction
The overall housing kind of worried me for a second. But once the batteries were in place and I started to feel the unit in my hands, I realized it's pretty sturdy for a unit so small. The knobs really scared me at first as they move extremely smoothly and feel a little loose in comparison to some of the rotaries I've used on comparable controllers. But when I tried to actually pick at them and move them in awkward directions, I realized that they are recessed enough and triangular enough that, even thought they might move in transport, they won't easily come off.
Pads
The pads feel like Akai pads should: solid. The powdered finish feels wonderful to the finger tips and having a wireless, backlit set of pads does look really sweet in low light scenarios. Setting up as a USB controller was instantaneous in Ableton, the responsiveness of the pads as well as the sturdy foundation of the housing really impressing me. On a level surface, there's no teetering. The unit feels like a brick on the desk: I can drill my fingers into the pads as hard as I need to and everything stays in place. I was also thrilled to learn that you can send sync to the LPD8 Wireless so that Note Repeat feature can actually be used, and not sound like a random machine gun. More on Note Repeat later.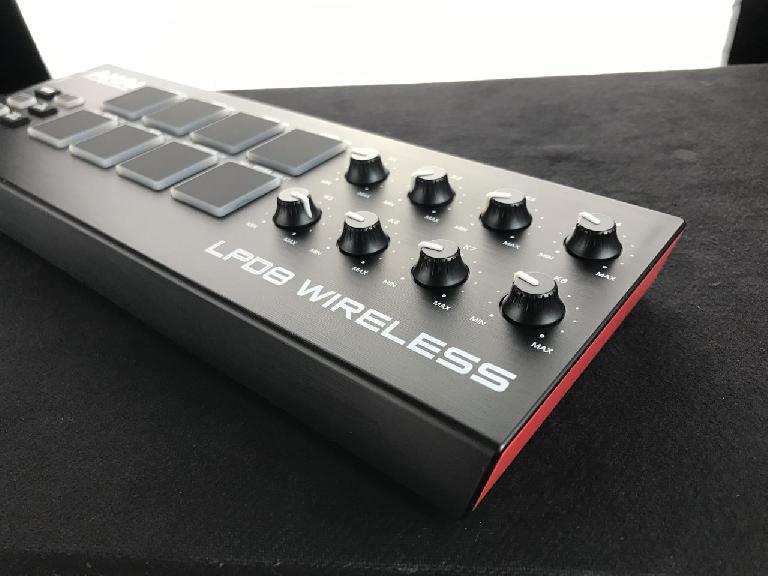 Responsiveness is the same via Bluetooth or USB. However I will say that I was especially impressed with how responsive the LPD8 was via Bluetooth. The responsiveness really felt more like an integrated device. Honestly, if I close my eyes, I can't tell a difference.
Note Repeat
I am a little on the fence with this feature. While I like it once it's up and running, there's a little bit of a lag once the Note Repeat Button is held and a pad along with it, before the repetitions begin to take place. This is in both USB and wireless modes and it seems like it's part of the design though I'm not clear why. Once the repetitions begin, they sound great. But getting the LPD8 to do it takes a second.
Note Repeat has multiple resolutions from 1/8 to 1/32 with a triplet setting. There are even swing settings, all of which can be accessed through the NR Config button. And as I mentioned, it can be synced though if you're on an iOS device that does not send sync, or you're just trying to jam with some friends, Akai did give you tap tempo!
Conclusion
The LPD8 is a really expressive controller if you don't really care about Note Repeat. The only time it seems less than responsive is when this particular feature is enabled. This particular nuance aside, I will be rocking these pads for a long time. I love the LPD8 with iOS devices as well as on my laptop. And I love the portability while still getting the smooth Akai pads.
Price: $99
Pros: Akai level pads with a sweet bank of knobs that can be connected via Bluetooth or USB. Sweet Editor.
Cons: The Note Repeat feature is a little sluggish.