Let's face it, most people don't have room for a grand piano in their house, not even a mini one. But you probably do have a gigabyte or so of free space on your hard drive and if so, Air Music Technology's Mini Grand is a rather more effective way to get the same sounds. In VST and AU formats for Mac and VST format for Windows, it costs a fraction (under $80) and authorizes using the iLok system, either onto a USB key or bound to your computer. There's no standalone version which is a bit of a shame, but you can always use either your DAW or one of the standalone plug-in hosting environments available for OS X and Windows to play it without having to load a whole DAW.
There's just the one main screen in Mini Grand which reflects the simplicity of the instrument. There are seven piano models available, covering a range of moods and styles, and these are selected using the dial to the left. Atmo, Soft and Ballad are all quite calm and understated with a more muted feel. Real, Bright and Hard all sound progressively more hard-edged, perhaps better suited to rock or pop the further to the right the dial goes. Finally, there's a Dance piano model which has tons of attack and really cuts through a mix, better for rhythmic parts in all kinds of EDM.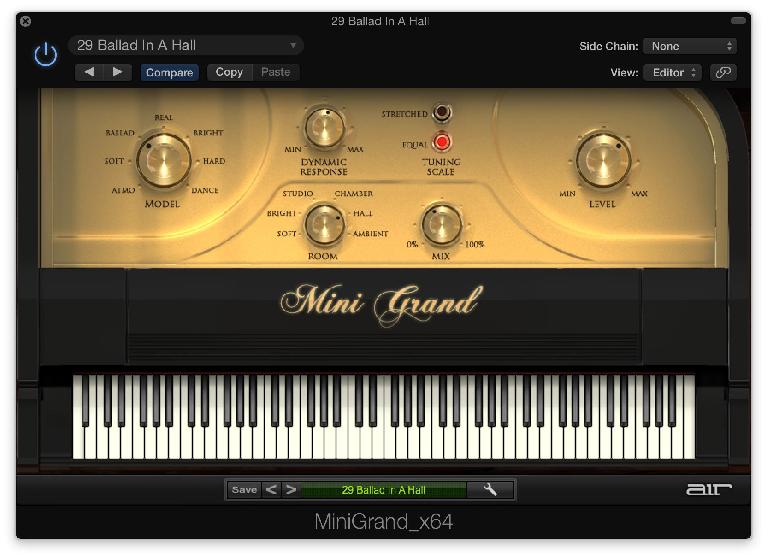 Dynamic Range
It's possible to set the dynamic range of any of the pianos too, so you can tweak this for more expressive and subtle playing or reduce it to have a more uniform effect which better suits louder styles of music. You can also modify the tuning scale between equal and stretched, and a reverb section is available with multiple ambiences: six in fact, ranging from a small, close up reverb through to large halls, and there's a mix control to set the amount of reverb. Finally, a master volume lives on the right hand side.
There are 30 presets that cover lots of ground from dreamy ballad pianos through more regular styles and all the way to rock and jazz style characteristics. None of them sound wildly different: they are all clearly variations on a grand piano, with various levels of reverb, EQ, filtering and ADSR probably going on under the hood. Essentially what you get here is a really solid grand piano with a bunch of variations. If you want really weird sounds, you can always use a synth, or mangle the sound from this piano through a load of other effects. One other thing worth mentioning is that in the settings you can restrict polyphony to save CPU and also make MIDI assignments, with MIDI learn also assignable by right-clicking on the control on the front panel of the piano. Unless you have a full-fat DAW package, this will almost certainly sound better than the acoustic piano that came bundled with your DAW so if you use a lot of piano in your music, it's well worth downloading the free trial version and giving it a whirl.
Price: $79.99
Pros: Very straightforward to use. Great piano sound. Very playable. Re-pedaling technology. Onboard reverb. Seven piano models.
Cons: The piano models aren't wildly different from one another. No standalone version.
Web: www.airmusictech.com