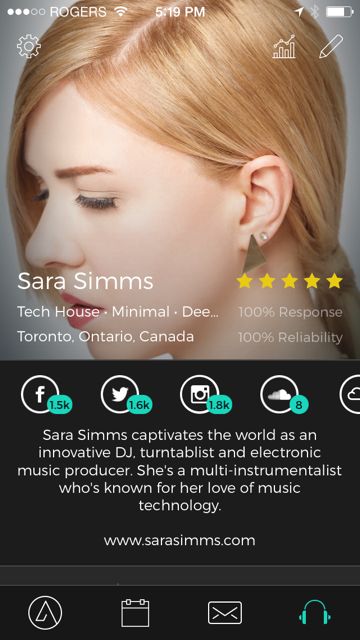 There are thousands of DJs around the world who do not have professional representation, yet still have talent to offer in a performance. AGNT is an exciting new platform that connects DJs and organizers, and allows organizers to easily book DJs for events. AGNT sounds like a perfect solution for both DJs and promoters to connect, but how well does the platform actually work? I decided to give it a test drive and created my own DJ profile.
The Platform
AGNT is accessible to anyone on any device; it's available as on the App Store, and online at AGNT.com. I've been testing the iOS app since the beta stages, and am impressed with AGNT's organized layout, stylish graphics and user-friendly interface.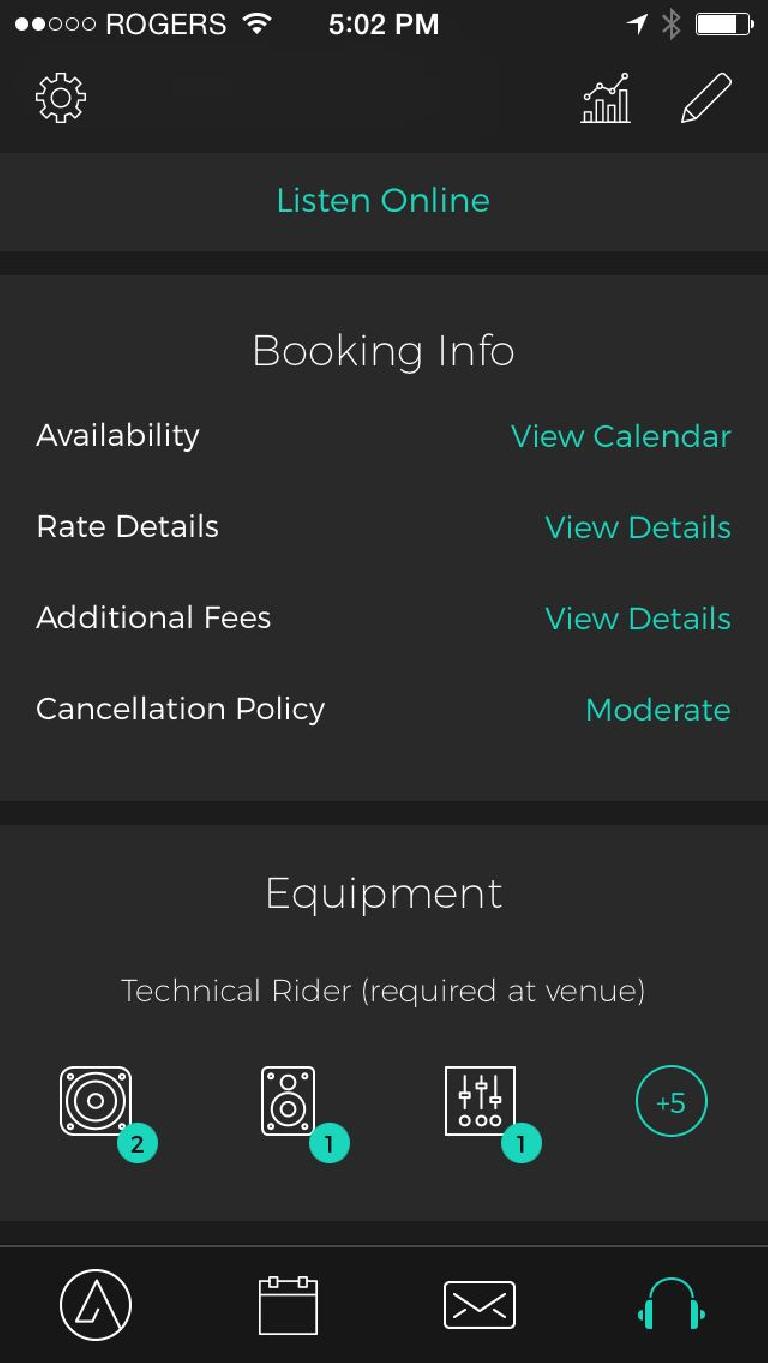 Users can sign up and create a profile as a DJ, or as an Event Organizer. As a DJ, AGNT allows you to select the genres you play, the types of events you perform at and input the type of equipment that's required at a venue into a Technical Rider. I particularly liked the Technical Rider feature, which features cute icons for each piece of equipment. DJs can also select their rates (in US or CAD dollars) with sliding scale rates available for both weekday and weekends. There's also a section for 'Additional Fees' (e.g., Travel fees) and a Cancellation Policy. Similar to Airbnb, Cancellation Policies can range from Very Flexible to Strict. All of this information is accessible and displayed right on a DJ's profile. Other features available include the ability to upload photos, mixes, a bio and social media links. The number of followers DJs have on their social media sites are displayed, but it's not possible to navigate to sites outside of AGNT. This keep promoters and DJs focused within the AGNT environment while they are using the app.
Scheduling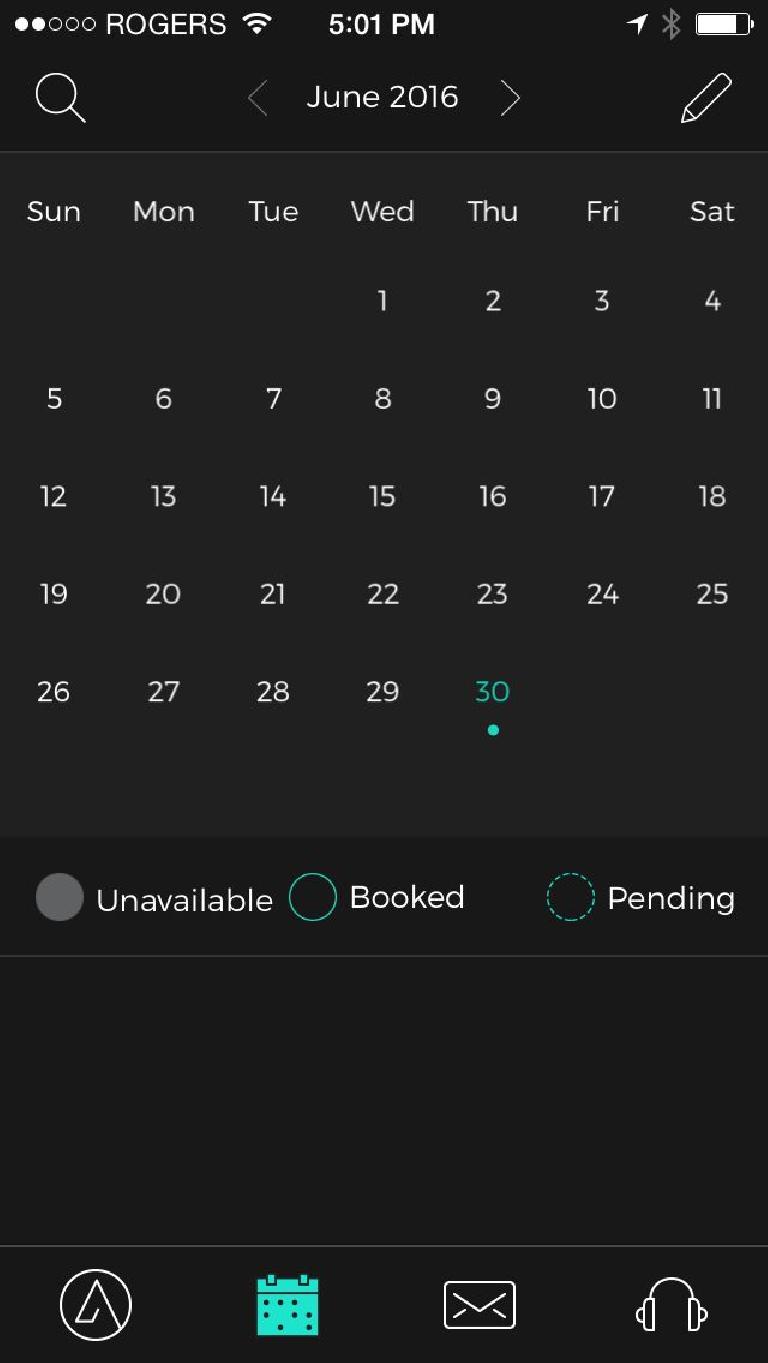 There's a calendar icon in AGNT that allows DJs to schedule dates they're available and dates they're booked. This makes it easy for promoters to see if the DJ is free to play for their events. DJs need to be sure to maintain their schedule, and keep it up to date!
Finding events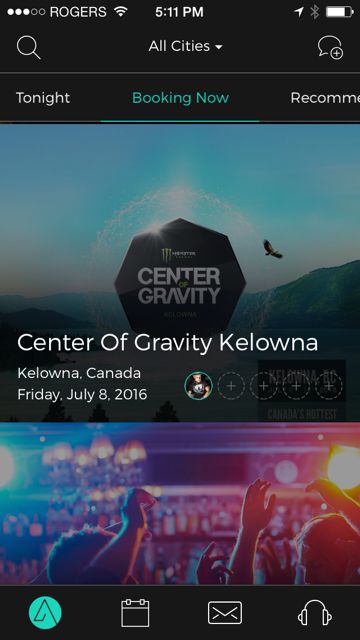 To find events to play at, DJs simply need to click the AGNT icon in the bottom left-hand corner. Select the city you'd like to search for events in, and click on one of the three tabs: Tonight, Booking Now, Recommended, or Popular. I did quite a bit of searching in the app, and discovered events in cities as varied as Oranjestad, Aruba, Los Angeles, California and Passau, Austria. So far there's a few events in most major cities across North America, and over time I hope the AGNT community grows. As an incentive to build the platform, AGNT is offering a $25 referral code; invite friends to use AGNT using the code provided and both the person who holds the account and the friend invited will receive $25 off their first booking.
Bookings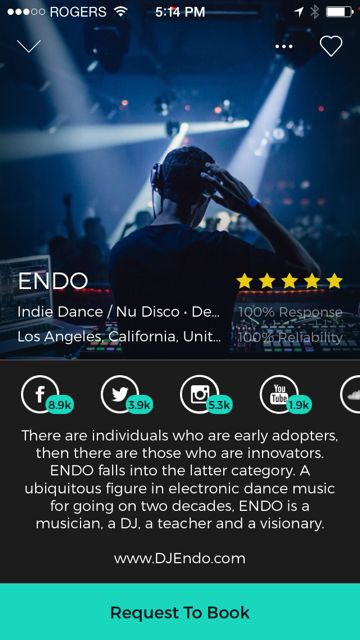 If you're a DJ, simply find an event you would like to play at and click the 'I'm Interested' button. This alerts the event organizer that you're interested in playing the event. If you're an event organizer, you'll need to setup an event, find a DJ you like and click on the 'Request to Book' icon to alert the DJ that you'd like to book them. Once a DJ receives notification about the event booking, the booking is confirmed from within the app, and DJs have the option to add on Additional Fees. (e.g., an 'all-in fee' that covers flights and hotel costs) DJs and event organizers can communicate from within the app and send messages to each other. Bank account information can be added in the app, and fees are deposited into accounts within 24 hours after the event.
Overall, AGNT is an innovative concept and a great promotional tool for DJs. AGNT instantly gives DJs a professional online presence and presents them with new performance opportunities. It's a unique platform where organizers and DJs can connect, and begin working relationships. AGNT is a helpful tool for the DJ community, and I encourage all DJs and event organizers to set up a profile and give it a try!
Available from: App Store
The Good: Easy for DJs to setup professional online profiles. Discover new talent and events around the world. Gives DJs more control over their rates; no need to pay an agent 10–15% of your fee .
The Not So Good:
If you're a DJ who's booked for out of town events, you're responsible for setting up your own flights, accommodations and ground transit. This means taking time out of your schedule for this extra work. Since you're networking online, you won't personally know the people who you're working with, although there are response and reliability scores for each DJ and event organizer available in AGNT.
Web: AGNT.com