Several years ago, I was invited to join a beta test team of a new company, XLN Audio, to test their new virtual instrument named Addictive Drums, which could be used either as a plug-in or as a standalone. Right away I knew that this would be a winner for me. I liked the simplicity and elegance of the GUI as well as the actual sound of the drums. Performing tasks, swapping out kit pieces, using included MIDI files, etc., was easy. It quickly became my "go-to" plug-in for drums.
A short while ago, I was invited to beta test its updated version, the now newly released Addictive Drums 2 and I passed because I felt I could not devote the necessary time to testing it as I was promised it was a major update.
Indeed it is! XLN brags that Addictive Drums 2 takes the instrument to "a whole new level" and that is not hyperbole.
Requirements
XLN uses its own engine. They recommend a 64-bit OS and at least 4 GB of RAM. Therefore, pretty much any modern computer with an Intel CPU, OS X 10.7 or later, or PC with Windows 7 or 8, should be just fine with it.
What You Get
The concept is modular so you choose which kits you want to buy by buying "ADpaks". You can also buy additional "kitpieces" and "MIDIpaks" which include genre specific beats all ready to drag and drop into the work area of your DAW. You will probably want to begin with one of the three available bundles, which range in price from $179.95 to $449.95. Upgrading from the original Addictive Drums will cost you $79.95, $99.95 if you want to also add another " ADpak".
What's New?
Here in Pic 1 are the GUIs of the two versions of Addictive Drums. Immediately you can see that they have added six additional kitpiece slots, which addresses one of the few common complaints about the original.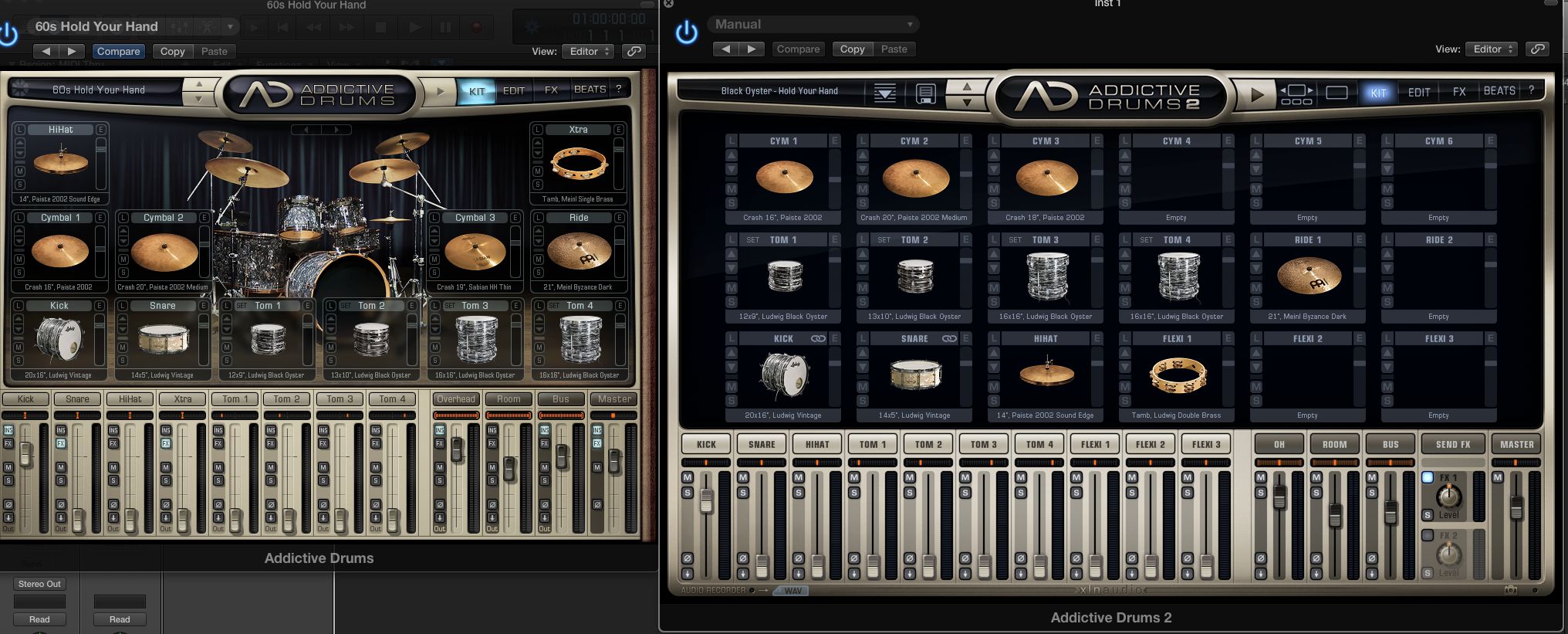 Pic 1
The new FlexiSlots are not specific to any family of kitpieces so you have the ability to load, e.g., additional kicks and snares and link them together. So for example, it is easy to layer a kick drum with another kick drum or white noise simply by dragging a link icon, as you see in Pic 2. Very cool!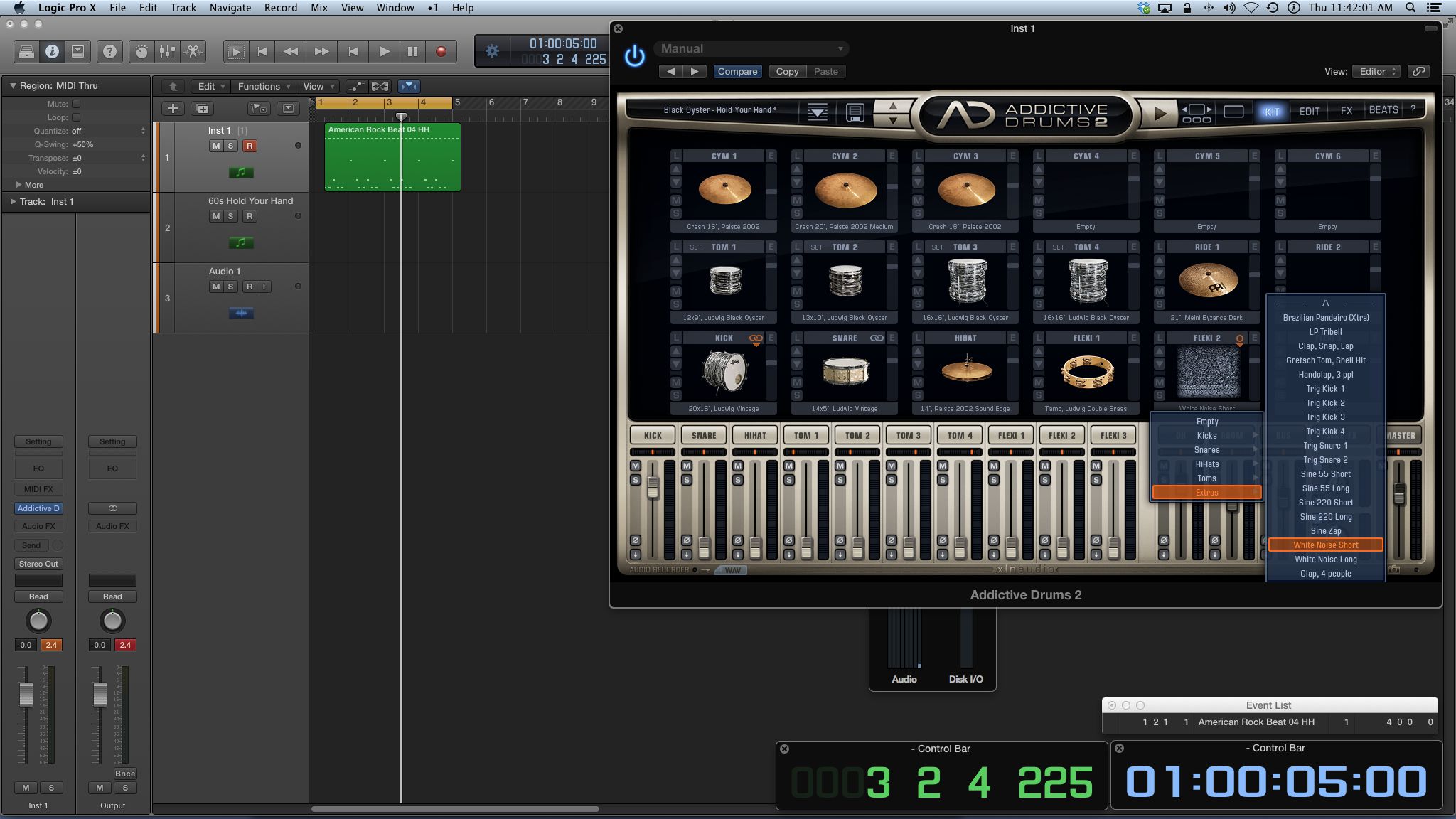 Pic 2
XLN has upped the ante on your ability to process and shape the sounds with a Transient Designer to give a kitpiece more or less snap; a Tone Designer to add or lessen dampening; "Delerb" processors which combine reverb and delays; a 4-band EQ with low- and hi-cut filters It also has two MultiFX slots. In summary, a lot of tools for processing right within an instance of Addictive Drums 2. See Pic 3.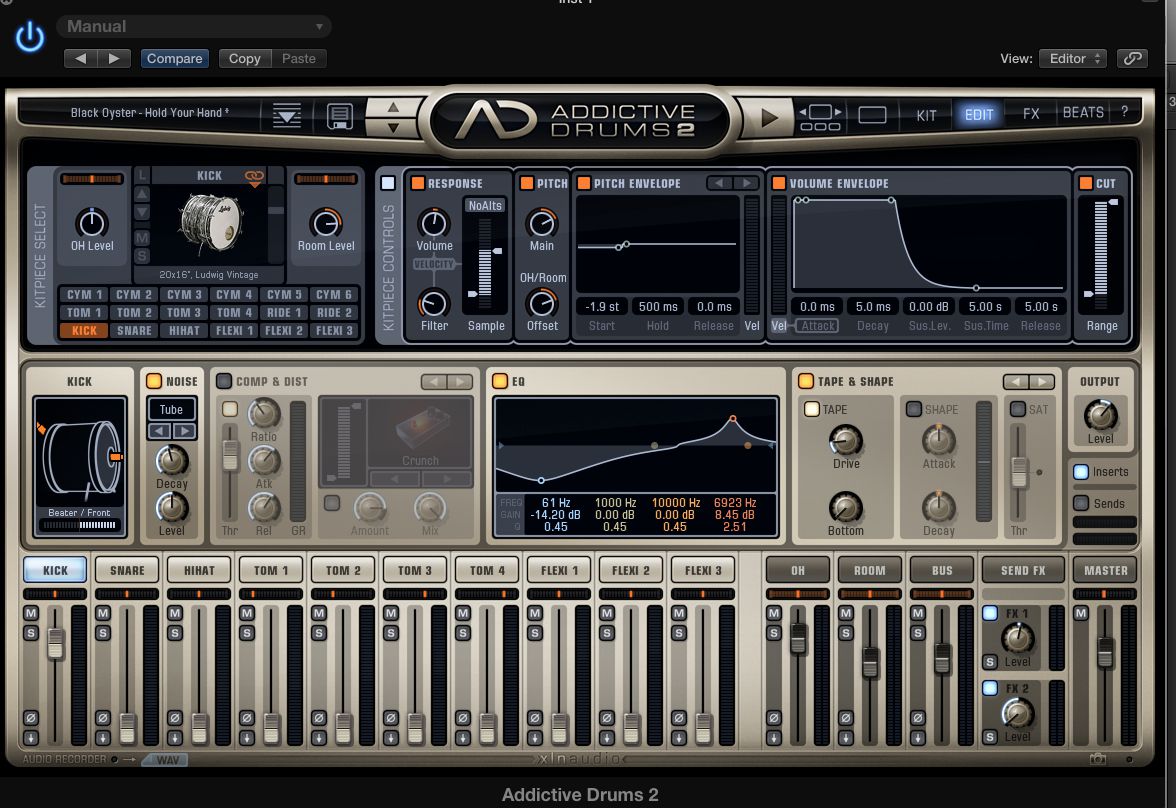 Pic 3
In all candor, I am used to mostly using multi-output software instruments with auxes to host my beloved UAD FX and will no doubt continue to do so, but I may well take advantage of all the response, pitching, and dampening capabilities AD2 brings to the table in a hybrid workflow that up until now I have only employed with Logic Pro X's Drummer instrument. With some similar features in the newest release of EZ Drummer, these capabilities are where drum virtual instruments are going.
Pretty much all drum virtual instruments and libraries come with a bunch of MIDI beats that you can drag and drop into your DAW, including the original Addictive Drums, but AD 2 gives you all kinds of variations, as you can see in Pic 4. This page is the Grid Search, which gives you recommendations, but allows you to find what you are looking for by filtering in/out information, similar to Apple's Loop Browser in Logic Pro.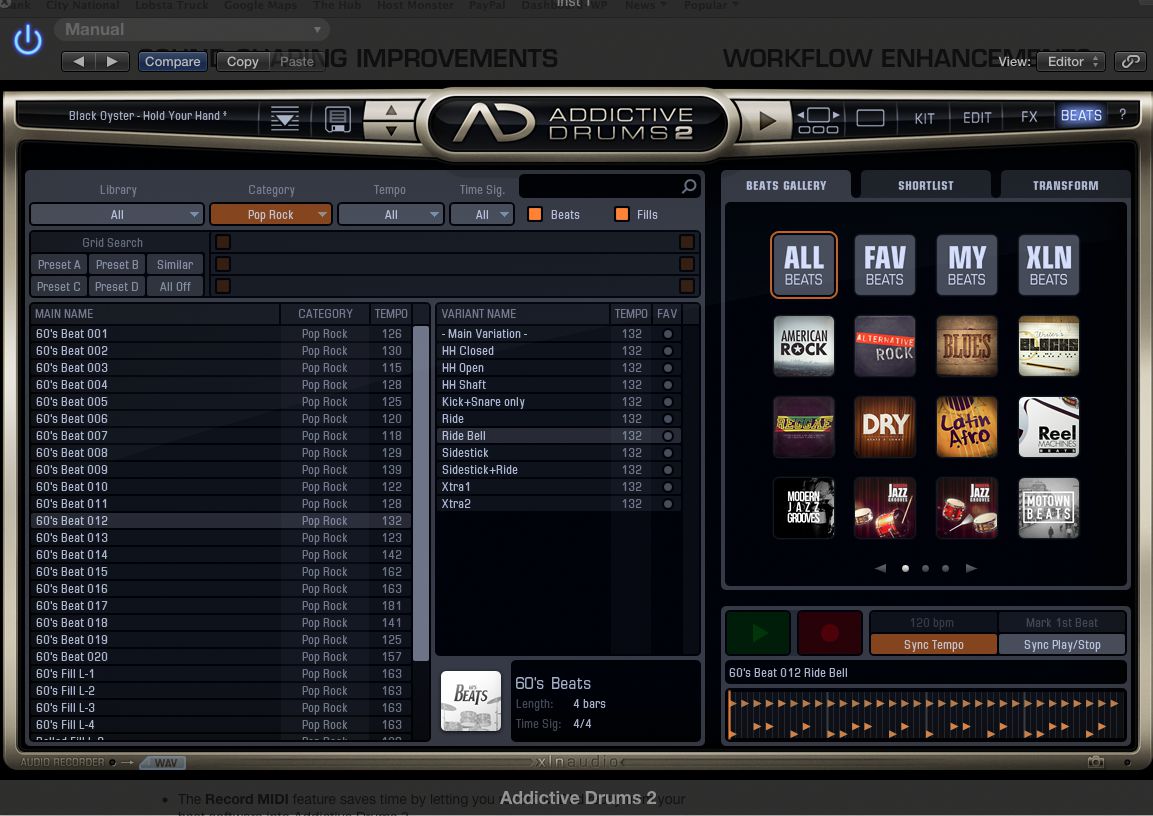 Pic 4
For me however, the most impressive addition is the Beat Transformer, which allows you to customize the beats in so many ways. You can control velocities; add accents; randomize timing and velocity; mute kitpieces; alter the speed to double time, half time 75%, etc.; alter where on the kitpiece is struck, e.g., the bell of a ride cymbal or a host of hi-hat options that you see in Pic 5 and Pic 6.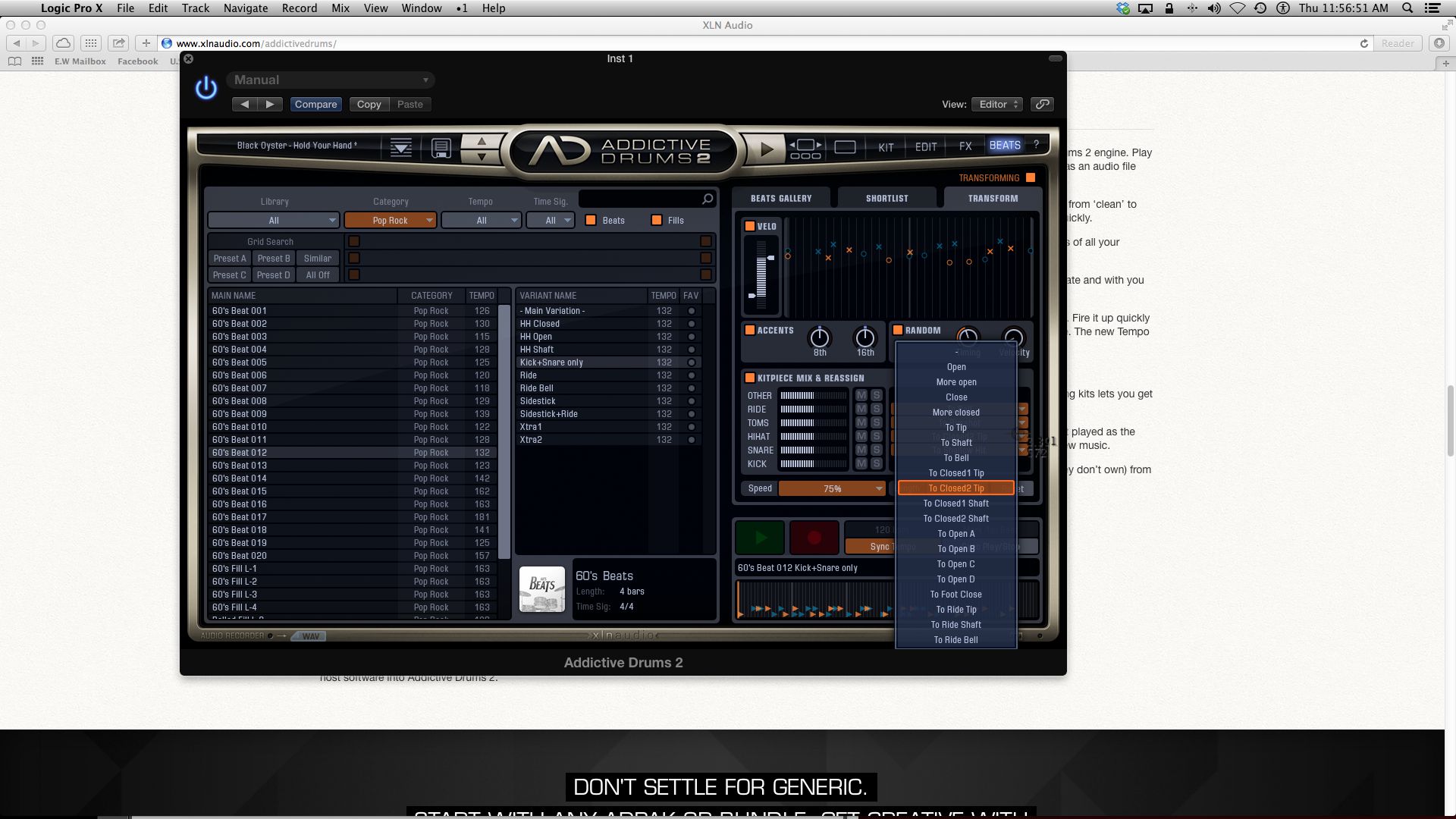 Pic 5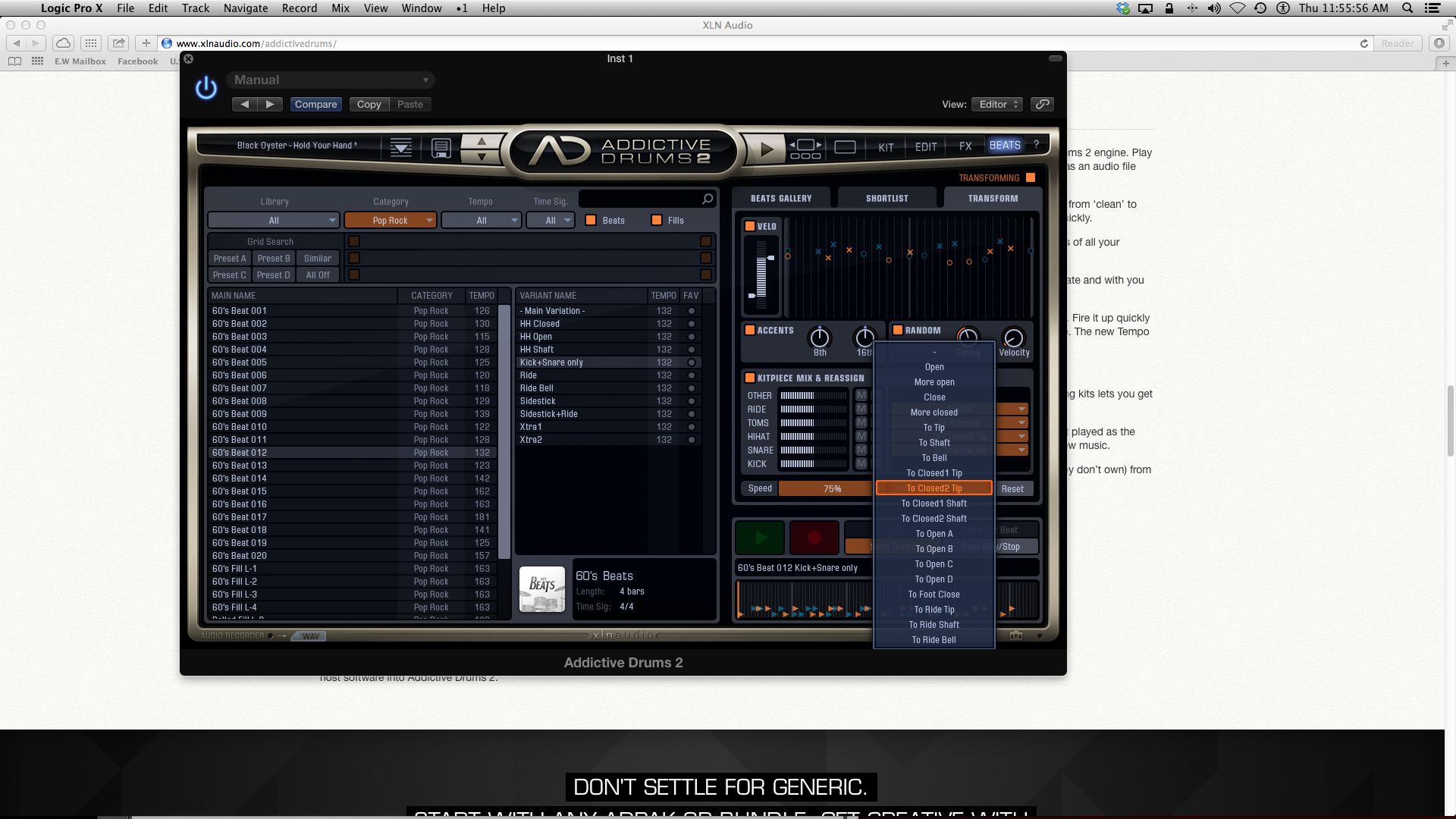 Pic 6


(...) the most impressive addition is the Beat Transformer, which allows you to customize the beats in so many ways.
There is an Audio Recorder which gives you the ability to record audio from AD2 and then drag the audio into your DAW or even on to your desktop. See Pic 7.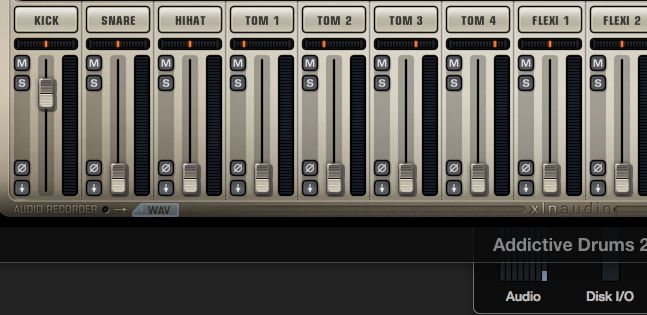 Pic 7
In Pic 8, notice the Snapshot feature that allows you to take picture of your settings and retrieve them by clicking on a numbered icon for each.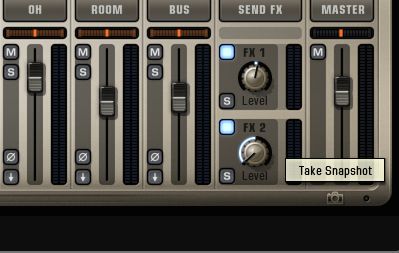 Pic 8
What's Isn't New?
You still have more than two mic positions for kick and snare that you can balance between and all the kitpieces include overhead and room recordings. You also can control the distance in the Room Channel and create internal sub-mixes with Bus Channels. In an multi-output instance, it is still really easy to assign the kitpieces to outputs that will come up on your DAW's auxes, but you still cannot choose which aux each kitpiece goes to. I complained about this with the original AD and was asked why I cared. Truthfully, my only answer is that I like to have control of my mix decisions as much as possible and most drum libraries and virtual instruments allow me to do so, but it certainly is not a deal-breaker for me.
In Pics 9 and 10 you see the Gallery Page and Explore page in Addictive Drums 2, which are very informative and helpful to those new to AD 2.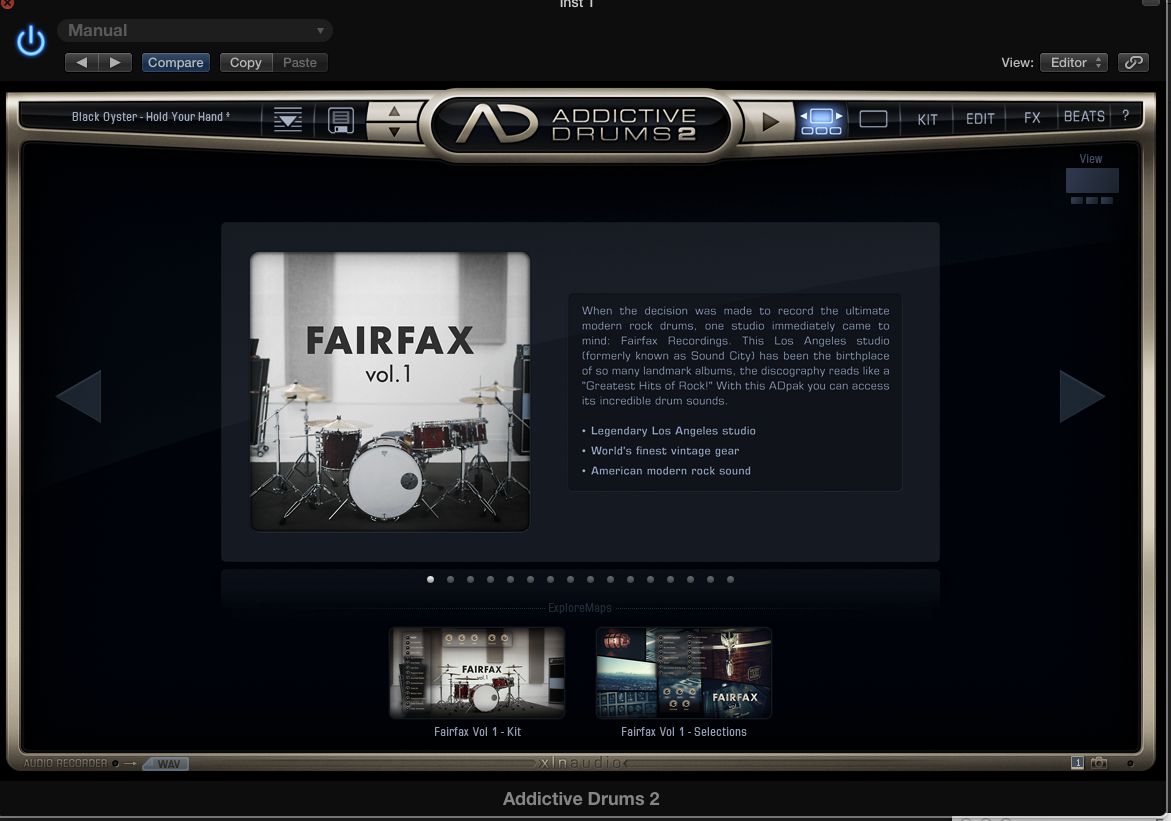 Pic 9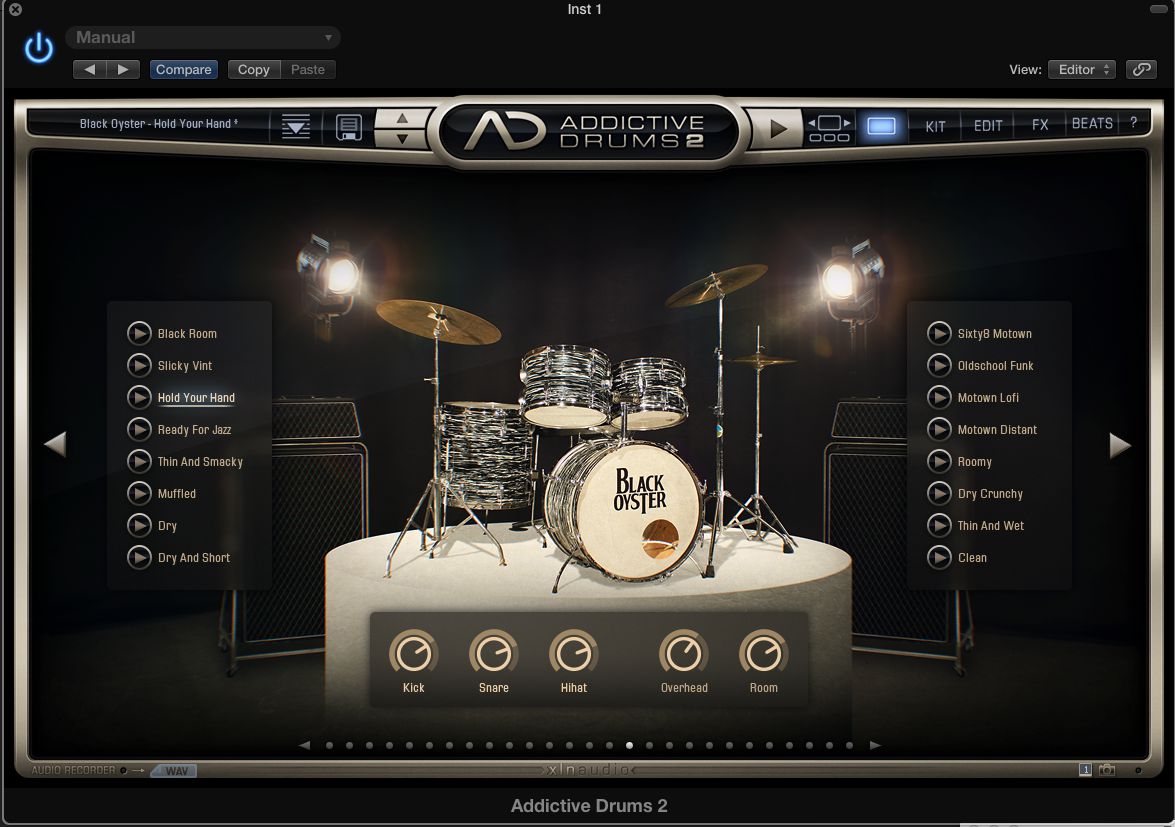 Pic 10
Price: $79.95 (Upgrade); $179.95 (Artist Bundle); $249.95 (Producer Bundle); $449.95 (XXL Studio Bundle).
Pros: Beautifully recorded, great sounding drums, including a new "Fairfax" kit, recorded at the legendary Sound City in Los Angeles. It is very CPU friendly. AD2 has powerful kit and beat creation, editing and sound shaping capabilities in an easy to learn interface. You buy only the kits, extra kit pieces, and MIDI beat files that you want so no "one size fits all" approach.
Cons: Because you buy only the kits, extra kit pieces, and MIDI beat files that you want, it can get pretty expensive if you want a lot of them.