Beautifully recorded, does pretty much everything you could want a library like this to do to help you create some realistic guitar parts. Not too steep a learning curve and everything in the GUIs are very clear. Light on CPU.

In a previous review of an acoustic guitar library I talked about my regret that while studying piano I did not also learn to at least do some simple things on the guitar, like strumming, simple melodies, etc. There are now a fair number of good libraries that allow you to create a pretty believable bunch of guitar tracks but this one is a little different and to my ears sonically superb.
Acousticsamples has based this on a somewhat rare 1962 Gibson Hummingbird dreadnought guitar, which was an instrument considered to be particularly suitable for accompanying vocalists.
It is relatively easy to use for an instrument that gives you this level of control and sounds just great.
Requirements
Acousticsamples libraries uses the UVI Workstation 2 sample player, which is free with the purchase, making it very attractive for those who do not own Kontakt, which is required for some of the competitor's libraries. It will also run in Mark of the Unicorn's Mach 5 sampler, since basically Mach 5 is the UVI Workstation 2. It may take you a little while to become familiar with the process of loading, saving, etc. which is different than Kontakt or Play (more like Best Service's Engine sample playback) but it is actually pretty straight ahead after a little time using it. Sunbird is cross platform and comes in all the popular plug-in formats. It runs under all the Mac and PC OS of recent years and is not a CPU hog so any decent modern computer can handle it with aplomb.
What You Get
This library has over 8 GB of uncompressed samples, over 1.5 GB of compressed lossless flac format with around 13,300 samples, and comes two mic positions as well as a pickup, all of which can be toggled on or off and blended to taste. It has a strumming engine that comes with 67 patterns already programmed for use but also has a pattern builder and even a song builder to create patterns for each section of your song. There are four modes: solo, chord, pattern and MIDI guitar for playing the library with a one of those, (which by the way, if anyone in the Los Angeles area plays one of these MIDI guitars, I would love to see it in action with this library).
It has a legato script and "bend control" with all the usual articulations for hammer-ons, pull-offs, up or down slides, ghost notes, pre-notes, all of which are sampled at multiple velocities. String selection can be down automatically or manually. It automates the hand position for you in solo mode and re-voices the chords the way a real guitar player plays them in chord mode, and simulates palm muting. And of course, it includes a reverb.
The Interface
In Pic 1 you see the main GUI , which is really easy to understand. You can move the knobs or use keyswitching. The green notes near the top of the keyboard, for instance, toggle between the four modes. In solo mode, you see the controls over legato and string selection.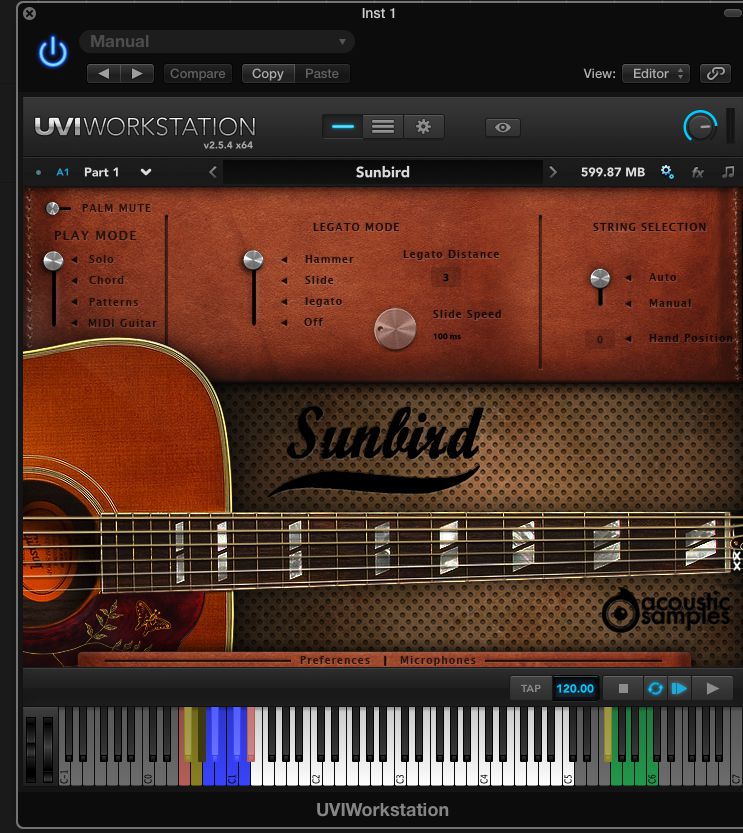 Pic 1
Change to chord mode as I a am doing in Pic 2 and notice that you have a different set of controls that give you great flexibility, including the choice of having it "think" like a piano player or a guitar player.
Pic 2
In Pic 3 you can see the Pattern Mode, which by the way allows you to sync to your host or not and in Pic 4 I have opened the editor for the Pattern Mode. Pic 5 is the MIDI guitar mode, which I assume facilitates choices for that mode of data entry.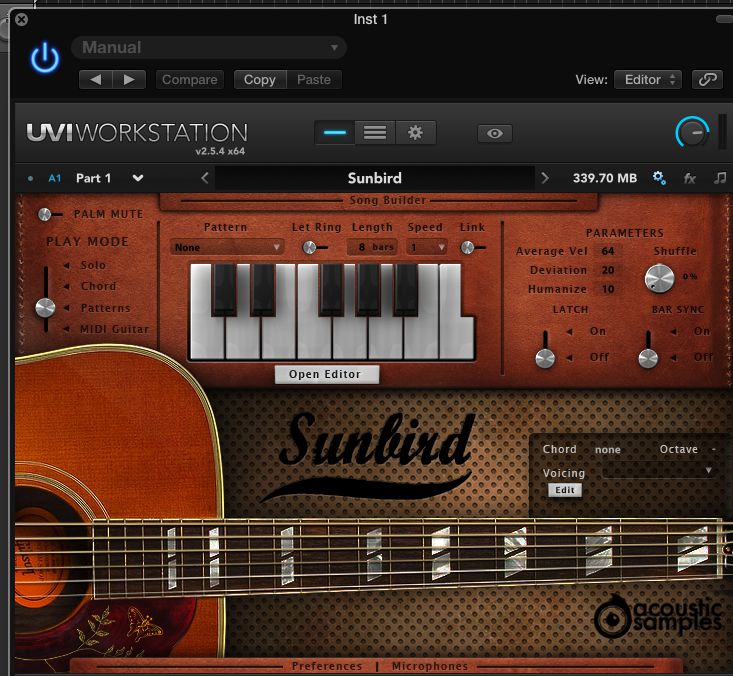 Pic 3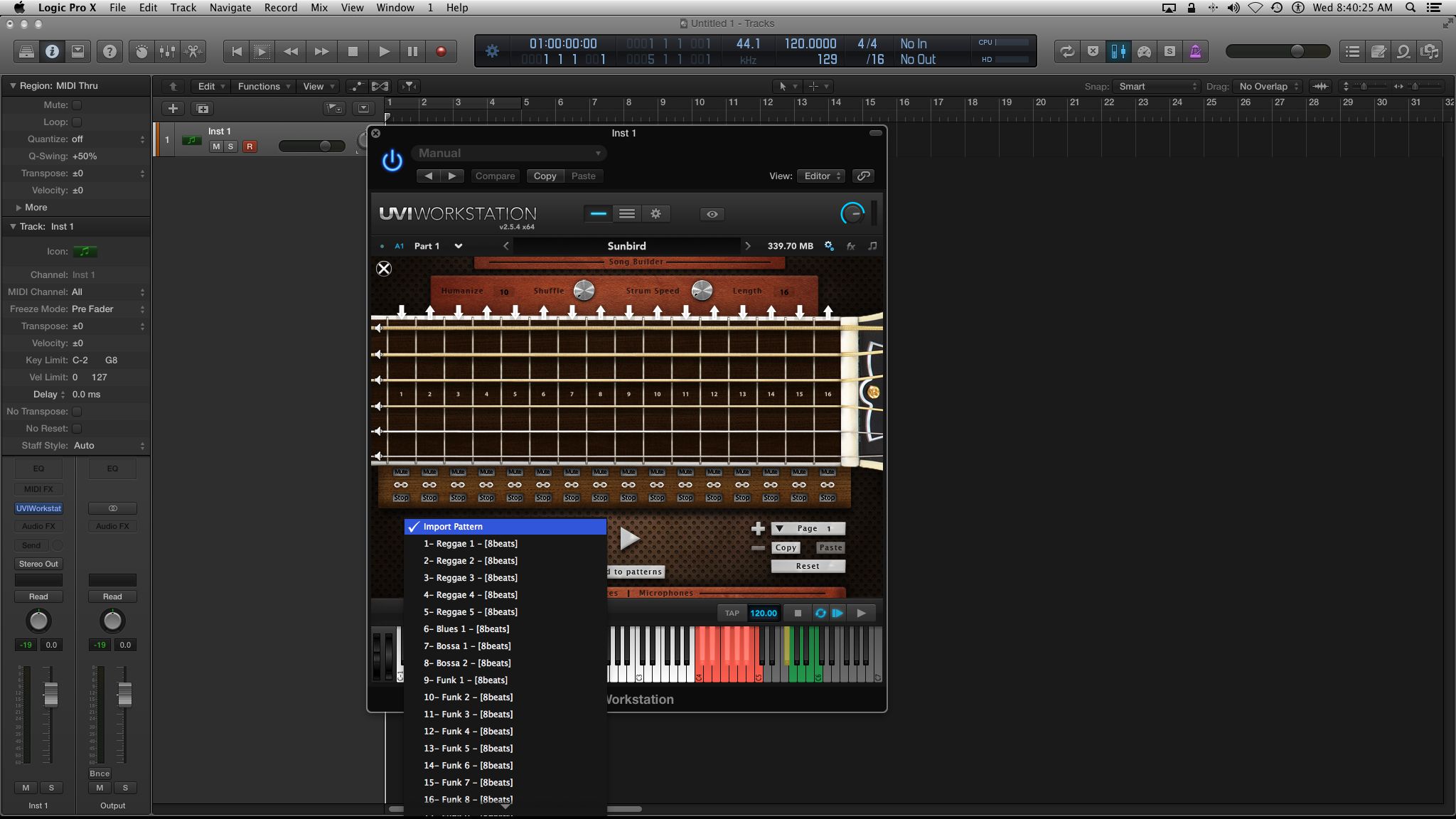 Pic 4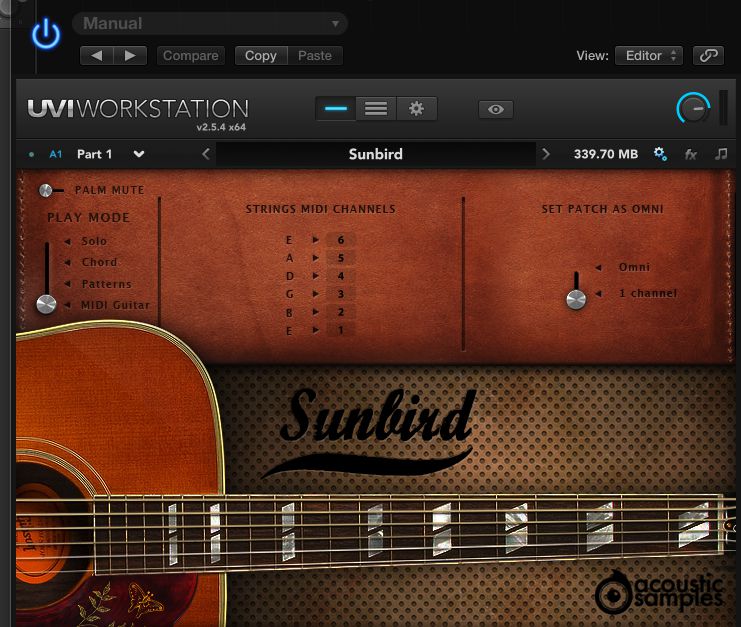 Pic 5
Pretty darned impressive, eh? But wait there's more!
Click on the Microphones tab and here in Pic 6 you can see how you load and unload the mic positions and pickup and how you can control and blend them. There are preferences to help you shape the sound and behavior to taste. See Pic 7.

Pic 6

Pic 7
You can really achieve a wide range of sounds with these controls, although the defaults sound darned good to my ears
Oh my, I almost forgot to show you the Song Builder for the Chord and Pattern Modes that you can see in Pic 8.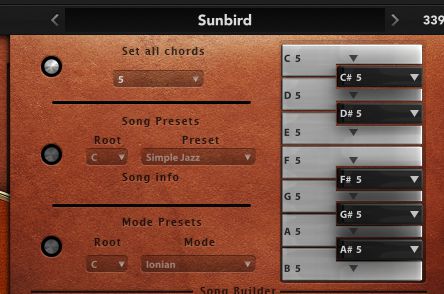 Pic 8
It is possible you will look at all the choices this library provides you and feel a tad intimidated or overwhelmed but the learning curve is actually far less steep that it appears. I was using it reasonably fluently after an hour of working with it.
This is way too deep a library for me to teach you to use it in this column but there are lots of helpful videos on the website. Initially I complained about the the lack of a PDF manual, for me an alarming trend for sample libraries lately. Well their developer Arnaud rectified that within 24 hours and now you can find one to view on the website and open in Adobe Reader and save it to your computer. That is what I call responsiveness by a developer. Color me impressed!
Price: The Acousticsamples Sunbird is priced at $149, which I think is a bargain for this complete simulation.
Pros: Beautifully recorded. Does pretty much everything you could want a library like this to do to help you create some realistic guitar parts. Not too steep a learning curve and everything in the GUIs are very clear. Light on CPU.
Cons: If you never used the UVI Workstation 2 engine before, it takes a little while to become familiar with it.