I am highly aware that when reviewing, consulting, or designing presets for keyboards I can be somewhat of a design team's worst nightmare when it comes to organ sounds. I know this, I've tried therapy and just being 'less picky' but nothing seems to work. I'll often spend hours with EQs, rotary simulators, compressors, tube saturators and the like to get an organ sound to where I'd like it to be. That is why, when I downloaded the latest version of B-5 from Acousticsamples, I was fully prepared to spend half a day exploring, tweaking, and putting B-5 version 2 through its paces. I'm pleased to announce that there is a new 'gold standard' in the organ instrument world, and B-5 version 2 now holds that crown. This instrument is absolutely fantastic.
The Organs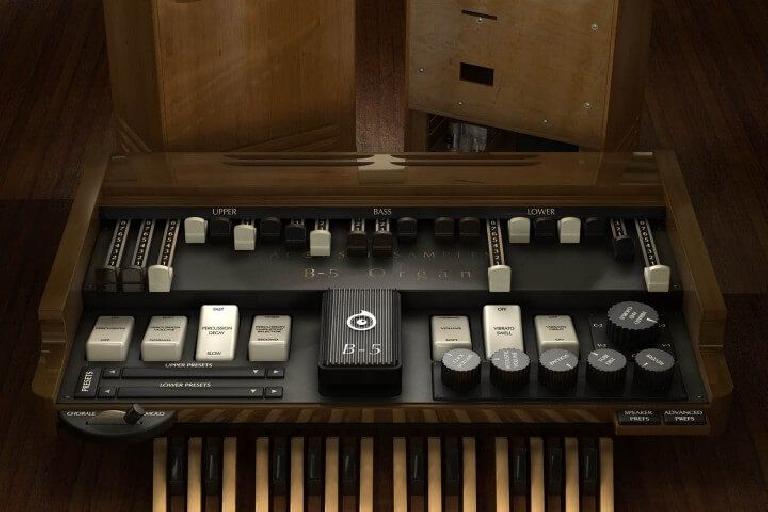 Let me get the feature set out of the way for all of you tone geeks out there. B-5 is sample based, something that is actually a bit rare for virtual organs that utilize drawbars - you can run into some phasing issues when you play back samples from various combinations without meticulously checking every single possible combination of effect, drawbar, sample, and vibrato/chorus setting. Everything in B-5 has been painstakingly sampled, phase aligned, and programmed so that it feels like you're working with real drawbars, leslie speakers, and organ controls.
You get 4 organ models in B-5 that span about 9 years of 'Hammond history'. Everything from a B-3 to an A-100 is there. If you'd like to run these different organs through a host of different speaker options, the sky is the limit there too. Everything from a Leslie 122 to a Fender Twin is available to you. Although I should warn you, once you've heard the Leslie simulation in B-5 v2, you won't want to turn it off… ever. There is no remnant of the typical Leslie 'noise loop' that you find in many keyboard workstations today. The Leslie sound is authentic, doesn't feel 'looped', and seems to have the inherent instability of an actual speaker whirring and rotating inside of a cabinet. I was in awe simply switching the rotary speed and listening to the result without playing any notes.
Playability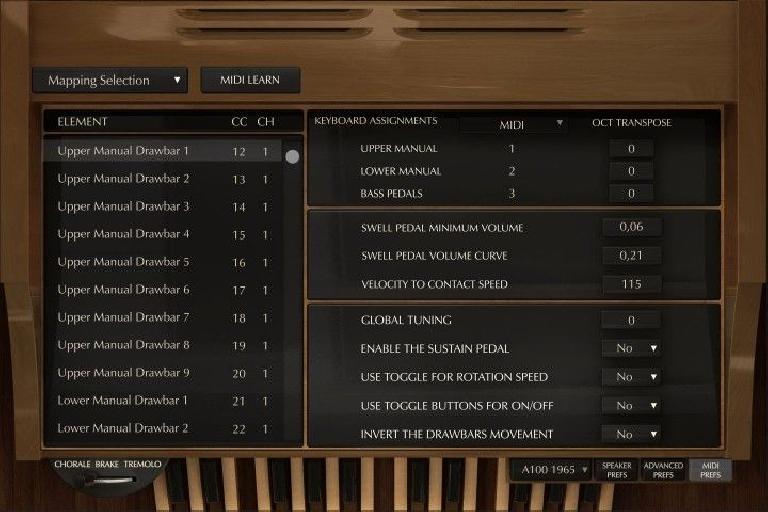 B-5 version 2 is, by far, the most playable and lifelike simulation of a Hammond organ I have ever encountered. The presets are designed in a fantastic way, and you've got everything from classical style clarinet/flute presets to iconic B-3 song presets. There are even presets designed for specific genres or iconic musicians who made the B-3 sound famous.
Every single element of B-5 v2 can be assigned via MIDI, and you can get every ounce of control that you need at your fingertips. The instrument is lightweight (only needing 1.25 Gb of install space) and easy on the CPU.
Acousticsamples has also put their money where their mouth is with a fantastic side-by-side comparison video of B-5 v2 vs an actual B-3 organ with a real Leslie. You can check it out below and it's really astonishing to watch. At the price they're offering B-5 v2, this is a no brainer if you use organ in any way. B-5 v2 is the organ instrument to beat for sure.
Price: 99 euros / around $110 USD
Pros: Awe inspiring sounds, clever design, fantastic controls, a huge library of presets, a staggering amount of content packed into a small (1.25Gb) package.
Cons: None at all. This is the best organ simulation I've ever played.