The first time I sat down with what would become the package that's now been released, I had one thought come to mind, "Ableton carefully took note of Live's weaknesses and filled these in carefully, as opposed to just throwing in new features." And, since I've used it more and more, this is still very much my mindset. The Ableton team, after years of updating the Live package every year, have taken a step back and said, "What is really missing?" And, I'm really happy both with this approach, and the finished product that they've developed.
Now, this is my opinion, and there are others who would argue that an update that took this long should feature much more. And, that's one way of looking at it. However, I'll stand by my initial assessment and I'd like to tell you 'why'.
The Browser
What was an integral part of the Live experience has reached a point where it had become limited, or at least could be grown. The Ableton Browser, an aspect of Live that really rocked needed 'more'. Firstly, you only had 3 file browsers. And, one could argue that if you kept your files organized, it wouldn't really matter. But, we don't all work that way. Some of us would like to have a quick link to a folder, and that's that. In place of file browsers, there is now the 'Places' section. And, I'm a huge fan of this.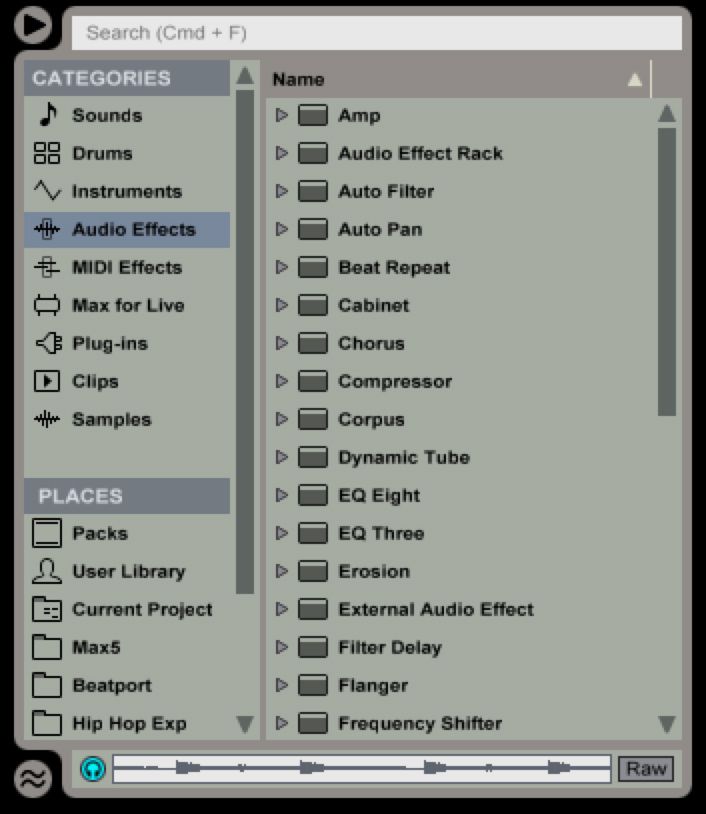 First, and most importantly, you can directly link any folder on your computer to Places. Once it's linked, it just appears there in plain text, and you can just click on it. It's as simple as that. And, did I mention that you could drag a folder from outside Live into the browser to create a link? Not too shabby.
Places also encourages areas of the Live experience that, I'll admit, I'd blown off during my entire time with Ableton Live. For one thing, I'd never cared about Live Packs. But, because they are so easily accessible, labeled and easy to get to, I'm finding myself actually using Live packs now.
The Browser also encourages building your own patches, sample banks and so on with the clearly labeled User Library.
Ultimately, I think having a clearly labeled browser that is carefully broken down, as opposed to having parts identified by small little symbols, should have been done a long time ago. But, it's here now, and with Places, you can use your own labels to make an organization system that works for you, in your own jargon.
Oh, and before I move on from the Browser, do not underestimate the Find function. This function has become much more formidable with the new browser, and you won't look back, once you start using Command-F (Control-F on PC).
Audio to MIDI
You're either going to love, or not use these new Audio to MIDI conversion functions. Are they accurate? Most of the time. Personally, I see this as an opportunity, more than a hindrance. While functions like 'Convert Drums to MIDI' may not perfectly recreate the drum beat, or beat box recording you bring in to it, the screw-ups are ample fodder for new beat ideas.
Convert Harmony to MIDI? Well, I see this function as something special. Yes, you do have to do some editing after converting a strumming guitar loop to MIDI. But, actually having the vestiges and timing of a skilled guitarist doing acoustic rhythm guitar, and being able to add any patch I want on to these timings and notes is priceless. With edits and effects, I've been able to come closer than I ever have to being able to make a convincing guitar part from MIDI.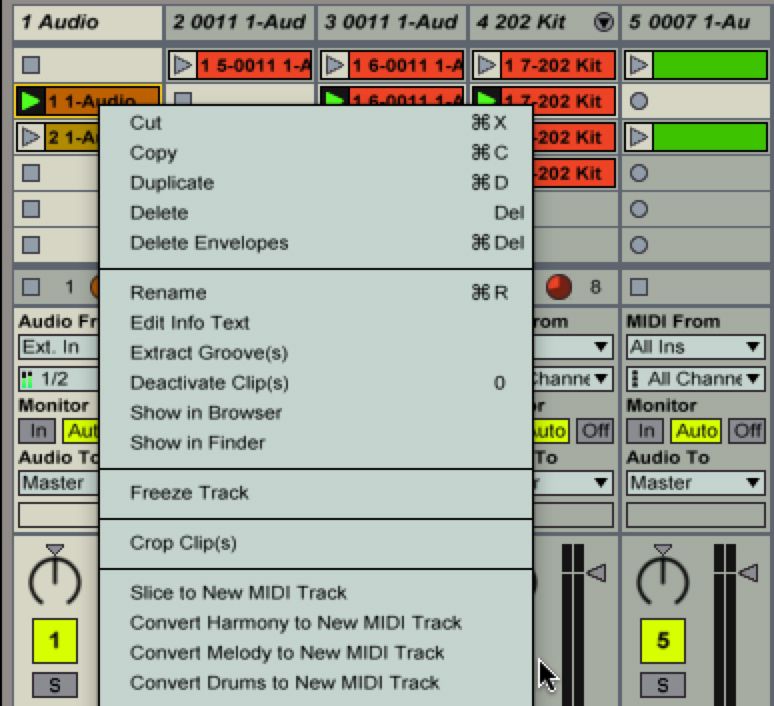 Convert Melody, which is the monophonic brother to the polyphonic Convert Harmony to MIDI... Well, this could be a little better. Simple, hummed melodies can be anywhere from sort of close to the recording, to 'How did it convert this, to this?'. But, there again, if you aren't looking for perfection, than you can end up with several takes that you may never have thought of.
Either way, all of the recordings that are converted to MIDI are kept on a separate track, and if you're someone that uses voice recorders on the go for keeping track of your ideas, you're going to love the Convert Audio to MIDI functions. If you're looking for perfect results every time... well, you might be upset. Conversely, if you're looking for a feature to exploit... Well, you can really exploit this one!
Session View Automation and Thoughtful Additions
The ability to bring automation to the Session View and jam out indefinitely, DJ with sick slides and perform with automation you use in Arrange view, has been sorely missing for some time now. And, it's finally here.
But, along with Session View Automation, there have been several refinements to automation, to include the ability to curve, and other simple nuances.
There's even thoughtful features like Prepare Scene For New Recording, which will keep you armed in one track, while copying all other parts to a new scene for you. I've grown particularly fond of this feature, as it makes tracking within Session view much easier, especially when you're recording multiple sources. All you have to do is arm all the tracks that you want to keep recording, and hitting the 'New' button at the top. If you're recording multiple instrumentalists, or audio sources at once, make sure to try this out.
Refining Bread and Butter Effects, While Adding Some 'New'
Ableton also went to great lengths to make staple effects much more useable than they were before. The Gate, Compressor and EQ Eight have all been overhauled in a way that makes them way more useable than before, due to the graphical additions which will help you dial things in with much more precision and clarity. They also added in the new Glue Compressor which emulates the classic Master Bus Compressor of a very famous 80's console.

Again, these additions, in my opinion, only help take Ableton to the next level for pro-level users and make it a viable option for those who are thinking of giving Ableton a spin.
Closing Comments
If this was any other company, I may have been worried, initially. The features added seem slim, and that's never a good sign. But, Ableton planted seeds in this update that show great promise for what's to come. Considering how much they updated Live 8, for free, over a few years, I'd say there will be a good deal of refinement to what's been added in version 9, before having to upgrade again. And, these initial closing comments may even seem bleak to you as you read this. So, let me speak more plainly as a devoted Ableton user.

I really like this update, and could not go back to Live 8. Live 9's Browser has made my experience much better, Session View automation is much more than I anticipated, and I have really used the Audio to MIDI conversion enhancements a lot. Oh, and 64-bit support is so much better than the 32-bit version I've been using.
So, to speak plainly again, I would highly recommend this update for anyone using Live. And there couldn't be a better version with which to start using Ableton Live. If you're going to start, start now. All the polish is there.