8DIO have long been at the forefront of professional sample libraries with a large back catalog of rather cool products that range from orchestral instruments to progressive metal guitars.

The brainchild of award winning composer Troels Folmann, 8DIO specialize in instruments for NI Kontakt probably due to its powerful scripting and customization features. Pair this with some beautiful sample recordings and you've got a winner!
Adagio is the latest library from the company centered around an 11 piece violin section. The main focus was to create very realistic legato patches and I've got to say they've done a pretty amazing job.
An Imperfect World
One of the features 8DIO have gone to great lengths to capture is the imperfections of a string section. That might sound odd but it's what makes real strings sounds so great. If you have 11 players (no matter how good they are) it will always take a short amount of time for them to settle into a pitch due to the individuality of each player.
It's these nuances in pitch and timing that make Adagio very realistic and expressive!
Right Out The Box
One thing you'll notice is that Adagio is very simple. The interface (designed by interface maestro Ryo Ishido) is pretty no frills. No envelopes, FX, filters, just a mixer and controls for dynamics and speed.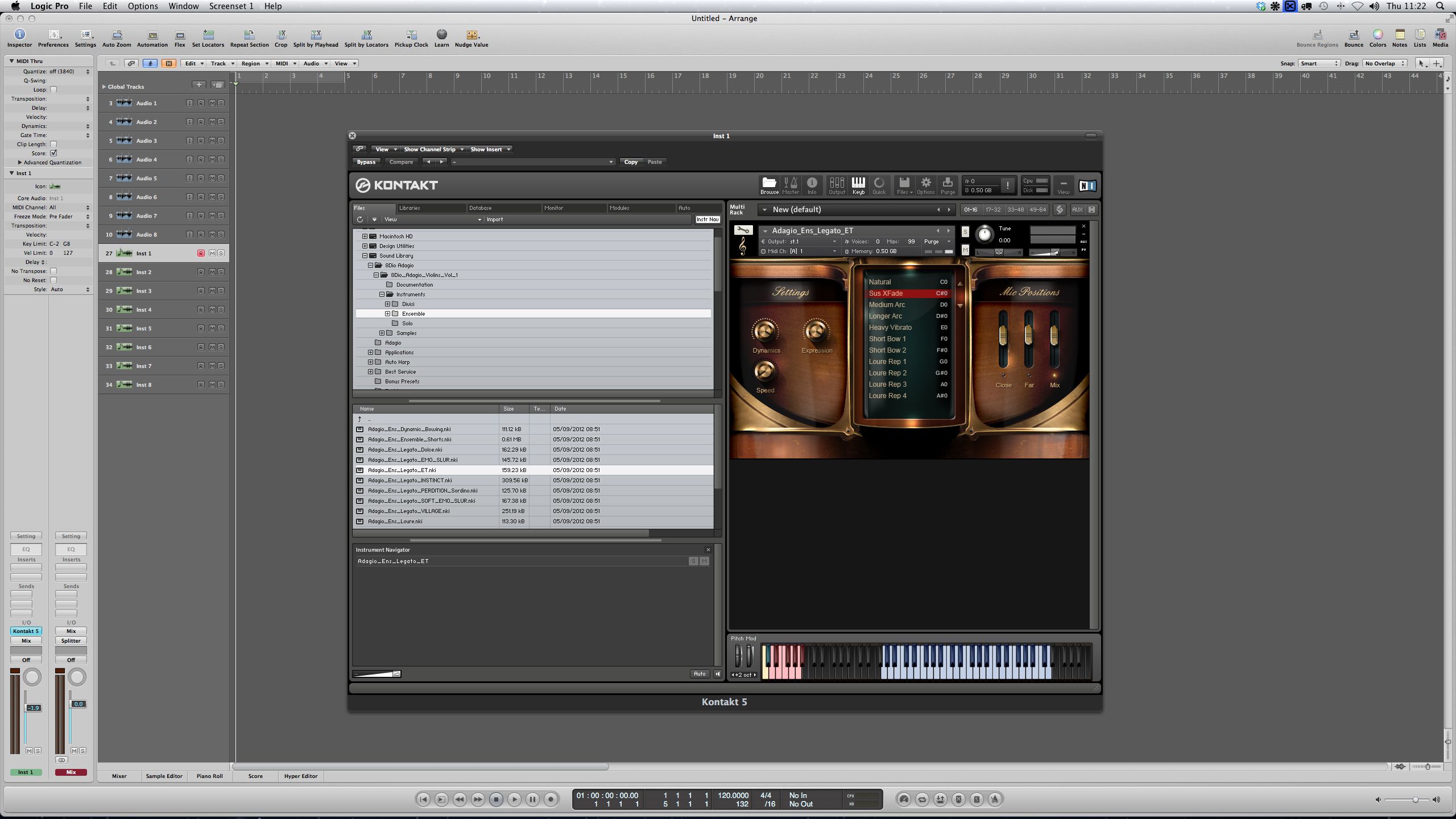 Adagio's simple interface.
This is because Adagio is made to play right out the box. Just load and go!! It's realism achieved through velocity layering (controlled via the Mod Wheel) and Round Robin sampling (4 on Legato, 10 on short notes). You can control the speed of the legato transition to suit your tempo using the Speed control.
The Legato patches provide smooth transitions between connected notes with each Legato patch having its own unique characteristic transition style, giving you a lot of options. There is also a number of Loure patches which contain rhythmic connected bow strokes for added realism as well as patches for dynamic bowing and some really clever short note patches. Combine this with tempo synced phrases and section effects and you've got one 'go to' library!
Ensemble Patches
The Ensemble patches feature Legato styles, Loure, Measured (synced) Tremolos, Sustain types, Dynamic Bowings, Slured (Portamento) and Phrases and Effects.
Each Patch features a number of key switchable articulations or playing styles that let you get a lot out of a single patch. The amount of expression you get is stunning just by playing them. The 'Arced' patches have a natural expressive dynamic arc which is wonderful!
Here's an example of the Dolce Legato for the melody and the Short Notes 'Arped Spic' driving the rhythm (this plays another note on release). Listen to the transitions on the melody notes. No CC data just played right on the keyboard!
Now here's the 'Perdition' Legato patch. Notice how the transitions have a completely different sound to them. I've used a bit of dynamic control too.
Divisi Patches
Adagio features a number of Divisi patches. These are smaller groups of players from the section (3 here). This allows you to break up the whole section into chords instead of one huge melody line and is a welcome addition.
Here's Divisi sustains playing two notes. Notice the more intimate sound.
Here's the same thing with Divisi 'Lost' legato playing a line over the top.
Solo Violin
You also get a 'really' lovely solo violin too. The main patch is 'Schindler' Legato which is great for lines and phrases. Using the key switches really brings out the best here.
Here's the Arped Spic articulation from the Short Notes patch.
Conclusion
This is probably the most playable Violin library I've ever owned. Fun, realistic, expressive and simple to use. You get awesome strings with no fuss!! 8DIO's clever scripting and beautifully recorded strings make this worth every penny. Now bring on the Viola, Cello and Bass!!!
Discover more about 8Dio's Adagio Violins here.