If you're in need of a new workhorse, virtual synth, and want something that sounds as unique as it appears, I'm happy to give you the report on a new virtual, waveshaping synth from 2ndSense. Wiggle is an extremely big sounding, and looking synth that has a ton of polish, and some very interesting features that really go a long way in making the computer-based music much more fun, again. Let's get a little Wiggle going together, and see what it's all about!
Loads of Polish
I usually blow off those built-in, guided tutorials. But when the giant, grey behemoth of a soft synth suddenly appears in front of me, well, I decide that this time, maybe the walkthrough was not such a bad idea. And, I'm so happy I did, as Wiggle is one of those synths that comes with a lot of smooth extra features that aren't immediately apparent to the naked eye. One of the coolest features, or at least to me, would be the way that each of Wiggle's four sound generators become visually animated when you enable their internal modulation sources. Yep, that's right, each generator is self-modulating before you ever even get to the 8 free-drawing LFO/Envelopes.
But it gets even better. Like some of the ToonTrack products, like EZDrummer, you can actually drag MIDI created within Wiggle's insanely comprehensive step-sequencer. So, you're actually getting two products. A Step Sequencer that doesn't wind up being completely useless, outside of its internal synthesizer, and a monster of a synth. But, wait! There's a lot more!
Did They Think of Everything?
The four sound generators I mentioned earlier have much more of a twist than just self-modulation. Wiggle has a powerful FM Modulation Matrix that allows you to determine quite comprehensively which generators will modulate which generators. This is actually insane, once you start using Wiggle, as your generators are already self modulating, then you can add additional modulation from another generator. As a result, the sound goes far beyond those static synth patches we're used to hearing. There's always movement with Wiggle, if you want.
Internal Sampling?!
A neat, and novel inclusion to the Utilities section of Wiggle is the Record Audio Function. This allows you to record internal audio coming from Wiggle, and then instantly drag and drop the audio file into your DAW. This opens Wiggle up, in my opinion, to other types of usages, beyond just electronic music, as this makes it very easy to make raw synth audio files for source audio, on the fly. Instead of having to go through the render procedures of your DAW, every time you want to capture a blip from a synth.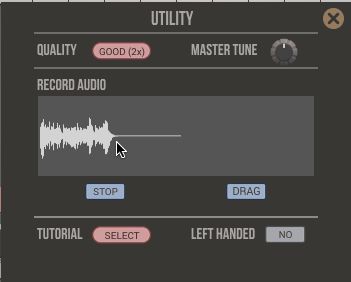 Internal sampling? You bet!
Mighty Morphin
The biggest cherry on top, in my opinion, is the Morph Pad, where you can capture 'snapshots' of multiple settings (up to 4 snapshots) and then use the XY pad to 'Morph' between the different settings. You can even automate the morphing! The result is nothing more than astounding, when you get four really distinct settings to move between.
Conclusion
I had a great time with Wiggle. But I will say that I wish there were more presets! There are great patches, and great features, and also great tutorials. But only 178 patches! 46 of them, or at least the version I got, were Sequencer patches. Only 13 pads?! Seriously? However, I can let this slide. Wiggle is the first product from newcomer 2nd Sense Audio, and what they've accomplished is way beyond impressive. And, you can always add more presets, right? Oh, and speaking of more presets and sound: The 1.03 update, just released, updates the Type section with two new selections and a Mix Knob, so that you can morph between wave types! This can even be automated!
Price: $99
Pros: A superior software synth that sounds as incredible as it looks with a price tag that will make your jaw hit the ground.
Cons: Could use more presets.