With high speed internet and the advancement of music technology, you can now have a good shot at collaboration with musicians across the globe. How do you do this? You make use of the remote music software that is available. Let's see what options you have, and how you can use them. These tools allow you to upload your projects to cloud storage services, and then share them with others. Some options have extra tools that may be more suited to you. So let's round these up and see which ones would work with your studio methods.
Splice
First I'll go over Splice and the service it offers. Splice acts similar to services like Dropbox and Google Drive but with some audio and DAW advancements. The DAWs it currently supports are Ableton Live, Logic Pro X, GarageBand and FL Studio. Splice is in public beta and will support more DAWs in the future.
This is how Splice works, it'll create a Splice folder on your computer, and any projects you move into this folder will be synced with their cloud servers. You can add descriptions and tags to your project and then choose to share this project with others. You can also navigate to the Splice website, log into your account and it'll give a block form arrangement view of your song with the different tracks names. Plus it even includes details on the software you used and the plugins and samples in each song. This makes it very easier for others you work, as they can easily see what audio tracks, effects and instruments you used.
Splice's flagship feature is the DNA player. It allows you to view the arrangement, samples and plugins used in a song, all from the web.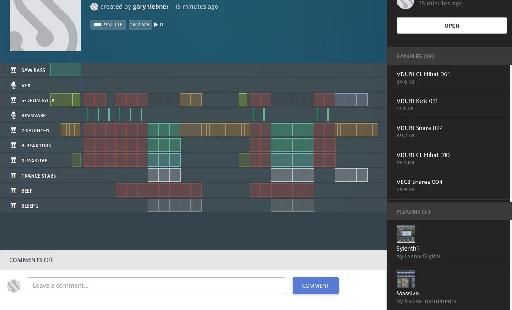 If you click on the plugins and samples tabs, it gives you further details on the plugins and the samples and how they were used in the song.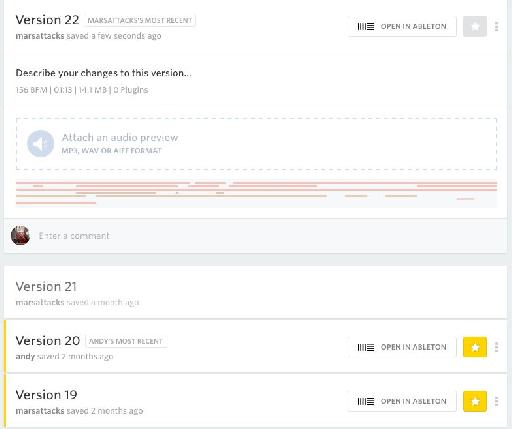 Another handy feature is to add time-stamped comments to the song arrangement. So for example, your music partner can add some comments on your drum part, and then when you log in next you can see where they we referring to in the arrangement.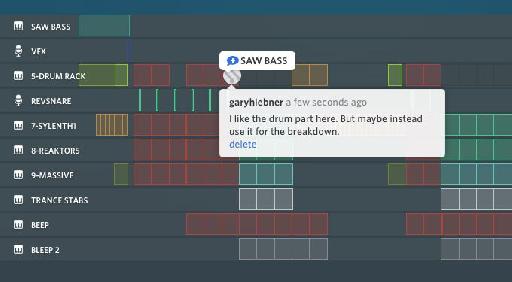 Blend
Blend is quite similar to Splice, but it works with your Dropbox account. Once you've created a Blend account it'll create a Blend projects folder within your Dropbox folder. It also picks up what DAW software and plugins you've used in your project. It recognizes most of the popular DAWs and plugins.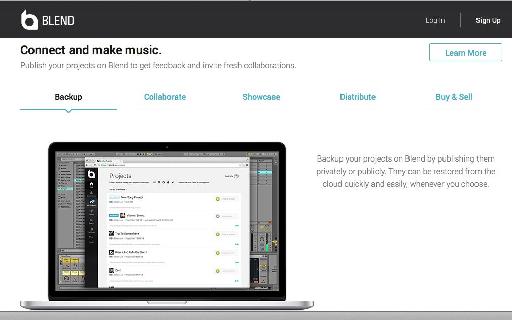 It also has features that are in other software media applications like a News feed and a messaging service so that you can send communicate with your collaborators and keep up to date by checking your feed. There is a great sense of community as you can search for like-minded musicians, plus you can build up followers by liking other users.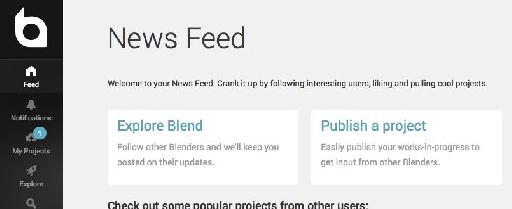 Another advantage is that you can distribute your music through Blend's channels (which include Beatport, iTunes, Spotify, and Google Play). Another great feature is the Blend Market where users upload tracks for remix, sample packs and stems of their songs. So there is great potential for this collaboration community.
Gobbler
Gobbler has built up quite a following for its use as an audio backup application plus as a tool that can be used for music collaboration. Gobbler integrates with a broad spectrum of DAWs, (and it even recognizes design applications as well). It uses a feature called Gobbler Collect to automatically find the associated files for your music projects.
You download the Gobbler application and then you create a workspace. You then can drag projects to this workspace and they'll be uploaded to the Gobbler servers.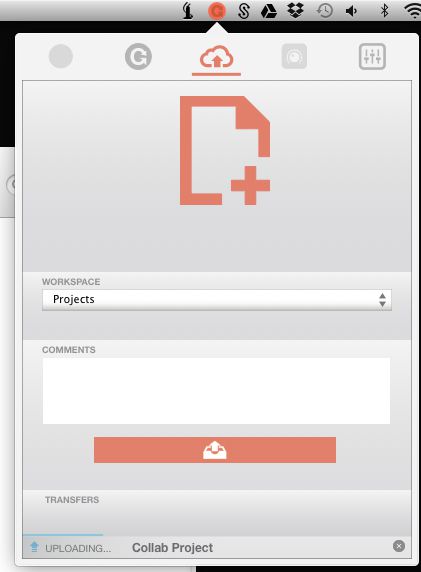 Once your track is uploaded to Gobbler you can go to their website, navigate to a particular project and then add collaborators to this project. They will then need to sign up to Gobbler, and then they'll be able to download your project.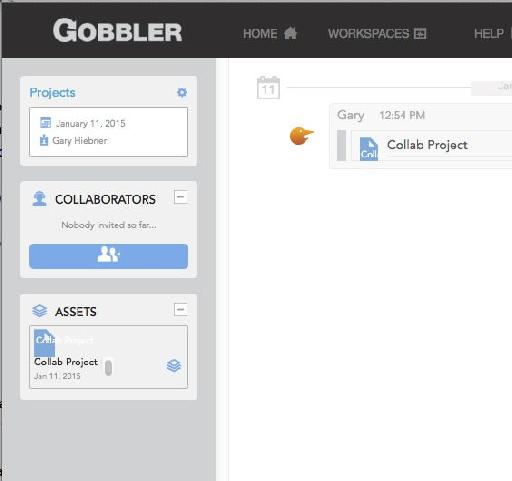 Ohm Studio
Ohm Studio is quite a different character to the rest. It's a fully-fledged DAW that syncs its content while you have it open. So you have to approach it like you're learning a new DAW, plus with the benefit of being able to share the project with others. It comes bundled with its own effects and instruments, plus you can use your own 3rd-party plugins. It's a free application to use (with some limitations), and then a subscription service pricing option that you can choose to give you the full version with extra storage options.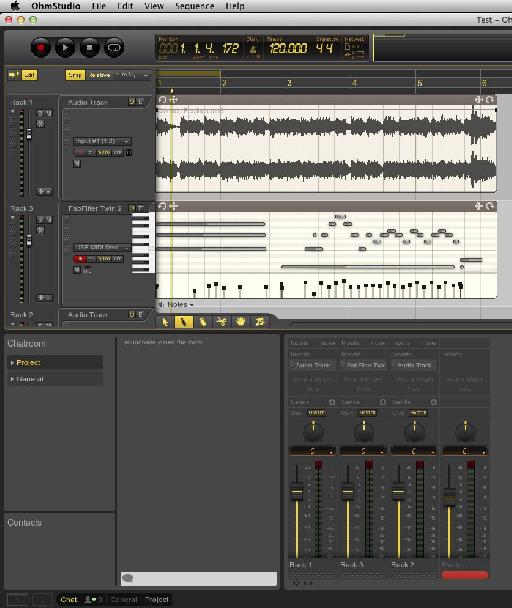 How it works is that you choose other artists that you want to collaborate with, then if they log into your project they can make changes to the song, and then the next time you log in to the song Ohm Studio will sync up with the changes your collaborator has made. Making it quite a seamless remote songwriting machine.
It also includes instant chat services so you can communicate with your music partner. Therefore you can do real-time music collaboration with other musicians. Chat to them through the messaging service and make changes straight away to the song in Ohm Studio.
SoundCloud
Let's not forget another tool that also can be used for remote music collaboration. I'm sure you're all familiar with SoundCloud. But the beauty with SoundCloud is that when you upload your songs to it, it gives you a visual waveform of your songs, plus listeners can add time-tagged comments. So even though you're working with a stereo waveform, this can still be a great tool for remote collaboration. You can upload a song, and then ask your collaborators to provide feedback to the song with time-tagged comments. This way you can check out their feedback and then revisit the song and add the recommended changes. SoundCloud isn't as fully featured as some of the other applications, but it's not DAW specific and still has some extra benefits for music sharing.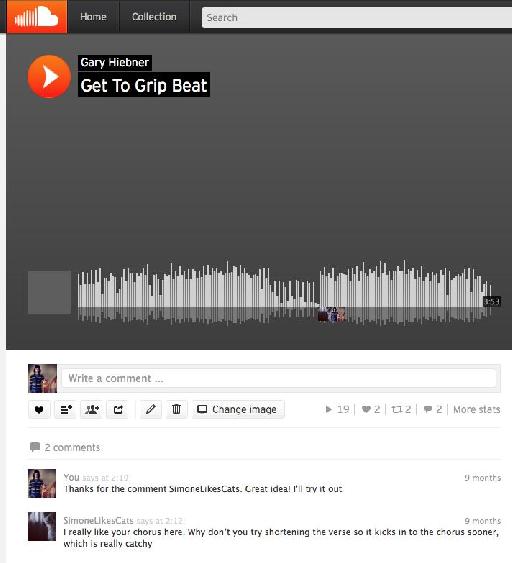 DAWs and SoundCloud & Gobbler
Another option is that many of the popular DAWs allow you to send your songs straight to services like Gobbler and SoundCloud. With ProTools you can export straight to Gobbler, and with Logic Pro X, Studio One and Ableton you can export your songs to SoundCloud.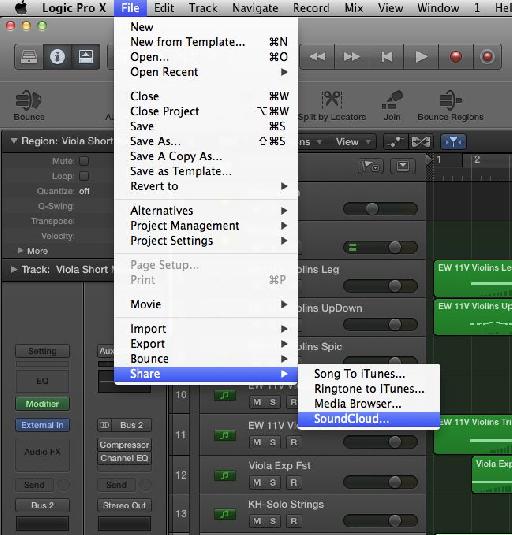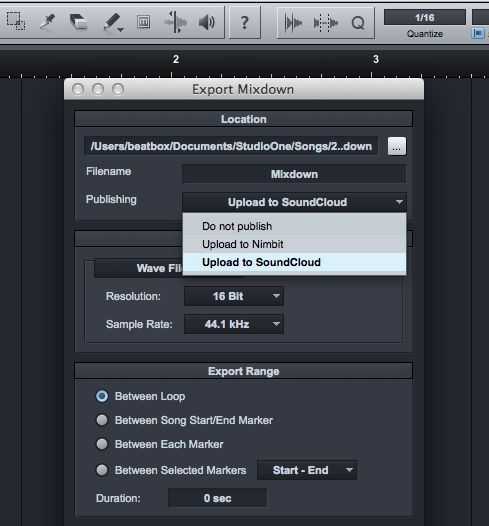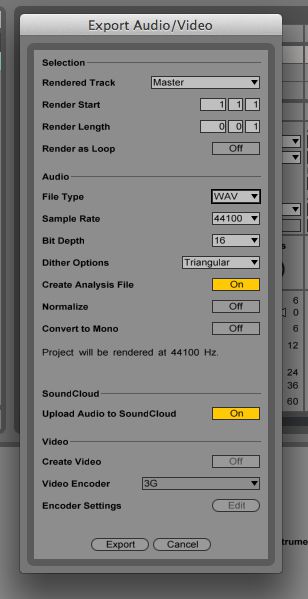 Reason's Take
On the mobile front, take a look at Propellerheads' Take software where you can create and share ideas on your mobile devices. It's a free app on the iTunes App Store. I always have musical ideas at the weirdest of times, especially when I am away from my computer. What better way to get those ideas to your remote music partners than with Take:
https://www.propellerheads.se/products/take/
Record the idea, while you're on the move, and then share it with your other musicians.
Keep an eye on this product as I'm such more features are going to be added, and probably better integration with your DAW, especially with Reason.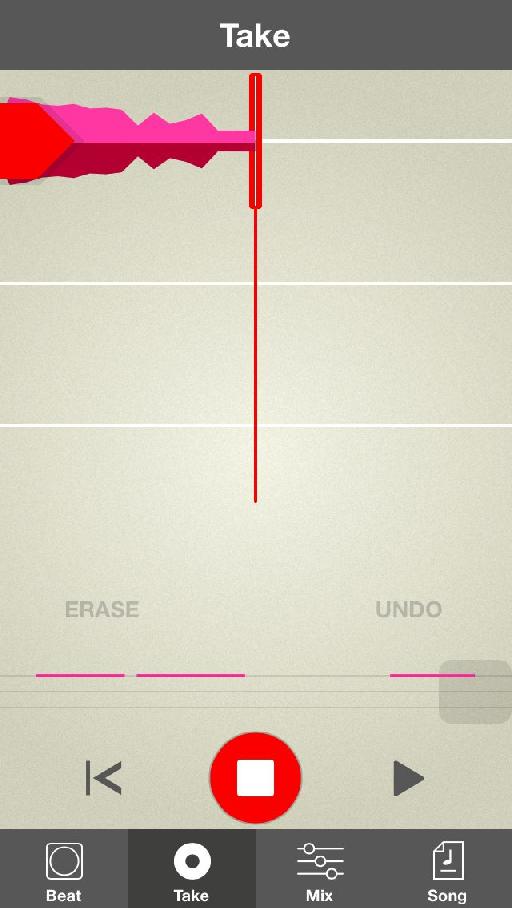 Steinberg VST Connect Pro
For all you Cubase users, I'd recommend investigating their application VST Connect Pro.
It gives you sample accurate syncing for real-time remote music collaboration. You can also use live video feeds so you have a visual of your music collaborators. How neat is that?
There is a trial that you can download to test if it works with your setup.
Conclusion
That's how to make use of these remote music collaboration tools to explore music with other musicians around the globe. These are great tools to use to backup your music projects to cloud servers, plus the interactive tools allow you to create music with others that just wasn't possible a few years back. So music technology is really pushing forward creativity and innovation. Test these tools out and see what music you can come up with others.