Although Spectrasonics has fewer products in its lineup than some other developers, the ones that it does have are truly impressive. More than that, the company continually improves and updates them, meaning that over time you get more tools and content without having to pay extra. One of the most recent additions to Omnisphere is a free dedicated iPad app that lets you control certain aspects of the synth remotely over Wi-Fi. You'll have noticed that for this to work you need both an iPad and a copy of Omnisphere. If you already have one of the two however, seeing what you can do with both might spur you on to get the other. Although primarily a live performance tool, it is just as much use in the studio, for creative sound sculpting without having to sit in front of your Mac and use the mouse.

Step 1
With Omnisphere installed and running on your Mac, go to the App Store and download the Omni TR on your iPad. Fire it up and from the first screen, press the Connect button. You should see the name of your Mac in the next screen, as Omnisphere will be broadcasting its address. If not, check your Wi-Fi and firewall settings.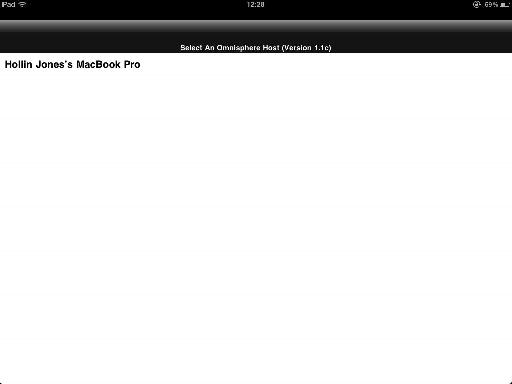 Step 2
Tap to connect to Omnisphere on your Mac and you are taken to the main screen. If nothing appears you may have to make sure Omnisphere is visible on your Mac, and not hidden in an instrument slot. Make sure it is actually onscreen on your Mac. Then, click on the Browse Multis menu.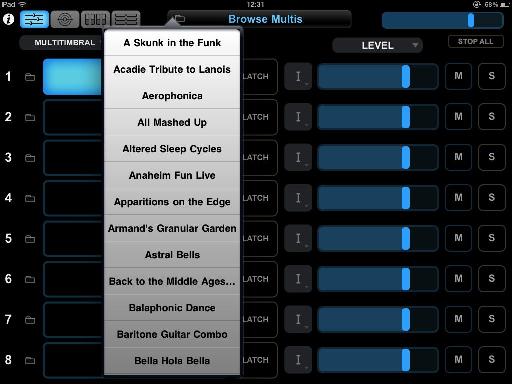 Step 3
Here's something to remember: the Omni TR app is a controller but not a player. It doesn't have a built-in keyboard, though you can use other apps to play MIDI wirelessly into your DAW from your iPad. So you will need to have a MIDI part recorded in your DAW before you can hear sound, or be playing live from a hardware MIDI keyboard. A MIDI control function, so that you can play Omnisphere remotely from inside the app, is something I'd love to see Spectrasonics include, if they're reading'