Agissant en tant que matériel parfait support pour les utilisateurs DVS et DJs de contrôleur, le 8 ultra-faible latence et plaquettes RVB batterie tactiles avec aftertouch sont parfaits pour déclencher des échantillons, des indices, des boucles et des effets. Venir en tant que contrôleur le plus vaste échantillon de Serato SP6 sur le marché, le NEON propose également des commentaires LED pour chaque tranche de l'échantillon renvoyer le statut et le mode d'information.

Un total de 8 modes de puissance peut être consulté par jusqu'à 4 platines avec un seul NEON: Sampler, Pad FX, Slicer, en boucle Slicer, Cue, Flip, Hot Loop et boucle Manuel sont à portée de main. Le mode FLIP flambant neuf vous permet d'enregistrer et de lire vos propres remixes ou des séquences signal de déclenchement à la volée. La manipulation de ces fonctions avancées est facile aussi intelligent codage couleur sur les pads de offre aux utilisateurs un retour visuel dans chaque mode, donc vous ne serez jamais se perdre à mi-performances. Deux encodeurs à fonction Push sans fin pour la navigation de piste, réglage du volume et l'édition des boucles complètent ce dispositif simple mais puissant.
S'inspirant des platines RP-8000 qui va changer, vous pouvez également connecter deux contrôleurs de NEON via la fonction Smart Link, économie ports USB précieux tout en vous permettant de pousser votre performance plus loin.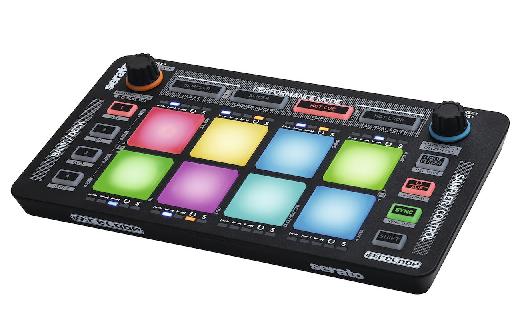 Un design et robuste extrêmement plat permet NEON non seulement l'outil de plug-and-play ultime, mais aussi quelque chose qui peut également être facilement rangé dans un sac de DJ et mise en place pour une utilisation dans une affaire de secondes.
Déclaration AJ Bertenshaw / CEO Serato INC LP:
"Finally, the Reloop Neon brings an ultra-compact form to an accessory specifically designed for Serato DJ. It will be an excellent addition to any minimalist DJ setup to put a host of powerful Serato features within reach without wasting any space."
Neon est le premier contrôleur modulaire de Reloop pour Serato DJ et il dispose de la plus large contrôle de l'échantillon Serato SP6 sur le marché - aucun autre contrôleur modulaire Serato DJ propose la gamme de fonctions qui Reloop Neon fait. Fabrication de haute qualité, extrêmement plat, construction robuste à un prix équitable - notre «puissante boîte" pour Serato DJ.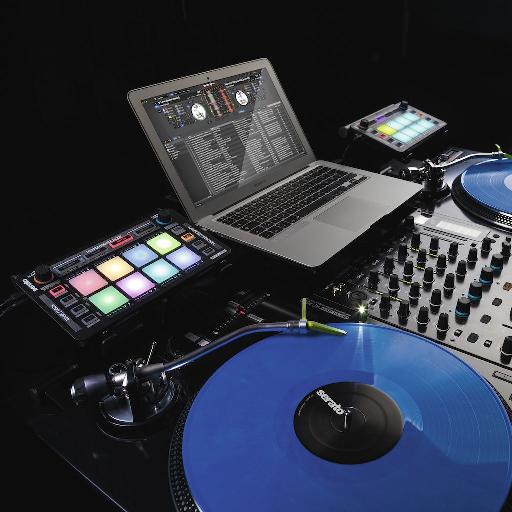 PDSF. 129
Traits
Contrôleur modulaire puissant pad Serato DJ

Serato officielle d'accessoires: plug-and-play avec Serato DJ

Dédié Serato DJ SP-6 contrôle de l'échantillonneur

Contrôle 4 platines pour Slicer, Cue et boucle

Complément parfait pour les utilisateurs DVS et DJs de contrôleur

8 pads performance RVB tactiles

Un total de 8 modes de performance intuitifs (Sampler, Pad FX, Slicer, en boucle Slicer, Cue, flip, Loops Hot, boucle et boucle manuelle)

Prise en charge de nouveau le mode Flip de la marque: Créer modifications individuelles à partir d'une chanson «à la volée» et déclencher ces séquences comme flip Hot

Sampler:
Le contrôleur de l'échantillon Serato SP6 la plus étendue du marché

5 variantes de déclenchement différents par tranche de l'échantillon (One Shot, bascule, Tenir, le mode de répétition et Sync) avec un statut correspondant à LED pour la rétroaction visuelle

Accès à tous les 6 slots d'échantillon synchronisables dans 4 banques

Contrôle du volume de l'échantillon dédié (Slot Master)

Pad FX:
Accès direct à 6 sélectionnable iZotope FX en mode FX Pad (Velocity Depth Control

Slicer / bouclé Slicer:
modes de fonctionnement de Slicer pour trancher de vos pistes

Cue / Cue rouleau:
8 code de couleur des points de repère par le pont qui peuvent être déclenchés comme rouleau

Boucle / Manuel Loop:
Accès rapide à plus de 8 boucles pouvant être stockées et la commande manuelle de la boucle

Autres caractéristiques:
2 encodeurs à fonction Push sans fin pour le contrôle du volume, de la navigation, un montage en boucle ainsi que la boucle Maj et la fonction de rouleau de boucle

Censeur, glisser et les fonctions de synchronisation pour tous les ponts peuvent être sélectionnées directement avec le contrôleur

Le mode interne / rapport pour les utilisateurs DVS

Bus USB

Smart Link: TM1 peut être relié à l'autre par l'intermédiaire d'un câble mini jack

Fonctionne avec tous les logiciels de DJ ou un studio compatible MIDI

Construction robuste, mais facile à transporter grâce à la conception de profil mince

Détails techniques
Connexions: mini USB, port de liaison, Kensington

Dimensions: 223 x 16.1 x 123 mm

Poids: 359,2 gr (net)

Incl. câble USB, guide de démarrage rapide et le câble de liaison (jack 3,5 mm)

Web: