Some schools of thought say that bass sounds should be purely mono and that anything other than a 100% mono signal will play havoc with your low end mix. Well, to an extent this is true, but some stereo bass patches are just so inviting that there must be a way to make things work here.
In this tutorial, I'll show you what I think is the best best way of taming stereo information in low end bass patches. This should give you the ability to use stereo bass sounds but keep your lows under control.
The Bass Patch We'll Be Using
In this case, I'm using a bass patch from an active project of mine. The sound is actually produced by Korg's excellent PolySix. For any of you that have used this, you'll know that its unison mode can produce some incredibly wide patches.
The only downside to this unison effect, and similar effects on other synths, is that the entire frequency range is effected. This means although you may get the super wide highs and high mids you are after, your low end will also be widened, which as most of you will know is not ideal.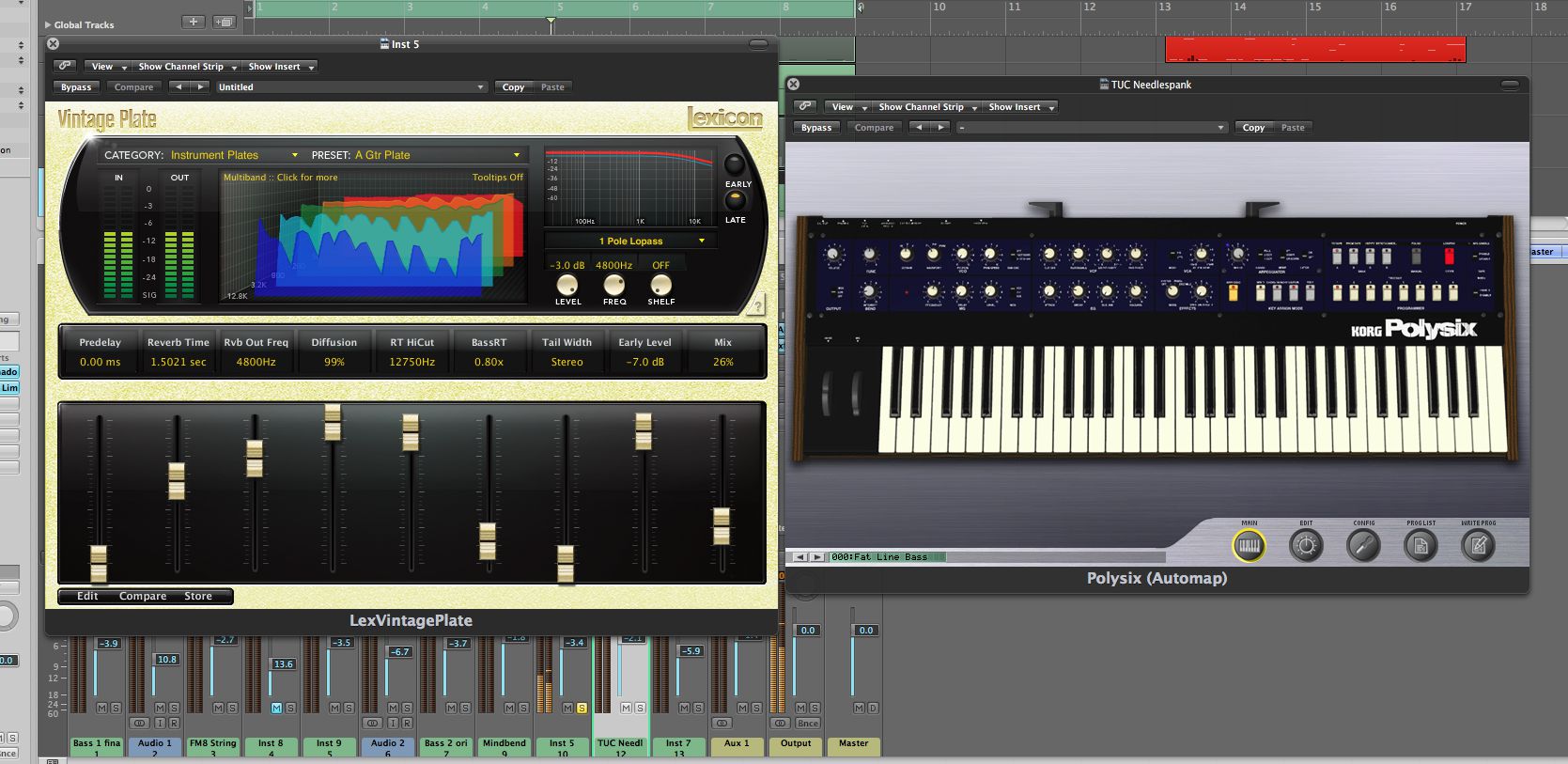 Korg's wide PolySix plus some stereo reverb made for a very wide bass patch.
The wide bass patch that needs some low end work:
Stereo low end information can cause a confused, muddy bottom end mix that will probably lead to poor mix decisions and even symptoms like loss of overall mix density and even distortion. So what can be done? Here's a few dos and don'ts.
Things That Won't Work
To tame these low end issues, we have to narrow the stereo image to some degree. The main problem with this is most traditional imaging tools only allow the width of the entire frequency range to be processed.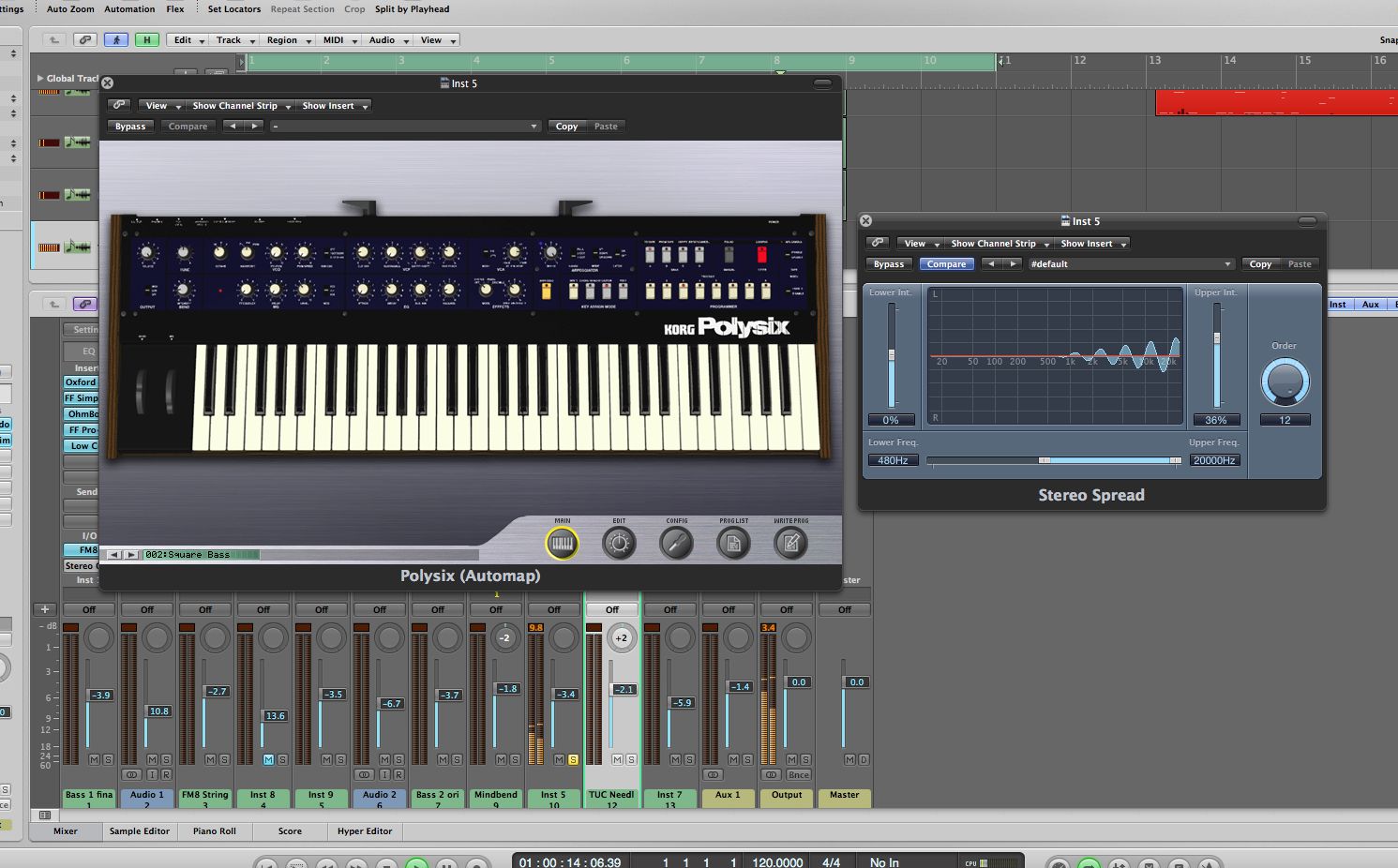 Stereo enhancers are no use here at all.
For example, Logic's stereo tool kit can widen the image at any frequency but only reduce it across the whole range. These two tools are not really any good for our intended purpose, so when trying to attack low frequency stereo, steer clear of this sort of thing.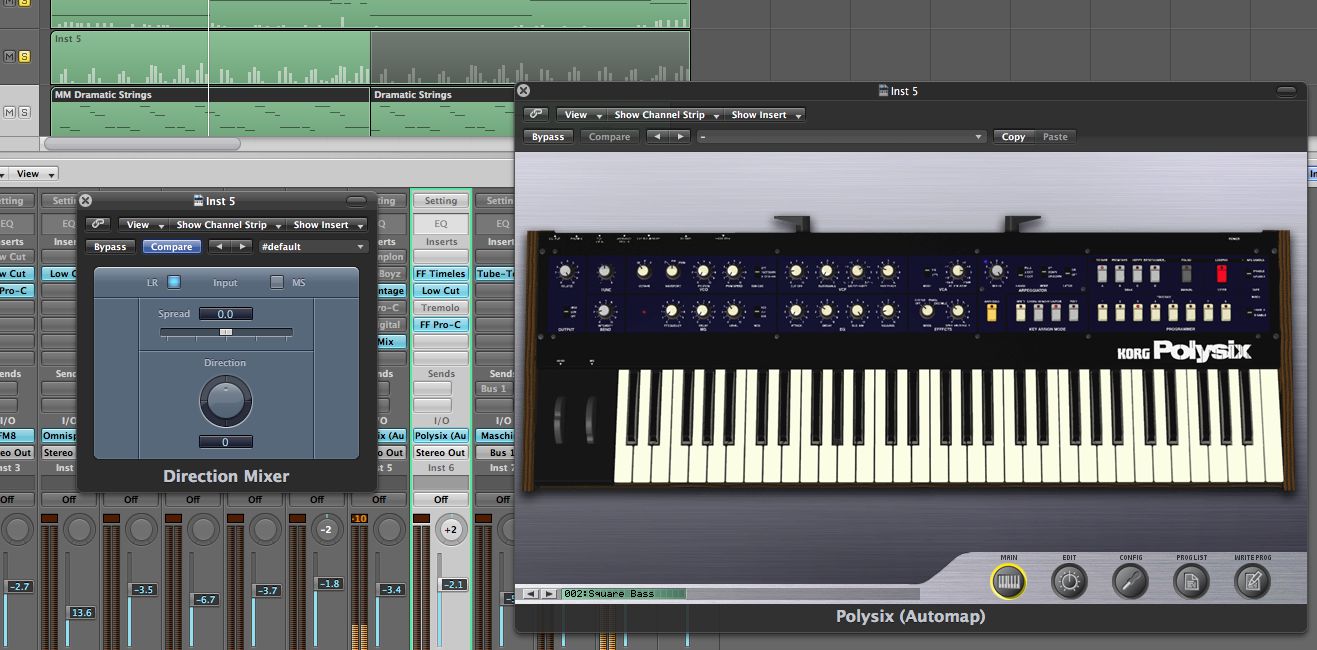 Reducing the sounds width completely will destroy your stereo image.
The totally mono version of our sound is pretty flat:
Things That Do
The type of tools I think are ideal for this job are M/S based processors. Mid / Side processing is great for any number of special processing jobs but one is treating stereo and mono information in audio independently.
Brainworx are amongst a new breed of developers specializing in this area and create some pretty cool plug-ins. The Brainworx bx_digital is a monster processor geared towards mastering but is capable of treating any sound with stereo and mono content.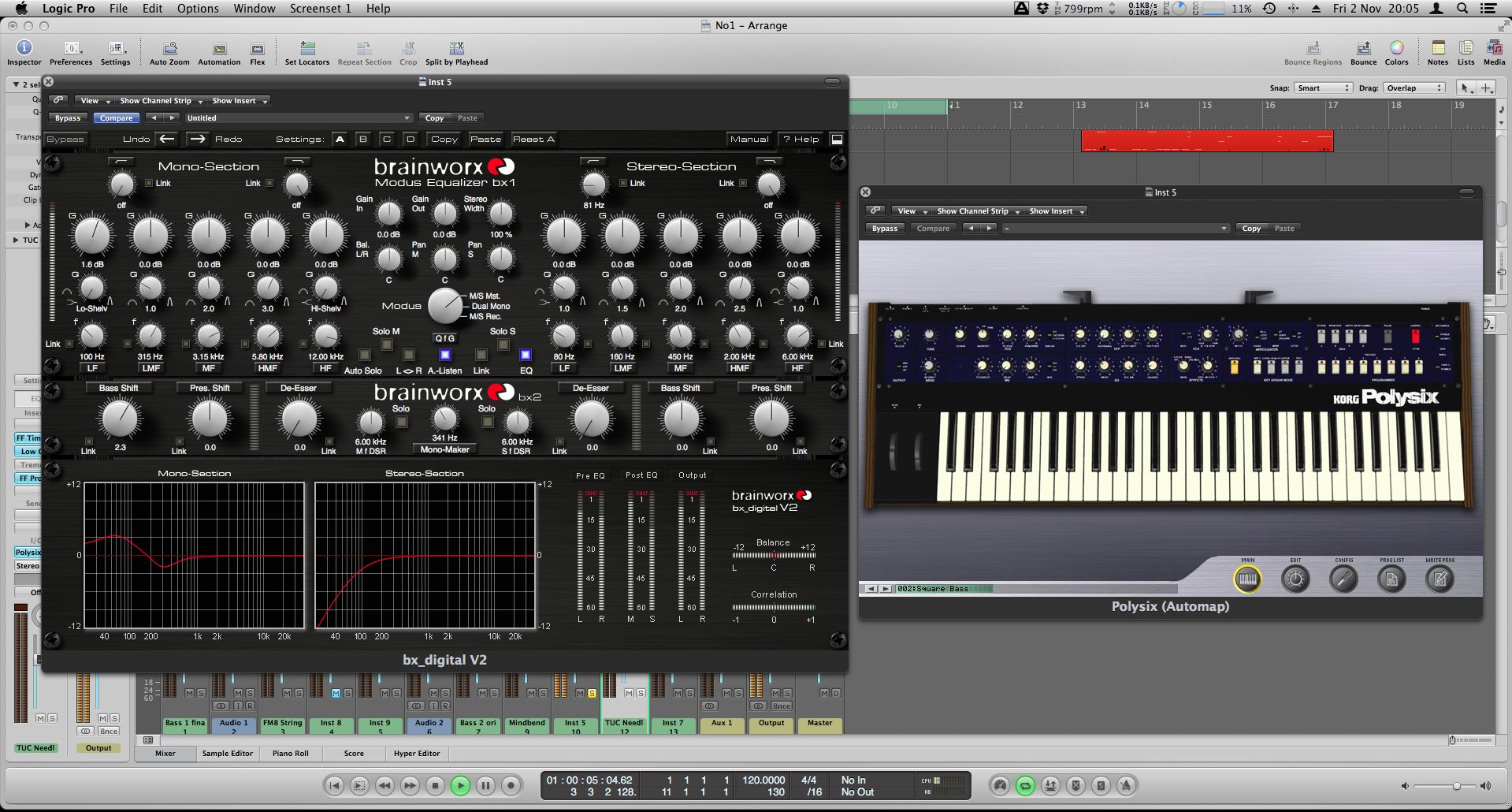 The bx_digital gives you full control over stereo and mono data in your audio.
In this case, I used their trademarked 'Mono Maker' to completely kill any stereo data under around 300-400 Hz. This is such a useful tool and almost makes the job too easy. After this is applied I used some EQ and low end enhancers to make sure the bottom end was solid. Knowing it was 100% mono put my mind at ease and gave me freedom to process the low frequencies.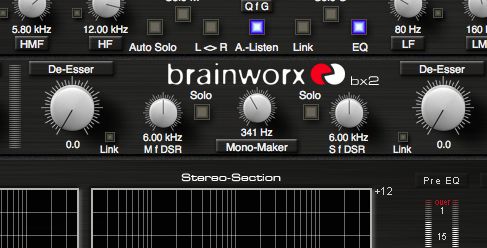 The Mono Maker is simply awesome.
The Mono Maker giving a much more focused bass:
In the mix our other low end elements have space to breathe:
If the bx_digital seems a little over the top or complex for your needs, you can delve into the world of M/S processing without the learning curve. Try out the bx_control for something a little more streamlined. You also get the Mono Maker here and a useful stereo width control for widening any non mono data.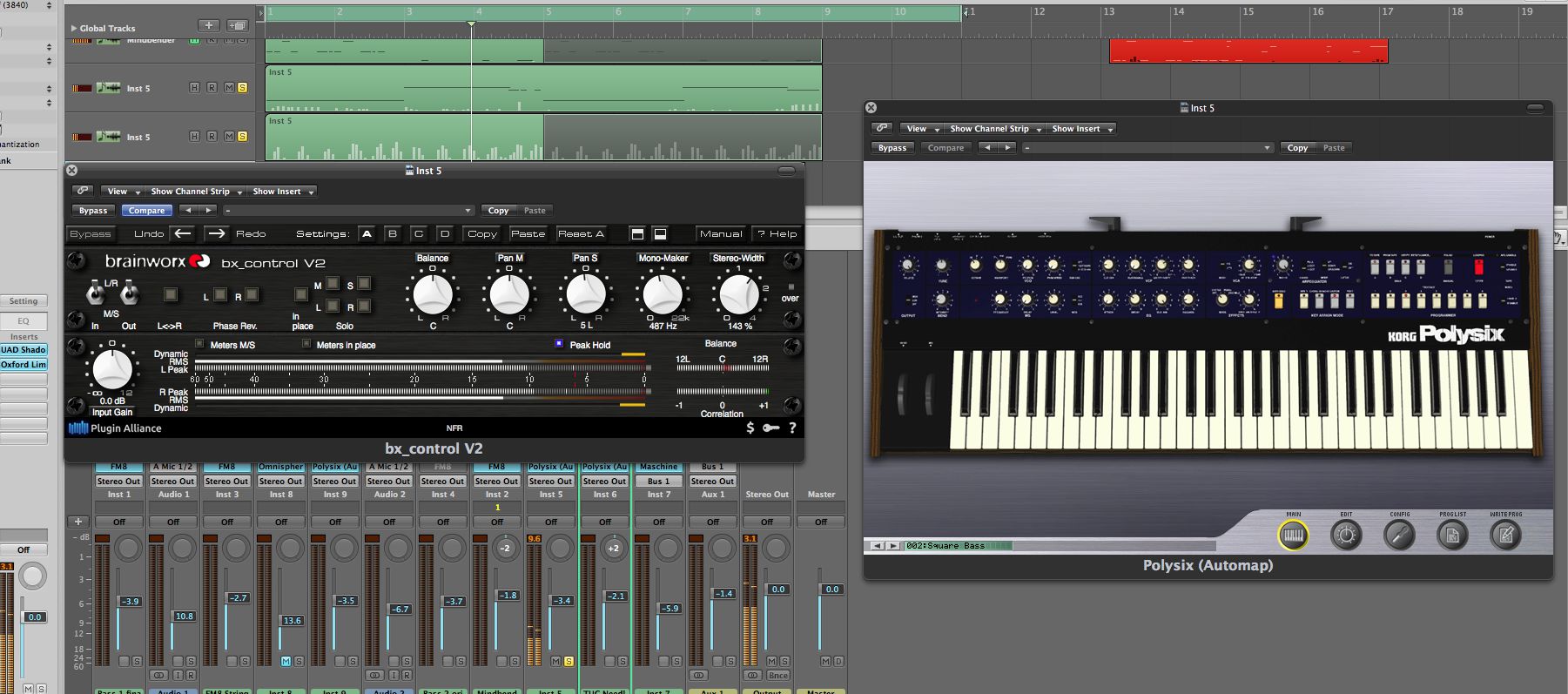 The bx_control is a much more approachable option for the beginner.