Steinberg Cubase é um DAW imensamente poderosa ferramenta que contém quase todos os que você precisa para completar seus projetos desde a concepção à conclusão. Uma das muitas áreas que realmente brilha na gravação é vocal.
Straight out of the box Cubase is more than capable of recording and processing vocals for voice over, music and podcast projects. Let's take a quick look at the basics of laying down your first vocal recordings...

Configurando seu microfone e interface
Primeiro, antes mesmo de tocar Cubase você precisa pensar sobre o hardware que você está usando. A maneira mais fácil de obter um sinal vocal em qualquer DAW é usar um microfone conectado a uma interface de áudio que incorpora um microfone de qualidade pré-amp.
Com este hardware adquiridos e as conexões físicas feitas, o trabalho que resta a fazer é garantir que você tenha os drivers corretos instalados e sua interface de áudio é selecionada no painel Cubase do dispositivo.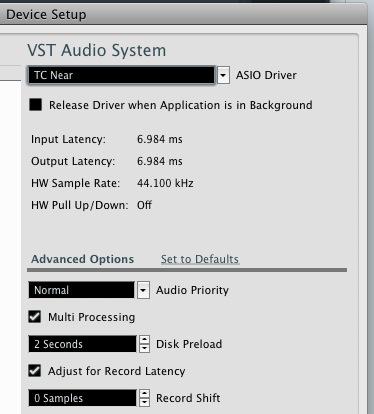 Com tudo isso feito, as entradas físico de sua interface deve aparecer claramente em qualquer canal no Cubase. Certifique-se de selecionar a entrada que seu microfone está conectado e braço que trilha para a gravação. Agora você deve ouvir a sua voz e ver o seu nível de entrada entrando em Cubase.
Obter ao Ganho de Entrada Direita
DAWs muitos não têm a opção de definir o ganho de entrada diretamente em seus mixers, Cubase é diferente a este respeito e tem um controle de ganho dedicado na parte superior de cada faixa de canal. Isto significa que você pode rapidamente ajustar o nível de um vocal sem sequer tocar o seu interface.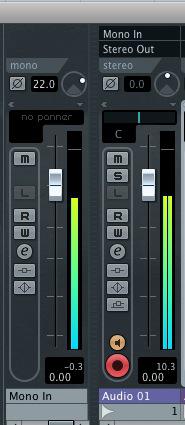 Mesmo que esse recurso é extremamente útil e pode permitir que você obtenha o nível de entrada direita durante uma sessão agitada, vale a pena lembrar que tudo o que fazemos aqui será impressa em seus arquivos gravados permanentemente.
Se você tem um muito tranquila, sinal de microfone ruidoso e ligá-lo a utilizar este método (ou qualquer outro controle de ganho), o seu nível de sinal será maior, mas assim será o seu piso de ruído. Então, vale a pena pensar sobre o seu percurso do sinal e da escolha de hardware antes de quaisquer mudanças drásticas são feitas aqui.
Enquanto um equilíbrio saudável é golpeado e abundância de headroom está disponível quando a gravação chega ao disco, você deve ser capaz de obter um nível de gravação perfeitamente aceitável com mais ups conjunto de hardware.
Processamento de sua gravação Vocal
Agora o seu processamento vocal é um assunto muito em profundidade e, talvez, um bom candidato para um futuro tutorial, mas vamos dar uma breve olhada em diferentes opções disponíveis para você aqui.
Em algumas situações você pode querer ouvir alguns efeitos quando você está realmente de monitoramento ou gravação de suas peças vocais. Antes de começar, há algumas coisas a considerar. Você pode adicionar efeitos plug-ins para a sua faixa de gravação, mas isso vai induzir latência extra e também marca os efeitos usados ​​para a gravação, fazendo essencialmente esse processamento permanente, isto não é ideal e não algo que eu recomendaria.
Sua alternativa é a utilização de 'monitor' de processamento, isso envolve o uso de efeitos que são ouvidos pelo vocalista, mas não são impressas à sua gravação. Este processamento pode ser adicionado ou subtraído de verdade, numa fase posterior.
A melhor maneira de aceder a esta forma de processamento é escolher um interface com algum tipo de DSP interno. Muitas interfaces de baixo custo esporte esse recurso excelente e agora permite que você aplique a latência livre, efeitos em tempo real às suas entradas que não é passado para o seu DAW.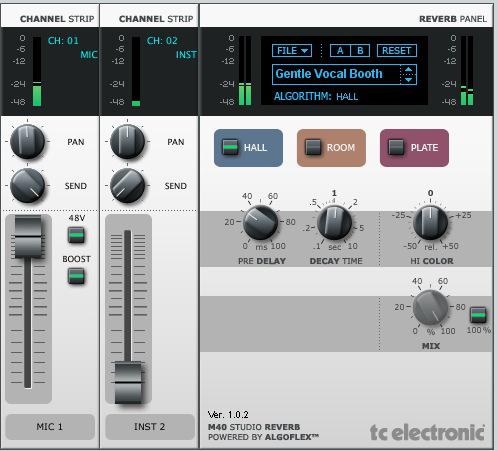 Isso significa que seu vocalista pode ser inspirado por um reverb excelente ou patch demora mas você manter a liberdade de aplicar o novo processamento em um estágio posterior. Uma característica bem vale a pena pensar ao fazer compras para a sua próxima interface.
Confira esses tutoriais em vídeo para saber mais sobre a gravação .