Most DAWs have a mixer; in fact it's pretty much a necessity. The complexity and quality of these digital mixers varies from one app to another but few can claim to be quite as capable and complete as the analog-modeled console in
Reason 6
.
The Reason 6 console is quite literally huge and at first glance the new Reason 6 adopter would be forgiven for feeling a little overwhelmed. Here I'll break down the console into its main components in an attempt to make this mixing monster slightly more digestible.
Step 1 - Access All Areas
Your average DAW mixer is almost modular in approach. Often the mixer expands as new inserts and effects are added and many of the features are hidden until required. When it comes to the Reason 6 console you might have to adjust your thinking a little as everything is on show at all times.
The layout of the new console is very much like that of a traditional analog mixing desk and lays everything out in long channel strips. These strips are always open and the user can scroll up and down the entirety of the console using a handy navigator window on the upper right corner of the app's interface.
This "access all areas" approach is very refreshing and means that you can reach for any part of your channel strip instantly. This will really come into play when in the middle of busy sessions with very high track counts.

The whole channel strip can be easily scanned.
Let's take a look at the key areas of the channel strip you'll have access to on each channel. If you are moving from Reason 5 there may be somewhat of a learning curve here, but if you are a Record user this should look very familiar!
Step 2 - Dynamic Duo
Now there are a good number of different control areas in the channel strip but I'm going to focus on the key sections here. The first section I'd like focus on is the Dynamics area. This is one of the most important parts of any channel strip and you should find the Reason 6 dynamics tools extremely useful.
Each strip is armed with a compressor (with sidechaining ability) and a noise gate. Although the metering is only made up of a few virtual LEDs, it gives you enough feedback to accurately gauge the amount of gain reduction taking place.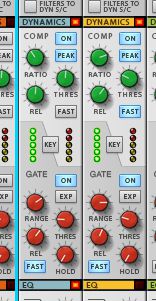 The Console's compressor and gate section.
The controls on both of these processors are also equally simple and even the beginner will be able to start controlling dynamics here. With only 7 knobs and 7 buttons for the entire section, things are kept relatively uncluttered.
Both the compressor and gate are extremely musical and organic in nature. This console is supposedly modeled on large format SSL consoles and having actually used these desks I found myself using very similar settings. Things can be pushed to the max without overly coloring your sound and even at extreme settings remain pleasing to the ear.
Either the gate or compressor can be switched off at any time giving you total flexibility. In fact when not in use the entire dynamics area can be folded away by double-clicking the top of the section. This goes for any area of the console and can be a great way to make the mixing area a little more compact.
Step 3 - The Great Equalizer
The next part of the console under the microscope is the EQ section. This is a four-band parametric equalizer and from what I can tell is also closely modeled on the SSL G series analog EQ. The similarities don't just stop with the way this thing looks either, its sounds is equally impressive.

The analog modeled EQ section.
One thing I love about using channel strip EQs like this is the clarity of workflow. Everything is laid out very well allowing quick navigation of different frequency bands and super fast readout of currently dialed values.
Like the dynamics section the equalizer is extremely musical allowing intense settings to be used without distortion or colorization. Add to this a high and low pass filter and you may just have the perfect EQ for tweaking both your audio recordings and software instruments.
Step 4 - In Full Effect
When it comes to adding effects to your Reason 6 mix, this console certainly won't let you down. There are actually no less than 8 effects sends and 8 returns. These can be set up in the rack and each one can house any combination of effects devices. When you consider this, the possibilities here are almost endless.

Inserts and sends can both be controlled from the console.
You also get an insert control area which is a great touch. This section not only allows you to load and save complex insert chains but you can actually use the insert 'programmer' in the rack to enable key parameters to appear on the console itself. This means you can control single or multiple parameters from the console without actually flipping to the rack. Very nice touch, Propellerhead!
Step 5 - The Mix Master
Any analog mixing console worth its weight has to have a great master section. Most DAWs overlook this and the master section is often a carbon copy of every other channel strip in the mixer. Reason 6 goes back to basics here and breathes new life into the digital master section.
The main thing to notice here is the very large Master Buss compressor. This is the focal point of the master channel in Reason 6 and allows us to apply mastering-grade dynamics processing to the entire mix. The sound of this thing is awesome, transparent, cohesive and musical.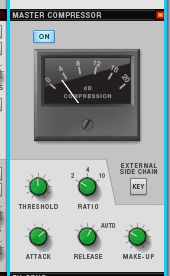 The Bus compressor is right at the heart of Reason 6's master channel.
The Master section also houses controls for all eight returns, master insert effects and control room mixes. The master fader also differs from those in the rest of the console slightly in that it features a multi mode VU meter, enabling you to view the master level in Peak, VU or mixed modes.

Reason 6's master effects section.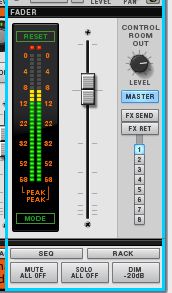 The master fader houses a few extra touches.
As you can see the new console in Reason 6 is a pretty formidable bit of kit (albeit, a virtual one!) and you should find everything you need here for even the most demanding mixing or mastering session. Whether you are a Reason or Record user you will probably agree that Reason 6's new console is a welcome addition to a great piece of software.