Als Grund wurde seine Form stark und unwiderruflich aus, wo es war im letzten Jahr verändert, hat dies auch über größere Änderungen in der GUI (Graphical User Interface) gebracht. Als GUI-Änderungen kommen, bedeutet dies, Tastenkombinationen kommen und gehen, wie gut.
Die größten Änderungen sind wirklich das, was wurde aus Rekord gebracht, wie es mit Vernunft verschmolzen. Oder hat Vernunft mit Record zusammenführen? Aber Sie wollen es zu betrachten.
1 - Reason Screens
Weil die Vernunft erbte der zusätzliche Bildschirm of Record (nämlich die Mischung Bildschirm) Propellerhead brachte auch über die praktische Funktion Tastenkürzel, die wirklich beschleunigen Arbeitsabläufe.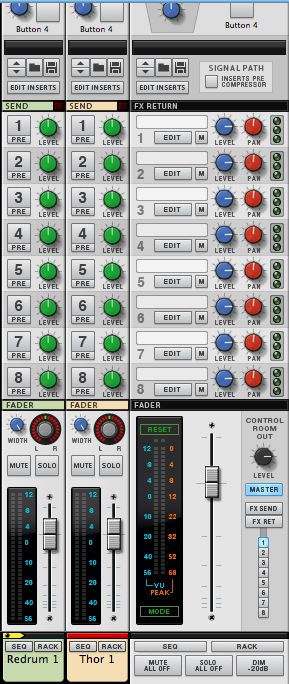 Die drei wichtigsten Tastenkombinationen, die Sie bewusst sein, in Bezug auf alle Bildschirme, die jetzt bewohnen Grund wäre, sollte:
F5: Mixer Screen

F6: Rack Screen

F7: Sequencer Screen
Whats nicht vollständig von vielen verstanden, dass diese Tasten in Kombination gedrückt werden kann. Zum Beispiel: Wenn Sie alle drei Tasten auf einmal drücken, sehen Sie kleine Aussicht auf den Mixer, Rack und Sequencer, Bildschirme.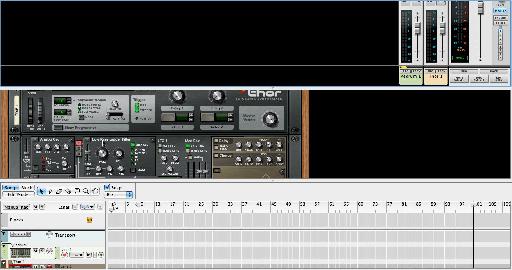 Sie können auch die Zwei-Tasten-Kombinationen: Zum Beispiel können Sie F5 und F7 gleichzeitig drücken. Dies wird Ihnen zeigen skalierte Ansichten des Mischers und Sequencer-Bildschirm.
2 - Nehmen Sie diese Bildschirme ...
Glück für uns Individuen mit mehreren Monitoren, würdest du klug sein, um über die Siebabsprunges verfügbaren Funktionen innerhalb Vernunft zu lernen. Sie sehen, jede der oben aufgeführten Bildschirme ausschalten kann in einem separaten Bildschirm gebrochen werden. Zum Beispiel können Sie lösen das Mixer-Bildschirm und haben es sitzt auf einem Monitor, während der Sequenzer-Bildschirm sitzt auf einem anderen. Dann können Sie lösen das Rack und habe es auf einem weiteren Monitor zu sitzen.
Schön, nicht wahr? Nun, wenn Sie die Monitore haben! Hier sind die Tastenkombinationen für jedes Fenster:
Command-F5: Detach Mixer Screen

Command-F6: Detach Rack Screen

Command-F7: Detach Sequencer Screen

3 - Screens Zubehör
Wenn Sie sich erinnern, gibt es ein weiteres wirklich praktisch, Bildschirm an die Vernunft als Werkzeug Fenster bekannt. Diese besondere Fenster war schon immer einer meiner Favoriten, weil es so viele coole MIDI-Funktionen in sich hat. Und wenn Sampling to Reason hinzugefügt wurde, wurde ein Audio-Editor hinzugefügt auch.
Handlich, leicht zugänglich sein noch mit Hilfe der F8-Taste.

Wenn ein Laptop Musiker youre, youll schätzen auch die On-Screen-Tasten des Klaviers, oder Computer-Keys-Fenster (F4). Damit können Sie entweder die Maus oder die QWERTZ-Tastatur verwenden, um Musik zu spielen.

4 - Randomisierung und Alteration
Ein paar Shortcuts, dass ich immer regelmäßiger Anwendung
First up, Lets Talk About Randomize. Wenn youre mit einer Redrum, Matrix, oder Thor, dieser Befehl ist sehr, sehr handlich.

Befehlstaste-R bewirkt, dass der Step-Sequenzer, ein komplett neues Muster aus dem Nichts erzeugen.
Auch, wenn Sie möchten, einige Varianten zu Melodien, oder Drum-Beats zu machen, würden Sie gut tun, zu wissen,
Abschluss
Die Vernunft hat Tonnen und Tonnen von Verknüpfungen! Hoffentlich werden die hier aufgeführten man auf einem Pfad der Entdeckung neuer Tastenkombinationen, die Spaß und Effizienz bringen, um Ihren kreativen Workflow unterstützen.